Like GearBrain on Facebook
Like the ads in Black Mirror or those that assault Tom Cruise in Minority Report, a new billboard can read its surroundings — targeting ads to whomever is watching.
In London, the iconic Piccadilly Lights that wrap around a building in the middle of the city's theater district, are now embedded with cameras that can react to in-the-moment events such as a temperature change. The 8500-square-foot billboard can then run a spot for weather-appropriate clothing, says Landsec, which owns the screen.
Landsec made over its baby by installing a new smart screen that gives off resolution more powerful than 4K. Usually, the billboard's six split screens are used by up to six advertisers including L'Oreal, Samsung and Coca-Cola, the latter which has had an ad running there since 1954.
However, now a single advertiser can take over all the screens for just a moment — and detect their surroundings for a more targeted ad.
"Screen content can be influenced by the characteristics of the crowd around it, such as gender, age group and even emotions," Landsec said. "It is also able to respond and deliver bespoke ad content triggered by surroundings in the area."

The new screen just underwent a nine-month makeover, which included the new ability to send truly targeted ads. The billboard can see what's happening around them through cameras hidden in the screen, which will have the ability to also track cars — including their make, model and color, according to a story in Wired UK.
Fun factor aside, this is a huge marketing ploy. Landsec believes brands can use the new targeting tool to better influence consumers with "social listening" and "…experiences that emotionally resonate with customers and drive loyalty," says the company in a press release.
And Coca-Cola, which intends to remain planted high above Piccadilly Circus, certainly agrees: "This new technology will allow us to be more agile and tailor our messages in real-time, as well as be more creative when it comes to the content and engaging consumers directly," say the soft drink brand.
That our lives are finally becoming like the futuristic movies we'd see in theaters is hardly a surprise any longer. However, the upgrade also brings up the question of privacy. Will personal information be stored and sold to third-parties? Can the camera and screen be hacked? Landsec says 'No.'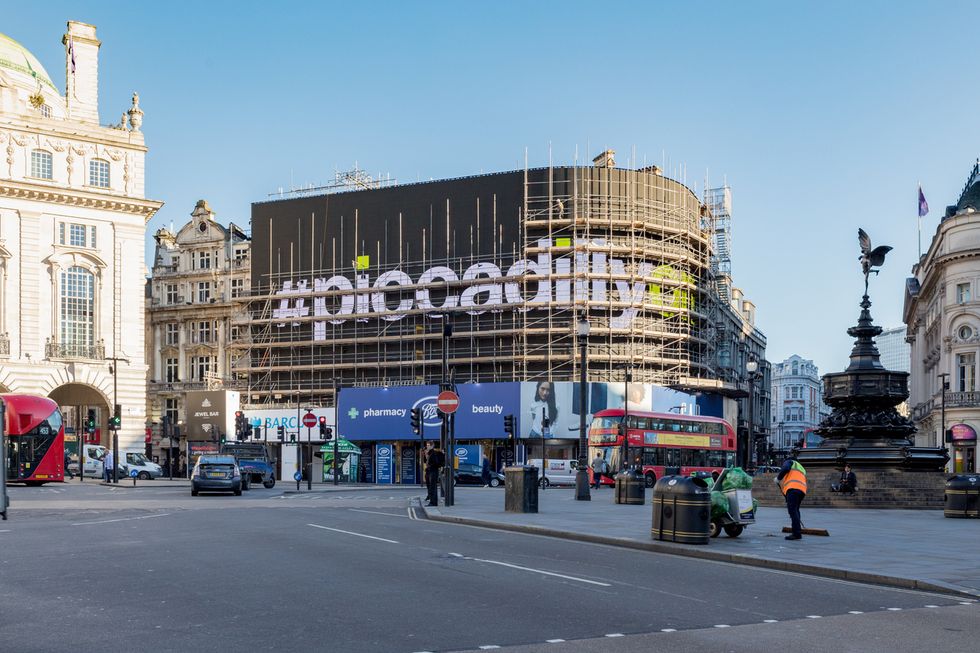 Piccadilly Lights went dark during its nine-month makeover this year.iStock
"The technology does not collect or store any personal data, and is unable to record images or audio," it says.
Still, hacking concerns are growing more common — as are fears about technology just listening-in to our daily lives. In London, however, the public was reportedly more worried about the blank space as the screen was updated.
As it turns out, since first turning on in 1908 (with a Perrier ad), the lights have only been turned off during World War II, Winston Churchill's 1965 funeral and Princess Diana's 1997 funeral.
For the more than 100 million people who pass through Piccadilly Circus every year, the lights return may be a welcome sight. Let's see how they feel when they're hit with a spot for a rain jacket during a winter shower.
Like GearBrain on Facebook