Polar has a new smartwatch, created for those who see themselves more athlete than occasional runner. The new Polar Grit X features not only track workouts, but are meant to help optimize exercise sessions, with help on training, intensity, and recovery.
With gyms closed around the nation during the coronavirus pandemic, many people are turning outdoors for their workouts, while also practicing social distancing. That's where Polar's new smartwatch is designed to be used, with features that take into account exercise that's a bit more rugged than a treadmill.
As more people are looking for ways to get exercise in any way they can, fitness devices and smartwatches are playing a crucial role tracking steps and workouts. Polar's new smartwatch takes that one step further, with its ability to also tap into the amount of calories someone may need for high intensity — or even lower intensity training.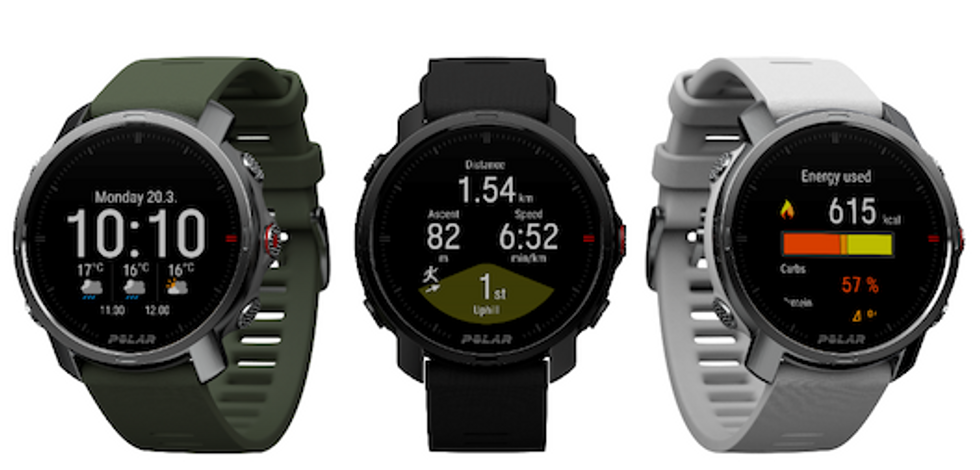 Polar Grit X has three bands available at launch, including a leather optionPolar
There are new features coming with the watch as well, including one called Hill Splitter, which can read if someone is heading uphill or downhill and then give performance readings based on their climb or descent, from pacing to intensity. A feature called FuelWise can also alert people when it's time to take in more calories so they can complete a workout. There's also a two-day weather feature, and a mapping tool to help build routes for a workout.

Standard tools are packed inside as well, including heart rate and sleep tracking, but some tools are very detailed some that measure the work out rate of your muscles.
The Polar Grit X weigh 64 grams, and can run for 40 hours on high use, and up to 100 hours through power saving features, designed for those who may take part in event likes ultramarathons.
The new smartwatch is available to buy starting today on the company's web site for $429.95 in both black and green in a large size, and white in a smaller size. Bands start at $29.95 and go up to $49.95 for a leather option.
Weinisite Wristband for Polar A360,Replacement Soft Silicone Band for Polar A360 FitnessTracker(Black)