Apple and Google are now partners in the fight against COVID-19, working together to develop an app that will detect if someone has been exposed to another person infected with the coronavirus.
The app is in essence a tracker, a way for those who download the program to know if they've crossed paths with someone infected, and if they too are now vulnerable. It would work on both iOS and Android devices, and be able to speak with each other.
Called Contact Tracing, the program would work on Bluetooth technology, the way that devices speak to each other that are very close in distance. Wireless headphones and earbuds typically connect via Bluetooth to a computer, smartphone or watch, for example. And the API, or application programing interface, will be available in May "using apps from public health authorities," the two said. These will be in the Google Play store for Android devices, and in the App Store for iOS.
Companies outside of Apple and Google are working on ways to detect if people are infected with the coronavirus. One drone company, for example, is working with a team in Australia to pick up on whether people in public places are sneezing or even if they have a fever. And Apple recently launched a web site to help people determine whether they have COVID-19 or not.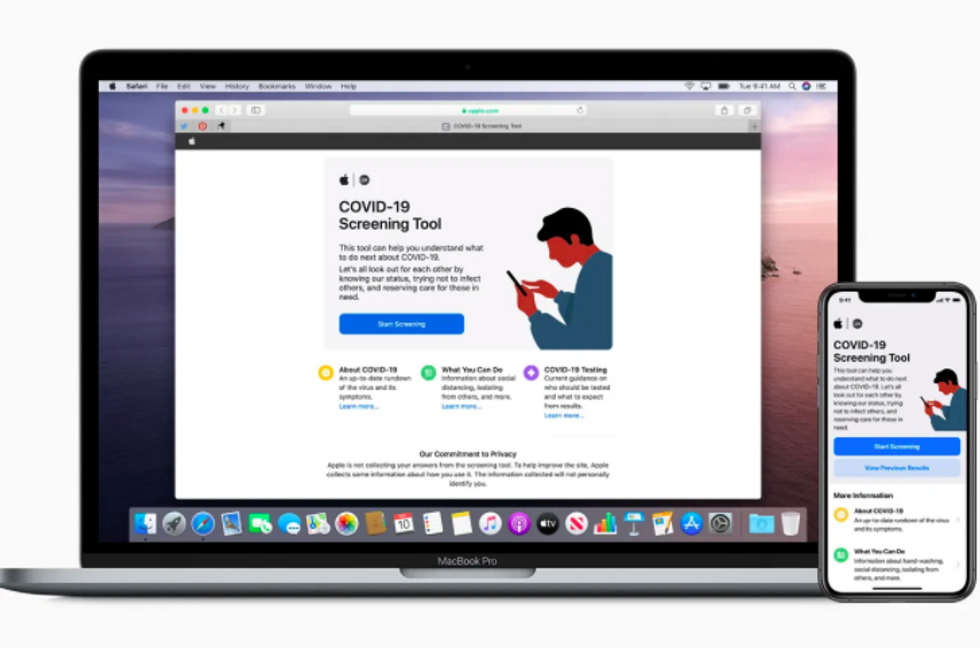 Apple has already launched a COVID-19 health siteApple
Privacy

Both companies are stressing that people would have to give their clear consent, to be a part of this upcoming platform. Also, people who test positive would not be identified to other Apple and Google users. And the data collected is not going to be "personally identifiable information," which includes someone's specific location.
Instead, people who have downloaded the API would have their devices ping each other when they get physically close. These connections, or keys, would be stored on each person's device knowing they had been in contact with another person.
If someone who has downloaded the API, tests positive with COVID-19, and then decides to share their diagnosis with a public health app, they can further opt-in to have their keys, or connections, also uploaded to the API. Others, whose keys or connections, match with the patient would get an alert that someone in their network has tested positive. They would then get information on what they should do next. All of this, says Google and Apple, will only apply to those who have opted-in to the API.
"Privacy, transparency, and consent are of utmost importance in this effort, and we look forward to building this functionality in consultation with interested stakeholders. We will openly publish information about our work for others to analyze.
Withings Body+ - Smart Body Composition Wi-Fi Digital Scale with smartphone app