It's shaping up to be a great year to splash out on a smartwatch, with excellent options available from Apple at a broader price range than ever before, and healthy competition from Samsung too.
This could also be the year we see the fruits of Google's blockbuster $2.1 billion purchase of Fitbit, while hybrid watch makers Withings are going from strength to strength, Fossil has a huge range to pick from across its many brands, and the Swiss have some luxury offerings too.
What follows is the GearBrain guide to buying a smartwatch in 2020. We have highlighted the major brands to consider, and explained the differences between smartwatches and hybrids, and how even some luxury Swiss watches are smarter than ever.
What's a smartwatch?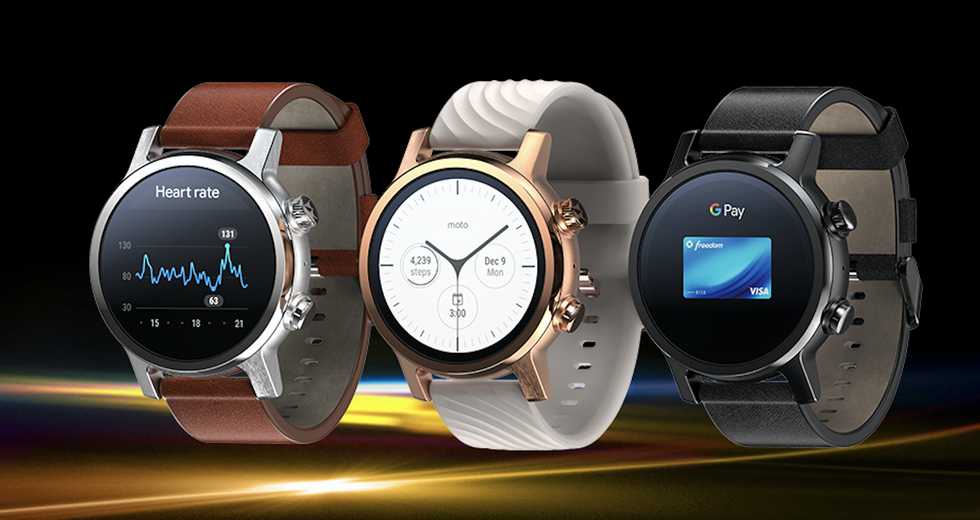 Smartwatches running Google's Wear OSGoogle
In our eyes, a watch becomes a smartwatch when it replaces its traditional face and mechanical hands with a touch screen. Some hybrids do a bit of both, putting simpler displays inside the face of a regular watch, but we'll cover these further down this article.

When it comes to smartwatch operating systems, like with computers and smartphones there are a couple of main players to consider. First, there is watchOS, which is the operating used exclusively by the Apple Watch.
Next there is Wear OS, which belongs to Google and was called Android Wear until 2018. The name was changed to promote the fact that watches running Google's software work with iPhones as well as Android devices.
Although Google doesn't produce a smartwatch of its own (those persistent rumors haven't come true just yet), Wear OS is found on smartwatches made by many brands, from Misfit and Montblanc, to Fossil and Tag Heuer.
Early smartwatches suffered from poor battery life of no more than one day, uninspiring design, and middling performance. Since those formative days, there have been vast improvements in all of these areas, with batteries lasting two or even three days, slimmer designs, and increased performance with better apps, connectivity and features.
In most cases, smartwatches can double as a fitness tracker and personal trainer, tracking walking, running, cycling and other activities, sometimes with the help of an embedded heart rate monitor.
Some, like the Apple Watch, perform the equivalent of a single-lead ECG (electrocardiogram), which can alert the wearer to potential symptoms of atrial fibrillation. Some also offer fall detection, where a contact and even the emergency services will be automatically called if the watch senses you take a hard fall and not get up.
Smartwatches also excel at notifications, subtly vibrating your wrist when you receive a phone call, text, email or other kind of message. Some can be purchased with a 4G connection and their own data plan, allowing them to make a receive calls and stream music without being connected to a smartphone.
Apple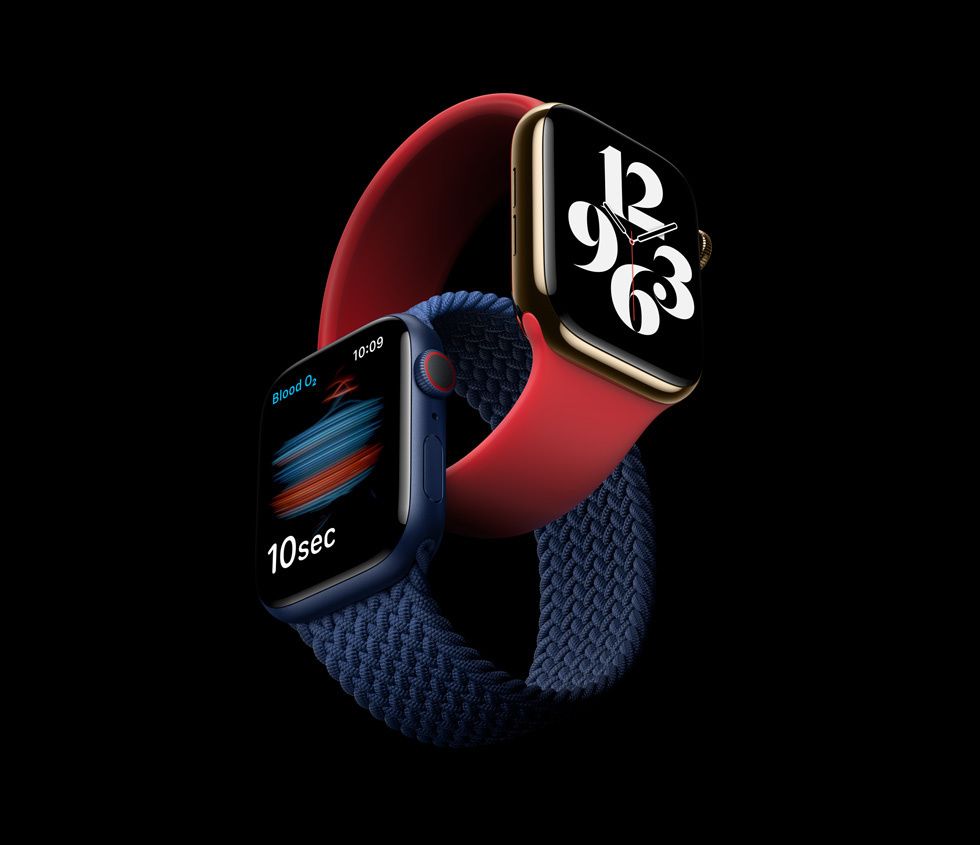 The Apple Watch Series 6 starts at $399 Apple
The first Apple Watch arrived back in 2015 and was pitched as a luxury accessory. Apple even tried to sell $20,000 gold versions, and one briefly appeared on the wrist of Beyonce. But Apple soon changed course, turning the Watch into a health and fitness device that owners wouldn't want to go a day without.

This move worked, as in 2019 the Apple Watch outsold the entire Swiss watch industry, proving there was huge demand for a wearable that tracked health and fitness, but also carried enough Apple design swagger to not feel like a medical device.
Running Apple's new watchOS 7 software, the latest models for 2020 are the Watch Series 6 and new, cheaper Watch SE. The Watch Series 3 also remains on sale, priced at just $199. The new SE is $279, and the Watch Series 6 starts at $399. Hermes models with luxury leather straps and unique faces are the most expensive, reaching $1,499.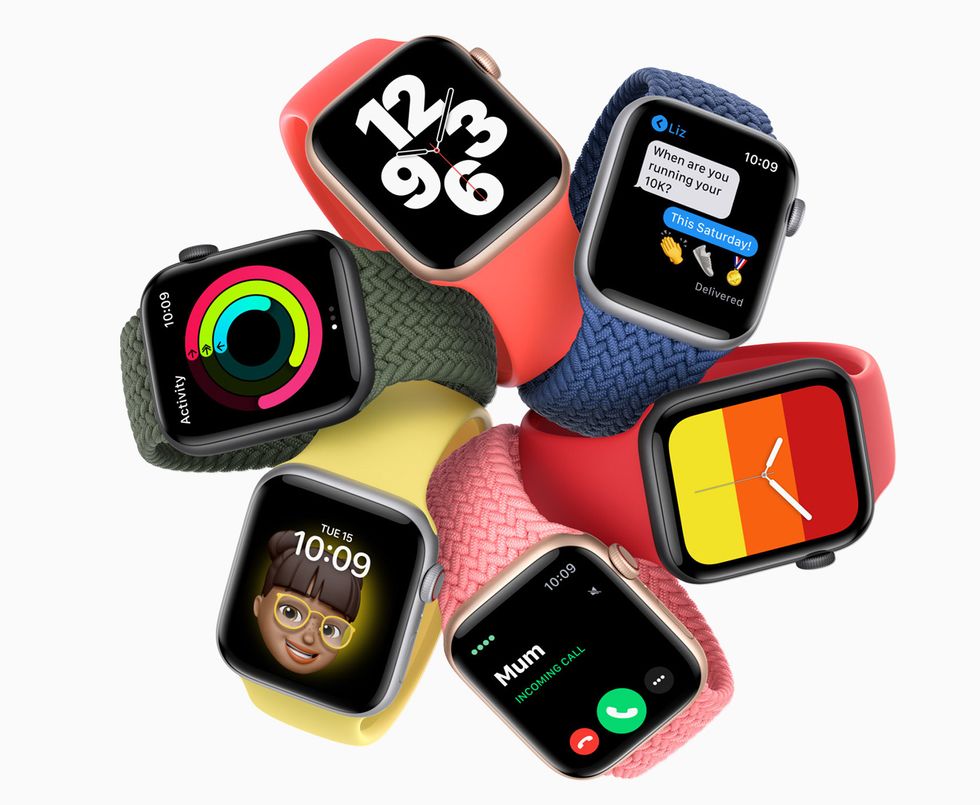 The Watch SE starts at $279Apple
All models have a heart rate monitor and can track activity, exercise and sleep. But only the Series 6 can perform an ECG, record blood oxygenation, and alert its wearer to signs of atrial fibrillation. All are available with or without a cellular connection.

The Watch is offered in two sizes, 40mm and 44mm, and all models have interchangeable straps. There are two case options; aluminum and the more expensive stainless steel.
Apple Watch Series 5 (GPS, 40mm) - Space Gray Aluminum Case with Black Sport Band
Samsung and Tizen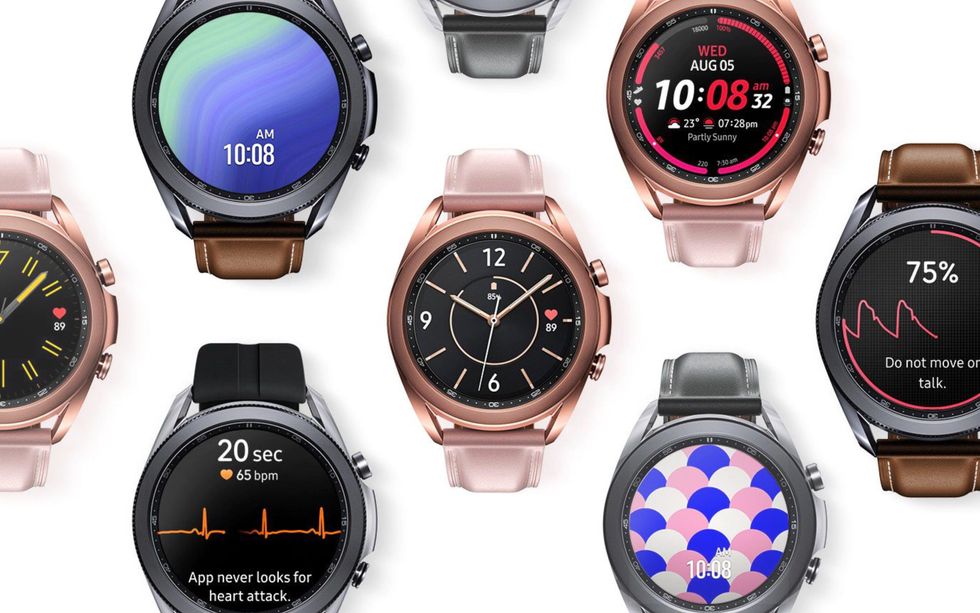 The Samsung Galaxy Watch3Samsung
Samsung has been in the smartwatch game for longer than Apple, having made its first Android Wear-powered devices back in 2014. The latest model is called the Galaxy Watch3 and it runs Samsung's own Tizen operating system. The Watch3 is available in two sizes, 41mm and 45,, making it suitable for most wrists, and unlike the Apple Watch it has industry-standard lug bars so the straps can be swapped for almost any other.
4G versions are available, giving the watch a data connection and the ability to make and receive phone calls when not connected to your smartphone. Speaking of which, Samsung Galaxy watches work with iPhones and Androids, whereas the Apple Watch only works (and has only ever worked) with iPhones.
A neat feature of the Galaxy Watch3 is how the bezel rotates to scroll through content, saving you swiping the screen and smearing it with fingerprints. The watch also features a heart rate monitor, and can take an ECG and measure blood pressure.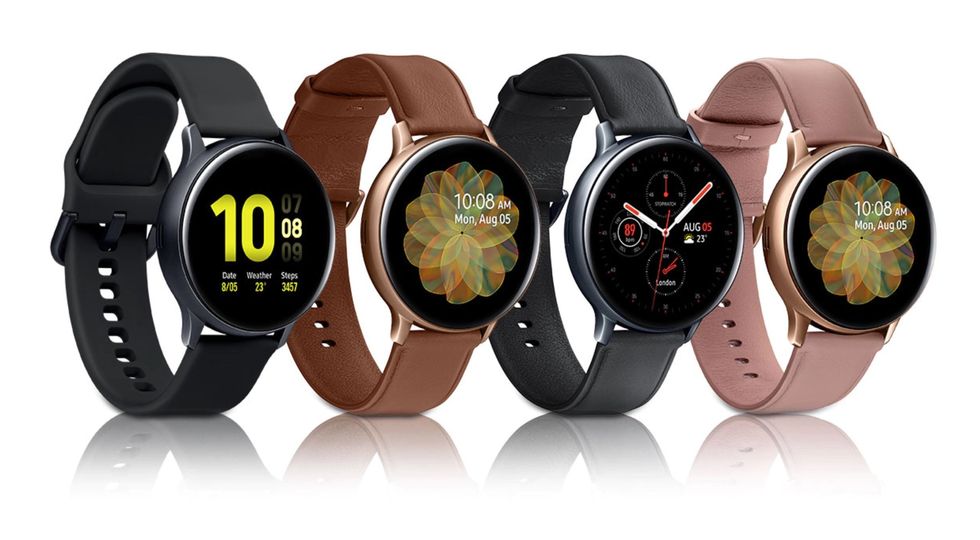 Samsung Galaxy Watch Active2Samsung
Samsung also currently sells the slightly older Galaxy Watch Active2, which is offered in 40mm and 44mm variants, but has a slimmer design due to the lack of a rotating bezel, which is instead touch-sensitive.

The Galaxy Watch3 is priced from $260 and is available in rose gold and black. The Active 2 is slightly cheaper at $250, and comes in black, silver and pink gold.
Samsung Galaxy Watch Active2 W/ Enhanced Sleep Tracking Analysis, Auto Workout Tracking, and Pace Coaching (40mm), Aqua Black - US Version with Warranty
Google and Wear OS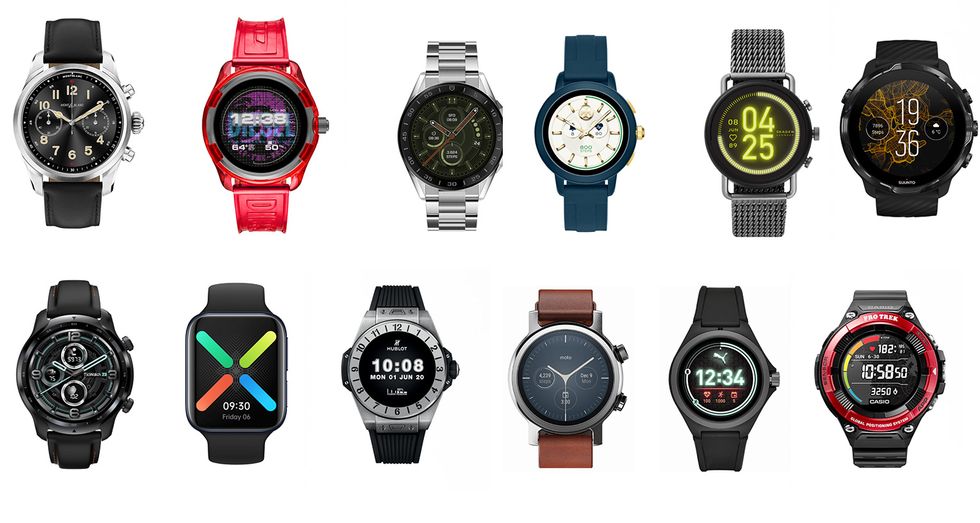 A huge range of smartwatches from various brans run Google's WearOSGoogle
Formerly known as Android Wear, this is Google's smartwatch operating system. It is used by a range of manufacturers, including tech companies like LG and Huawei, but also watch and fashion brands like Kate Spade, Hugo Boss, Guess, Michael Kors and Fossil.

Wear OS offers the same basic features as watchOS and Tizen. There are several customizable watch faces to pick from, apps to download and install, a notifications system, and varying degrees of fitness, sleep and exercise tracking.
Where the Apple Watch has Apple Pay and Samsung wearables use Samsung Pay, Wear OS watches make use of...you guessed it, Google Pay. Not all models have NFC (a requirement of Google Pay), but most do and these can be used to make in-store purchases instead of using your credit card.
Prices for Wear OS watches start at around the $200 mark for a model from a fashion brand, but climb to over $1,200 for examples from Swiss watchmaker Tag Heuer.
Despite regular rumors of a 'Pixel Watch', Google is yet to produce any smartwatches or wearables of its own. But this could soon change. As we mentioned earlier, Google paid $1.2 billion for Fitbit in November 2019, so we can expect to see the search giant become more involved in the smartwatch and wearable space in the future.
Hybrid watches

Withings are among the most attractive hybrid smartwatchesWithings
Generally speaking, the hybrid watch is one which has a traditional face with physical dials, but also includes a Bluetooth connection, accelerometers to track exercise, and a companion smartphone app. Some hybrid watches also have a vibration motor to deliver notifications or silent alarms to your wrist, and most look like regular timepieces.

Although you can't write an email or hail an Uber with a hybrid smartwatch, you can wear them for weeks or even months at a time before they need charging or a new battery.
The step-counting tech of a hybrid watch is rarely more accurate or more detailed than what your smartphone can manage. But not everyone carries a phone in their pocket all day, and it's often more convenient to glance at your wrist instead of grabbing your phone and opening the step-counting app to check your progress.
Withings Steel HR Hybrid Smartwatch - Activity, Sleep, Fitness and Heart Rate Tracker with Connected GPS
Hybrid watches are popular among fashion houses, especially the many brands owned and managed by the Fossil group. As with smartwatches, hybrid watches are made by Misfit, Skagen, Michael Kors, Fossil itself, and many others.
Technology companies have mostly steered clear of the hybrid market, apart from Withings. The French company, which was briefly owned by Nokia before buying itself back in 2018, sells a wide range of great-looking hybrids with classy designs, leather straps and affordable prices.
The company also offers a hybrid with ECG functionality, but this is also awaiting approval from the FDA, so it's yet to go on sale in the US. The company's latest, called the ScanWatch, is a feature-packed hybrid watch and boasts an attractive stainless steel case – but it too is waiting FDA approval for its ECG function. Withings says it hopes to gain this validation soon, and for the ScanWatch to be available in the US before the end of 2020.
Swiss smartwatches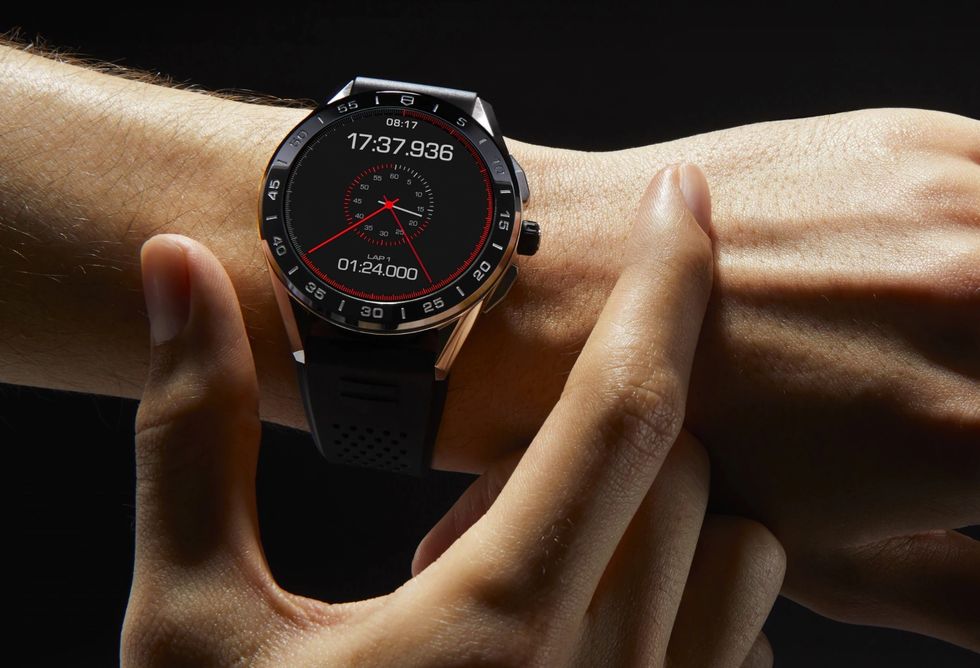 Tag Heuer has regularly updated and improved the ConnectedTag Heuer
Not to be left on the sidelines, the Swiss watch industry is paying (at least some) attention to the rise of the smartwatch. Tag Heuer was an early mover, partnering with Intel and Google to release the Connected in 2015.

This is a true smartwatch, in that it has a touch screen and runs Wear OS. It lacks a heart rate monitor, but in its latest iteration has GPS for accurate run tracking and NFC for Google Pay.
Priced from $1,800 to $2,550, the current model is available in a single case size of 45mm and although chunky (around 10mm thick), its design matches the sporty look of Tag's regular wrist wear.
Read More:
TAG Heuer Connected Modular 41 Men's Smartwatch SBF818000.11FT8031
The latest Connected, released in 2020, offers more color and material options than ever, including a limited-edition version aimed specifically at golfers. This commitment makes us think Tag Heuer is in the smartwatch game for the long haul.
Montblanc also jumped aboard the smartwatch bandwagon with the Summit, which runs Wear OS. Now in its third generation, the Summit 2+ is a thousand-dollar smartwatch with a stainless steel case, leather strap, heart rate monitor, integrated GPS, 8GB of storage, and a 1.3-inch display housed in a 43.5mm case.
The latest Swiss smartwatch is the Hublot Big Bang E, which also runs Google's Wear OS and features a 42mm black ceramic case with a rubber strap. It is priced at $5,800.
Finally, there are the Swiss watchmakers who blend modern technology with their centuries-old craft. For example, Frederique Constant has a collection of four hybrid smartwatches falling into the circa-$1,000 sector. The collection includes quartz-driven mens and ladies watches, which connect to the company's own smartphone app over Bluetooth to track your activity and sleep.
Apple Watch Series 4 (GPS, 44mm) - Space Gray Aluminium Case with Black Sport Band