Porsche is wasting no time in getting a full range of Taycan electric cars into showrooms, as the month-old line up has just doubled in size.
A month after it launched the Taycan with the flagship Turbo and Turbo S models, Porsche now also offers the Taycan 4S, which can be bought with the 'Performance Battery' or 'Performance Battery Plus'.
Read More:
The difference between these two options is the size of the battery pack. The 'Battery Plus' version of the Taycan 4S has the same 93.4 kWh capacity as the Turbo and Turbo S, while the regular 'Performance Battery' has a capacity of 79.2 kWh.
Peak power output for both models of Taycan 4S is 420 kW, which is approximately 630 horsepower, compared to 500 kW for the Turbo and 560 kW for the Turbo S.
Unlike Tesla, which adjusts the capacity of its batteries with software, the lesser-capacity Taycan has a smaller single-layer battery, so should be lighter than the rest of the range.
That said, the performance figures for both versions of Taycan 4S are the same, with a 0-60 mph time of 3.8 seconds and a top speed of 155 mph. Porsche hasn't announced EPA-tested range figures in the US just yet, but in Europe the company is stating up to 463 km (287 miles) of range for the Battery Plus and 407 km (253 miles) for the smaller capacity Taycan 4S.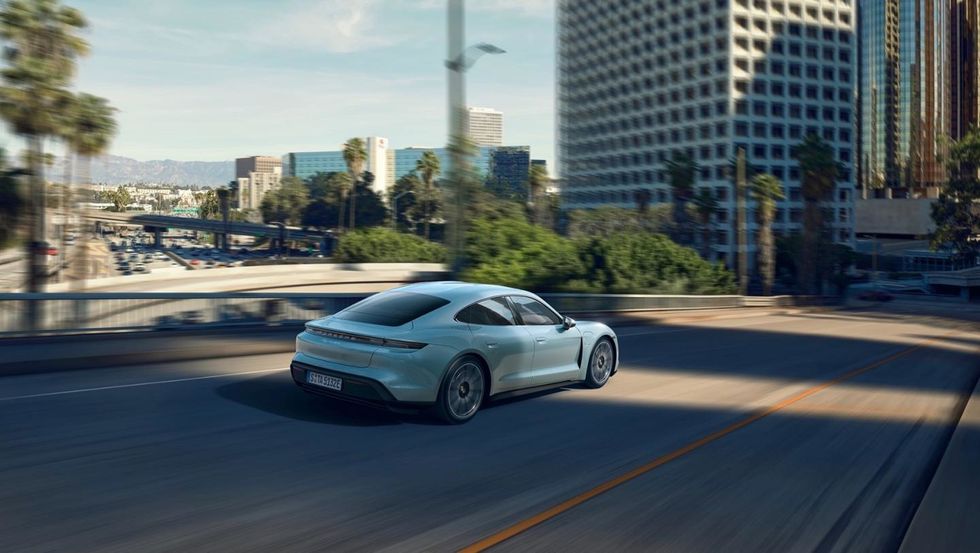 The entry-level Taycan 4S has a range of 253 milesPorsche
Porsche revealed the Taycan 4S in a new color, called frozen blue metallic, but otherwise the car looks very similar to its more powerful siblings, and boasts the same 0.22 drag coefficient - the lowest of any road-going Porsche.

Prices in the US start from $103,800 for the Taycan 4S with Performance Battery, while the 4S with Performance Battery Plus costs from $110,380. This is a significant reduction from the $150,900 Turbo and $185,000 Turbo S.
Next, we expect to see Porsche reveal the production version of its Cross Turismo concept before the end of 2019, which takes the Taycan and raises it up slightly, giving it the more utilitarian look of a crossover instead of a luxury performance sedan.
We also wonder if Porsche will follow the naming structure of its other cars and offer a Taycan Carrera with two-wheel-drive (thus just one electric motor) and an even lower price.