Like GearBrain on Facebook
Porsche has announced that buyers of its first electric car, the Taycan, will get free access to the Electrify America charging network for their first three years of ownership.
Buyers of the car, which is due in late 2019 and expected to cost between $75,000 and $130,000 depending on options, will be allowed to use the high-speed chargers for 30 minutes at a time.
Read More:
This announcement comes as a surprise, given Porsche told journalists a year ago that it would treat chargers as profit centers. Speaking to GearBrain in March 2018 , Lutz Meschke, deputy chairman of the executive board at Porsche, said: "Yes, we want to earn money with the new products and service. Of course [we will operate chargers as a profit center]. Yes."

Porsche now says the three years of free charging "will be included in the price of the Taycan."
As well as getting free use of Electrify America chargers, Taycan buyers will also get free access to fast chargers located at all 191 US Porsche dealerships.
The Electrify America charging network, partly funded by a fine paid by Volkswagen in relation to the diesel emission scandal, is still under construction. Once the first stage is complete, it will include over 300 highway stations in 42 states, plus more than 180 stations in 17 metro areas across the US. Each location will have an average of five chargers, with some having as many as 10.
The chargers will be compatible with a wide range of electric vehicles due on sale in the coming months and years, not just those from Porsche or parent company Volkswagen.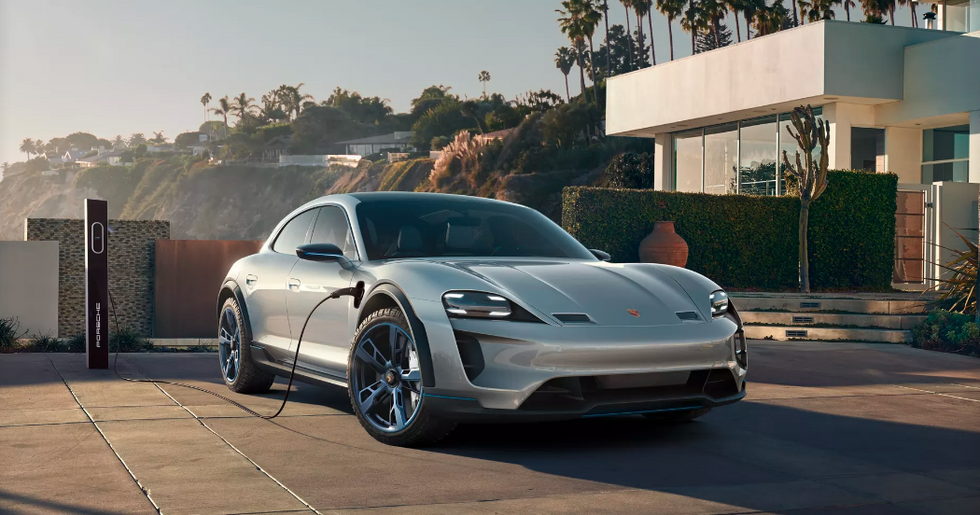 It is likely that buyers of the Cross Turismo, due after the Taycan, will also get free charging for a limited time Porsche
Each station will have at least two chargers offering 350kW, which is around three times the charging power currently offered by Tesla's Supercharger network.

Electrify America's second stage will see chargers installed at hundreds of additional sites, with construction starting on these in July 2019.
The highway stations will be spaced along multiple routes and no more than 120 miles apart. Nationally across the U.S., the Electrify America stations will be an average of 70 miles apart.

Porsche says the Taycan's 800-volt system can top up its batteries with more than 60 miles of range for every four minutes it is plugged into the charger. The German sports car maker will also offer home chargers to Taycan buyers, in a bid to further remove the range anxiety associated with driving an electric car.
Although deliveries won't begin until the end of 2019, the Taycan has proved hugely popular. Porsche is reportedly doubling annual production of the car from 20,000 to 40,000 units, due to overwhelming demand. To put this figure into perspective, it would mean more Taycans built annually than the Panamera, Porsche's flagship sedan.
GearBrain Road Trip Gadget Guide www.youtube.com
Like GearBrain on Facebook