Like GearBrain on Facebook
Remember the pure, simple joy of flying paper airplanes? Now try it with a tiny motor, rudder, and a smartphone app that lets you accelerate, take off, turn, do stunts, and land. Awesome, right? The PowerUp Dart is a motorized kit for paper airplanes that pairs with your phone and allows you to build remote controlled airplanes out of paper — in minutes. In my admittedly flight-nerd opinion, the PowerUp Dart is the coolest thing to come out of Kickstarter in years.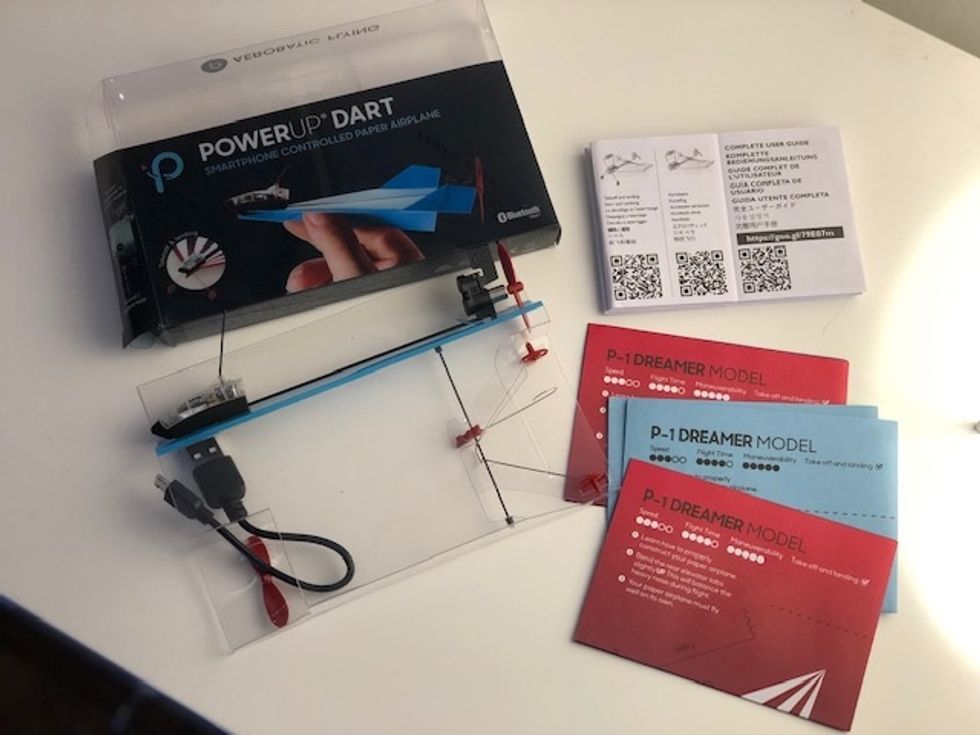 GearBrain
Fly fly away
Flying the PowerUp Dart is literally as easy as folding and flying a paper plane. OK, maybe a little bit harder. The kit comes with paper templates and directions to fold a multitude of paper planes with different flight characteristics. First, charge the motor, download the iOS or Android app, fold the plane, attach the motor and connect via Bluetooth, then fly. You control the turn and pitch of the plane by just tilting your smartphone like you would a steering wheel.
Like any paper plane some adjustment of the wings and ailerons might be necessary. But as a semi-pro paper plane pilot, the PowerUp Dart performs amazing well with not a lot of fuss. Mine flew easily many stories into the air, and was controllable, for the most part. Hey, crashes happen, but in this case you can simply fold another plane, attach the motor, and keep flying.

The biggest limitation of the PowerUp Dart is power: it has to be light enough to work on a paper plane, so battery storage is minimal — good for eight minutes of flight time total. The second limitation is range: this thing moves and will quickly leave Bluetooth range if you're not careful. Oh, and be wary of trees, but that's obvious.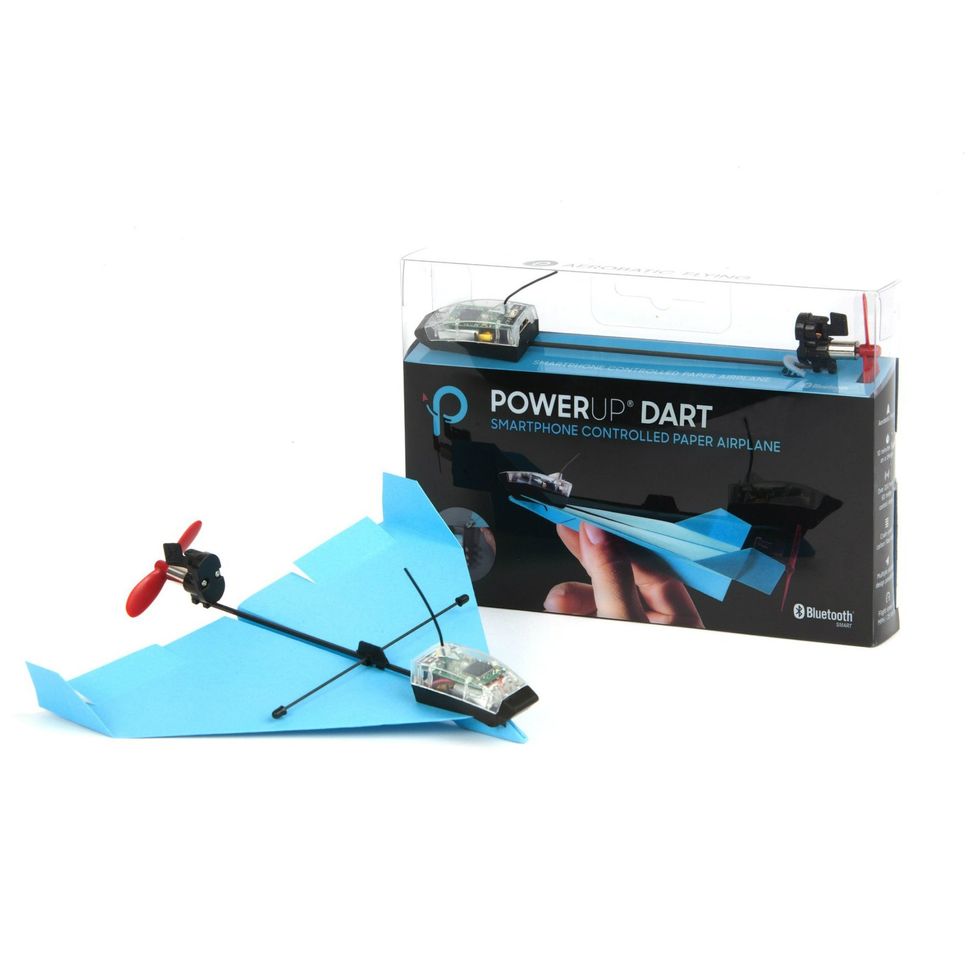 PowerUp Dart
For pilots in training
In two hours of use I found myself having to charge the plane up a lot, and also fished it out of more than a few trees. But overall, it's an amazing toy, educational for budding aeronautical engineers and affordable: just $39.99 for the basic model with landing gear. Plus you can choose your color: either blue or red.
For a kid interested in airplanes or flight, this is a no-brainer. Get it. But one note of caution: it does require a smartphone and reasonably advanced motor skills to fold and fly. Perfect, perhaps for a tween or teenager, but certainly not for any child you'd think twice about handing over your iPhone or Android phone. Also, a very nice gift for adults.
Pros:
• Paper airplanes, but more awesome
• Inexpensive
• Educational
Cons:
• Battery life
• Limited range
• Few included templates
Like GearBrain on Facebook