No sense in beating about the bush. Apple's new iPhone XS Max is the best smartphone the company that invented the modern smartphone has ever made. This assertion, by extension, arguably makes the Apple's new iPhone XS Max the best smartphone ever made.
Admit it. The fact you are reading this review reveals you are intrigued, if not outright tempted, by Apple's new extra-large cellular objet de désir. But that price! Costing between $1,099 and $1,449 for 512GB capacity, you're asking yourself what you'd really gain to justify spending that steeply.
If you own a current iPhone X, probably not. Maybe not even owners of an iPhone 8 or 8 Plus. But anyone who owns a suddenly old-fashioned LCD screen- and fingerprint Home button-equipped Arabic-numbered Plus iPhone edition may want to consider an XS Max upgrade. Even I, a serial annual iPhone updater, am seriously considering the XS Max the last iPhone I'll buy, at least until a model powered by next-generation long-distance wireless "air" power appears.
What makes the Max possibly the last iPhone you'll need to buy for a long while? Yes, as usual, it's incrementally faster and more powerful than previous iPhones thanks to Apple's new A12 Bionic processor, it's sturdier thanks to its stainless steel enclosure instead of aluminum and more durable glass than in past models, its camera captures slightly brighter images in low light, it's available in a luxurious gold finish, and adds support for next-gen augmented reality shopping and gaming, along with other advanced under-the-hood functions.

But we've identified seven practical considerations – along with three potential drawbacks – that, combined, should help you decide if the iPhone XS Max is worth its hefty price tag and an upgrade from a non-X iPhone.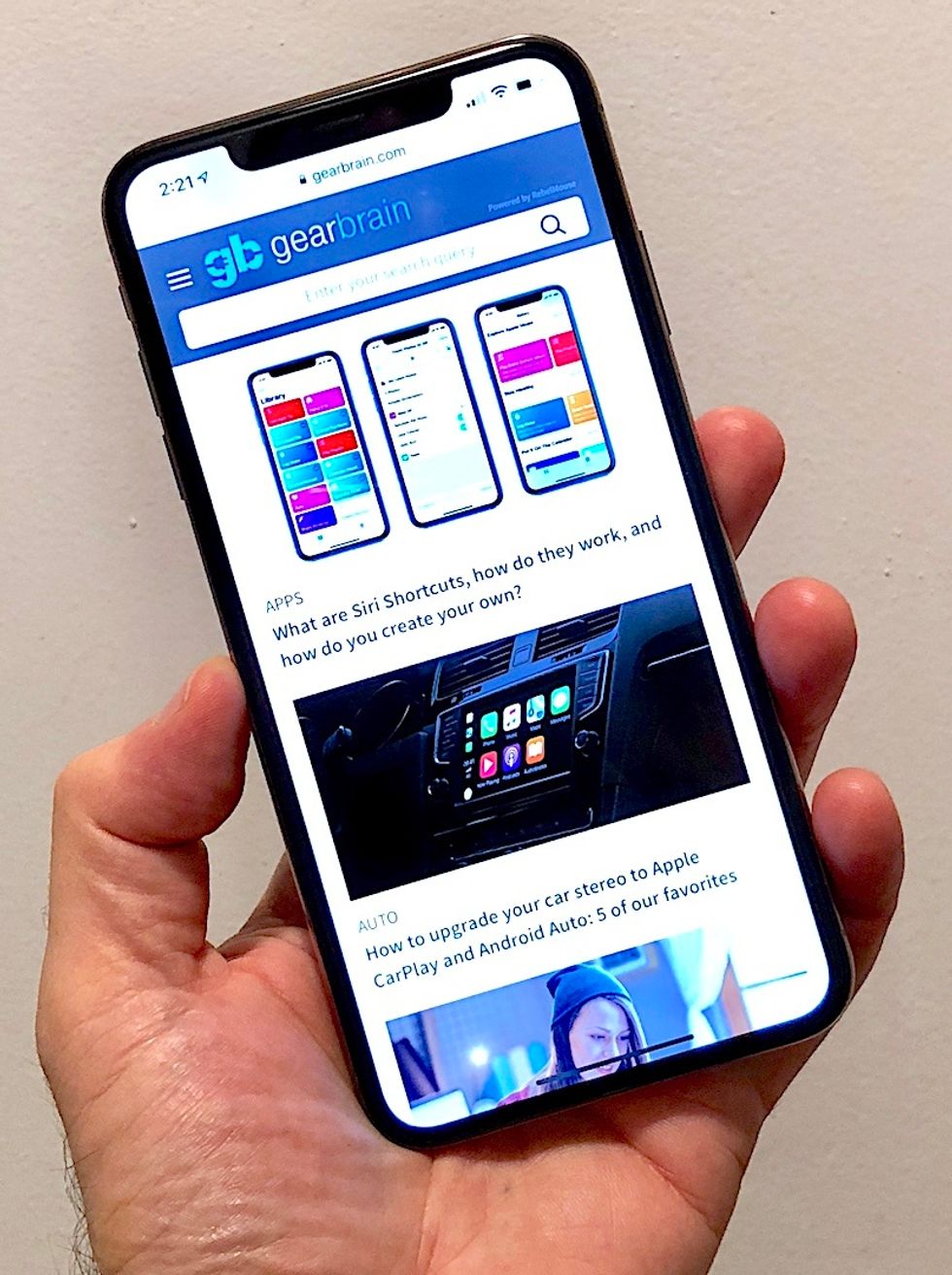 The iPhone XS Max still has the same notch as the iPhone XGearBrain
Physical Size
Physically, Max isn't much bigger than its smaller X or XS siblings (which are all the same dimensions) or the slightly larger pending XR: 6.2 x 3.05 x .3 inches (157.5 x 77.4 x 7.7 mm) for the Max, 5.65 x 2.79 x .3 inches (143.6 x 70.9 x 7.7 mm) for the XS/X – roughly 10 percent larger, and the same width. And you'll hardly notice the 15 percent weight increase, from the X/XS' 6.24 ounces (177 grams) to 7.34 ounces (208 grams) for the Max.
More importantly for potential 7 Plus/8 Plus upgraders, the Max is actually a smidge smaller (albeit a smidge heavier, 2 grams more than the 8 Plus, 20 grams more than the 7 Plus) than these older larger iPhones.
Max peaks up over the top like a decorative pocket hankie by about an inch in a man's front shirt or a half inch over the top of a sports coat front pocket, and is too tall to tip over sideways in an inside pocket, and won't bulge or slide around the front pocket of a pair of khakis unless you add a thick case. Max will also easily slip into most outside purse pockets or pocketbook compartments. Clutch owners, however, may be challenged.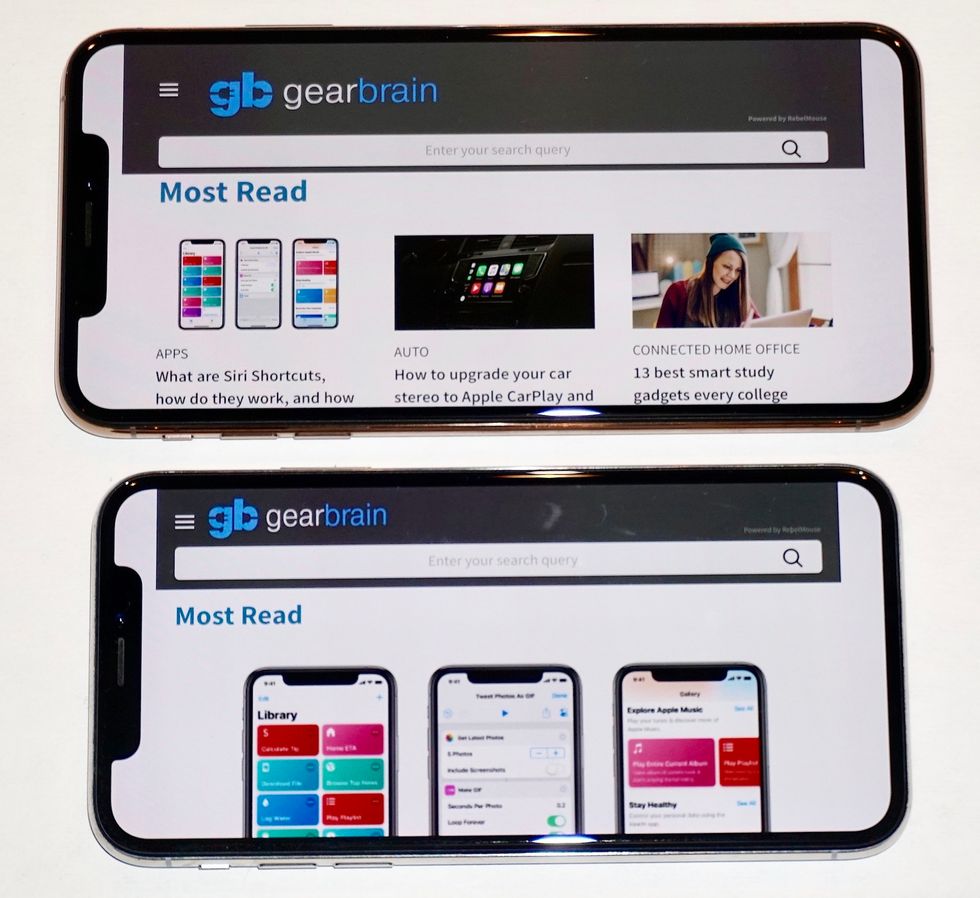 The iPhone XS Max (top) is slightly bigger than the iPhone X (bottom)GearBrain
Screen Size/Resolution
While the size of the Max may be considered a wash compared to the iPhone 7 Plus/8 Plus, there's a huge jump in the viewing real estate between the 5.5-inch LCD display of the iPhone 7 Plus/8 Plus compared to the Max's copious 6.5-inch screen. And, the annoyance of that damned X-series notch (which contains the phone's Face ID sensors) is lessened compared to the original X, XS and XR since it's smaller relative to the Max's larger screen.
Even more important is Max's dramatic increase in resolution, from the Retina 1080 x 1920-pixel, 401 dots per inch resolution on the 7 Plus/8 Plus to Max's Super Retina 1242 x 2688-pixel, 458 dpi display. Max's OLED screen also withstands bleaching out by sunlight than the LCD screens on pre-X iPhones.
Practically, you'll see more of web pages on the Max, you'll turn pages on e-books less frequently, and both movies and video games will fill your field of vision more satisfactorily, more effectively enveloping you in the viewing and playing experiences. For those with eyesight issues, you can increase the size of text – either Settings > Display & Brightness > Display Zoom (scroll down) or Settings > Display & Brightness > Text Size – but still leave enough text on screen to be useful.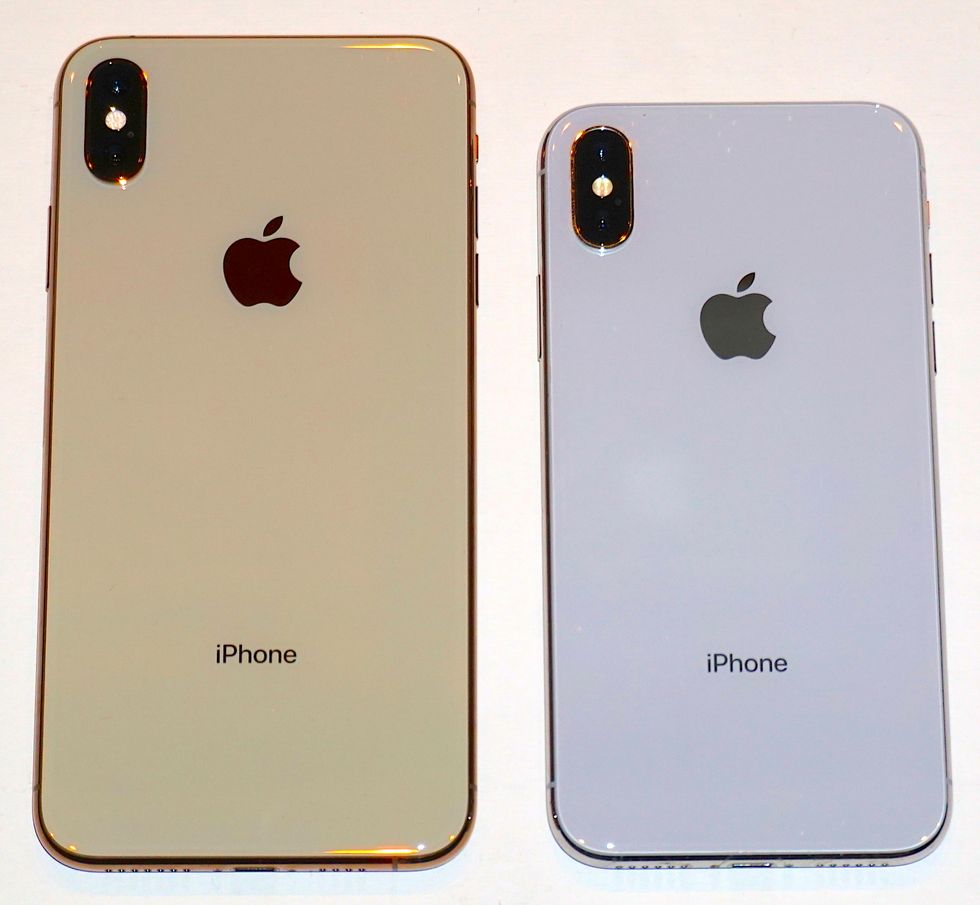 The iPhone X (right) was released in just gray and silver, while the new iPhone XS Max now includes a gold color GearBrain
More Memory
All three new iPhone XS/XR models are available with an option for 512GB of storage, twice as much space as offered on previous iPhones. Most of you won't think you need this massive amount of memory; those who do are those (like me) who store their music on their phone rather than stream (too much time spend underground in the subway).
To gauge your future memory needs, first check what percentage of your current iPhone's memory you've already filled: Settings > General > iPhone Storage. If you've got a third or less of your storage left, you're a candidate for more memory in your next iPhone.
How much more memory do you need?
Consider how long you are going to likely own this phone. As iPhone feature improvements become more granular, the need to upgrade will begin to wane.
Then consider that new iPhones snap higher-resolution photos that take up more space. Then consider that the number of high-resolution photos you'll snap, the HD and 4K videos you'll shoot, and the movies and video games you'll accumulate to play are sure to accumulate over subsequent years. Bumping up to more memory now acts as a hedge against these future media acquisitions, especially since you can't expand an iPhone's memory via a microSD card as you can with most Android phones.
IP68 Protection
The last three generations of iPhones – the original X, the 8-series and the 7-series – are all IP67 rated, which means they can survive submersion into one meter/three feet of liquid for up to half an hour, which covers rain or snow usage, and accidental toilet and bathtub drops. iPhone 6s and earlier are either merely water-resistant – i.e. splashes are okay, just don't dunk 'em – or are as happy around water as was the Wicked Witch of the West, and are are dunking accidents waiting to happen.
iPhone XS Max, however, is IP68 rated, which doubles the depth into which it can be drenched and not drown. Practically, that means Max can survive submersion into not only a toilet or bathtub, but into the deep end of most swimming pools, even for several laps, or even if you take it snorkeling, accidentally or on purpose.
Considering that there are 10.4 million residential and 309,000 public swimming pools in the U.S., according to the Association of Pool & Spa Professionals, and considering the Max's swanky price, this extra meter of submersion survivability is not an insignificant upgrade, especially if you own an iPhone 4, 5 or 6 edition.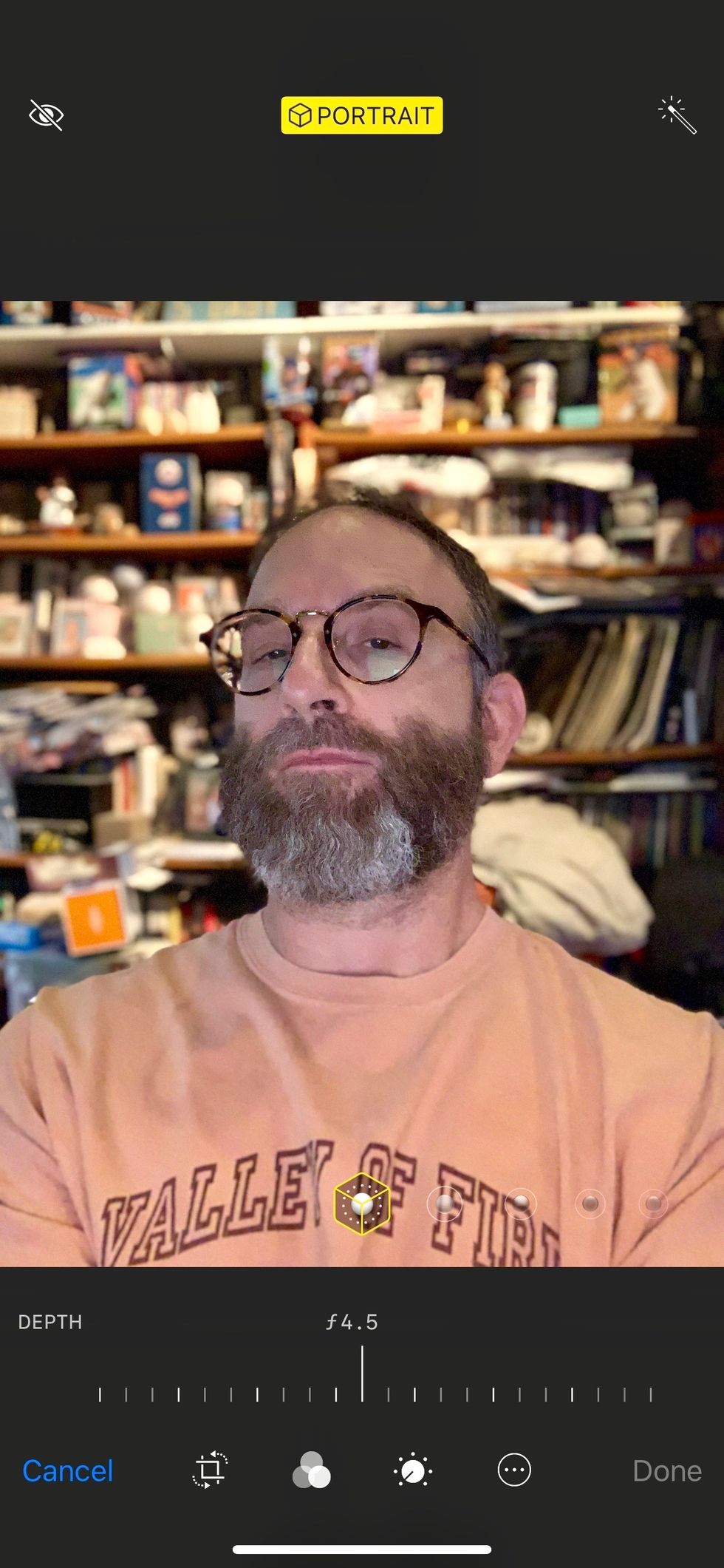 The iPhone XS Max portrait mode in action, before adding the bokeh featureGearBrain
Depth-of-Field Photo Editing
Post-photo depth-of-field adjustment – aka bokeh – is one of those you-didn't-know-you-needed-but-now-can't-live-without features Apple specializes in, and will change the way you take photos, especially selfies.
Here's how it works. When you open Camera, slide left from Photo to Portrait. Snap a photo. Then, open the photo. Tap Edit. In a nano second, a sliding scale appears beneath the photo. Slide the scale right, and the background gradually blurs. Slide left, and the background comes into focus.
So what, you ask? Sometimes you want to see the background clearly in a photo, such as when you're traveling. But sometimes you only want to see the subject of photo. Sometimes you get photo bombed and want to eliminate the offender. Sometimes you just want to be arty.
In all events, blurring the background will quickly become the new normal, especially when it comes to selfies and headshots.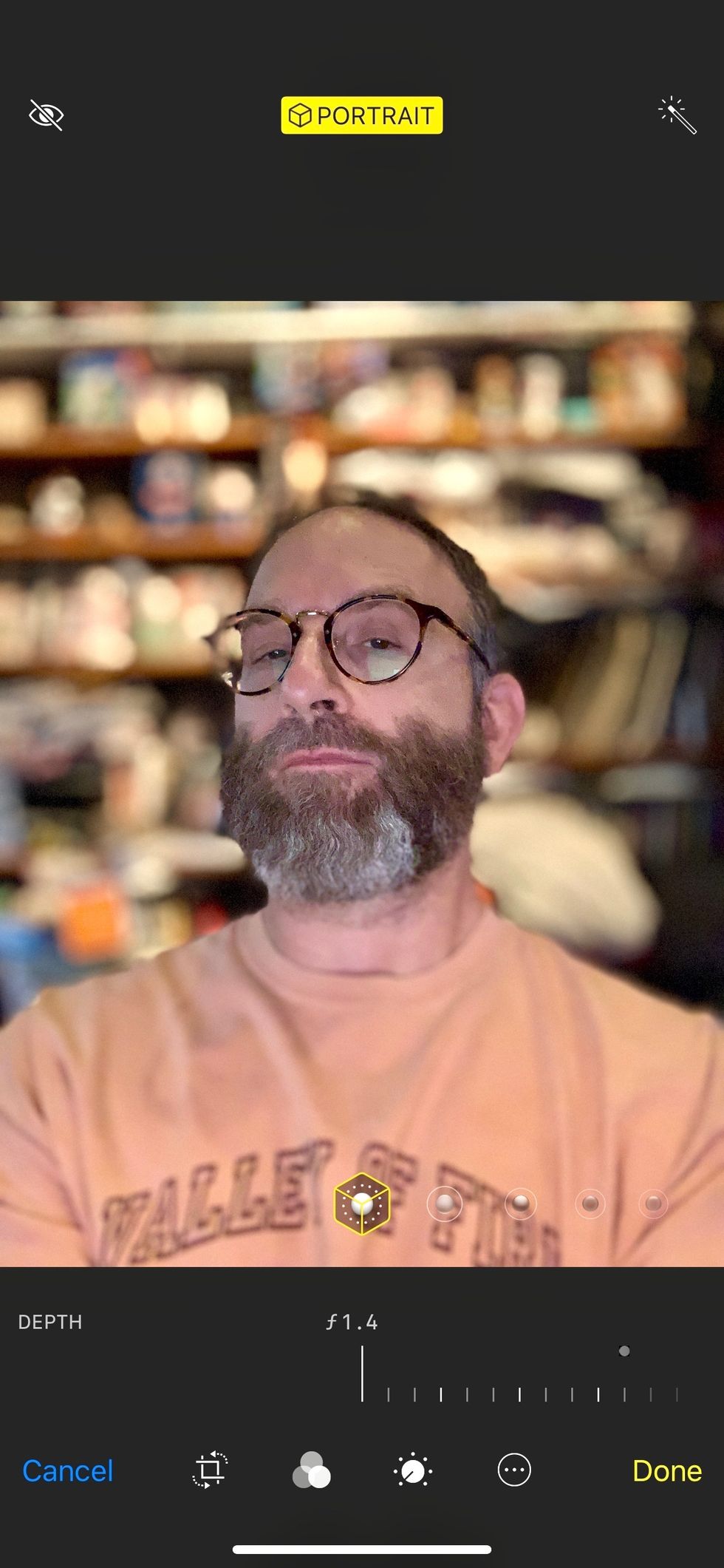 Here's the photo above, with the bokeh feature activatedGearBrain
Auto NFC Tag Detection
Apple Pay is a way cool way to pay for things and, now, to get cash from an ATM without a bank card (if your bank supports this function).
But using Apple Pay or a digital payment method means first searching for and booting your Wallet or banking app on your iPhone, which takes pretty much as long as fishing out your bank card from your wallet.
Apple has solved this first-world "search-for-the-app" delay by upgrading its Core NFC (near field communication) to allow what is called Background Tag Reading. NFC is a wireless radio connectivity standard; its most common iPhone usage is you just tap a pair of AirPods or Beats headphones to auto-pair them with your iPhone.
In the same way, with this update of iPhone's NFC, you can simply tap a compatible NFC tag at an Apple Pay-enabled retail payment terminal, or the wireless tag at an ATM with your iPhone, and the iPhone and/or the device you touched knows what it needs to do and automatically responds appropriately.
Sure enough, I tapped my iPhone XS Max to the NFC tag at a JPMorgan Chase ATM, and the kiosk immediately prompted me for my PIN – no bank card necessary, no opening the bank app necessary. To pay for some sandwiches at my local deli, I just tapped my iPhone XS Max on the Square terminal at the cash register, and the kiosk immediately knew I was using Apple Pay and triggered the payment process – no opening the Apple Wallet app necessary.
By opening up its Core NFC to third-party developers, expect a lot more devices to automatically interface with your new iPhone XS with just a tap. Some real-world examples could include auto-pairing a variety of other Bluetooth headphones, using your iPhone to unlock hotel room doors, tapping on a display to get information or directions or whatever details are deemed necessary – all without booting specific apps, just tapping your iPhone XS to the NFC tag.
For some reason, Apple hasn't really advertised this NFC improvement. But an endless array of possibilities have suddenly opened up for developers to create new experiences or data, accessed merely by touching your iPhone XS to it. This new NFC access could have more impact and drooling desirability than any other new iPhone XS feature.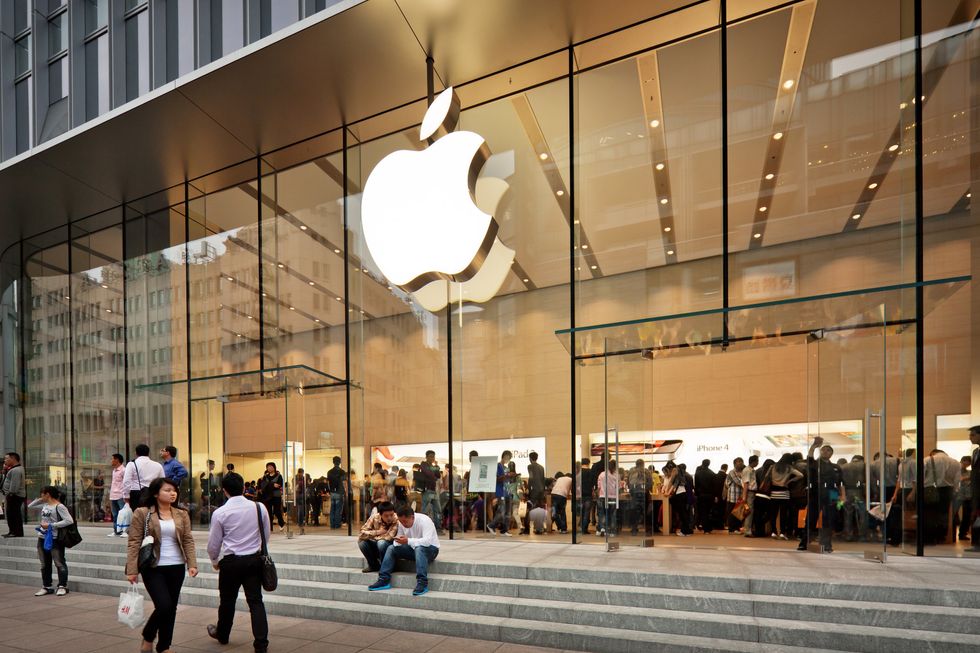 Apple's iPhone XS Max is the best iPhone (in our opinion) yet. iStock
Dual SIM
This is a consideration for frequent overseas travelers and business folks only.
While many phones have offered dual SIM cards capabilities – one SIM card to handle calls and text while you're at home, a second SIM card with a separate number for calling and texting overseas or to create a separate second business-only line – this is the first iPhone to offer this long-awaited two-line convenience.
But there are three caveats to Apple's dual SIM:
First, only unlocked iPhones contain the dual SIM tray, which means you have to buy your iPhone XS from Apple, then get the necessary SIM cards from your carrier(s). This is not a bad thing, but it is an extra thing that also removes potential alternative purchase/finance options and requires a bit more work on your part.
Second, even if you buy an unlocked iPhone XS, you'll have to wait until Apple updates iOS 12 with the necessary firmware to make the dual SIM cards work.

Third, not all carriers in all countries support it. If you buy an unlocked iPhone for its dual SIM capabilities, you may have to wait a while before you can use it where you need to.
But, folks who need this second line are happy this dual SIM option is even on its way, and won't mind waiting a bit longer then jump through whatever hoops are necessary to get it.
As an aside, you'll also have to wait for the highly-anticipated group Facetime feature, which will allow up to 32 people to participate in a single video call, for an iOS 12 update, hopefully later this year.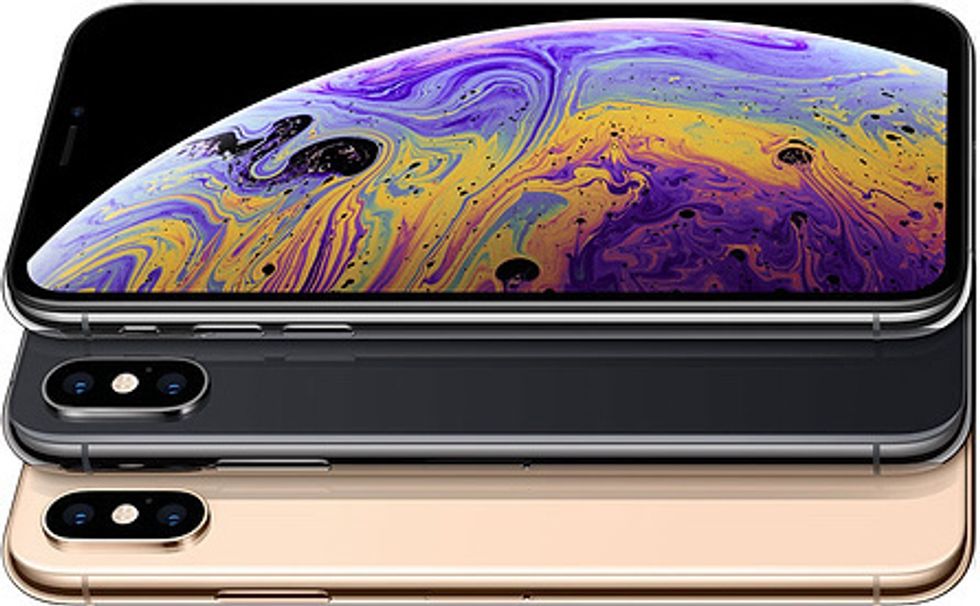 Apple
iPhone XS Drawbacks
Not everything about the new iPhone XS Max is wonderful. We found three aspects we could be happier about.
'Extra' battery life
Apple boasts that Max gets 90 minutes more battery life than last year's original iPhone X. In my own informal and decidedly unscientific testing, I got around 15 percent longer battery life, about a half hour more than the original X, 9 hours vs. 9.5 hours. Even this slight improvement is an achievement since Max's screen is much larger, which means it burns a lot more lithium-ion fuel.
Thanks for the slightly longer usage time, and it is around two hours more than the iPhone 7 Plus originally delivered. But iPhone 8 Plus actually lasts a few of hours longer of constant usage, depending on usage, than the Max. But it's also likely that, after a couple of years of constant usage, iPhone 8 Plus' battery life has deteriorated, equalizing the differential.
More practically, since you're unlikely to have its screen on for 9.5 hours consecutively as I did in my testing, Max's operational life is certainly more "all-day" than most other iPhones. So, if you're thinking of replacing an iPhone series 4, 5, 6 or 7, Max's battery will definitely last longer. Just maybe not as long as an 8 Plus, which, like the X-series models, includes Qi wireless charging.
Speaking of Qi wireless charging, this ridiculously convenient feature is missing on all iPhone 7 or earlier editions. Qi represents yet another incremental argument for moving up to the XS from an earlier non-X iPhone.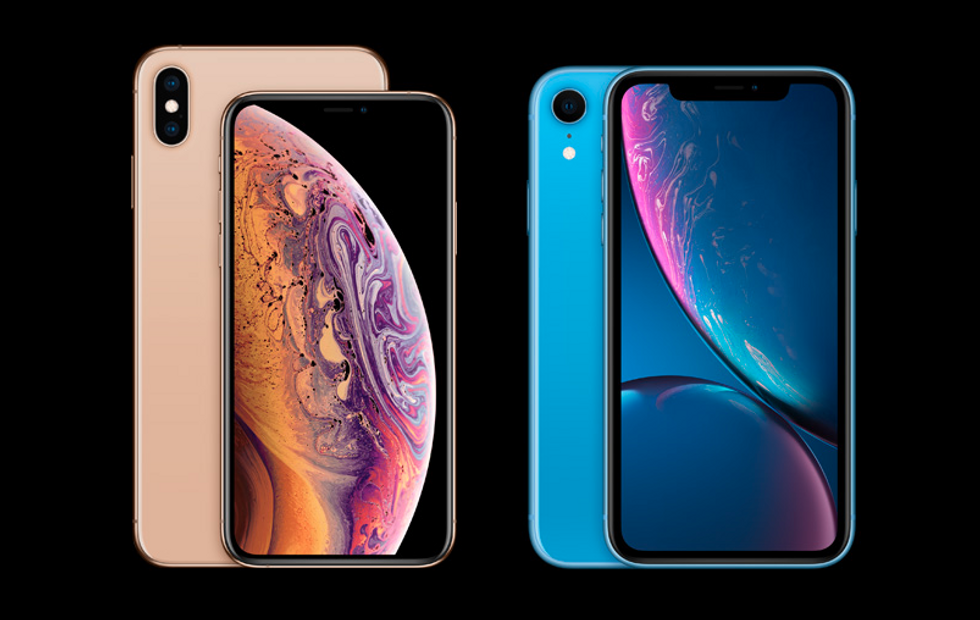 Apple
'Stereo' Sound
At its introductory event earlier this month, Apple lauded the XS's stereo sound. But the speaker array is only sightly different from the original X, and in my side-by-side testing with the original iPhone X, I found little difference in volume or sound – maybe the Max wasn't as tinny as the X. Last year, other testers didn't seem to find much difference between the sound output by the original iPhone X compared to the iPhone 8. So if there is a difference between the Max and other recent iPhones, only platinum-eared types doing high-level A-B testing will be able to report a significant difference.
All recent iPhones pump out around 90 decibels, plenty for most intimate music listening or speakerphone calls, and are louder than most Android devices.
But other than for speakerphone calls, I've never considered sound output, either quality or volume, to be that critical since most folks will listen to music and calls via ear/headphones.
Heat

In the first few days of using Max, I've noticed it's generating a bit more heat than the original X. Some of this might be a factor of its larger battery and its increased size, which creates more iPhone to get warm.
A slightly toastier iPhone isn't a deal-breaker (it may actually be a boon during the winter), but it's definitely not a benefit.
Summary
If you own a pre-iPhone X phone, Max gives you one giant reason to upgrade (it's 6.5-inch OLED screen, duh) and a pile of lesser reasons that aren't purchase rationales individually but really pile up. It's like how Sam Spade (Humphrey Bogart) enumerated the reasons he was going to turn Brigid O'Shaughnessy (Mary Astor) over to the cops at the end of The Maltese Falcon: "Maybe some of them are unimportant – I won't argue about that – but look at the number of them!"
Even Max's drawbacks are more six-of-one/half-a-dozen-of-another than deal-breakers. Max is faster, more functional, prettier, lasts longer (with the possible exception of the iPhone 8), gets better cellular connection thanks to rearranged antennas, and is easier to read and interact with than any previous iPhone.
Bottom line: there are now just too many admittedly incremental but cool and useful things Max can do (and will do) than non-X iPhones can't.
As such, I unhesitatingly recommended the iPhone XS Max for all owners of non-X iPhones (with iPhone 8 Plus owners the possible exception) and clunky old Android phones – if you can afford the splurge. Max is the stuff that dreams are made of.
Pros:
• 6.5-inch OLED screen
• Same size as iPhone 7 Plus/8 Plus
• New Portrait mode bokeh photo editing
• Auto NFC tag detection
Cons:
• Expensive
• No significant battery increase
• Delayed and limited dual SIM support