Like GearBrain on Facebook
Last Updated: September 17, 2018
One of the most important investments for a home owner is a home security system. GearBrain has written a lot about what you need to know about home security system and cameras as well as the different types of home security systems and cameras available today. One area we see growing quickly is the do-it-yourself (DIY) space and monitor-it-yourself (MIY) space, where consumers install and monitor their own home security camera systems. These are devices or systems that are easy to set up, and usually include just a video camera, or a hub, and a few cameras. They alert you—and only you—when there is motion detected in your home, apartment or office. We tested what we think is one of the best DIY/MIY home security devices, Blink.
For this review, Blink sent us its Three Camera System + Sync Module, which retails for $229. It consists of three cameras and one wireless hub. Blink systems work with a iOS devices operating 8.1 or higher, or Android devices with 4.4 KitKat or higher. Blink's system is built on a 2.4 Ghz Wi-Fi network and a high speed internet connection (DSL, cable or FiOS) with minimum 2 Mbit/sec upload speeds. We used FiOS for our test.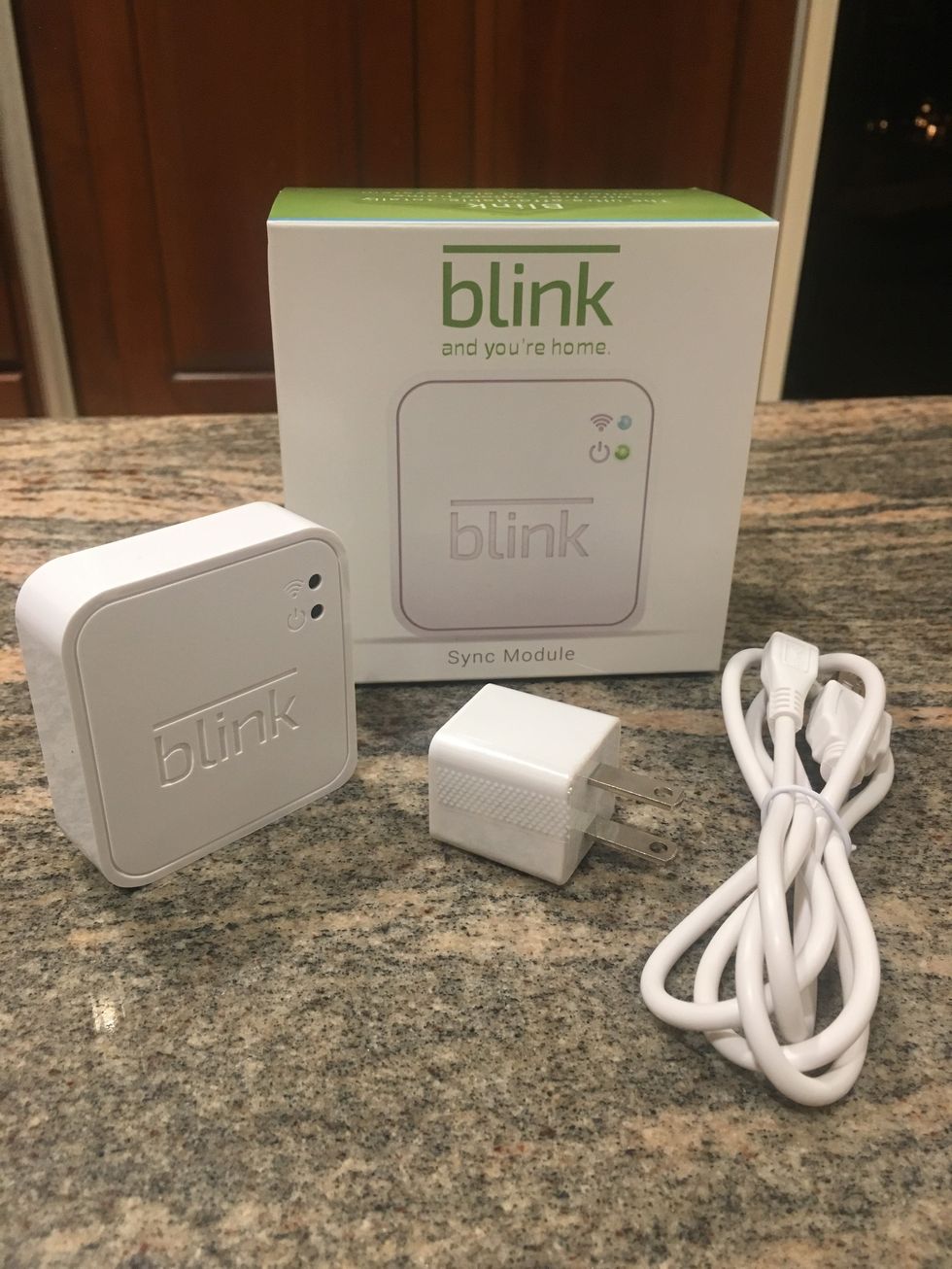 Picture of unboxed Blink Home Security SystemGearBrain
Installation

Blink had one of the easiest setups we've found for a DIY/MIY home security system. We started by downloading the Blink mobile app, Blink Home Monitor, from iTunes. (You can also download the app from Google Play.) We recommend downloading the app first to make setup easier. Once the app is downloaded, Blink provides a step-by-step process (text and videos) to set up your cameras and hub.
When setting up Blink, here are a few things to keep in mind:
We recommend placing your Blink hub close to your router. But the device does not have to be right next to it. The hub connects to your router via a wireless connection. There is an Ethernet port in the hub but it's disabled. The company might enable this port in future releases, but for now you don't need to connect your hub to your router using this port. We like this because it will allow you to place the Blink hub in any location you choose.
While you are inserting the two AA batteries into the cameras, make sure you record the serial number on the inside of the encasement. You will need these numbers when registering your camera via the mobile app.
Blink cameras come with a mounting bracket. To learn how to set up and use this bracket, go to the Knowledge base section in the app. Here you will get all the information you need, including visuals to help you through the installation process. This section is also good place to refer to if you have any additional questions.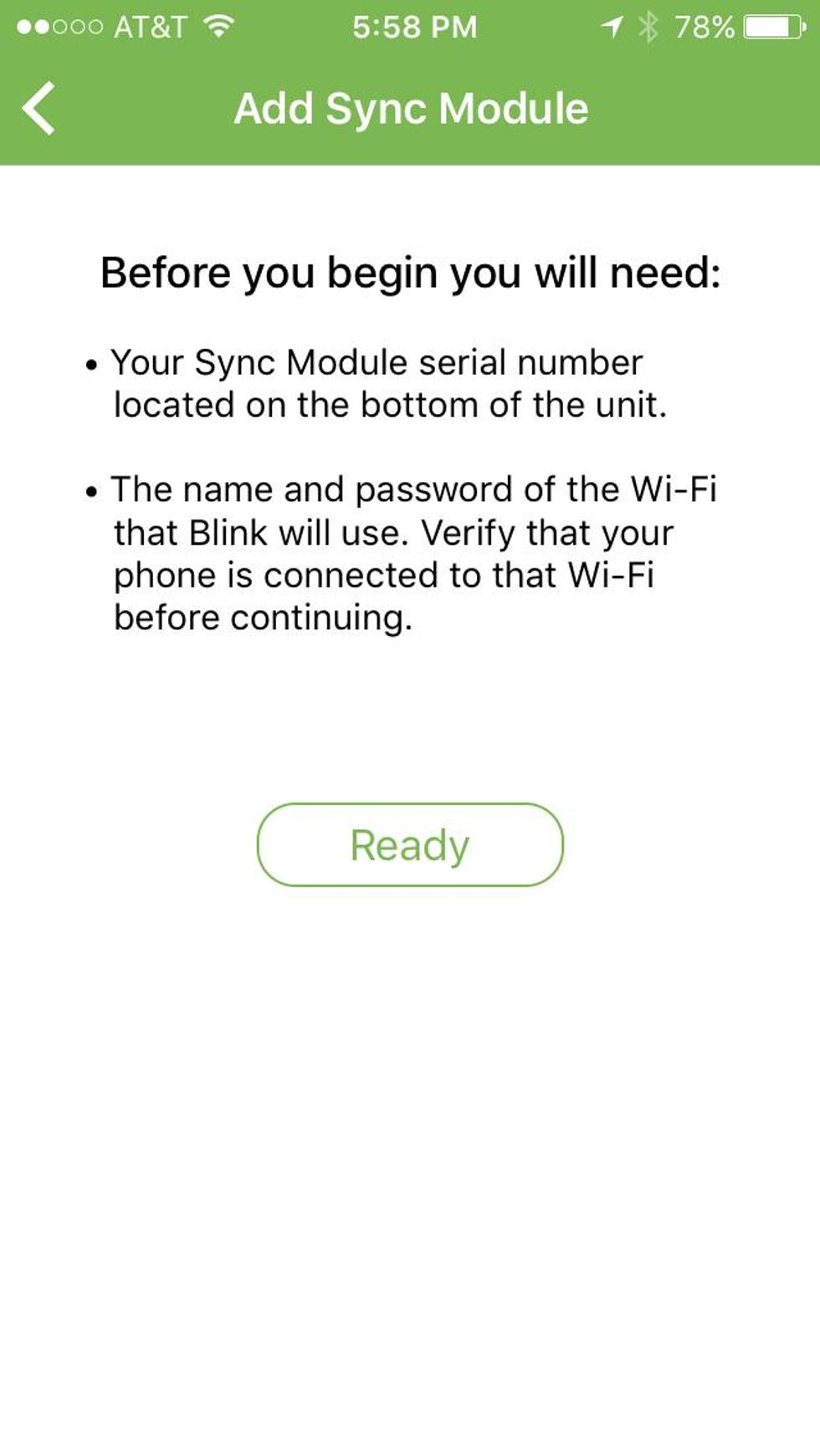 Blink mobile appGearBrain
Camera Setup

Once we had all the cameras working and connected to the hub, we set out to place each camera in the best position to secure the home. We would recommend doing this step prior to any cameras adjustments. This will assure you are getting your pictures and videos from the right angles and with the best clarity.
To adjust the camera settings, you go into the mobile app, tap on the gear symbol for each camera. This will bring you to a screen with all the camera settings. Here are the all the settings you will see:
Retrigger Time: This will show how long before a second motion event is triggered. You can reset the retrigger time between 10-60 seconds.
Sensitivity: This will show how sensitive your camera is to motion. You can set this between 1-10 seconds.
Clip Length: You can adjust this setting between 1 and 60 seconds. Note that Blink just updated this setting so when you go to this setting and only see 1-10 seconds, don't worry. Within 24 hours after you connect your camera to the hub, your camera will receive the necessary firmware update and the settings will expand to 1 - 60 seconds. Also, keep in mind with this setting that it does impact your battery life. The longer the clip length the shorter the battery life.
Illuminator settings: This is where you can adjust your camera based on the amount of light in the room. You can set the settings to be on, off or auto. You can also set the intensity to either low, Mid or High.
Audio: Blink cameras comes with a built in microphone which can record audio. In this setting, you can enable or disable the microphone in the camera.
Status: This setting will show you battery life and signal strength.
Delete Camera Button: You will find this at the bottom and use when you remove a camera from your system.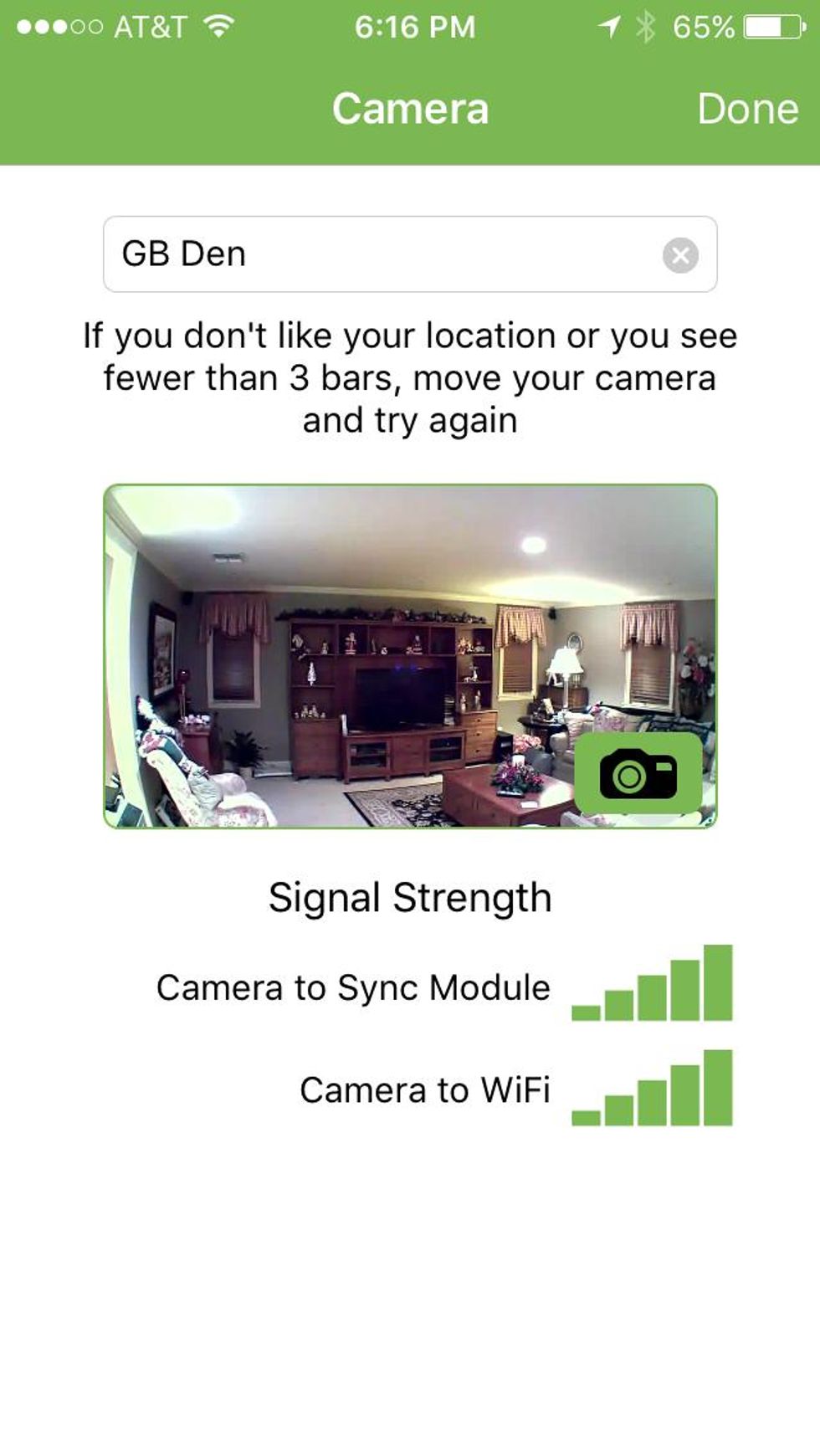 Blink Mobile appGearBrain
One of the features we liked about the Blink camera is the ability to auto adjust the camera Illuminator settings in rooms where light varies during the day. In camera settings, under Illuminator ,set the setting to "Auto" and then put Intensity up to 'high'. This is the setting to use to adjust to low light conditions, as well as bright ones. Once completed, we recommend going back to your dashboard, click on the camera you've just adjusted, and see how it looks with the new settings.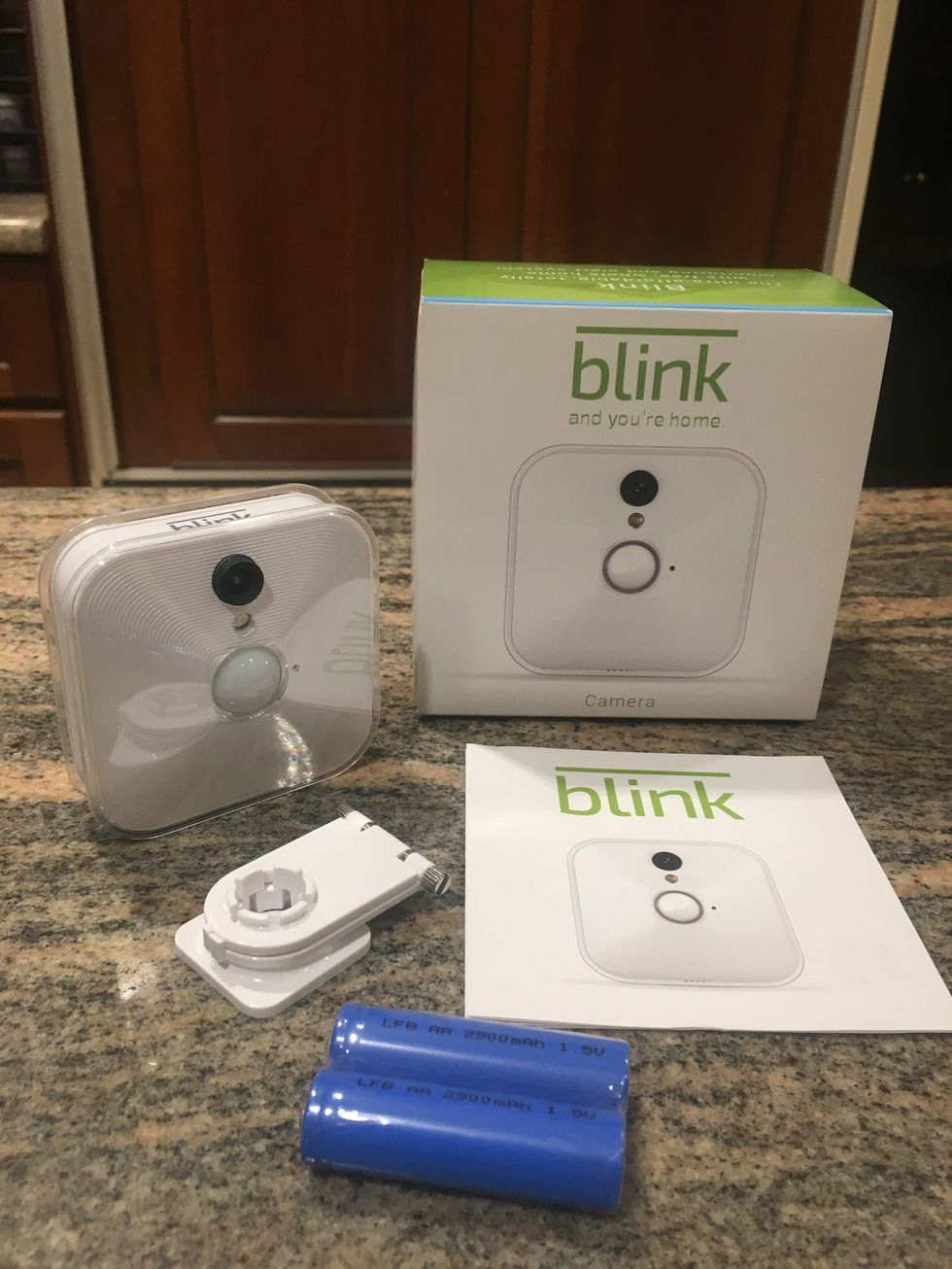 Inside the box of Blink Home Security GearBrain
Camera Features

Blink cameras offer HD quality video and live view modes. They can be angled up to 110 degrees. There is a temperature sensor in each along with a built-in microphone and adjustable motion detection. Keep in mind the camera's PIR sensor will not work through glass. So don't try to use the camera to monitor things outside or through a window. The camera will record the video—but you won't receive alerts when the camera is armed. If you want to an outdoor camera, Blink does have an outdoor camera called Blink XT and its very good. You can see GearBrain's full review by visiting Review: Blink XT Home Security Camera
Another neat feature with Blink cameras is its ability to view a person's facial features up to 20 feet away. At 32 feet, you can't see any facial features. But you will be able to see a person, depending on the amount of light in the room. This is a nice security feature most cameras don't have today.
Recently, Blink announced all of their home security cameras are now fully integrated with Amazon Alexa-enabled devices including Amazon Echo, Echo Dot and Amazon Tap. Now you can control your Blink's security system without lifting a finger, using voice alone to make your home more secure. (Check out The GearBrain, our smart home compatibility checker to see the other compatible products that work with Amazon Alexa.)
Camera Settings for Pets

If you have pets, make sure the camera doesn't send alerts when your cat or dog walks through your home. We really like the fact Blink's cameras have special settings for pet owners. It did, however, take some time to find the right setting for you and your pet.
Blink also captures motion based on heat signals moving across the camera's field of view. If you have pets you will need to adjust the sensitivity setting in each camera so it doesn't send alerts every time your pet is detected. But keep in mind there are no standard settings for this because each camera placement is different and the size of pets vary. The best way to find the right sensitivity setting is to set up your camera where you want, make sure its armed, and then have your pet walk in front of the camera to see if an alerts is triggered. If you get an alert, you need to adjust the sensitivity setting. If no alert, you have found the right setting for your pet.
When adjusting the sensitivity level on the camera, make sure it's not set so low you never get an alert. How do you know if the setting is too low? Walk in front of the camera and see if you get an alert. If you don't, adjust to account for your movement. Once you find the right levels, the camera is now optimized for a pet environment. We tested this and it took us awhile to optimize the setting for our home and pet. So be patient with this part of the setup.

Blink can also impact your cellular bill depending on the data plan you have with your carrier. Blink cameras generate live videos and the storage data for each clip is about 750 KB for every 5 seconds of motion. If you are using the mobile app— but not through a Wi-Fi connection—you could eat up a lot of data. if you have one of those unlimited data plans, you have nothing to worry about. However, if you don't, you need to keep an eye on this or you could end up with a big monthly cell phone bill.
Add-on Blink Indoor Home Security Camera for Existing Blink Customer Systems
Summary

Blink Home Security cameras and hub can make a good home security system for the person who is looking for a good, low cost solution. There are no monthly fees or contracts. However if someone does break in to your home, you are the only one notified. So you will need to act fast.
If you live in an apartment or you rent a house, Blink is a good option to consider. There are no wires to deal with during set up, and it's easy to pack up and take with you to your next home or apartment. Blink can also be a good system to use if you own a small business and want to keep an eye on things while you are gone. If you want to have multiple Blink systems securing your home and office, you can do that as well all from one account.
Another feature we liked about the Blink is how you can have multiple users in your home accessing the system. All they have to do is have an iOS or Android smartphone and download the Blink app. You do, however, have to use the same account and log in information, and only one user will be able to use the Live View feature at a time.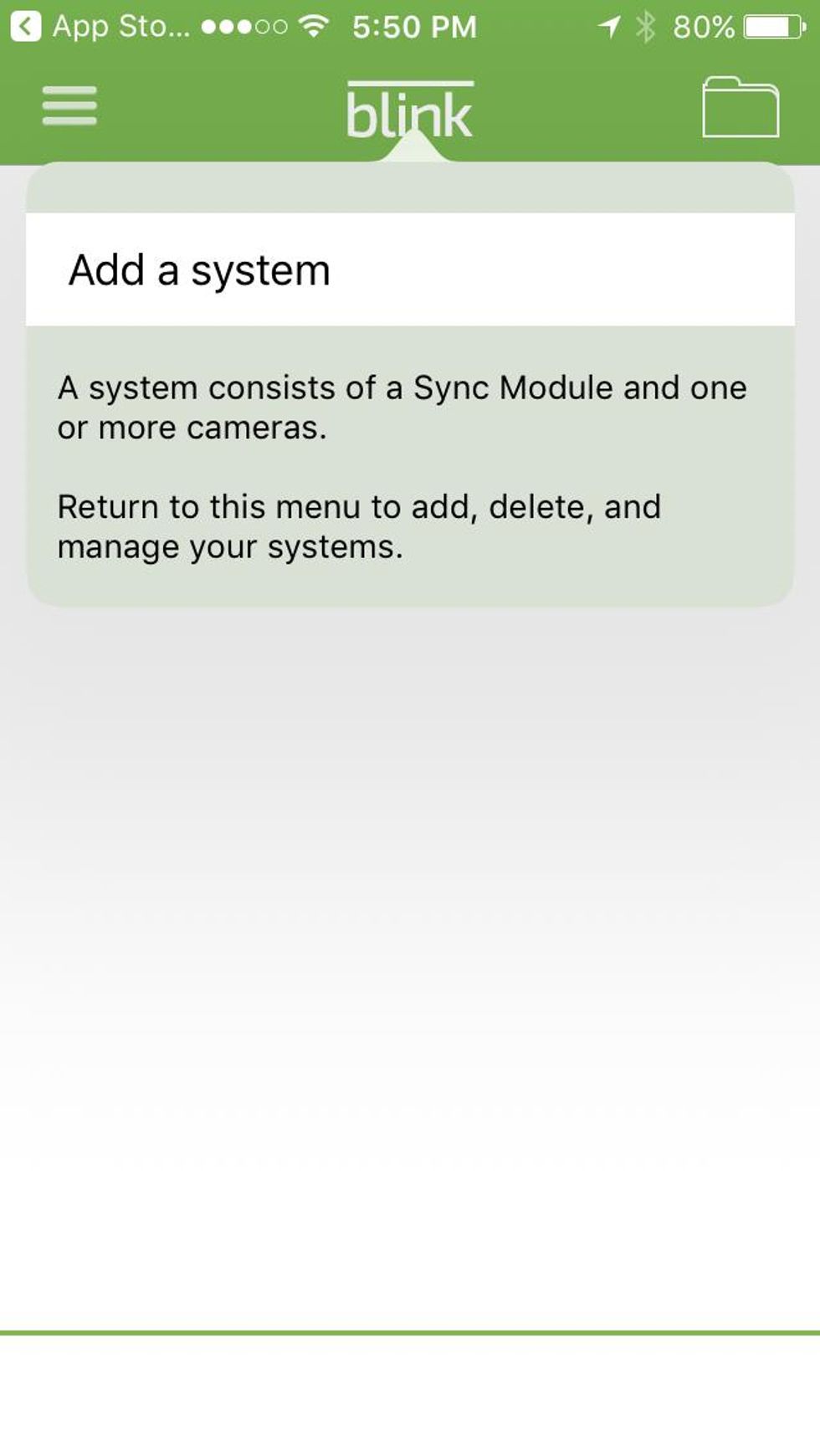 Easy to add a device in Blink mobile app.GearBrain
Do you own an Amazon Echo? if you do, Blink is a home security system you can use. Blink integrates with Amazon Alexa enabled devices including Amazon Dot and Amazon Tap. You do need to know the Alexa Skill is currently available only in North America., but the company says it will be adding this support to other countries in the near future. Also, we recommend reviewing how to set up Alexa through the Blink app before you do the actual setup via the Amazon Alexa app. It will make it a lot easier for you. (Check out our review of Blink's Alexa Skill here.)

The only two things we wish you could do with Blink is add an alarm and access the system via a computer. Right now, Blink doesn't have an alarm. But the company is working on adding one to their system possibly next year. You can check their website for updates.
Blink cameras and hub are available on the company website as well as at Amazon and eBay. They offer different packages based on customer needs. The $99 starter kit comes with one camera and one hub— good if you have a small apartment or want to secure one room or a garage. Blinks $349 best value package comes with five cameras system, good if you own a home. Or you can just buy individual cameras at $75 each, ideal if you want to start off small and slowly add to your system.
Overall, we like Blink and consider it one of the best DIY/MIY home security systems and cameras on the market. Once they add the outdoor cameras and possible the ability to add an alarm, Blink would be an excellent affordable home security system for any smart home owner.
To learn more about home security cameras for your smart home, check out 5 Best Questions Around Smart Security Cameras. Also, if you need help installing any Smart Home System or products , you can visit HomeAdvisor.com to find a local trusted professional.
Pros: Cost, easy installation, portable, HD cameras, night vision and live HD video, pet friendly, no monthly fee or contract, multiple systems and users, integrated with Amazon Alexa enabled devices.
Cons: No alarm, can't connect or control through a computer, indoor use only, doesn't monitor movements through glass.
Like GearBrain on Facebook