Like GearBrain on Facebook
Most consumer-targeted tech products these days rarely ship with thick, paper user manuals. You might be able to download a voluminous PDF from the manufacturer's website, but most people expect to begin using a product immediately after turning its power on, which means it needs to be intuitively designed so that the buyer can set it up without a lot of guidance. That's part of what makes the Blink XT home security camera, $129.99, so impressive.
Blink's network camera provides an easy-to-use, straight-forward home-security camera solution from the moment you open up the box, with just a very short Quick Start guide to show you how to use Blink's mobile app to view a living room or front yard remotely.

Once the system is set up, the camera will only record (and alert you via text message) when it senses movement or motion within its field of vision (110 degrees). The video clip, which can be set between 5 and 60 seconds, is stored on Blink's servers. Through the app, you can then delete or download the video clip to your phone or transfer it to a computer hard drive.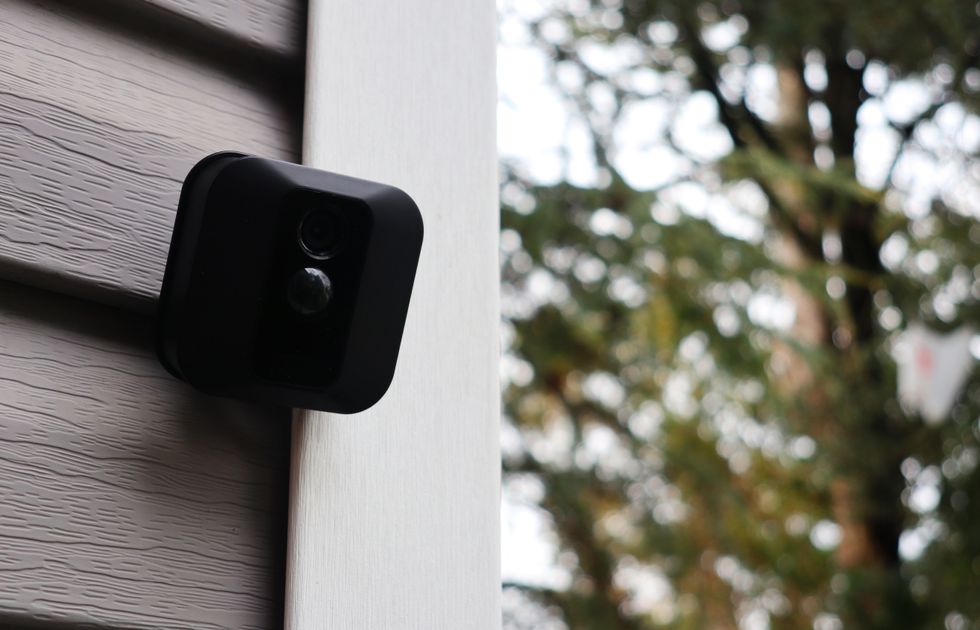 The Blink XT is designed to work both indoors and outsideGearBrain
In some respects, the Blink XT mirrors the same turnkey sensibility you'll find in products like the Kindle or Fire Stick, both from Amazon, which bought the security camera company at the end of 2017. Although Blink has been focused on making easy to use products since creating its first home security camera at the beginning of 2016. In fact, both Blink camera models are great examples of do-it-yourself (DIY) or monitor-it-yourself (MIY) security cameras, which consumers can install and monitor themselves.
What's in the Box and Set Up
The Blink XT unit we tested comes with two main pieces of hardware: The Blink XT camera and the Sync module, or wireless hub. The camera also includes a USB cable, power adapter, mounting kit, and two AA batteries, plus a very short Quick Start guide, which is only six pages, but still gets you up and running pretty quickly. I was able to get through the set up in less than 10 minutes.
According to Blink, in order to optimally use the Blink XT camera, you'll need a high-speed internet connection (DSL, cable, fiber) with a minimum upload speed of 2 Mb/s and a wireless network that supports 2.4 Ghz 802.11n. You'll also need to download the Blink Home Monitor App, which is available on both iOS (version 9.3 or higher) and Android platforms (version 4.4, KitKat, or higher). For our tests, we used a cable model as our wireless system.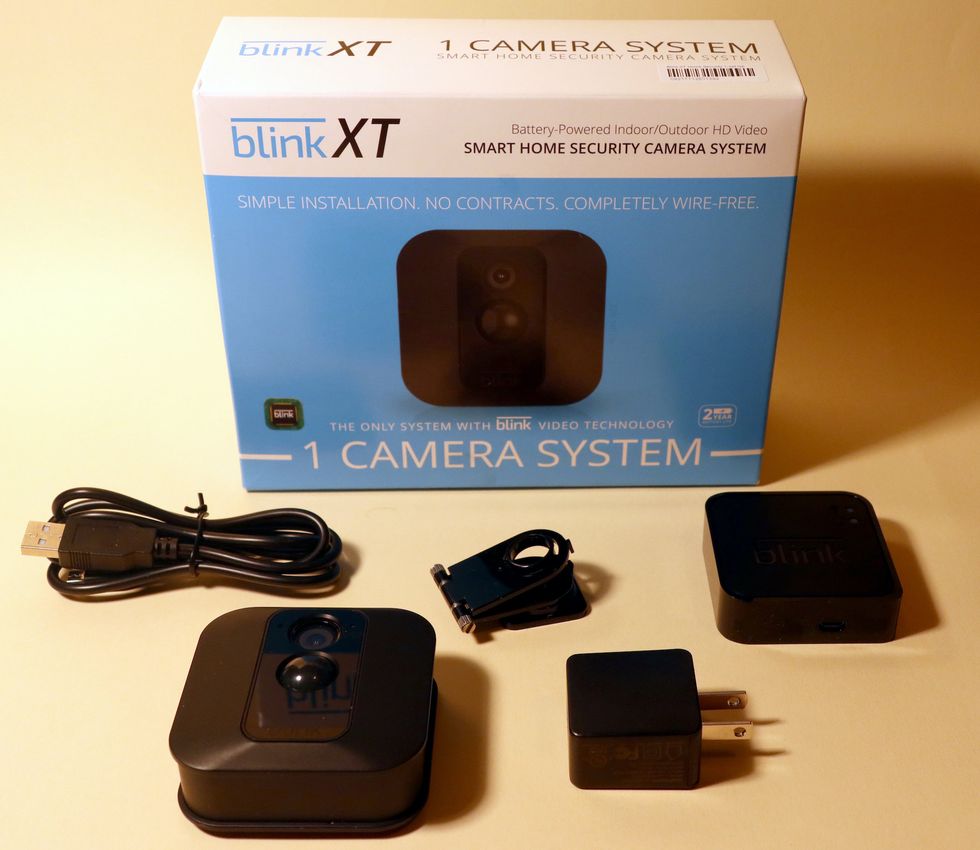 The Blink XT and what you get in the boxGearBrain
To power the camera, you'll need to install two lithium-ion AA batteries (included), which the company estimates will provide power for two years of use. Since it's battery powered, the camera can be easily installed in many locations inside or outside the home, without needing to connect any wires to the unit.

However, one aspect of the camera's product design doesn't seem as well thought out as most other aspects of the system: Because the unit claims to be waterproof, it takes some force to remove or replace the camera's back cover, since the unit is designed "to ensure weatherproofing." However, that means there's a chance of not replacing the cover correctly — leaving the unit susceptible to rain and water damage. In short, making the buyer exert such force in order to open or close the unit is a recipe for disaster
The hub, which is powered via a USB cable and power adapter, is the second main element, controlling one or several cameras. Blink recommends placing the hub close to your Wi-Fi router, although I installed mine two floors above, and it worked fine.
Features

Blink XT stands apart from its predecessor in a number of important ways. First, the newer model can be used outdoors as well as indoors, since it's rugged and waterproof. (The original Blink was designed only for indoor use.) The camera also has a greater temperature range: the operating temperature range on the Blink XT is -4 degrees to 113 4 degrees F (or -20 degrees to 45 degrees C) and includes infrared night video mode.
Additionally, the newer model can be set to capture higher resolution HD video, 1080p, although this, according to the company, will dramatically decrease battery life and cut it to one year, instead of two years of battery life. (The company defines one year as about "20,000 seconds of motion clips and Live View sessions."). It's also important to note that video resolution itself doesn't necessarily provide superior quality. A camera's lens and image sensor are the most important factors in image quality.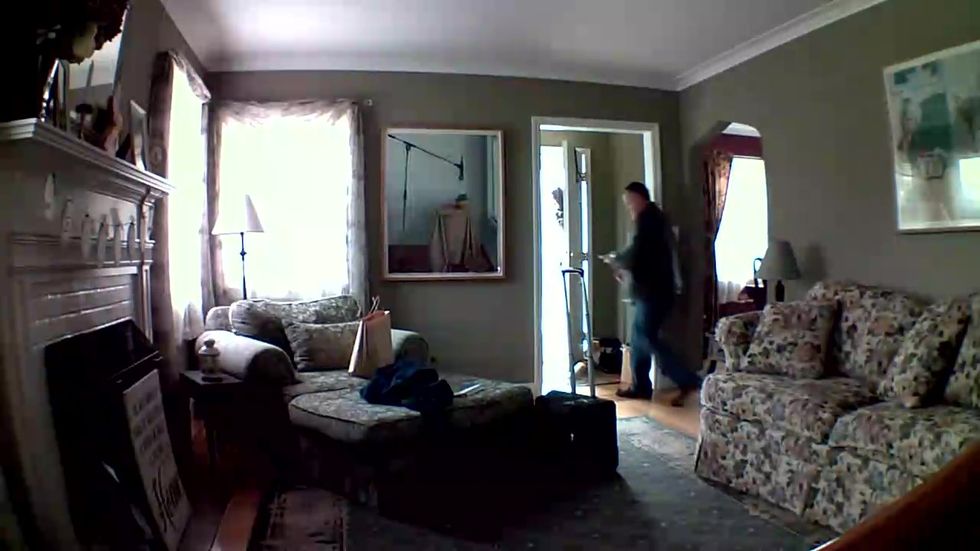 Indoors, features can be hard to see in detail, including someone's faceGearBrain
Overall, I found the Blink XT worked as expected, although I was slightly disappointed in a few aspects of the video quality. In decent or bright-light settings, the details in the video footage looked relatively clear and crisp, although a bit over-sharpened, which can obscure some subtle details. The dynamic range could be wider, too. For instance, in shooting a living room in decent light, the details inside the room are captured, but any objects directly lit by sunlight (streaming in from the outside) are blown out. So, it is possible that the features on a subject's face may not be recognizable, which could be a security problem.

Low light was a challenge for this camera. In a test video, shot in a basement using myself as the test subject, I recorded two scenarios: the first without night vision, and the second, using night vision.
In the first, the footage of my face was marred by image noise and artifacts, which made it hard to recognize my features. When I turned the night vision on, I could see my features much better, but because it used night vision, the video was drained of color, which can obscure some details, as well. However, overall the night vision mode did do a pretty good job adjusting to changes in light and worked well.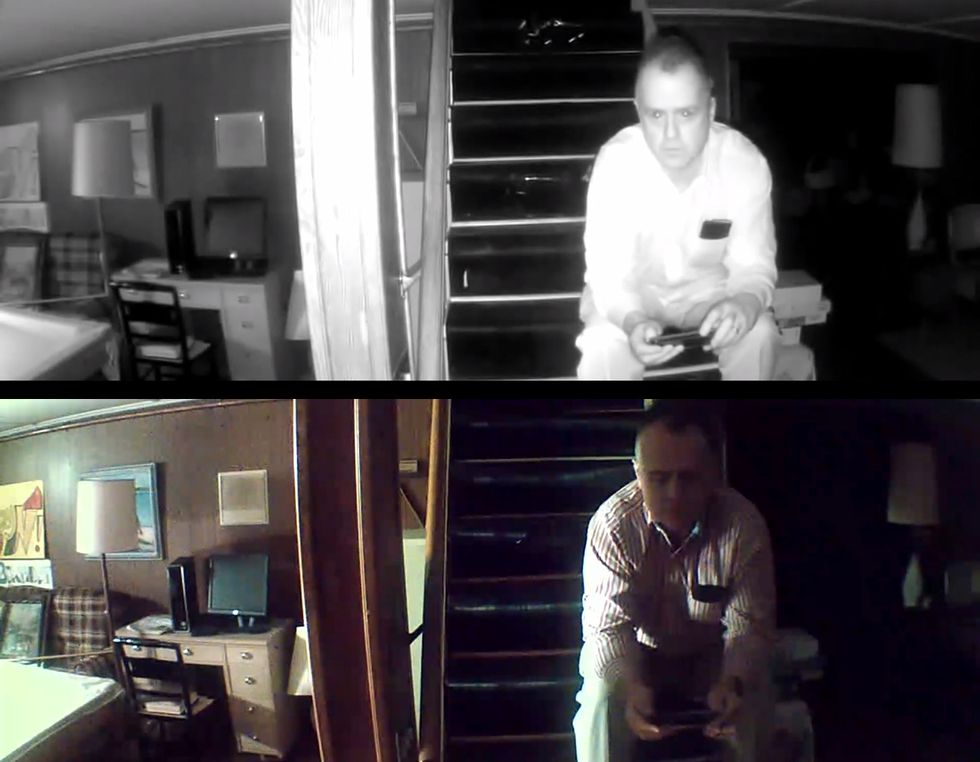 Blink XT using night vision vs low lightGearBrain
The system works also if you connect multiple cameras to the hub. You can also access a wide array of settings using the app. For more, see our first Blink review, where you can read how to adjust or access the following features, such as battery power, temperature, motion detection, re-trigger time, sensitivity, clip length, infrared illuminator settings, audio, and video quality.
To adjust these camera settings, tap on the gear symbol for your camera (or on each camera, if you have multiple units). You can also adjust the sensitivity to compensate for movements of your pets, so that they don't set off the system and continually alert you of your pet's movements.
Technical Specifications
HD video capture (1080 x 1920, frame rates vary)
Field of view (110 degrees)
Claims two-year battery life (AA)
5-60 seconds of recording per video clip
Live streaming of audio and HD video with push alerts
Motion-activated instant-on recording
Temperature monitoring (-4 degrees to 113 degrees, F)
Schedule automatic on/off monitoring
Compatible with smart-home services (Amazon Alexa and IFTTT)
Weatherproof
Infrared night vision
Size: 1.3 inches x 2.8 inches x 2.8 inches
Like the original model, the Blink XT can potentially affect your cellular bill, depending on what type of data plan you have with your carrier. It won't be a problem if you're connected to a Wi-Fi network, but if you're generating live videos via your cellular connection, the storage data for each clip is about 750 KB for every 5 seconds of motion. So, you could use up a lot of data, which could cost you money, if you don't have an unlimited data plan.
It's also important to know that once Blink's servers are full, the oldest alert clips will be overwritten by the newest: Each system stores up to 7,200 total seconds of video (or 1,440 five-second clips).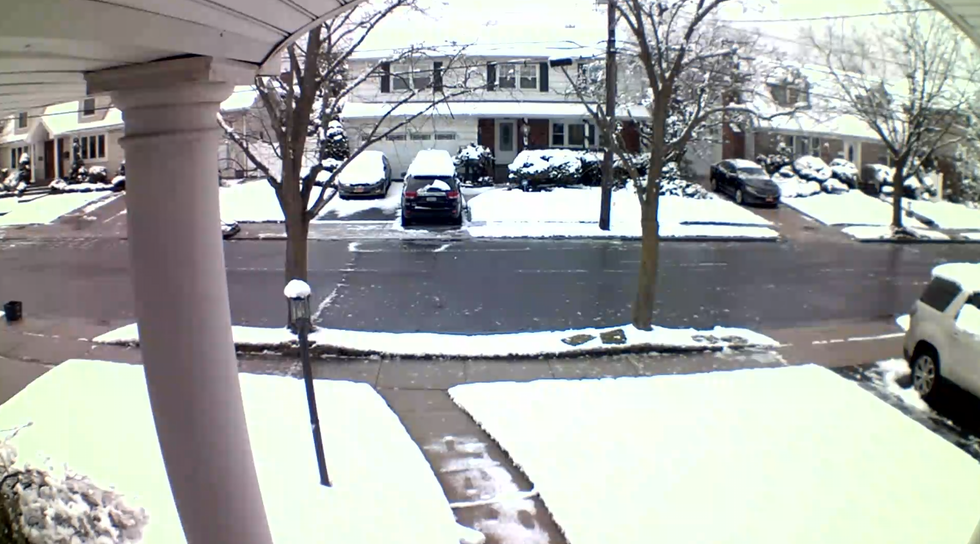 Outdoor lighting produced a relatively crisp and clear pictureGearBrain
Security cams generally offer one of two ways to store videos: Some use local storage, like an SD memory card, to store video. Other models, like the Blink XT, offer cloud storage, although generally at an additional fee (such as $10/month). What's compelling about Blink cameras is that they avoid extra cloud-storage fees. Still, if you're not vigilant about your cellphone data, you could be charge through your cellular carrier.
Who Should Buy this Camera?
The Blink XT home security camera is an excellent model for those looking for an easy-to-use security camera that also offers versatility and is expandable. Like the original Blink camera, you can add an additional 9 cameras for a maximum of 10 units per system. Additionally, both Blink and Blink XT are compatible on the same system.
It's also for those who want a cloud-based solution, but don't want to pay an additional storage fee. However, there are more robust security camera systems, which will provide you with more options, such as the ability to login to your system from the web. (At this time, you can only access your Blink XT camera and its footage via a mobile app.)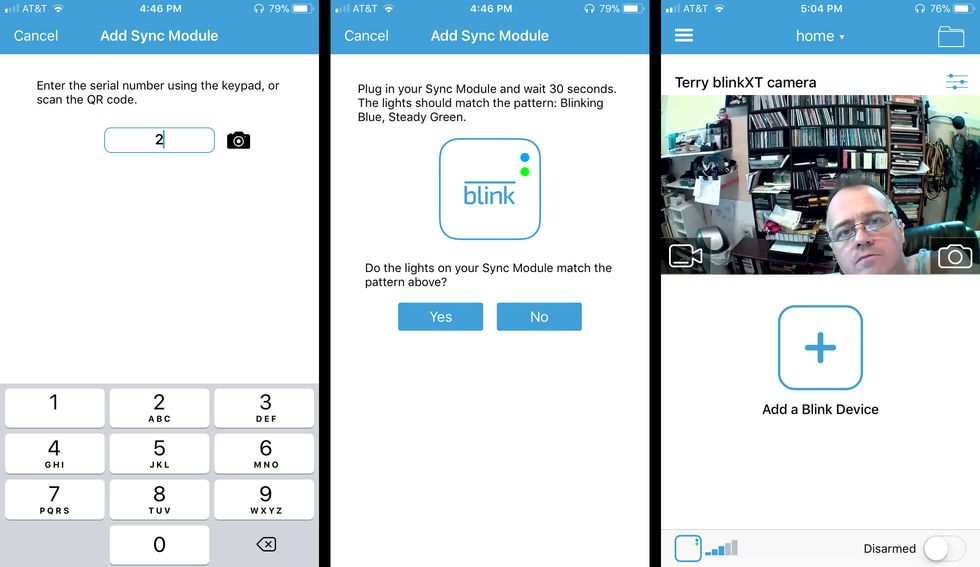 The Blink app is very intuitive and walks you through set-up quicklyGearBrain
Summary
It may not be the perfect security camera for every consumer. However, when you consider how easy it is to use, how quickly it is to get up and running, how well-designed its clear interface is, and the decent quality of its video clips, we believe you'll find the Blink XT will provide you with piece of mind, without being so complex that it weighs on your mind. In short, while we think the Blink XT could provide a few additional options, overall, it's a powerful, yet elegant way to keep an eye on your home.
Pros:
Very easy to set up and install with a clear app interface
Includes weatherproofing, for outdoor use, and infrared night vision adjusts for changes in exposure
No monthly fee or contract, can support multiple systems and users and integrates with Amazon Alexa enabled devices
Cons:
Weatherproofing makes it difficult to open and close back of camera for installing batteries
No alarm
Can't connect or control through a computer
GearBrain video on security camera buying guideYouTube
Like GearBrain on Facebook