Have you always wanted a little animal buddy to call your own? Have you been watching way too much "Game of Thrones" and fantasized about having your own dragon like Daenerys? Follow Me Dragon is a free augmented reality (AR) app for iOS devices that gives you all of those things.
The app is the latest from the Virtual Reality Co. The Los Angeles-based production house has also produced VR films, but now is trying its hand at gaming apps. The result is Drake, a virtual dragon who is a bit like the Tamagatchi pets from decades past — you need to feed this guy to make him engage, and he seriously likes cookies.
Drake wants to be your new little friend — he does tricks, breathes fire and follows you as a real pet would. You can make him as big or small as you want and give him different commands to follow.
The Follow Me Dragon app opened very quickly once downloaded — and was incredibly responsive. First, I was asked to sway side-to-side, helping Drake gather its surroundings. Once the app made sure I was in a well-lit place, a tiny purple dragon appeared at my feet, cooing and growling affectionately.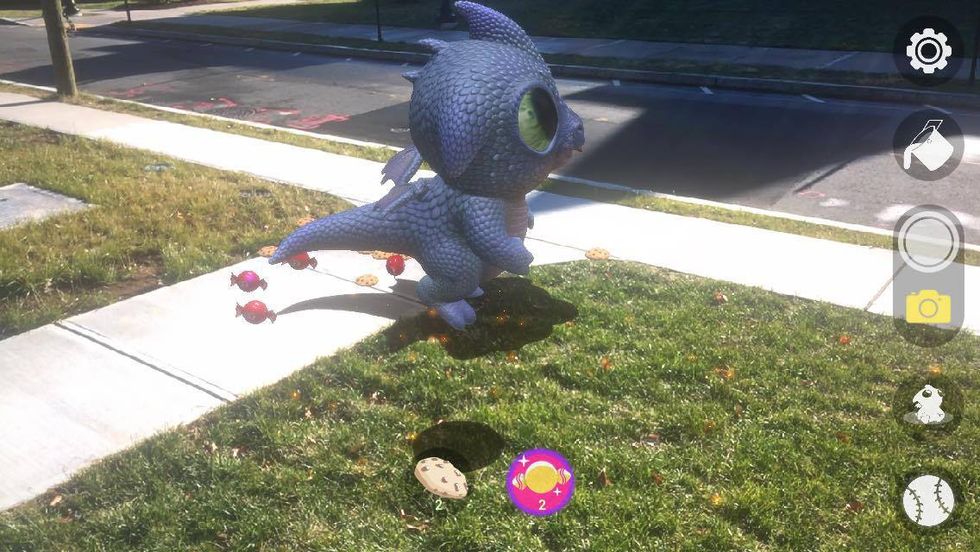 You can make Drake larger or smaller, even change colors in the Follow Me Dragon appAmber Wang
Tapping the settings option will also give you the ability to change sounds and read game tips. You can pinch the screen to change the size of Drake — the change surprisingly fit well within the screen and AR abilities.
When you shrink Drake down super small, hard candies appear with the cookies for you to collect and feed to him. However be aware: when you feed Drake the candies, he transforms, appearing in a variety of different costumes — I was suddenly dealing with a skeleton or a zombie. That would have been ideal at Halloween.
You do need an iOS mobile device — like an iPhone — to use the app. (An Android app is not available yet.) And Drake got a little seasonal update with some costumes to help you feel like you're in the holiday spirit — as if a fire-breathing dragon wouldn't already be festive enough.
Pros: Adorable AR pet, able to change the size and color of Drake, simple to use.
Cons: Hard to feed Drake treats unless you're very far away, limited spaces inside that are lit enough to be habitable for the AR dragon.