Like GearBrain on Facebook
We're up in the sky, several stories above Wilshire's Miracle Mile in Los Angeles, CA., as Academy Award winning production designer Robert Stromberg, and entertainment executive Guy Primus talk about virtual reality. Their company, The Virtual Reality Company (VRC), (both are co-founders) knows a bit about the field, having produced the animated feature, "Raising a Rukus" this spring, (among other projects) which debuted at the IMAX Centre in Los Angeles.
The story, written by "Guardians of the Galaxy" co-writer Nicole Perlman, is about two twins Amy and Jonas, their new dog Rukus, and the unexpected adventure the three take. Besides being created in VR, the short allows viewers to actually choose their own ending: one where they fall through a waterfall with Amy, and one where they travel with Jonas.
The optional directions for the tale, like a Choose Your Adventure stories, are just one way the short differs from regular Hollywood flicks. The other includes using a visual style of storytelling that is turning movies from a passive, munch-your-popcorn-and-settle-into-your-velvet-seat situation to one that's active. Think watching your pals ride the roller coaster vs. being strapped to the top of the front car. Virtual reality envelopes you in the story.
"When I read that Oculus had bought Facebook I immediately knew what was happening," says Stromberg from VRC's offices. "There are going to be categories that haven't been delineated in interactive storytelling."
Hollywood's investment
But Hollywood is eager to figure VR out. From Steven Spielberg to Fox, big movie makers and studios are investing in virtual reality storytelling, looking for ways, in particular, to get consumers more used to this style of narrative. (VRC actually worked on a VR experience with Fox, "The Martian VR Experience," for the movie release last year.)
Spielberg, who is also an advisor and shareholder in VRC, has invested in Dreamscape Immersive, a company looking to put VR experiences into shopping malls this year. IMAX is already an early-mover in that space, having installed VR experience centers in Los Angeles and New York. Movie goers get a chance to try virtual reality with little investment (beyond about a $10 ticket), and get a taste of the technology.
Primus believes how consumers can experience VR, and the ways VR can affect storytelling will only grow. While VR is usually associated with a visual experience, there are also ways to feel the virtual surroundings where a story is taking place through haptic sensors. When watching "Rukus" initially at Sotheby's auction house in New York, the chairs where we sat vibrated as we tore down rapids, shaking as the water raced too.
"Rukus was the first of its kind, an animated feature of its length, that's really a pioneering effort," says Stromberg, who won back to back Academy Awards as the production designer for "Avatar" and "Alice in Wonderland," and most recently directed "Maleficent." "Are you a participant or an observer? In 'Rukus,' that's a hybrid. You're more of an observer with benefits."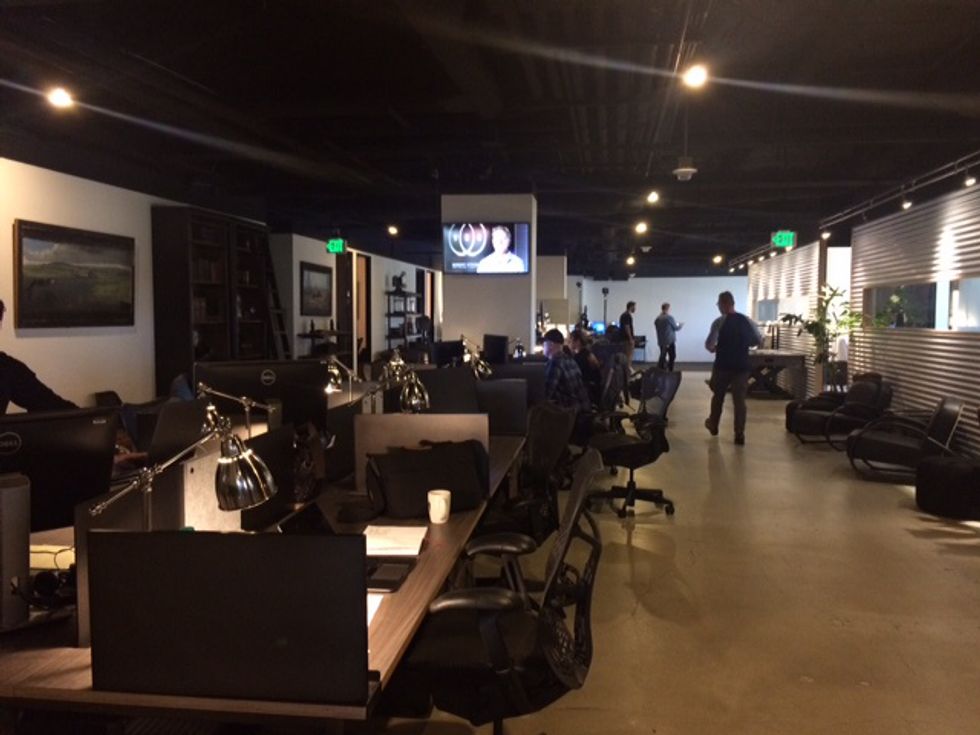 Hollywood's newest studio: banks of computers at The Virtual Reality Company
Feature-length "Fathom"
While the very nature of VR means part of the work can be done anywhere a computer can run, running a VR studio in Los Angeles seems fitting. The city, along with neighbors Hollywood and Burbank, are in the business of storytelling. When people ask if you work in the business in Los Angeles, they mean movies.
Fewer movies today, though, are shot on Hollywood lots (many of those are now used as tourist attractions) and contrived significantly within a digital space. This next phase of storytelling, told in 360 degrees and multiple dimensions, is happening instead inside the walls of computers. And indeed at VRC's headquarters rows of computers are stationed along a corridor that's long and dark. The mood inside, however, is anything but.
Stromberg and Primus are laughing, showing each other a prototype of a new project as people sit behind a curtain in the corner, shooting images for another work in progress, aside from work on future Rukus episodes and a feature film, "Fathom."
"Fathom," in particular, is Stromberg's passion. Watching the first few minutes of the story, you're taken along under the water in deep sea. You're traveling as well, able to look around at the area as would the characters. Natural curiosity is allowed unfettered: you can turn your head and see jellyfish, sea anemone, the skeleton of a sperm whale. But you're still be taken along a path, and the shots change: there's a director at work.
Stromberg believes "Fathom" is what the cinematic experience eventually will be — along with using real actors, eventually, into a synthetic world. That's key he says to engaging an audience no matter how a story is told.
"It's important because in order to feel you're engaged in an emotional story you need people, talented people, actors and actresses, to take you there," he says."And by integrating them into these worlds, you see more emotional and compelling stories."
Not to mention "benefiting from an actor's fan base," adds Primus. "Interactive is one way to go deeper. But generally you want everyone to relate to stories."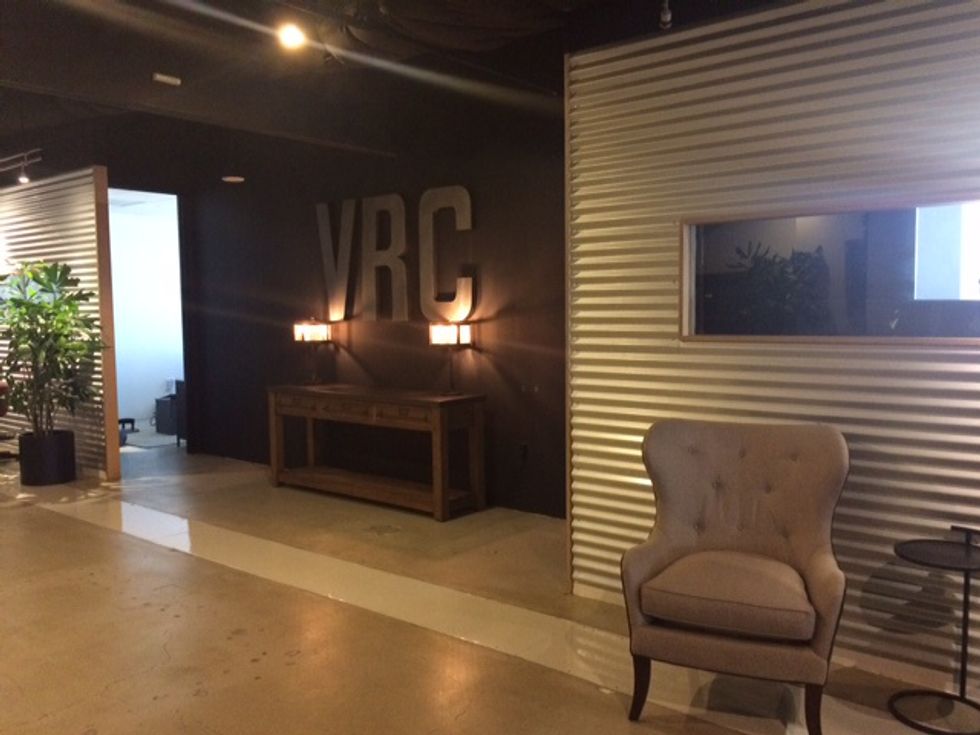 Robert Stromberg and Guy Primus are part of the pioneering push into VR storytelling.
VR's road ahead

Primus's background, as both a tech and entertainment executive (he worked as the chief operating officer for Will Smith and James Lassiter's Overbrook Entertainment), has helped him view VR from both its technical side and storytelling possibilities. He gets that the gee-whiz factor of VR can't overshadow the story underneath. That's going to be crucial, the believes, to get people to sit for perhaps hours with gear strapped to their heads.
"People ask why people would wear headsets for long periods of time," Primus says. "But we think if the story is compelling enough, and engaging, they will."
Still, VR can be isolating: Goggles covering the eyes, headphones pushed into ears, not being able to hear a person laughing next to them, nor seeing someone as they recoil in horror. Watching a movie in a theater is, after all, a social experience.
But every new technological invention in Hollywood has been met with at least some resistance. Whether it's imagery sent across cathode-ray tubes, color reels or sync sound that allowed people to finally hear actors speaking, these advances made their way into the firmament of film making. Although VR's place is far from assured, that's not stopping Stromberg and Primus from moving forward.
"Whether it was the first editing machine, or sound or technicolor there will always be innovative steps in storytelling," says Stromberg. "Creating in VR is going to succeed with a symbiotic relationship between tech people and creative people. It's that even balance that's going to make compelling stories come to life."
Like GearBrain on Facebook