By Lee Turner
Pros: Simple and sleek design, quick to install, supports web and mobile interfaces, functional, low upfront costs.
Cons: Flimsy plastic, set-up is a tad clunky, web and mobile UI can be awkward, functions a bit oddly at times, potentially high contract cancellation costs.
British Gas, an energy and home services provider based in the U.K., has recently jumped onto the smart home bandwagon and released its own system, Hive. After a skip across the pond, the system has made its way to the U.S. to join the expansive market of gadgets and doodads vying for a place in your home. The question, of course, is: Does Hive measure up to the growing standards we expect our smart homes to meet?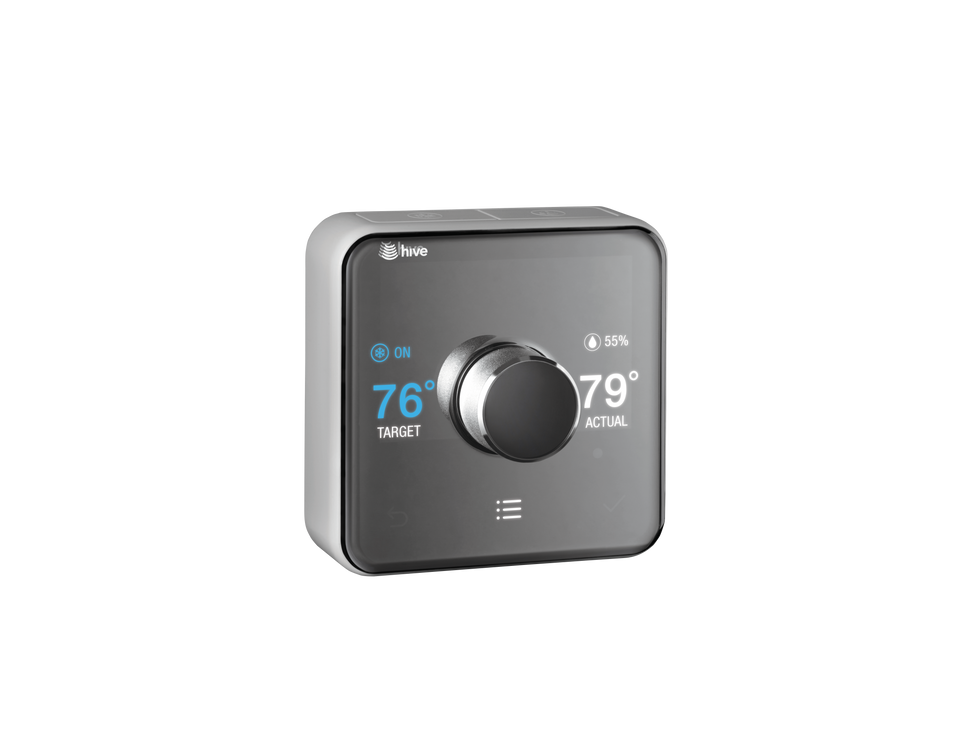 Hive is a group of smart home products including sensors and an app that you buy under a subscription plan.
How It Works
Hive is a smart home solution that gives users access to an array of devices, without breaking the bank on individual gadget purchases. As a subscription based service, you'll pay monthly for The Hive which negates the upfront costs associated with some other competitors. Currently, Hive offers two plans: Welcome Home and Home Check.
The Welcome Home Standard plan costs $24.99 a month comes with the Hive Hub, four Active Light Bulbs, one Motion Sensor, one Hive thermostat, two Hive Window or Door sensors and two Active Plug. There other iteration on the Welcome Home plans, plus a separate Hive Home check plan which comes with the Hive Hub, two Active Light Bulbs, one Motion Sensor and two Hive Window or Door sensors, one 16GB SD card plus the Hive Camera at $19.99 a month.
Since Hive is a subscription based service that is giving its devices to you upfront, be prepared to pay a hefty cancellation fee if you back out of your contract before time is up.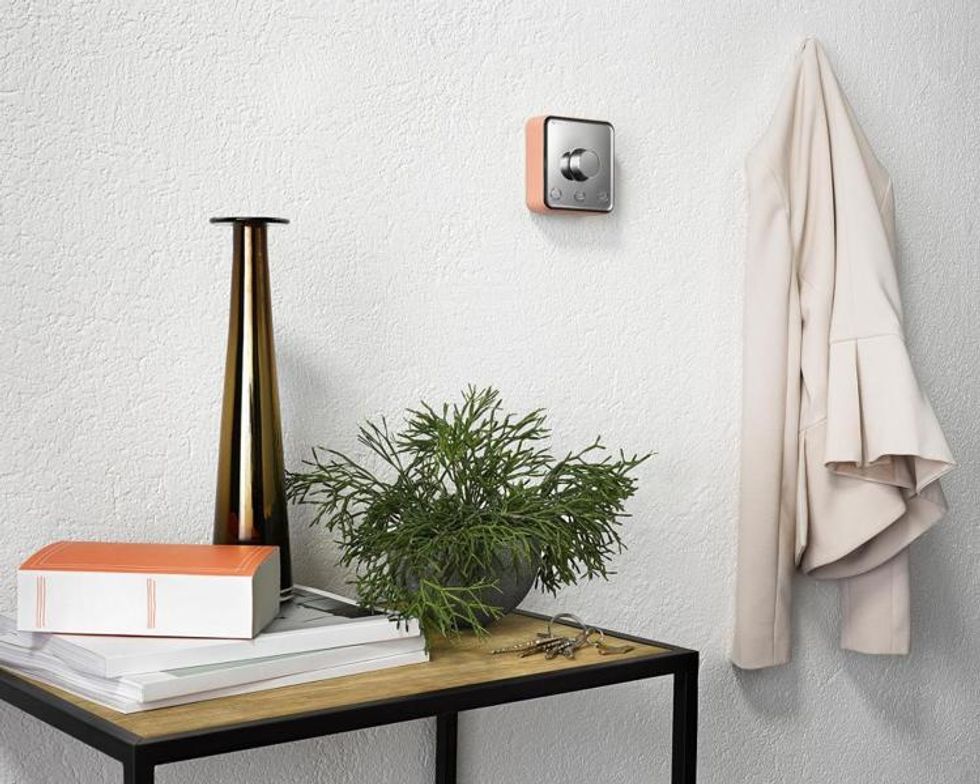 Hive's kit that we tested included a smart home thermostat.
The Setup
The kit that I got included the hub, some door/window sensors, motion sensor, Active Plug, light bulbs, and a thermostat. Unfortunately, my thermostat's wiring wasn't compatible (without some tweaking), so, as of this writing, I wasn't able to test it out. However, a look at the thermostat's capabilities should be coming in the future.
My time setting up Hive was a bit more of a hassle than it really should have been. The first barrier I faced was creating my account on the website. Whether I tried to access the site via PC or through the mobile app, I kept getting page load failures with the unhelpful message "Retry Later." I do use a VPN almost 100 percent of the time, and thinking this might have been causing a problem, I disconnected it, but still, the site wouldn't function properly. I even went as far as booting into safe mode and using a clean install of Chrome, to rule out any extension interference, but the site simply wouldn't load up properly.
That said, after a couple aggravating days, and an email to tech support, the problem vanished and did not reappear again. So, I'll chalk that one up to bad timing; it happens.
Once my account was created, I started installing my devices one at a time. This was fairly quick and easy, whether on the website or mobile app, the process consisted of simply powering on each device and allowing it to sync to the hub. After 10 or so minutes, my devices were up and running and ready to go.
While it should be obvious that a home network is necessary to run Hive, it is worth noting that it only functions over the 2.4GHz wireless frequency — currently, there is no 5.0GHz support.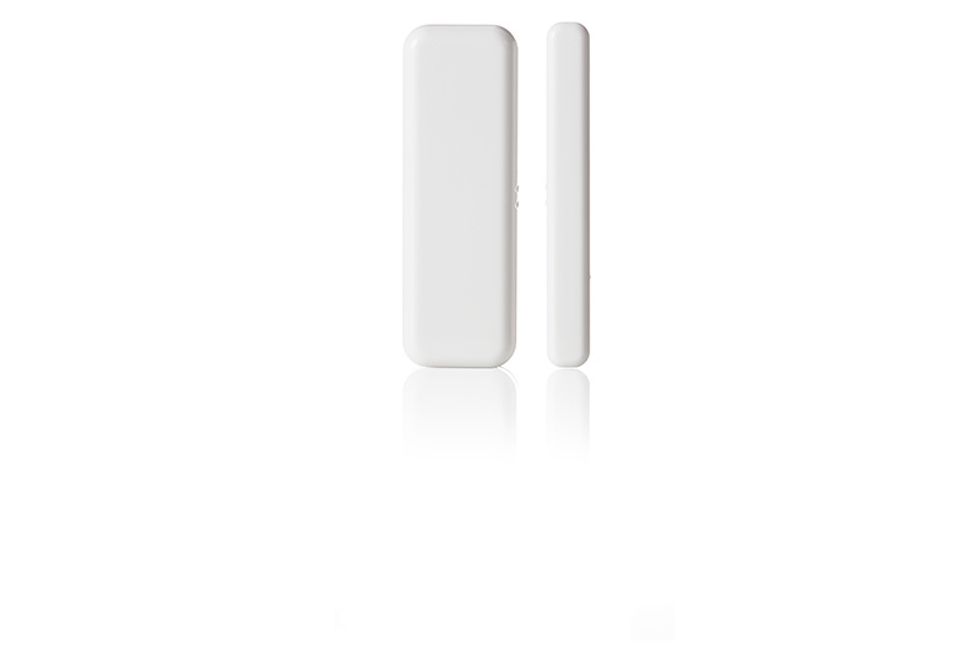 Hive's kit includes door and window sensors.
Day-to-Day Usage
The hub itself is a small white box that you'll rarely need to interact with once you plug it up and place it where you want. Most of your time will be spent in the user interface and with the devices themselves.
The first devices I decided to test out were the window/door sensors, a smart home mainstay. It's always a good idea to place the sensors side-by-side and test them out before putting the adhesive on and sticking them up permanently.
I put them down on my desk, about a pencil's width apart, but, to my dismay, picking up either sensor, in a motion like a door opening, did not trigger the sensor. After fiddling with the sensor a few more minutes, I decided to try out another, in case I had received a faulty device. However, both sensors failed to respond to any movement, and both the website and app listed both sensors as permanently "Open." Thinking that my desk testing may not be simulating the movement of a door well enough, I went ahead and stuck the adhesive on a pair of sensors and placed them on my door. Still, the sensor failed to register any movement whatsoever.
At this point I was thinking that either both sensors were faulty, or, as is more often the case, user error was causing a problem. So, once more, I whipped out the instruction manual to double check that I wasn't doing anything wrong. Indeed, I had followed the syncing and mounting instructions, such as they were. Deciding to take the sensor down and get in touch with Hive's tech support, I noticed that when I pulled the core sensor away from the wall that it finally lit up, registering movement for the first time. When I checked the app, the sensor status had finally changed to "Closed," even though the sensor was about four feet away from its sister still mounted on the door. Repeating the motion once again triggered the sensor, resulting in the status changing back to "Open."
After repeating the process with the second pair of sensors, I realized that the main sensor would only register movement on about the bottom third of the strip. Furthermore, the sensor had no proximity detection and only registered movement itself. This means that the sensors will change state on any movement, regardless if the door or window is open or shut. With this knowledge, I stuck the core sensor back on the wall, but this time I placed it about an inch higher than its sister on the door. Lo and behold, it worked and would routinely register movement. However, this, unfortunately, led to another problem.
Since the sensor doesn't seem to register its proximity to its sister, any slight movement of the door will cause the app to register the door open or closed, regardless if the door is actually opened or closed. Since my back door is a little loose, this frequently meant that if the wind shook the door, even slightly, the sensor would change its state. Ironically, the sensors, which at first I thought were dead, ended up being so sensitive to minute movement that it essentially renders them ineffective in my home.
Next up, I tested the light bulbs, another smart home mainstay. I'm happy to say that, unlike the window/door sensors, the light bulbs functioned just as they should. The user interface allows you to toggle the light on and off, and change the brightness quite easily and effectively. You can also setup a schedule and add "Actions" to each device that triggers given your own prerequisite instructions.
The light bulbs themselves have a nice, weighty feel to them that I quite liked. While the window/door sensors felt like they were made of cheap plastic, the Active Light Bulb's construction felt like higher quality.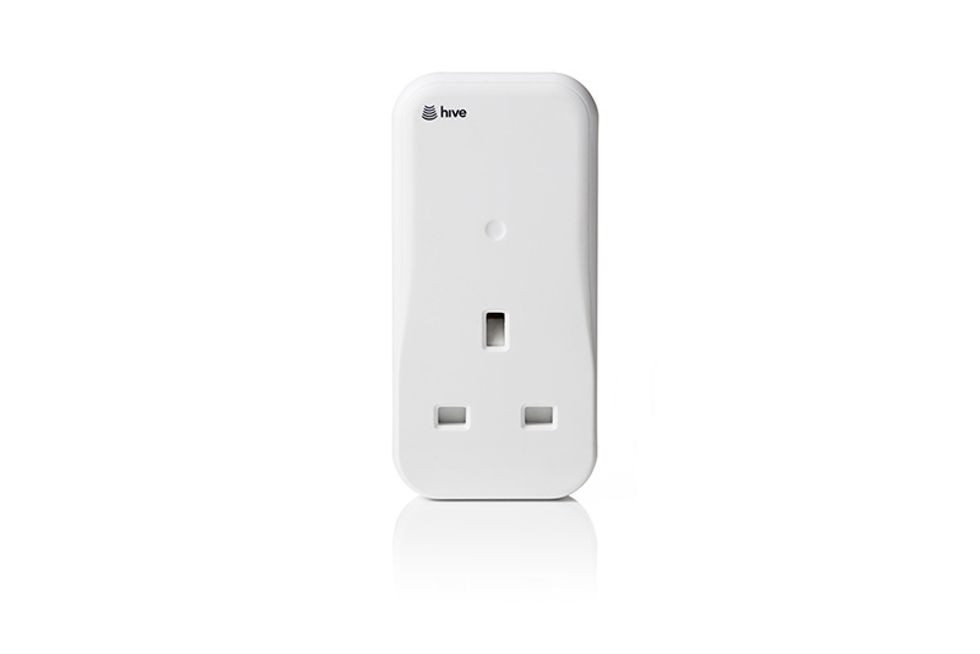 The Active Plug, part of Hive's kit, worked just as it should.
Along with the Active Light Bulbs, the Active Plug also worked just as it should, and its construction also felt of a much higher quality than the window/door sensors. As you might expect, the Active Plug allows you to plug in any appliance and then control its powered on/off state remotely. In other words, it allows you to power on or off your TV, coffee maker, "dumb" lights, etc. The Active Plug can also work on a user defined schedule, or function in tandem with the Hive's other devices utilizing the "Actions" section of the UI – more on this in a bit.
Finally, I tested out Hive's motion sensor, and while it didn't function as poorly as the door/window sensor, it did come with some notable caveats. Firstly, the motion sensor only detects movement up to 16ft away, but in my testing, anything over about 12ft caused spotty detection. Even at 16 feet, this is a bit smaller than you may expect.
Furthermore, the UI's log for motion detection often lists detected movement for much longer than the actual movement. For instance, I set up my sensor in our entrance hallway so that anyone coming through the front door, or crossing the hallway from the living room to the dining room, would trigger the sensor. Often times, I would pass by the sensor briefly on my way to the back of the house, staying in front of the sensor for perhaps two to three seconds at most, however, the interface would sometimes log movement for up to 11 minutes during that time.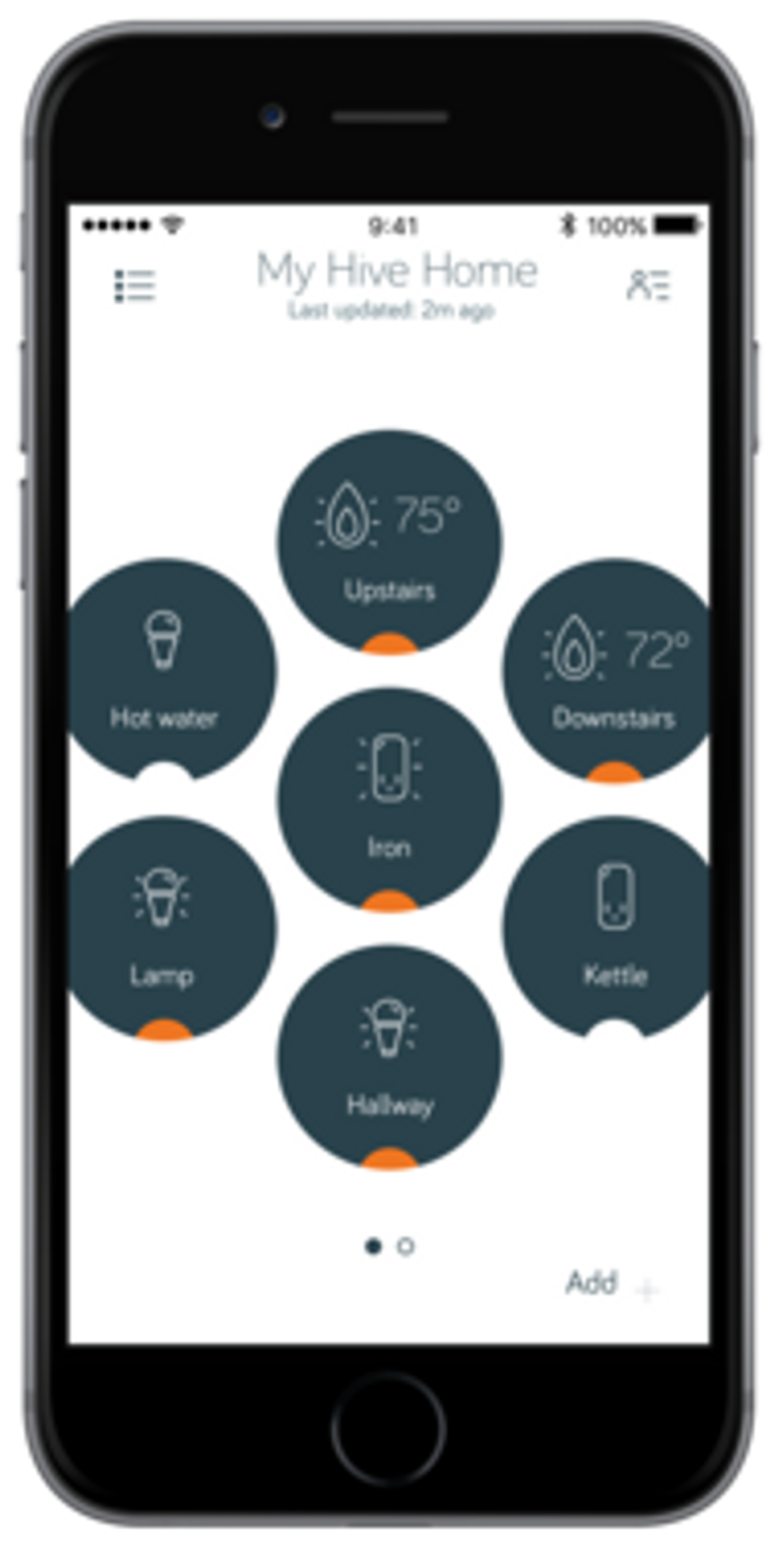 You use Hive through an iOS or Android app.
The User Interface
Having a house loaded with smart home devices is all well and good, but if the system's UI is a mess, then all of those devices will go largely underutilized. With one notable exception, Hive's user interface, both the app and website, function quite well. The Android and iOS apps, which is how the majority of people will control Hive, have a clean, responsive design. The main page, where you'll tinker with your devices, contains multiple slots that can be filled by any given device and arranged however you'd like. Tapping one of the devices takes you to its individual page where you can view its logs and configure further actions or simply control the device itself.
The Actions section for each device is where the bulk of your time will be spent. This is where you can do things such as tell your Active Plug to turn on when your front door is in the "Open" state (e.g. have your stereo turn on when you come in the door after work). You can also configure notifications from here, like having the app notify you if movement is detected at home while you're at work, etc.
It all functions intuitively until you get to the scheduling section. On the mobile app, you can tap into a date and configure the start and end time for an action, but then you must also specify an "Off" time for that action.
For example, you can specify a time to turn your Active Light on, say 8:30 pm to 10:30 pm. However, the light doesn't go off at 10:30 pm unless you've also specified a separate time for the light to be off, say 10:30 pm to 7:30 am. Since both "active" and "inactive" states have to be input for all scheduled actions, I sympathize with you if configuring a complex schedule for your entire system gets confusing.
This cumbersome system is still easier to navigate than the website's interface for schedules. If you opt to use the Hive's site, you'll be faced with an array of time sliders that must be awkwardly positioned, and both active and inactive states must still be configured independently. Once you understand how it works, it becomes easier to manage, but the fact that it does take a bit to get the hang of is strange. To add to my own personal confusion when testing, my account's time zone was incorrect, which resulted in scheduled tasks never working, of course. I didn't notice the time zone was off until I'd beat my head against the wall for some time. As of this writing, there is also no way to specify your time zone manually, so I had to contact tech support to have it changed. I have no idea why it was wrong in the first place.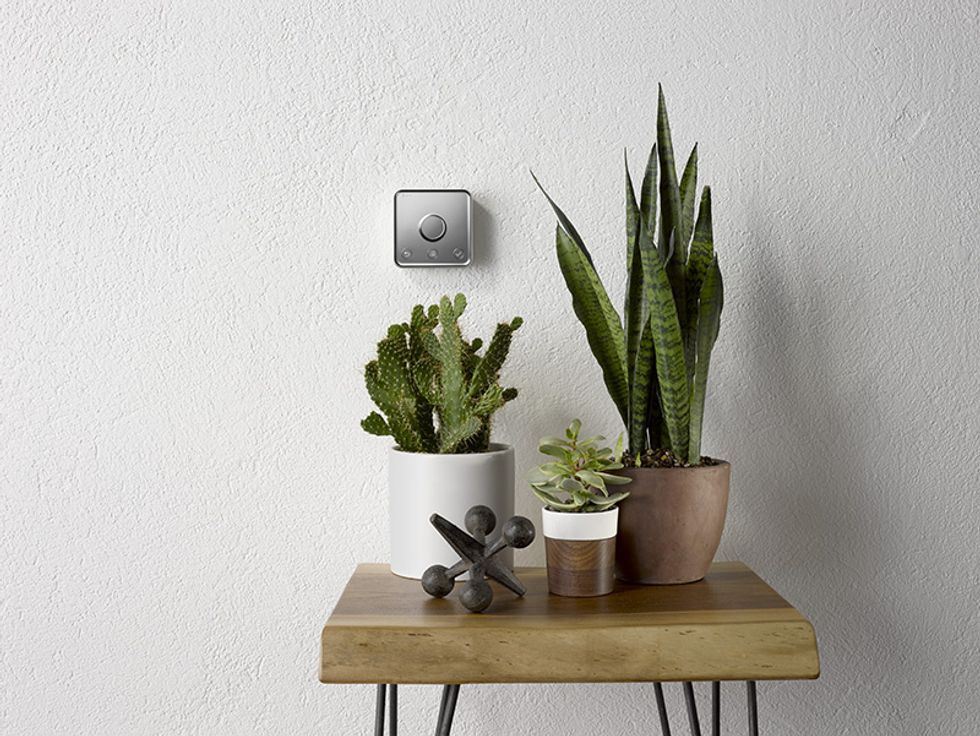 The Hive's US launch is not without some hiccups.
Conclusion
The scheduling awkwardness seems to be symbolic of Hive in general. For everything the Hive does right, it also misses the mark more than it should. The window/door sensors technically work, but they must be placed differently than instructed while keeping in mind they lack a proximity detector. The Active Lights and Active Plugs work great, but scheduling them and adding actions is almost prohibitively cumbersome. Finally, the motion sensor detects motion fine but logs the time incorrectly which kind of curbs its usefulness.
All that said, I can also rationally explain these flaws and speculate that they could be overcome in another home. The door/window sensors' sensitivity would be less of an issue if I didn't live in an older house with loose doors — although the placement of the sensors is still an issue. The clunky scheduling system technically works and may be someone else's cup-of-tea, and the motion sensor may be of more use to those who simply want to be notified of any movement while away from home.
In any case, Hive does technically work, it just doesn't always work in exactly the way you might expect.
If you need help installing any of these Smart Home Systems or products , you can visit HomeAdvisor.com to find a local trusted professional.
Don't forget to check out The GearBrain to see what other connected devices work with Google Home or Amazon Alexa enabled device.
-Lee Turner recently wrote about IFTTT and how to use Applets to help you set up mini-programs for your devices and your life.