When Tesla revealed the second-generation Roadster sports car in November last year, alongside its new electric truck, company boss Elon Musk made a seemingly outlandish claim — that his new car could accelerate from zero to 60mph in 1.9 seconds.
Now, just a few months later, Croatian electric car company Rimac has gone one better — or to be more precise, it has gone half a tenth of a second better, claiming a zero to 60 run of 1.85 seconds from its all-wheel-drive C_Two.
The C_Two comes after the firm's Concept One, an electric supercar of which only eight were produced. One car was spectacularly destroyed in a crash with The Grand Tour's Richard Hammond behind the wheel.
Four electric motors combine to produce a barely believable 1,914bhp and propel the new C-Two through 100mph in 4.3 seconds, a quarter mile in 9.1 seconds and on to a top speed of 258mph. For comparison, Tesla claims the new Roadster, due on sale in 2020, is capable of "over 250mph". Although these are only claims for now, it is worth adding that the Roadster is said by Tesla to cover a standing quarter mile in 8.8 seconds.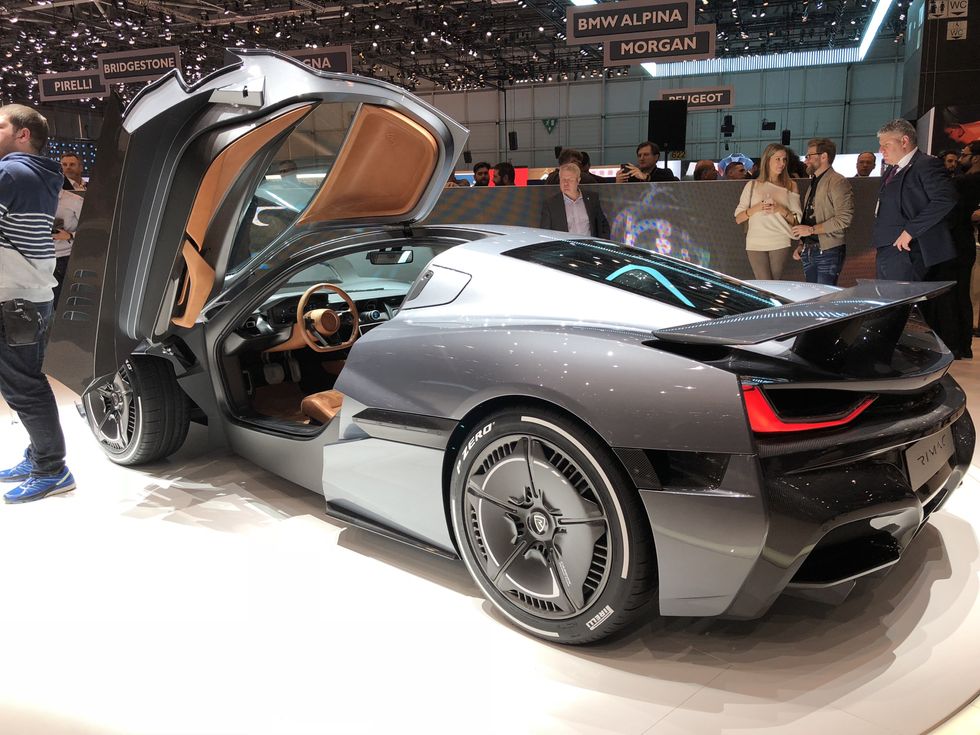 The new Rimac will cost more than its $1 million predecessorGearBrain
As for range, Rimac, which was on display at the 2018 Geneva Motor Show, claims 403 miles using the NEDC test, 10 more than the Tesla Model S 100D is rated at using the same test procedure.
But straight-line speed is only one aspect of supercars like these. Despite making extensive use of lightweight carbon fiber, the Rimac C_Two and its large 120kWh battery tips the scale at a portly 1,950kg — or just a passenger and driver shy of a Range Rover. Despite this, Rimac claims it can shuffle power around between the four motors (each driving an individual wheel) to help the car corner more sharply than two-ton vehicles having any right to.
This clever shuffling of power is calculated with the help of no fewer than 72 onboard computers, giving the car the same processing power as 22 MacBook Pros, Rimac. Active aerodynamics, including a moving rear wing, also play their part to keep the car on the road.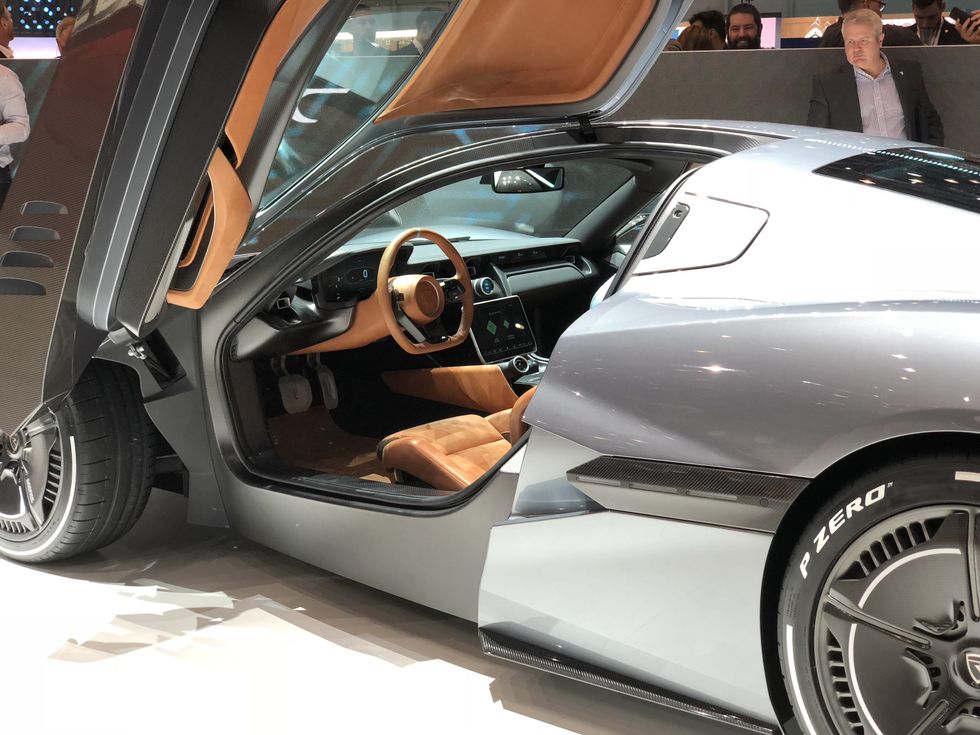 The C_Two uses facial recognition to unlock when its owner approachesGearBrain
But if the driver doesn't fancy being in control at all times, then they can rely on Level Four autonomy powered by eight cameras, lidar, six radar systems and 12 ultrasonic sensors. These all mean the C_Two can drive itself in the same way today's Teslas can, with more autonomy possible via future software updates. Rimac claims the cameras and sensors generate 6GB of data for every hour the car is driven.
More technology is found in the shape of a camera which uses facial recognition to unlock the car when its owner is spotted approaching the door; Rimac claims this means there is no need for a key. Cameras are also used to help read your mood, softening the suspension and playing soothing music if the car senses you are stressed. Handy when you've got the power of a small country under your right foot.
There is no word on price yet, other than Rimac saying it will cost more than its $1 million predecessor.