Like GearBrain on Facebook
Ford raised eyebrows earlier this year when it announced a huge $500 million investment into Rivian, the U.S. electric car startup. Now, we have a clearer idea of where that money will go.
Citing several people familiar with Ford's plans, Reuters says the investment will be put towards the development of an electric SUV under Ford's Lincoln brand.
Read More:
Due to arrive in 2022, the car is expected to use the same skateboard chassis as Rivian's own vehicles, which include an electric SUV and a pickup truck, both due to enter production in 2021, starting at $72,500.
As used by many electric car makers, these skateboard chassis include one or two motors, plus the vehicle's suspension and a floor which is taken up almost entirely by a large battery pack. These chassis can have different interiors and bodies mounted to them - for example, the Tesla Model S and X share the same skateboard, as do the Model 3 and Model Y, which saves development and production costs.
When Ford announced its investment in 10-year-old Rivian in April this year it said the two companies would work on a future electric vehicle, but shared no further details. The company also said that, separately to its Rivian investment, it would launch an electric, Mustang-inspired SUV, which became the Mustang Mach-E, plus a fully-electric version of the F-150 pickup truck, the best-selling vehicle in America.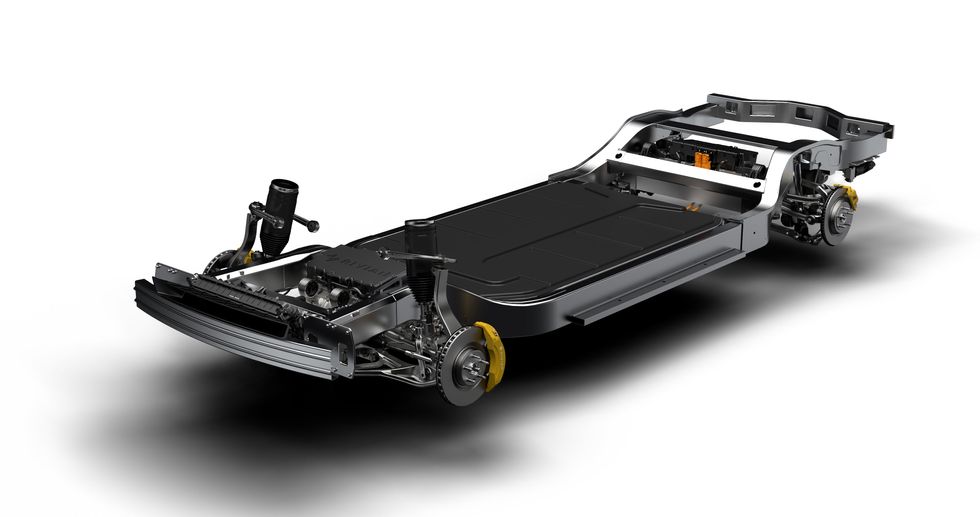 Rivian's skateboard chassis Rivian
In all, Ford has an $11.5 billion plan to launch more than a dozen electric and hybrid vehicles in the next couple of years. This is expected to include a smaller electric Lincoln crossover, plus a mid-size model to fit between that and the Rivian-based vehicle.

The use of Rivian's skateboard chassis in such a car presents an interesting situation, where Ford is using its investment in Rivian to build an electric car designed to rival an SUV built by Rivian itself, the upcoming R1S.
It is expected that the electric Lincoln SUV will compete against upcoming luxury vehicles from General Motors and Cadillac, as well as a rumored electric car which could revive the hibernating Hummer name. The Tesla Cybertruck, announced last week, could also find itself in this sector of the EV market when it arrives in a couple of years' time.
Like Croatian EV startup Rimac, which has earned serious investment from Porsche and others in Europe, Rivian is quickly becoming hot property in the US electric vehicle industry. As well as $500m from Ford, the company also received an order from Amazon this year, for 100,000 electric delivery vehicles.
From Your Site Articles
Related Articles Around the Web
Like GearBrain on Facebook