Like GearBrain on Facebook
Rocketbook, which launched in 2015 as a crowdfunding firm, is a bit of a novelty, a device that lets you handwrite, then store those notes, digitally. You then erase your scribbles, and start again. Today, many of our devices allow us to use this feature. The Samsung Galaxy Note 9 even comes with a stylus so you can write directly into the device, and the Apple Pencil lets you draw notes directly onto an iPad. But Rocketbook enjoys some popularity — the company claims it was the top selling notebook, ahead of Moleskin, for example, on Amazon in November 2016. So I was intrigued about what makes Rocketbook so popular, spending some time using its $32 Everlast model at my desk and even on the subway to see if this smart notebook would change how I work.
Read More:

Rocketbook Everlast's potential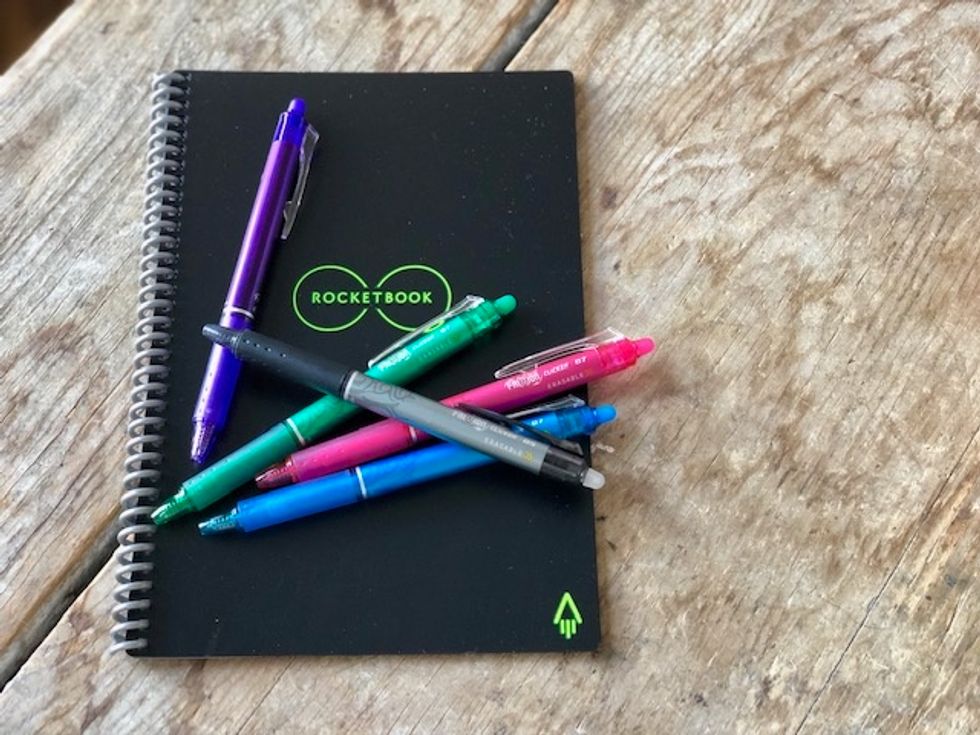 Rocketbook's Everlast has 36 pages, all of which can be erased
GearBrain
Rocketbook lets you handwrite notes, but have them uploaded, in seconds really, to a digital file. In this tech age, many may wonder why we still want to write by hand when tapping on a keyboard is certainly faster, and can be read, changed and edited more easily.
I'm one of those people who can, definitely, type an entire story on a subway ride into the Notes section of my iPhone — and finds that process about as close to perfect as possible. I type fast enough that my ideas can actually get down, accurately, as fast as I think them.
However, I'm also one of those people who remembers exactly where on a page I jotted down a phone number, if I'd circled it, and even the color of the ink. I can type fast — but when I really want to remember something, I pick up a pen and write it down by hand.
Some studies are starting to show, in fact, the benefit of handwriting, in terms of learning and memory. A 2016 paper from "Trends in Neuroscience and Education," found that young children who drew letters created pathways in portions of their brains that typing did not activate. And a 2014 paper published in "Psychological Science," showed that note taking by hand helped people understand what they'd heard — and perhaps make better connections to other ideas — than when they typed notes into a computer.
"The present research suggests that even when laptops are used solely to take notes, they may still be impairing learning because their use results in shallower processing," wrote the authors of the paper, " The Pen is Mightier Than the Keyboard ." "In three studies, we found that students who took notes on laptops performed worse on conceptual questions than students who took notes longhand."
You're unlikely to find someone who doesn't want to improve their memory. And while I didn't personally run any scans on my own brain, before or after using the Everlast, I did find some benefit to using the notebook.
How to scan notes

You scan notes from the Everlast notebook by opening the Rocketbook app, and clicking on 'New Scan'
GearBrain
To start using the Everlast, you download the iOS or Android Rocketbook app, and create an account. You'll need one identifier — an email, at least — that so you can have a place for your notes to go after you scan them.
After create your account, the entire process from writing to scan is really very simple. The camera on your smartphone opens through the Rocketbook app, and pressing "New Scan," and will bring up a four green guide points, which you'll center over your Everlast page. The scan happens automatically.
I found I needed to hold my hand pretty steady, and also keep the notebook on a flat surface, for the scan to work well. When I tried to scan from my lap — a place where I often take notes while doing interviews, for example — the app would start to scan, then stop, unable to complete the process.
I also hit another wrinkle with capturing everything on my page. I like to write to the edge of the paper, and I found a thin frame of the page sometimes wouldn't scan. I noticed that putting the notebook at a right angle, vertically, helped the app correctly capture to the edge of the sheet.
After your done scanning, clicking done will bring up a prompt asking where to send the notes. An image of the actual page, plus a transcription in text, is sent to the location you choose.
Then, you can erase the pages in the Everlast notebook and start anew by dampening the microfiber cloth they include, and then drying the pages completely before writing again. I sometimes used a damp paper towel and that worked fine too. Rocketbook strongly recommends not allowing the ink to stay on the pages for more than a month.I never had an issue with the ink not coming off in my tests.
Special FriXion Ink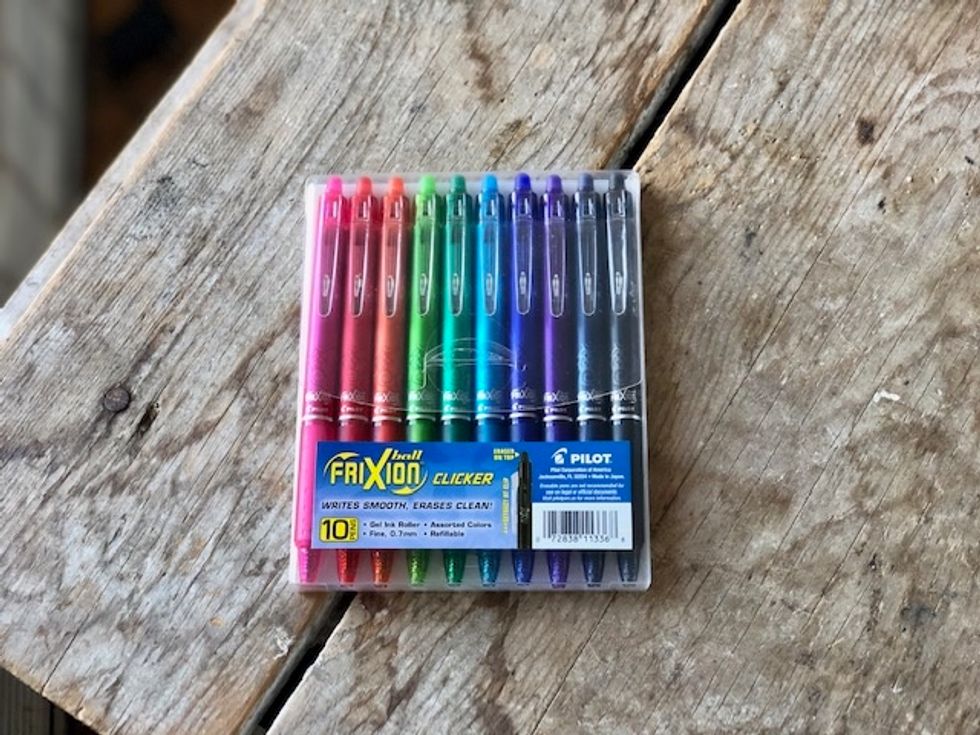 The Rocketbook Everlast notebook needs FriXion ink to work properly, like these gel-ink pens
GearBrain
It's crucial to know that you can't use just any pen with the Rocketbook Everlast. You can, but you won't erase the page. The device requires the use of pens with FriXion ink, which can be erased, and for someone who loves pen, and has lots (and lots) of pens, this was definitely a bit of a downside. Luckily, there are a lot of FriXion pens on the market.
Rocketbook sells some on these pens its site, and paper supply stores and Amazon also sell a huge selection of others. We picked up a set of 10 rainbow colored FriXion pens, by Pilot, to test during our trial for about $20. A three-pack of black-ink FriXion pens should run you $7.
Locations and symbols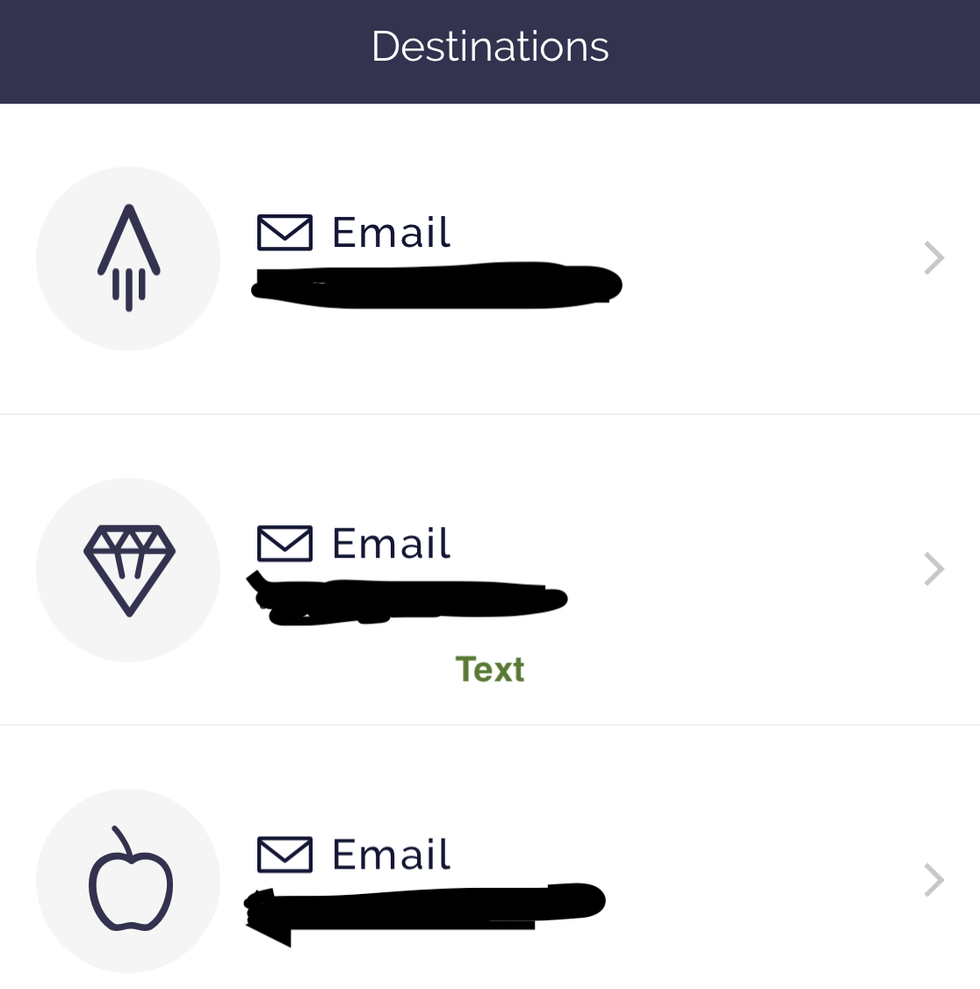 With seven symbols, you can send your notes to multiple locations from email to Evernote
GearBrain
One of Rocketbook's best features is the ability to quickly check off, or draw a mark across one of seven symbols at the bottom of page. There in off-white ink, they're hard to see at first — a quick glance and you'll miss them. But with these seven symbols, you can select as many different digital locations, where notes can be sent. Options are nearly endless as you pick anyone's email or iMessage accounts, plus Slack account, Google Drive, Evernote, Dropbox, OneDrive, OneNote, iCloud and Box.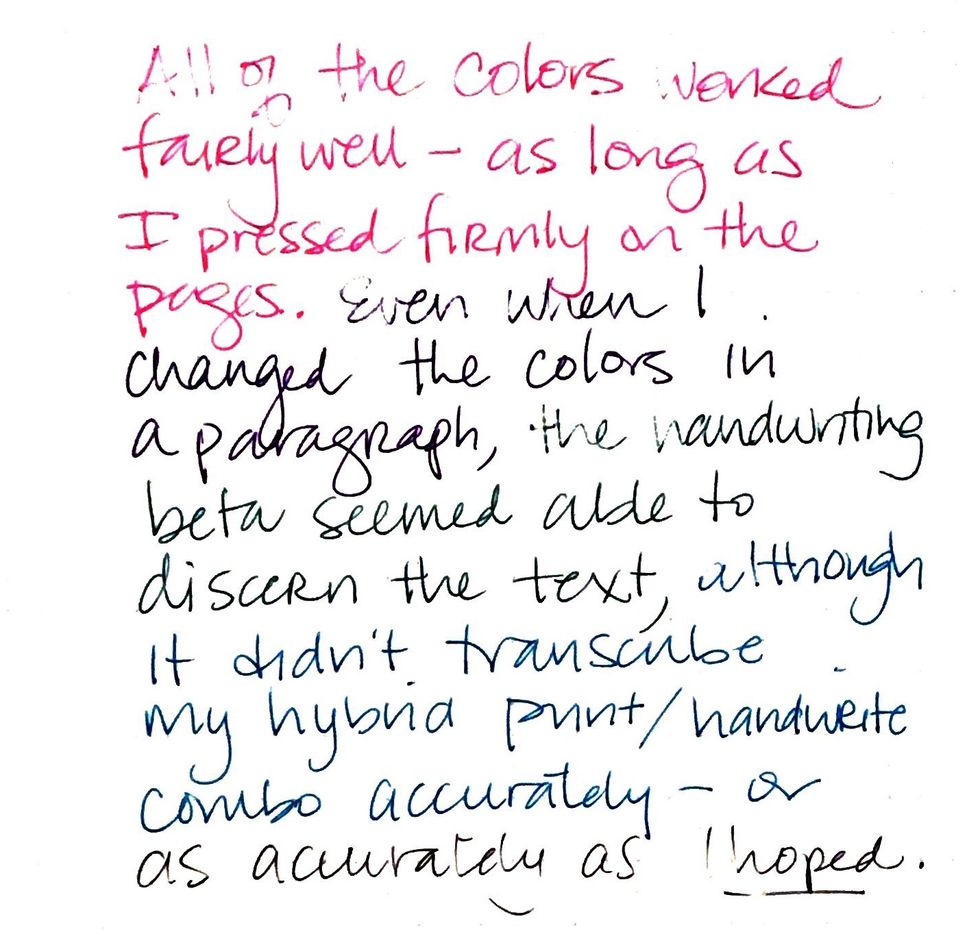 Handwritten notes, scanned as an image, into the Rocketbook app
GearBrain
Handwriting Beta Feature

The handwriting beta feature from Rocketbook didn't read my notes quite accurately
GearBrain
The handwriting beta test that Rocketbook uses definitely struggled with my scribble. While I could decipher what it generated back to me, I wouldn't want to turn those into a manager or a co-worker, nor would I would want to refer to them months later when reviewing for a test.
Granted, I've never won any handwriting contests, and in fact was made to do hours practicing my cursive in the third grade. That not-fond-memory may be why I tend to print almost anything I write today, which is certainly not perfect, but is legible.
This wrinkle posed the biggest concern I had with the Rocketbook test and its technology. if I want to not just digitally store my handwritten notes, but share them, having an accurate transcription is crucial. Storing and being able to pull up a visual sketch is great. But for someone hoping to use Rocketbook to translate handwriting into text fields, this feature is still a work a progress.
The notebook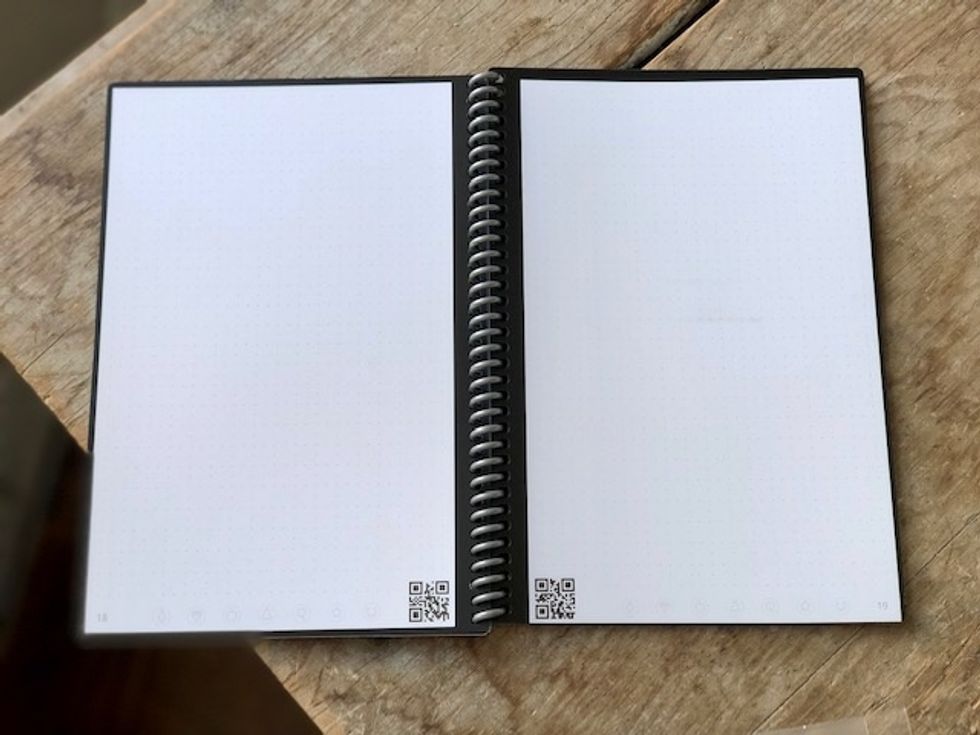 A blank set of pages in the Rocketbook Everlast notebook
GearBrain
The Everlast notebook, one of Rocketbook's largest, is itself lightweight — this isn't going to break your back or weigh down your bag. With 36 pages, there are certainly are more than enough for a meeting, even a long one, or even a class lecture. In fact it's ideal for students, and anyone who wants to make quick sketches as they take notes, but know they have a digital backup when needed.
I found the plastic cover around the Everlast rigid enough as a writing surface, but I wish it could have been more stable. I needed to put the notebook on a table, or desk, to make sure the pens worked at their best. Stenograph pads, or even more popular notebooks tend to have stuff cardboard backing on the front and back so you can write on the subway, or in a chair. I would have preferred that.
Handwriting vs Typing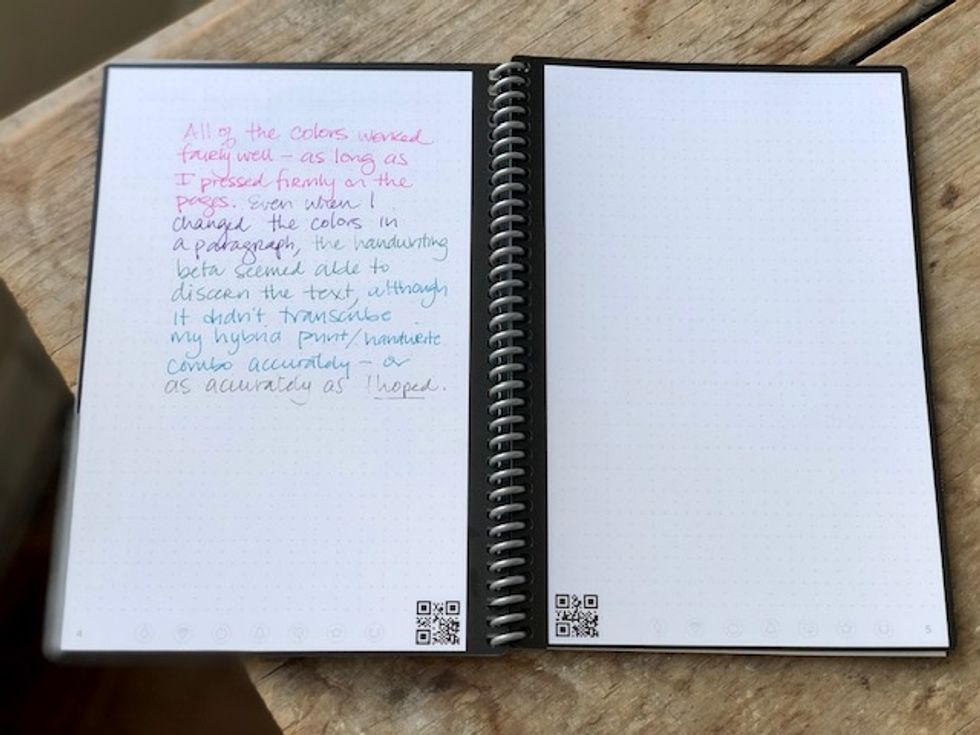 The blank pages of the Everlast let you draw anyway you want
GearBrain
All in all Rocketbook's Everlast is a solid device — and it is a tech gadget, even though its form looks like a notebook with a pen. A hybrid of a tool, it's an ideal fit for those who often want to keep records of drawings or sketches, or feel more comfortable handwriting, yet still need a digital backup. Everlast is even priced well, at $32, with a free app. Storage is really handled by whatever backup you use — email or iCloud for example. And even though you need special pens, they're not priced much more than regular ball-points you'd buy from a store.
Sure, most of us have long migrated to typing on keyboards, even those as small as a couple of inches wide on our smartphones. There's something to be said, though, for a return to writing by hand, and even academic studies seem to point to a mental benefit as well. Certainly, there's no question that our digital world is here to stay — but having a way to tap into both skills is worth considering — and something to scribble down a note on, too.
Pros:
Write anyway, and in any style, you want
Scans are easy to upload
Notebook is lightweight and reusable
Cons:

Requires special FriXion ink and pens
Feature is available in some devices now, like Samsung Galaxy Note 9
Notebook isn't very rigid, and is hard to write on without a desk or additional hard surface
Like GearBrain on Facebook