Home owners with a home security system are known to let them go dormant at times — activating it can be costly and difficult. Safe by Hub6 has a solution that can get the security network up and running, without a monthly fee for monitoring, and transform it into a DIY system. All it takes is adding a simple hub, which can link up to any legacy home security system, and get it working again. Here's how to get started.

What is It?
Safe by Hub6 is a hub that connects to an existing home security system through wires to take over a home security network. The hub connects to four wires on an existing home security system, and through that link will control all the sensors and alarms in a network. But there is a catch: The existing home security system must be compatible with Safe by Hub6. The company's hub works with DSC or Honeywell hardware, about 75 percent of the home security systems in North America (Canada and USA). If you have one of these systems, you are good to go. If not, it will not work. Not sure? You can go the company's site to find out if your security system is compatible.
Inside the box you will find the hub, a t-clip cable, a stripped cable, an Ethernet cable, a quick installation guide, plus window and garage door decals.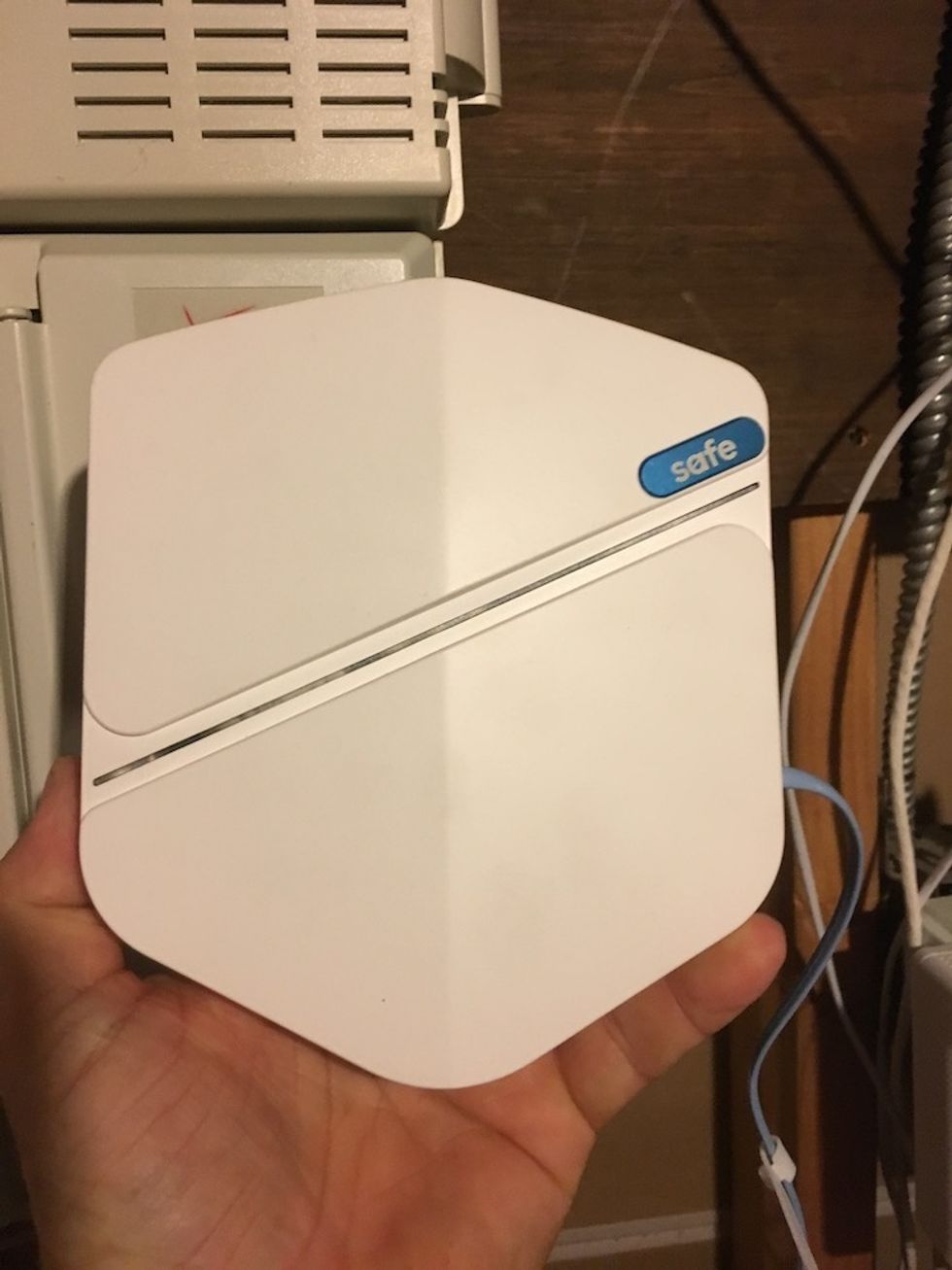 Safe by Hub6 connects to DSC or Honeywell compatible home security systems.GearBrain
How do you install it?

To install the hub, you first need to make sure your system is compatible with Safe by Hub6. If it is, download the Hub6 app from either the App Store (iOS) or Google Play (Android), open an account, and follow the installation instructions.
As you begin installing the hub, there are a few things to do to make sure your system is setup correctly. First, make sure you have a good Wi-Fi signal where you are going to place your hub, which you can see in the app. Without a good Wi-Fi connection the system will not work. Also, keep in mind you'll need to connect to either your existing home security's keypad or control panel — so check the Wi-Fi signals on either of these two devices.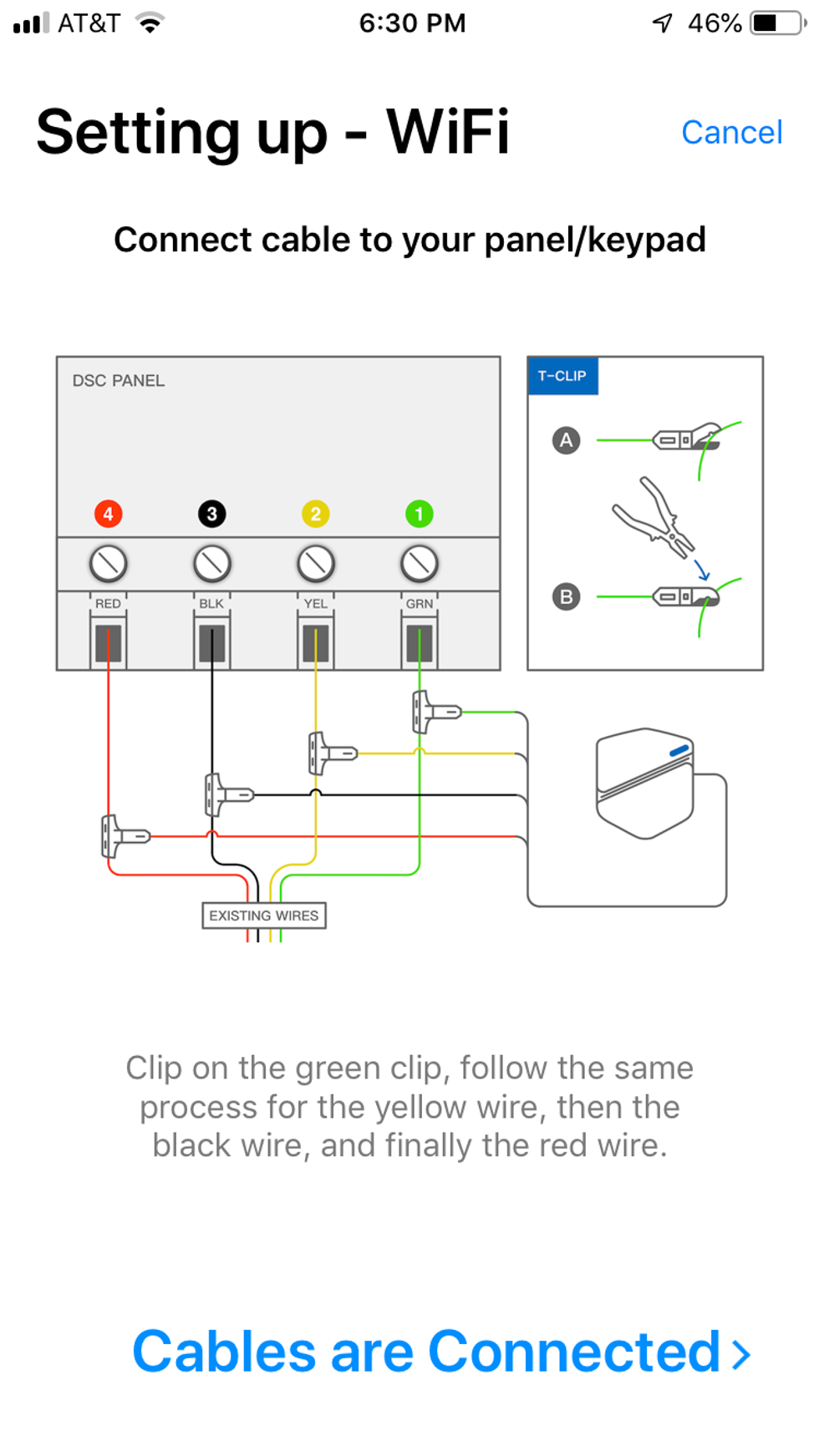 How to connect Safe by Hub6 to your compatible home security system using T-ClipsGearBrain
If the location where you hope to install your hub doesn't have a good Wi-Fi signal, you'll need to use the enclosed Ethernet cable to connect to the Internet and operate your system. For our test, our Wi-Fi connection was strong enough in the basement of our test house to use Wi-Fi.

Once the hub is installed and on Wi-Fi, you will need to connect the supplied cables to your existing home security system's panel. In the app, Safe by Hub6 diagrams which wires you'll need to connect, and also provides two types of cables (wiring) for you to use: T-Clips and stripped cables. The company recommends using the T-Clips, which we did, finding them easy to use. But avoid breaking the clips, as that's easy to do if you are not careful connecting them to the panel's wiring.
After you have your hub connected to your home Wi-Fi — and it's installed — you can now start to setup zones in your home.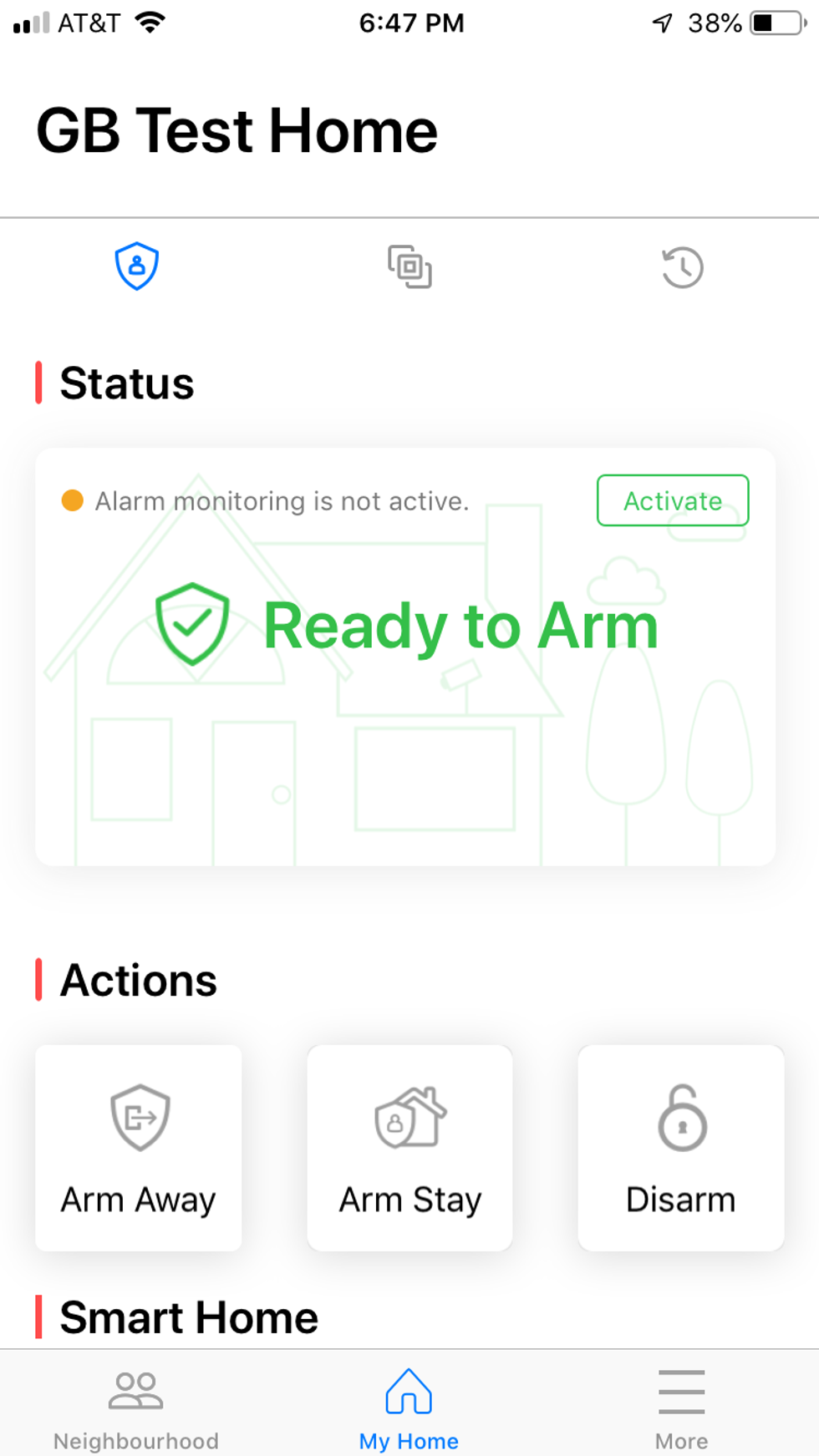 Dashboard on mobile app for Safe by Hub6GearBrain
Smart Home Integrations
Hub6 currently only works with Nest, Amazon Alexa and Google Assistant-enabled devices. They are working to integrate with smart light and smart lock manufacturers, hoping to announce more partnerships soon, which we will post when that happens.
Do note that if you're planning to build a smart home system, and want to use Hub6 as the main hub, that won't work. However, if you are building a smart home system using Amazon Alexa or Google Assistant as the main controller, then Hub6 can be easily integrated.
How well does it work?
During our testing, the system worked fine. One issue you might have with Hub6 is accessing your existing home security system. You are going to need get into your old system to change any of the legacy settings, including how long it takes for your system to arm, as well as the time and date displayed on the panel. If you don't know the passcode or password, you can hire someone to come in and get into the system for you — but that's an extra cost to consider.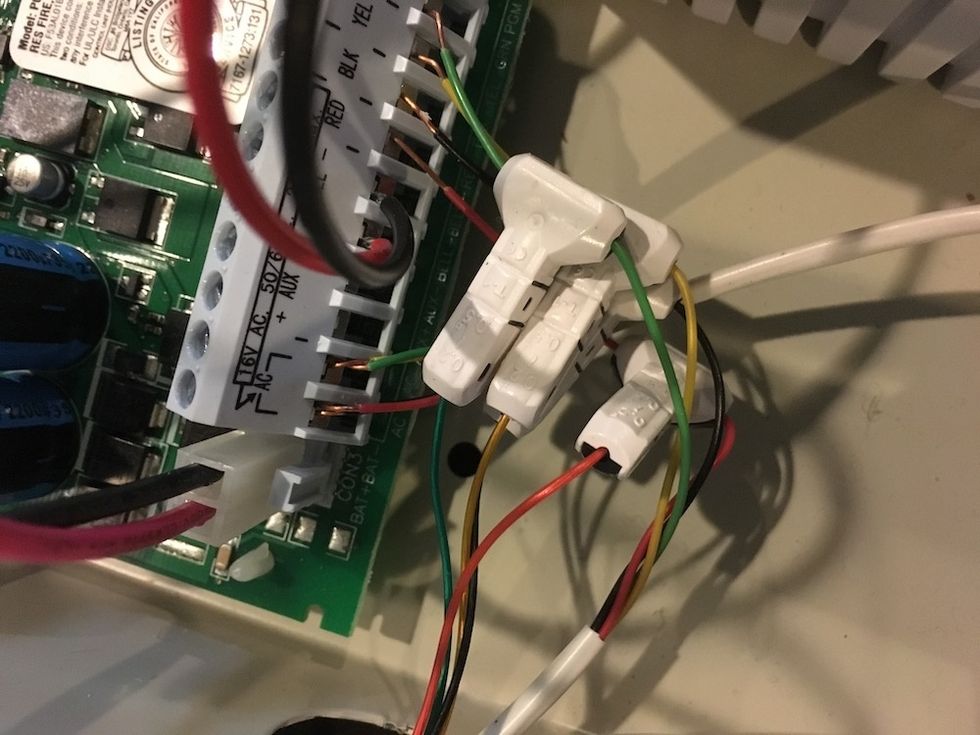 Connect Safe by Hub6 to your compatible home security panel using T-ClipsGearBrain
One interesting feature we liked in the app is a feature that redirects alerts to a trusted neighbor. Many apps let you add family members, or add video footage from smart security video doorbells to a neighborhood watch network, like Ring. But contacting a neighbor if you can't respond to an emergency because you are away is a nice touch.

In regard to smart home integrations, this is where Hub6 is lacking, although the company recently added Nest thermostats. Still, the company is new and they do have a nice foundation with Google Assistant and Amazon Alexa for now. Also, you can use IFTTT if you're tech savvy to add some routines, and we're looking forward to seeing future integrations, including cameras.
Cost:
Hub6 costs $299, and customers can add professional monitoring for $9.99 a month without a contract. (Click here to buy.)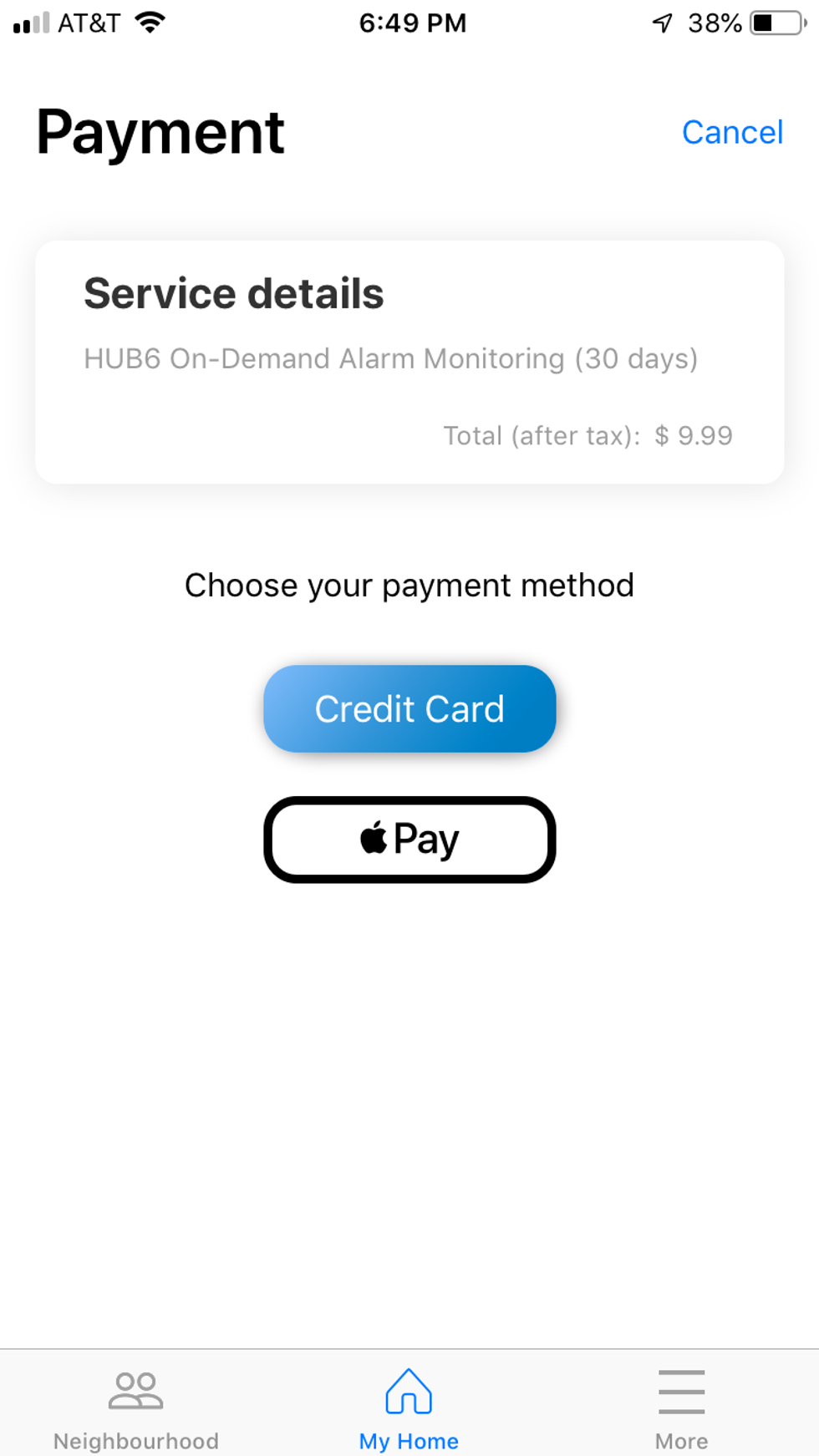 Safe by Hub6 has one plan for $9.99 for professional monitoring.GearBrain
Summary

One of the things we like about Hub6 is how it can take a legacy, unconnected system and make it smart. We think this is a fascinating feature as there are a lot of homes with old home security systems that include door and window sensors. A device like Hub6, that connects it to a legacy home security system, turns it into a DIY network for only $300 , with no monthly fees, is great. We have seen a lot of DIY smart home security systems — but none that can do build a legacy system with just a hub. If you have a setup that you'd like to get running again — but be able to connect to smart devices — we recommend taking a look at Hub6.
However, we need to point out some challenges you are going to face. First, you need to make sure your existing legacy home security system is compatible, and you need access to your old legacy system. If you can't get access to the system, you are not going to be able to connect Safe by Hub6. Try to get the passcode to the old system if possible, or you might find it expensive to activate the old system, since you'll have to hire someone to crack into the network.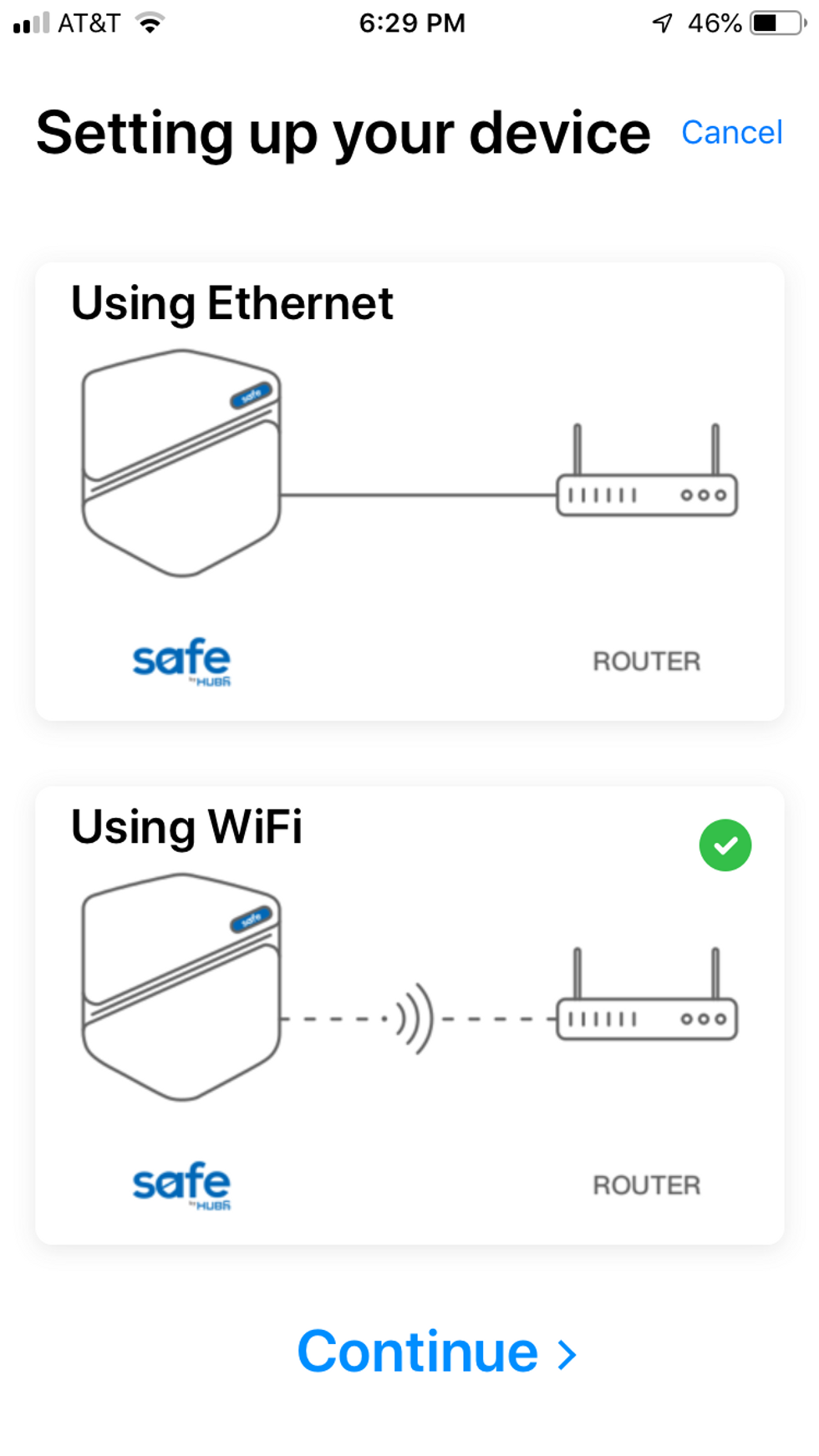 Can connect Safe by Hub6 either using a wired connection to your Wi-Fi router or via a wireless signal.GearBrain
Next, while the installation sounds easy, you have to be comfortable with working with electrical wires. If not, you might have a hard time installing Hub6 system. Also, bear in mind the T-Clips are fragile and can easily brake if not careful.
Third, we like how Safe by Hub6 can be connected via a wireless signal as well as an Ethernet connection. However, if you don't have a good Wi-Fi signal where you plan to install your hub — and your router is far from your home security's panel — you are going to have an issue. So, check the Wi-Fi signal in the location you plan to install your hub before buying the device.
Lastly, if you want a DIY smart home security system with cameras, Hub6 is not the solution for you right now. The company can't add security cameras right now, although we hope they'll add these, along with other smart home devices, like smart locks and lights.
Overall, we like how Safe by Hub6 offers an entry level DIY smart home security system for consumers. The cost is in line with other DIY smart home security starter kits without cameras, you use voice control through Google Assistant or Amazon Alexa-enabled devices, and the hub works with Nest thermostats. However, if you want or need cameras — or want to add smart locks to your home security system — then Safe by Hub6 might not be the system for you today.
Pros
Voice control
Cost - No monthly fees
Takes a wired home security system and activates
Mobile app
Cons
No cameras
Lack of smart home integrations
Installation process
Need access to legacy system password