Like GearBrain on Facebook
By Julia Tell
Just as we teach children how to communicate, we now have teach devices how to speak to each other. Some are easy to teach, some require some tinkering, but with a bit of work, most will politely engage with their peers — other smart devices —as well as with you.
Amazon Alexa is at the top of this list, getting smarter about talking directly with your smart home, along with other devices and gadgets. Smart locks are at the top of this list, allowing Amazon Echo or Echo Dot owners to sometimes lock, and unlock, their doors just by telling Alexa: "Alexa, lock the front door!"
Newer skills for Alexa work with various brands of locks and various hubs to get more of your house to follow voice commands, or actually, for you to delegate to Alexa the directing of your smart devices. Some smart locks respond directly to Alexa's command, while others require long, exact phrases, like "Alexa, tell my smart hub to lock the front door." Here's what's out there now to solve your locking-the-door-with-my-hands-full problems.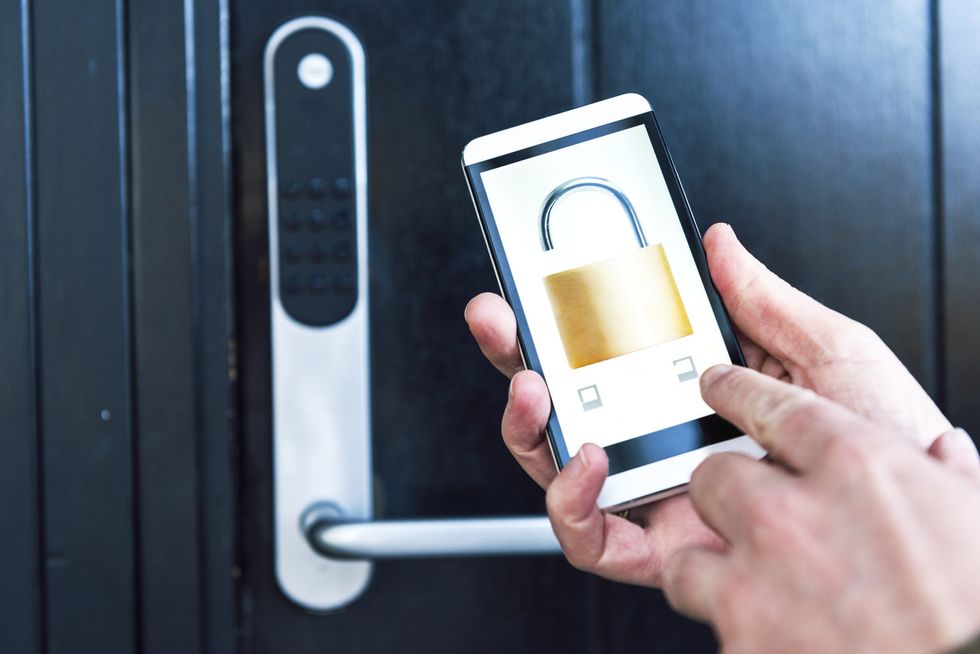 Smart lock options

There are quite a few smart lock systems that use an Alexa Skill, to lock a door, or check a lock's status through an Echo. Unlocking, however, requires a pin code. The convenience of unlocking a front door while in another room for a friend is tempting. But be aware that some smart locks require users to say the numerical code out loud to unlock the door. Is this safe? Some may say no, as workmen, neighbors, delivery drivers, and others may be around to hear the code. In some locations, or if your windows are open, and you're shouting the code to let someone in your house, people may hear you say the code from outside. This is something to bear in mind.
Nuki Smart Lock: This Austrian smart lock company offers compact door locks in Europe, but they can be ordered through a European vendor like Amazon.co.uk. The Nuki Skill for Amazon Alexa check the status of locks, and locks the door via a pin code. The skill also brings up an activity log through Alexa.

Kevo – by Kwikset: The Kevo Alexa Skill came out in April 2017, and some users have reported problems using it with Amazon Echo. The biggest complaint seems to be the need for a $100 Bluetooth adapter device, called Kevo Plus, to get the skill working.

August Smart Home: Like the Kevo, a Wi-Fi bridge called August Connect to have this skill work for locks or with the August Doorbell, which costs about $75. There are two Alexa Skills for this system, which is a bit confusing at first. The August Smart Home skill locks a door and check its status, but won't unlock a door. To unlock, users need the August Home Alexa Skill and a pin code. Enter the wrong code three times, and the system requires the pin to be reset.
Home security companies and smart lock voice control

Alarm.com: This security platform works with Schlage, Kwikset and Yale smart locks. The system is up-to-date system, but the lock features are pretty basic. Alarm.com does not have an unlock feature through Alexa, but the Alexa Skill does lock and give status reports.
A few other security companies that will work with an Alexa Skill — if you have the Alarm.com version of their plans — include Frontpoint, which uses Schlage smart locks and has a skill and CPI Security InTouch, which works with Yale smart locks on the Alarm.com platform. Another company include Guardian Protection Services which uses Kwikset Z-Wave compatible smart locks that are controlled with Protection 1 on the Alarm.com plan. The Vector Security skill uses keypad locks with Alarm.com support and Alexa. But none of the companies using Alarm.com's Alexa Skill integration let users unlock via voice command.
ADT Pulse: The ADT Pulse Alexa Skill controls the Kwikset SmartCode Home Connect Z-Wave Deadbolt door lock. The Alexa Skill locks a door, but requires a pin to unlock a door, and won't let users group devices together as of yet.
Home8 Alarm: This home security platform is white-labeled by many home security companies. Home8 offers its own plug-and-play security systems and no-fee monitoring. Z-Wave locks or smart locks compatible with Nest Thermostat will work with the Home8 Alexa Skill, which can both arm and disarm locks.
Hubs and smart locks for Echo control
Dwelo: This is a smart apartment system for property owners, managers and residents. The Dwelo Alexa Skill works with Kwikset Button & Touch, Yale Touch and Schlage Touch smart locks. The Dwelo integrated system works with a hub to control lights and thermostats, along with locks, though it does not have an unlock feature.
SmartThings/Samsung Connect: This is Alexa Skill for Samsung's SmartThings devices. Smart locks made by Yale, Schlage and Kwikset will work, but again, there isn't an unlock feature in this skill.
K3 Connect: An open source design platform for NFC, Bluetooth and Wi-Fi smart locks, K3 Connect uses an Alexa Skill to control locks. This skill uses a pin code for unlocking.

Wink: The versatile Wink Alexa Skill is compatible with many smart locks including Schlage Connect, Keypad lever with Z-Wave, August, Kwikset, and Yale smart locks. Wink doesn't have the capability to unlock smart locks yet. Check to make sure the specific lock you want will interface with this system before buying, as there are so many models. Users report that the Wink skill works very well with Alexa.
MobiLinc: works with Insteon controlled devices. The regular MobiLinc Alexa Skill can lock and unlock, but the MobiLinc Smart Home Alexa Skill lets users forego the "Ask MobiLinc to…" part of the phrase when talking with Alexa.

UltraSync: This company is owned by Interlogix and is Z-Wave smart lock compatible. However, UltraSync cannot control locks or security devices through Alexa skill at this time.
Easily to lock, but not always unlock your doors with the Echo

More smart locks with Alexa Skills are coming to market all the time. But while skills are free, the hardware can vary in price. Often, when Alexa Skills are first released, they're not Smart Home compatible, meaning that you have to remember exact and long phrases, like "Alexa, ask 'devicename' to lock the front door." Many brands are upgrading Alexa Skills to let users skip the "Ask 'devicename'" part, letting people speak more naturally.
Alexa Skills don't let smart lock owners do anything with their devices — such as unlocking a door with ease. But using the voice command option does move people one step closer to a true hands-free existence, where voice is the new app to simplifying a smart home.
-Julia Tell last wrote for GearBrain about Alexa skills for running smart home security systems you can install, and monitor, yourself.
From Your Site Articles
Related Articles Around the Web
Like GearBrain on Facebook