(Updated April 21, 2020) Abode is one of the first do-it-yourself (DIY) home security systems we reviewed at GearBrain, that you install and monitor on your own. Even then, we liked how Abode lets consumers choose from a variety of professional monitoring options, after they installed their own home security system. Now, they're pushing forward again, as the first DIY home security company with a controller that also operates as a wireless hub and HD camera. This new hub is called iota, and we got a chance to test it in a real home, impressed with how well it integrated with other wireless smart home devices.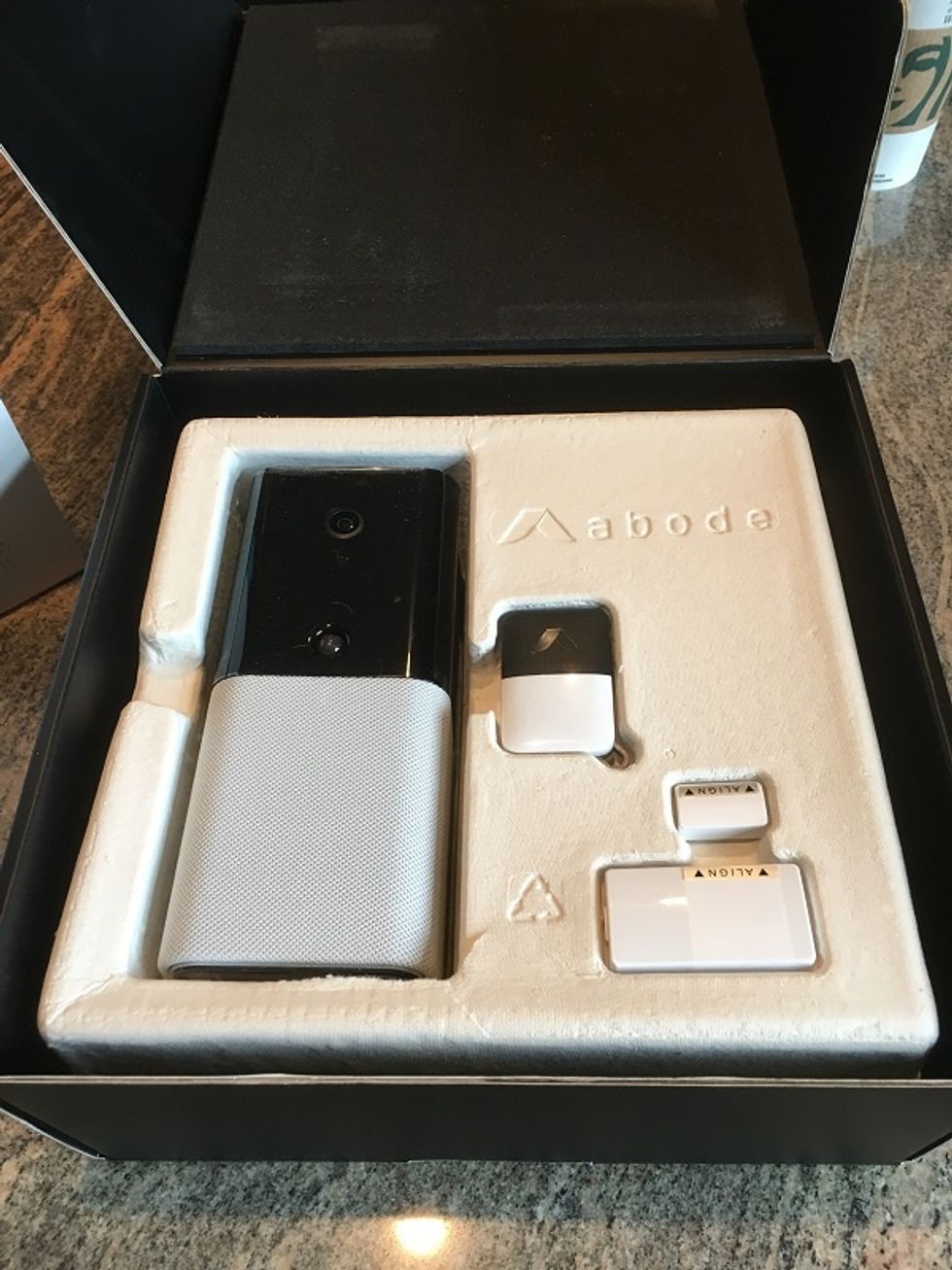 abode iota home security kitGearBrain
What is It?

Abode is one a leader in DIY-installed home security systems. The company provides professional-grade home security with either 24/7 professional monitoring or on-demand monitoring — you choose what service you want to secure your home. Abode has two all-in-one home security kits: its smart security system and now, the iota home security system. We previously tested its smart security kit, finding it an excellent entry level DIY home security system. The iota home security kit includes a wireless hub with a built-in HD camera and motion sensor that also supports two-way communication. It connects to your home Wi-Fi network via a wireless connection, so you can position the hub anywhere in your house. There's also a 4G cellular backup — as well as a built-in battery— in case you lose power. Inside the iota Security kit you will find the physical hub, called iota, one mini door/window sensor and one key fob.
Through the iota security kit, you can create smart actions in your home through Abode's automation engine called CUE. You can build rules that run devices in your home — from smart lights to connected thermostats — setting parameters based on the time of day (sunrise/sunset), the temperature and more all from inside the Abode app. You can also run third-party smart connected devices as well, but need to make sure they're first connected to your Abode system.

To give you an idea on what you can do with CUE, here are some examples:
Program your outside lights to go on and off at sunset and sunrise
Turn your heat on when you're close to home during winter months through CUE's geo-location interface
Automatically lock doors when you turn your alarm on in your home
Set your lights to go on when you unlock your door at night, or when the garage door opens
Overall, we found setting these home routines through our smartphone very simple — but also common to other smart home systems.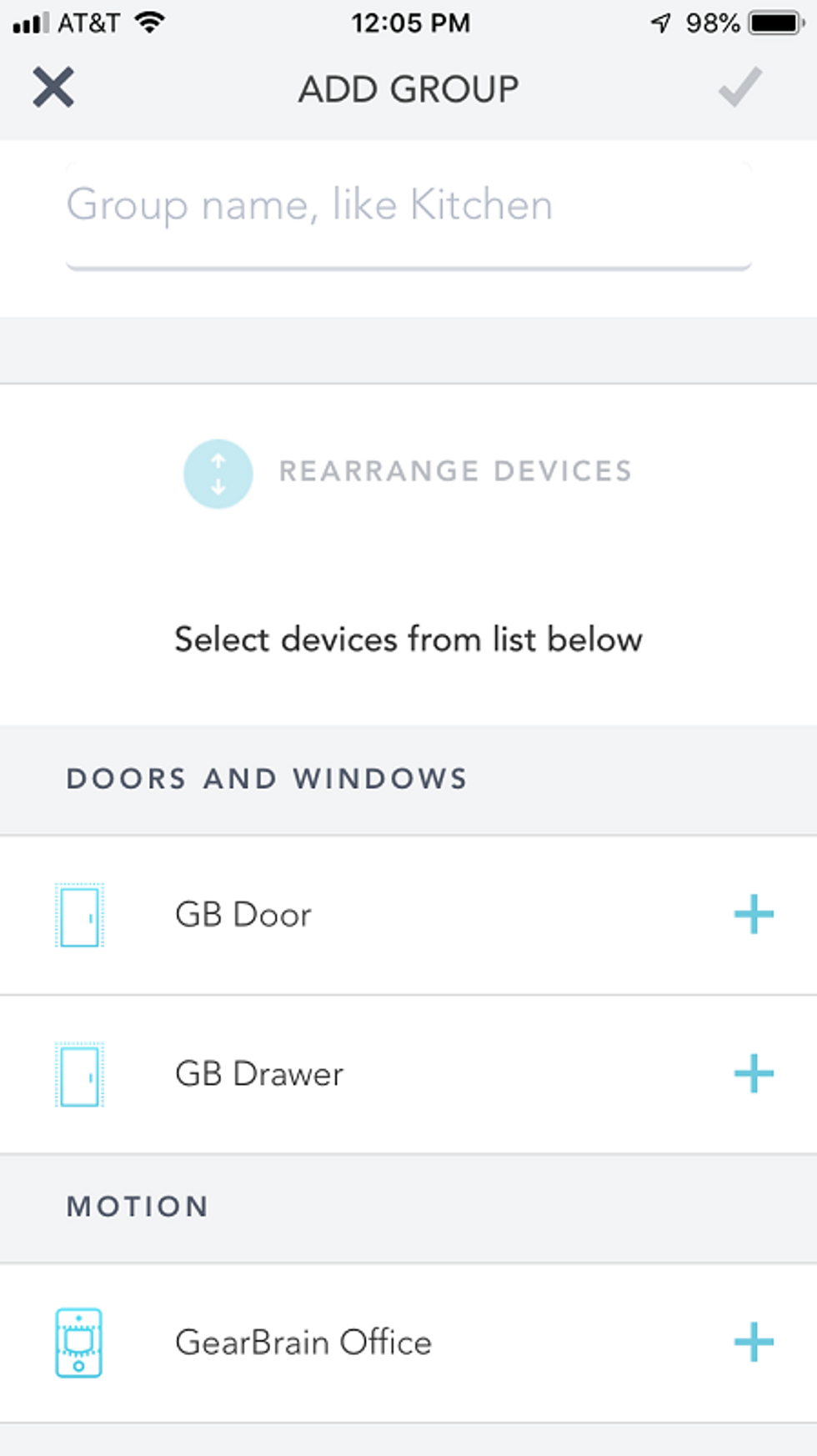 Can easily setup groups in abode appGearBrain
How do you install it?

If you are a first-time buyer of Abode, you'll find installation very easy, without requiring any extra tools. Plug the power cord from the iota hub in to charge, which should take about 12 hours. While charging, pair the unit with your home Wi-Fi router. To do this, take the supplied Ethernet cable and plug it into your router. Next, download the Abode app from either App Store (iOS) or Google Play (Android) and following its instructions, which should take a few minutes. You will need to input your Activation code which you will find on a card inside the box.
Once you are all set up on Abode — and your iota hub is recognized on your dashboard — you can begin the pairing process of Abode or other third-party devices. Remember Abode works with any Z-Wave or Zigbee device, like Yale Z-Wave smart locks or Hue smart lights.
unboxing abode iota smart home security kit www.youtube.com
If you currently own an Abode system, and want to upgrade your hub to an iota hub, that will work too. That's how we tested iota as well. To start, charge your iota hub, and at the same time pair the hub with your home Wi-Fi. Abode works on a 2.4GHz Wi-Fi connection and can speak to Z-Wave and Zigbee devices using either of these wireless protocols.

Connecting the iota hub does not require an activation code — unless you're a new customer. Once your iota hub is online and connected, it will appear on your dashboard. But, don't be alarmed when you don't see any of your currently owned Abode or third-party devices which had been paired to your Abode hub. You'll need to re-pair them to the iota hub — but only after you pair the Abode devices that came with your iota hub.
Re-connecting your third-party devices is easy — but it is a hassle. Using your dashboard, or the Abode app, you must add each device — and then go to the device and hold down the button on top of it for 10 seconds. Once you hear a beep, your device will be discovered and paired to the iota hub. In our test house, this took quite awhile as there are a lot of window and door sensors. We recommend using the same naming convention when adding your old devices to your new dashboard. This will make it easy for you when using voice commands with Google Assistant or Amazon Alexa-enabled devices.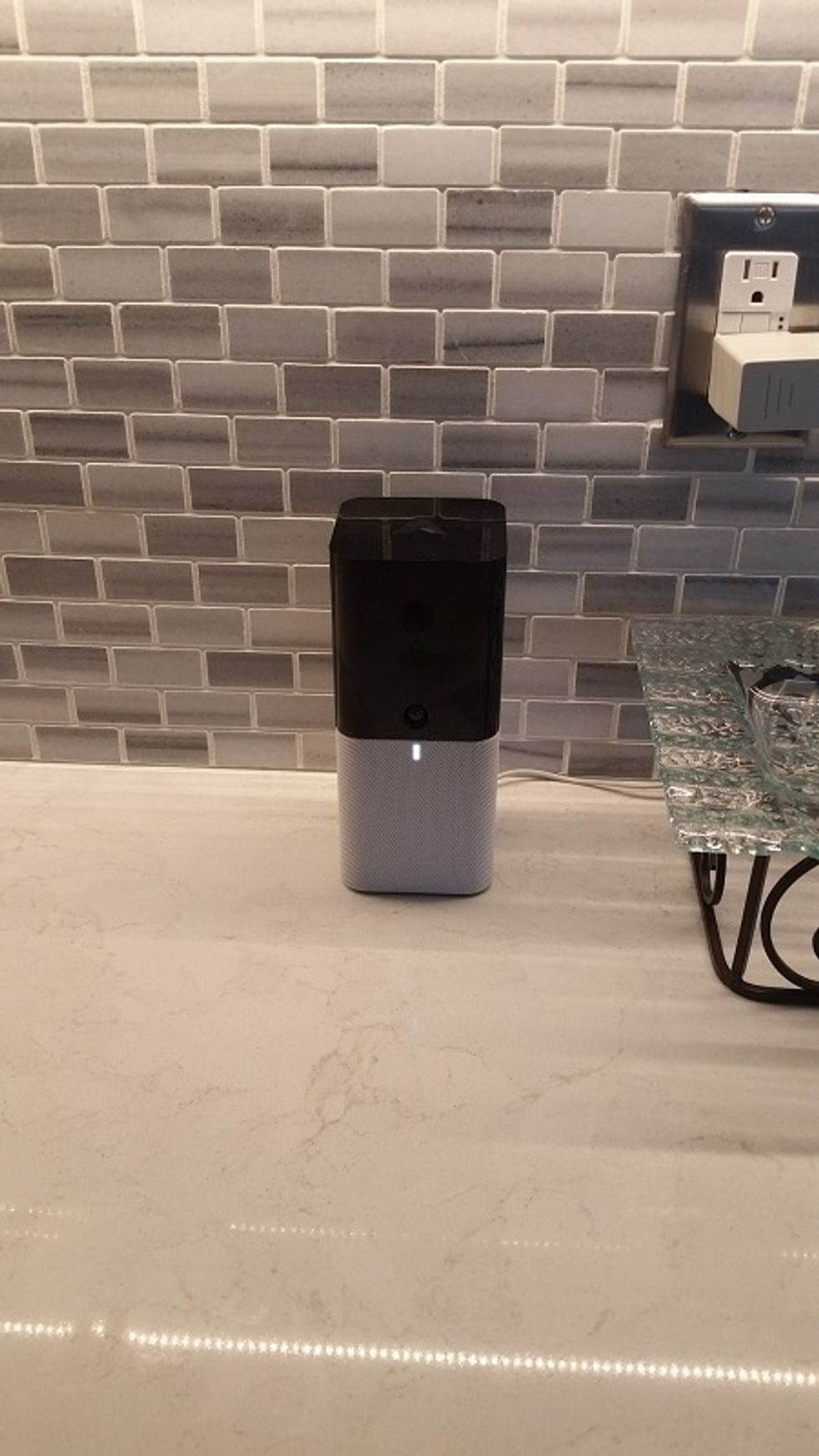 abode iota hub functions as a wireless hub and HD camera with two way audioGearBrain
Smart Home Integrations

Abode system supports both Z-Wave and Zigbee devices. If you have any of these, you will be able to add them to your system too. Here is a list of current partners:
Yale Z-Wave and Zigbee smart locks
Nest cameras and thermostat
Linear
Kwikset Z-Wave and Zigbee smart locks
Ecobee smart thermostats
First Alert Smoke and CO2 alarms
LIFX smart lights
Google Assistant enabled devices
Amazon Alexa enabled devices
IFTTT
How well does it work?

We tested the new Abode iota hub in our Abode test home to see how it would perform with a regular internet connection in an average home. Abode's new iota hub performed well. Setup was a little challenging, but that was because we added it to an existing Abode system.
One tip: When pairing the new iota hub to your home Wi-Fi, don't place the hub next to the router. At first, we had some issues pairing devices to the new iota hub. Abode's customer service told us to place the hub about three feet away from our home Wi-Fi router, that it would help with pairing our existing devices to the system. It did.
There are two features of Abode's new hub that we particularly liked: that it's wireless and that it can function as an HD video camera with two-way audio. This is the first hub we've seen that has this dual function, as most hubs just connect to your home Wi-Fi, and then talk to these other devices — like a video camera — via a wireless signal.
The iota hub is also very nice looking, meaning it can work well in any space in your home from a kitchen counter, to a bookshelf or coffee table. Just make sure you place the hub where you want to record video, and possibly speak to visitors or family members. When we tested the speakers during a conversation, we found that the sound was clear.
Additional Features
As we tested Abode's iota security kit, we discovered you can access your Abode dashboard from iOS and Android devices — and also your computer. We found this bit helpful, particularly during the setup process, as we connected multiple devices to our system.
You should also be aware that Abode sells its own cameras: the Abode Cam and a Wide-Angle Motion camera. Additional door and window sensors, as well as vibration or acoustic glass break sensors, are sold on Abode's site if you want them. Buying them from Abode's site means you can make sure they'll work with its system. There's even a section on its site where you can submit information about your space — including your property type, square footage, plus the number of doorways and windows — and Abode will respond, to help you build your system. We tried this, and got an email with recommendations, along with video tutorials and a list of compatible devices. For new users, or people who have never purchased a DIY home security system, this can be very helpful.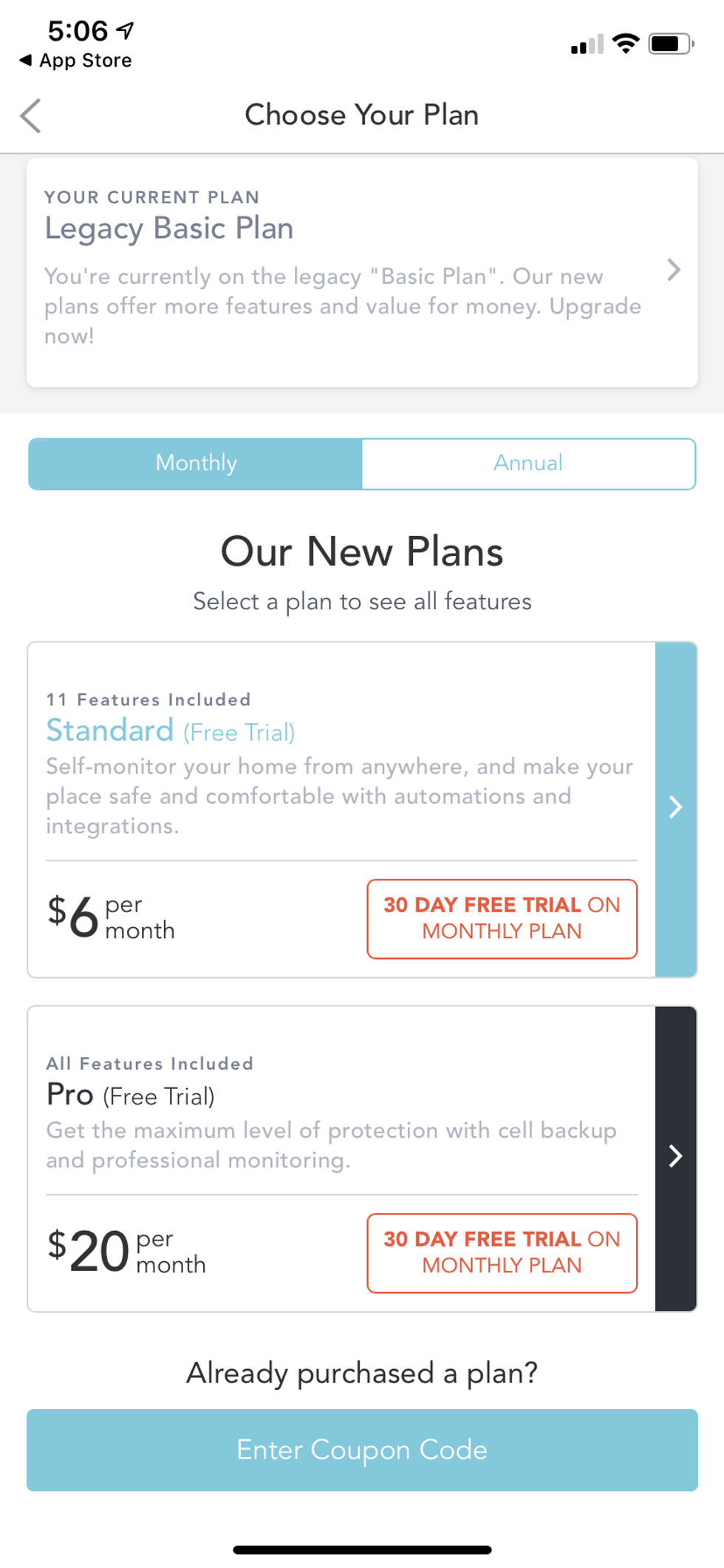 abode monthly plansGearBrain
Monitoring Plans

Like most home security systems, Abode includes professional monitoring plans which can be customized to your needs. For instance, if you only need professional coverage a few days a month, there is an option for you — plus there are options for individuals who want 24/7 monitoring.
The company has three plans: Basic, Standard and Pro. The default system for your abode system is either a 30 day free trial of Standard or Pro then turns into the monthly version of the plan you selected. The Basic plan is still s free plan and includes no timeline or video storage. It only has live video, alerts from push notifications, no CUE automations or geofence capabilities but you can arm and disarm the system plus self-monitoring through the Abode app. Optional on-demand professional monitoring starts at $8 for three days, and is also $15 for seven days. There's also a plan with unlimited user accounts, up to 100 automations, IFTTT channel access and customer support via email and support site, which is only available in the U.S. and Canada.
The Standard plan costs $6 a month and includes alerts from push notifications, email notifications, all integrations, arming and disarming from the abode app, CUE automations, live video, geofence control plus premium support, 7 days of timeline and video storage. With the Pro plan, you get everything in the Connect plan, but your Timeline and video storage runs for 30 days, homeowner's insurance discounts, exclusive deals and 4G cellular Backup connection that will keep your system up and running when the power goes out. You also get 24/7 professional monitoring with Abode's UL-Listed monitoring center, an Unlimited device warranty and premium customer phone support. This plan costs $20 a month ($180 per year) and is only available in the United States.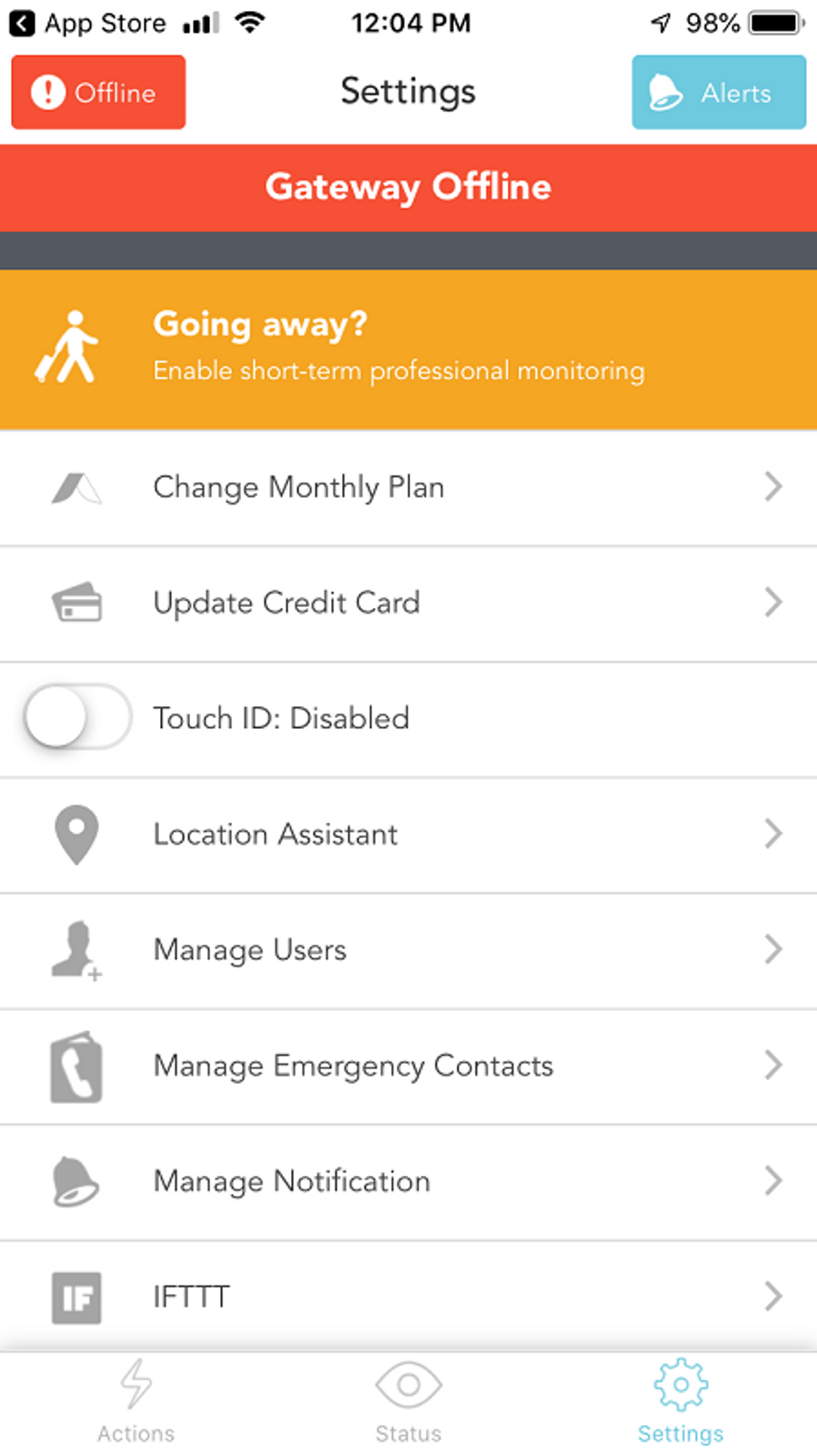 You can easily change your monitoring plans using the abode app.GearBrain
Cost
The MSRP price for the iota security kit is $419, but the company is running a special for $199 on its web site. We also found Abode security kits are sold on Walmart and Amazon. Fees for monitoring plans will range, and go as high as $20 a month. You can always change these plans, and there are options that are less expensive.
Summary

Abode's new iota All-in-One Home Security kit is an excellent DIY wireless home security and automated system. We like how the hub is wireless and has a dual role, working as a controller and a HD camera, which is something we had not seen in smart home security systems hubs before. Setup is easy if you are a first-time owner. If you already have an Abode system and just updating your hub, the pairing process is going to take some time. We wish Abode would consider making this process simpler, and hope they'll address this in the future.
In terms of monitoring your home when you are away, Abode excels. Most home security companies offer monthly professional monitoring plans at rates ranging from $10 to $50 per month. If you're looking for video storage for 30 days, you'll tend to pay extra, depending on the number of security cameras you have in your system. Abode has a number of plans, at pretty reasonable and flexible rates. If you want professional monitoring for just a few days a month, you can add that for as little as $8 for three days or $15 for a week.

Overall, we think Abode's iota security kit is ideal for those looking for a DIY installed and monitored home security system. There are several professional monitoring options to choose from depending on your needs — plus it lets you create home automation routines, to help keep your home secure and smart at the same time. Finally, this system can easily move with you when you sell your home.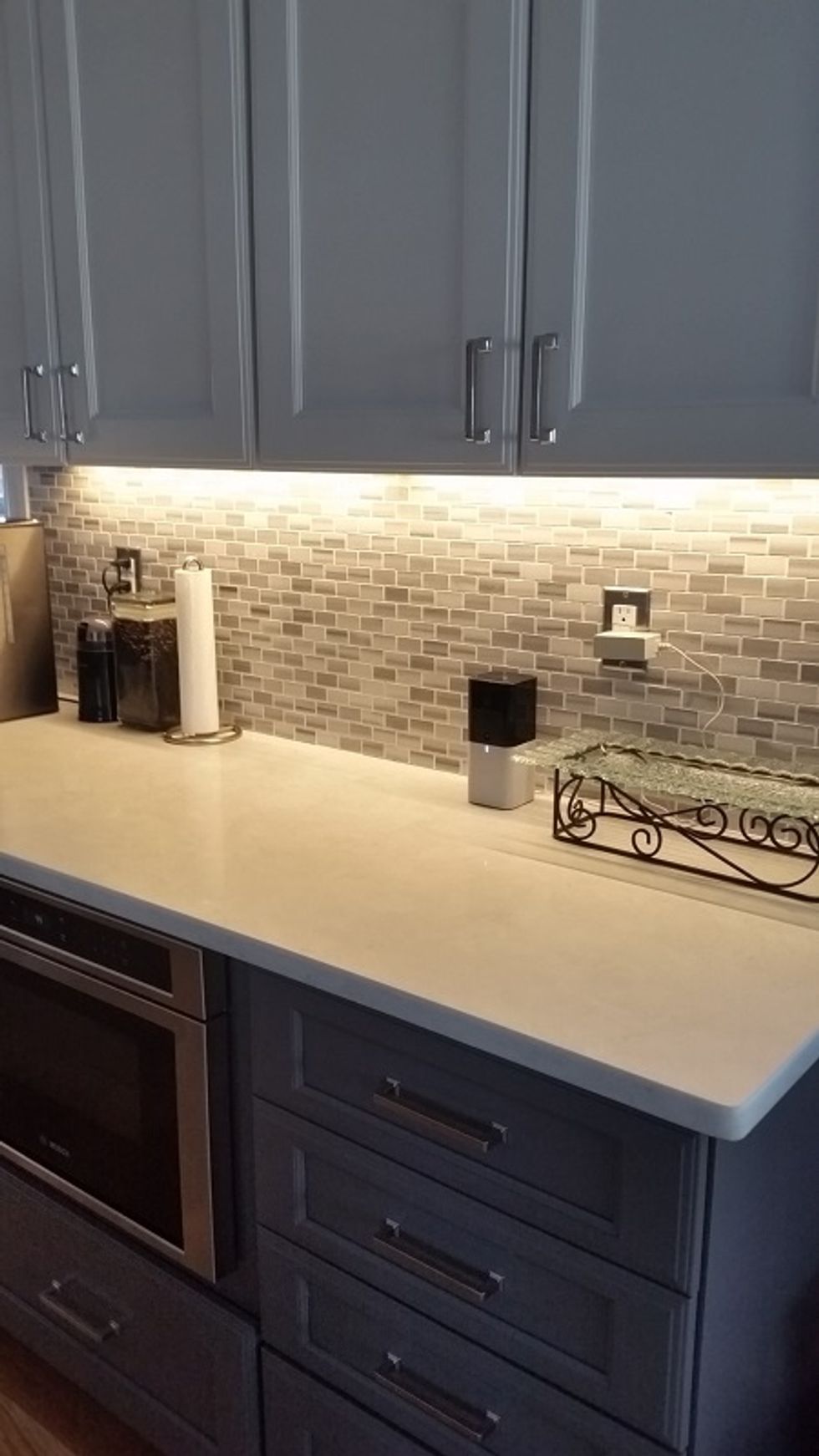 abode iota hub is good looking and can be easily positioned within your home on a counter like above.GearBrain
Pros:

Dual functioning hub – wireless controller and HD Camera
Easy to set up
Price
Flexible professional monitoring plans to choose
Good smart home integrations – up to 160 devices can be paired
Cons
Cumbersome to pair with existing devices for current Abode customers
The MSRP price is expensive if there isn't a current deal
You need to make sure you don't place the hub too close to your Wi-Fi router
Specs

Size & Weight
Hub: (HxWxD) 7.1" (180.3mm) x 3.06" (77.7mm) x 3.06" (77.7mm)
Weighs 1.25lbs. (570g)
Key feature in iota hub
Connect up to 160 security and home automation devices
Built-in HD (1080p) streaming video camera with two-way voice
4G/LTE cellular backup (optional monthly fee applies)
6+ hour battery backup
Built in motion sensor
Port and Interfaces
Abode long-range SecureRF (433MHz)
Zigbee PRO (2.4GHz)
Z-Wave (908.4 MHz)
2.4 GHz Wi-Fi
USB
Cloud Connected
Mobile Requirements
iOS 8.1 or newer with iPhone 4s or newer, iPad mini or newer, iPad3 or newer, iPod Touch (5th generation) or newer
Android 4.4 or newer with Bluetooth low energy technology
Wired Ethernet
Power
INPUT 110-240V
Warranty
1-year limited warranty