Like GearBrain on Facebook
Remember the Galaxy Home smart speaker? We won't judge you if you had forgotten, as we're starting to wonder if it has slipped Samsung's mind too.
The company has a lot on its plate right now - what, with the Galaxy Fold crisis - but we can't help but wonder when the company's answer to the Amazon Echo, Google Home, Sonos One and Apple HomePod will actually arrive.
Read More:
As we continue to wait - it's been almost nine months and we still don't have a price, release date or real sense of what the Galaxy Home will do - evidence of a smaller Galaxy Home Mini has emerged.
A device with that name has been spotted on the Bluetooth SIG website, where devices with Bluetooth often crop up before going on sale. The device's appearance here doesn't give much away; the listing was published on the website on April 28, came from Samsung itself, and describes an "AI Speaker" called the Galaxy Home Mini. It has the product number SM-V310.
Now that the Bluetooth SIG has given its approval, Samsung is likely close to putting the Galaxy Home Mini on sale. But this raises more questions than it answers. Will it launch alongside the Galaxy Home? What will the differences between the two products be? What will they be priced at? Will this be a rival to the circa $50 Google Home Mini and Amazon Echo Dot?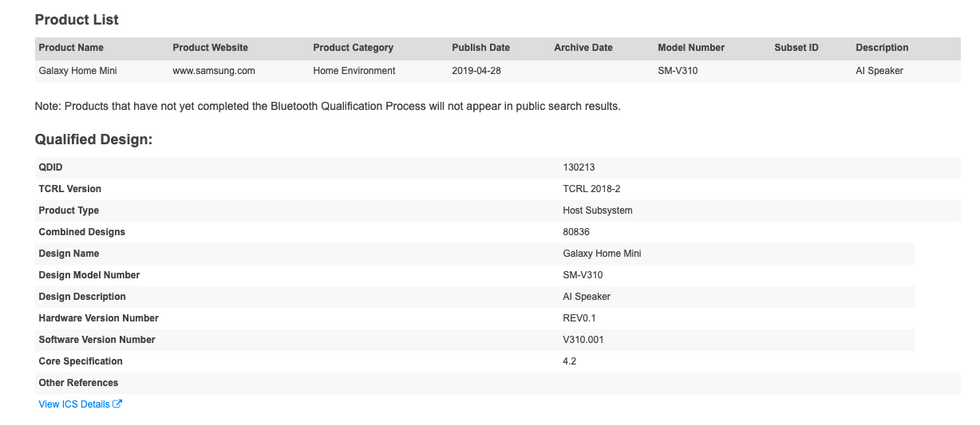 Bluetooth SIG listing reveals unannounced Samsung Galaxy Home MiniGearBrain
One of the most important questions Samsung is yet to answer is, how well will the company's Bixby voice assistant work on both speakers? Intended to be a rival to Siri, Alexa and the Google Assistant, Bixby has appeared on flagship Samsung smartphones for a couple of years now, but has struggled to make a name for itself. The assistant's intelligence is generally lacking compared to the Google Assistant, and its personality falls short of Alexa and Siri.
Samsung has said very little about the Galaxy Home since it was announced in August. The speaker was last seen on Samsung's stand at Mobile World Congress, in Barcelona in February. Several were on a shelf, but were not functional and no information about them was presented.

That same week, Samsung co-CEO DJ Koh said the Galaxy Home would go on sale by April, but this did not happen.
Samsung is yet to say how much the Galaxy Home will cost, but its design and features suggest it will go up against more premium speakers like the Sonos One and Apple HomePod, instead of the cheaper Amazon Echo and Google Home range. The Galaxy Home boasts audio by AKG, a company owned by the Harman group which Samsung acquired a couple of years ago.
Similar to how the Apple HomePod and Sonos One adjust the sound they produce based on their surroundings, Samsung says the Galaxy Home is "the only AI speaker that intuitively moves a wave of sound directly toward you when you ask it to."
What You Need To Know About Smart Speaker Assistants www.youtube.com
Like GearBrain on Facebook