Like GearBrain on Facebook
It has now been 735 days since Samsung announced its first smart speaker, called the Galaxy Home, yet it still hasn't shipped.
When it debuted in August 2018 we had high hopes for Samsung taking the smart home fight to Amazon and Google, laying the foundations with Bixby, SmartThings and the Galaxy Home for an alternative smart home platform. But, in the two years and four days since, Samsung never got around to explaining any of the Home's main features, and we were never told how much it would cost.
Read More:
The Galaxy Home has been seen since its debut, but sporadically so, and no one outside of Samsung has been able to try it out. The speaker didn't make it to the IFA technology show in Berlin just a few months after it was announced, yet appeared on Samsung's stand at CES in January 2019.
Samsung co-CEO DJ Koh then said in February 2019 that the Galaxy Home would go on sale by April.
Days later, the Galaxy Home appeared on Samsung's stand at Mobile World Congress in Barcelona, giving further hope to that April deadline. But the speaker, pictured below, was purely there as decoration. No information was provided and journalists weren't allowed to try it out. We can't even be sure the speakers on display in Barcelona were even functional.
That promised April release date came and went with no mention from Samsung about the whereabouts of the Galaxy Home. Its price and feature set – beyond having access to Spotify and being controlled by the Bixby voice assistant – remained a mystery.
Speaking of Bixby, we should probably pause the story here to address what could well have led to the Galaxy Home's downfall. Announced back in March 2017, Bixby was intended to be Samsung's answer to Apple's Siri, Amazon's Alexa and the Google Assistant. It debuted on the Galaxy S8 smartphone and replaced Samsung's aged S Voice system.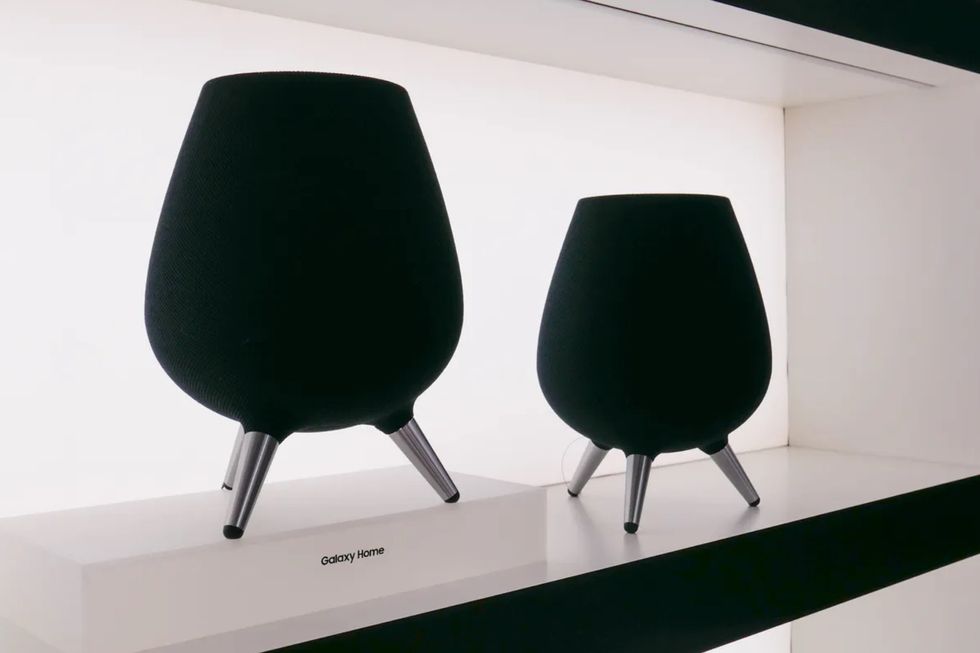 Galaxy Home photographed in early 2019GearBrain
In a bid to stand out from its rivals, Bixby's unique selling point was how it understood what you were looking at when asking a question, or issuing a command. So if you viewed a photo on your phone and asked Bixby to "make this my wallpaper," it would understand that "this" was the photo.

But Bixby struggled to match up to Alexa and Google Assistant. We had high hopes for Bixby becoming a fully-fledged smart home assistant, tightly integrated with Samsung's SmartThings platform and posing a serious threat to Amazon and Google. But this vision never quite materialized, and recent Samsung phones no longer have a dedicated button for summoning Bixby, as they once did. The assistant wasn't mentioned at Samsung's most recent Unpacked launch event in August 2020, and it doesn't appear at all in the company's extensive Galaxy Note 20 product page.
What was supposed to be the main feature of the Galaxy Home has seemingly failed to live up to Samsung's own expectations and, like the speaker itself, has mostly disappeared.

Back to the Galaxy Home, and in May 2019 rumors of a smaller Galaxy Home Mini began to gather pace. The device was spotted gaining its Bluetooth certification, which is usually a sign that an upcoming product is at an advanced stage of development. It started to look like Samsung was planning a budget rival to the incredibly popular Amazon Echo Dot and Google Home Mini (later called the Nest Mini).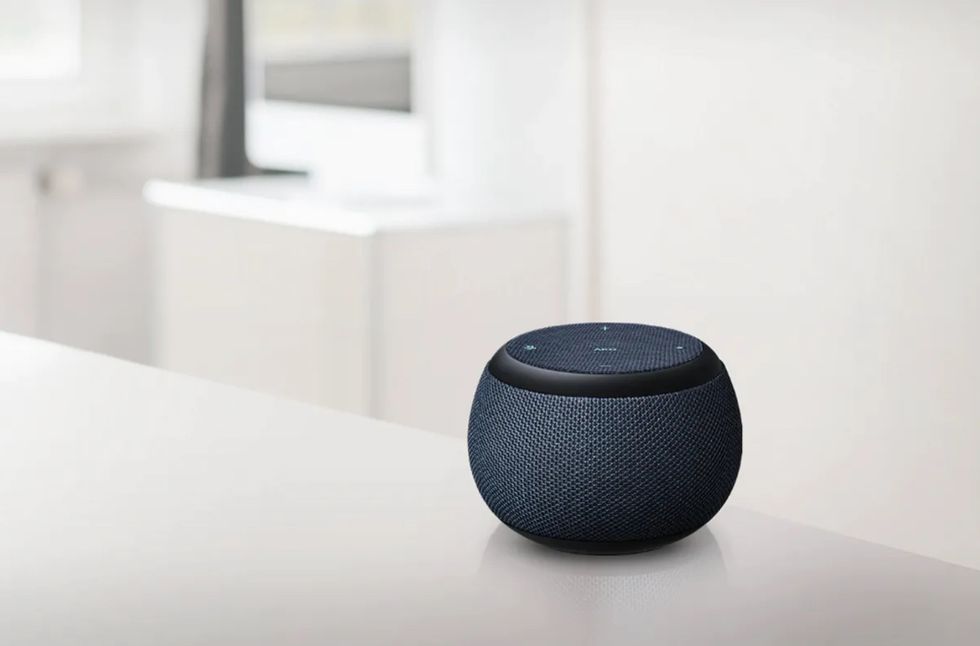 The Galaxy Home Mini also failed to materializeSamsung
Despite that renewed excitement for a Samsung smart speaker, nothing was mentioned during the company's next major product launch event, in August 2019. It had now been a year since the Galaxy Home's debut, and we still didn't know much about it. While Amazon and Google grew their smart speaker product lines and expanded into smart displays like the Echo Show and Nest Hub Max, Samsung had nothing to offer.

By now, Alexa and the Google Assistant were appearing on evermore speakers made by other manufacturers, like Sonos, Bose, JBL and Harman Kardon. Perhaps at this point Samsung should have admitted defeat with Bixby and allowed the Galaxy Home to use Google Assistant, just like smart speakers of the Harman group, which Samsung has owned since 2017.
But then, out of nowhere, Samsung announced a beta programme for the Galaxy Home Mini, to begin in South Korea in late-August 2019. The company invited 3,000 people to register their interest, in return for a Galaxy Home Mini that they would test out at home. Again, Samsung promoted the speaker as a Bixby-powered way to control your SmartThings smart home.
That same month, Samsung spoke about the original, full-size Galaxy Home, saying it was "continuing to refine and enhance the Galaxy Home prior to launch,". The company added how it would "look forward to sharing more with Galaxy fans soon."
More silence followed, until February 2020 when Samsung briefly announced widespread availability of the Galaxy Home Mini in its native South Korea. A local press release was issued, giving the speaker a price of 99,000 KRW (around $85). Unfortunately, the announcement was deleted from Samsung's website just hours later, with the Galaxy Home and Home Mini were never seen again.
No mention was made of the Galaxy Home (or Bixby) at Samsung's recent Unpacked launch event for the Note 20 and second-generation Fold phone.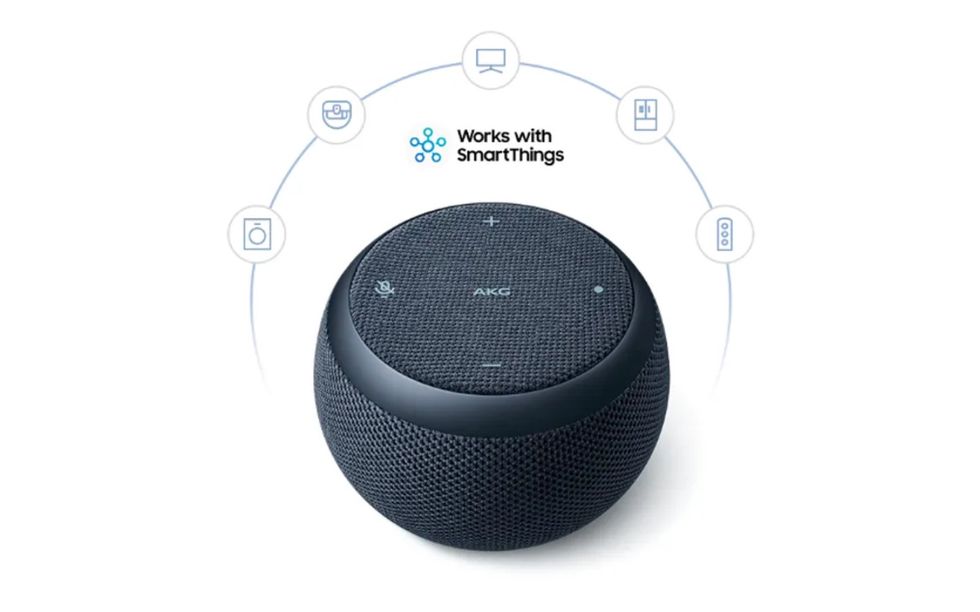 The Home Mini was advertized as being a control center for SmartThingsSamsung
Now, over 730 days since the Galaxy Home debut, we are left wondering if Samsung's smart speaker will ever actually arrive. Perhaps the short-lived public beta test in South Korea flagged up too many issues, or Samsung decided that a move away from Bixby must also mean the termination of its smart speaker plans too.

In the summer of 2018 a Samsung smart speaker for controlling SmartThings devices made a lot of sense. Such a product felt inevitable. But two years later, and with the smart speaker market crowded (and a global pandemic to deal with), Samsung's Galaxy Home ambitions appear to have fallen by the wayside.
This outcome isn't unheard of. We all remember Apple's attempts and ultimate failure to bring the AirPower wireless charging pad to market. Both of these instances show even the world's largest technology companies, with the deepest pockets and best resources, can fail to deliver.
All we now ask is that Samsung admits the Galaxy Home hasn't worked, instead of leaving us all in the dark. GearBrain has contacted Samsung for a comment on the Galaxy Home and Home Mini, and will update this article when we get a reply.
Check out The GearBrain, our smart home compatibility checker to see the other compatible products that work with Samsung SmartThings.
Samsung GP-U999SJVLGDA 3rd Generation SmartThings Hub, White
From Your Site Articles
Related Articles Around the Web
Like GearBrain on Facebook