Like GearBrain on Facebook
Do you wear a smartwatch? Neither do I. That hasn't stopped tech companies from pushing these gadgets in hopes we'll strap one to our wrist and carry a few extra ounces of computing power around on our bodies.
Samsung's Galaxy Watch is just the latest launch in the wearable category — and while certainly not ugly, it's unclear if these smartwatches are going to be the device that wears you down to join the smartwatch movement.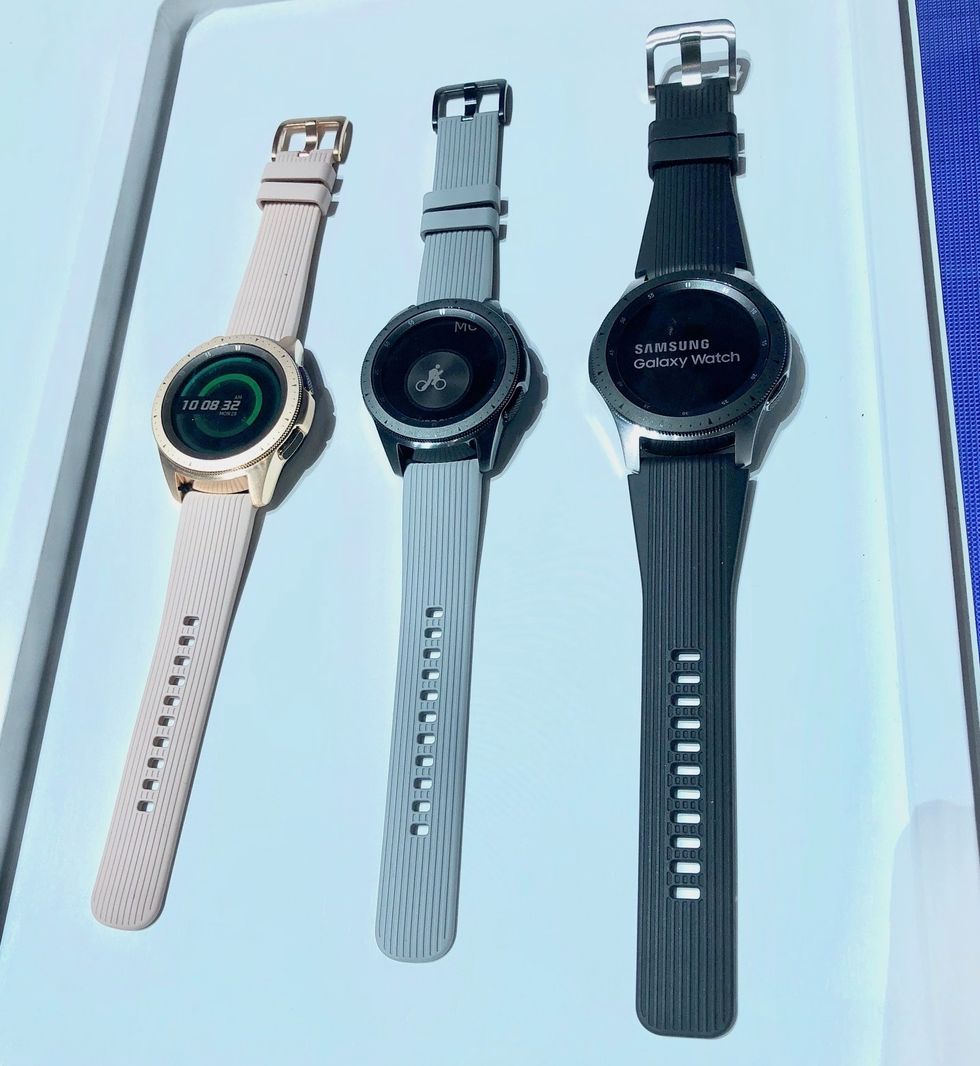 The Galaxy Watch comes in two sizes and three colors, but the rose gold is only available in the smaller 42 mm versionGearBrain
How big is the new Galaxy Watch?
Samsung is launching the new Galaxy Watch in two sizes: a 46 mm version and one slightly smaller in 42 mm, weighing 63 grams for the former and 49 grams for the latter. The larger of the two will come in both a black and a silver finish. The smaller 42 mm comes in the same two finishes, plus a rose gold version. That the rose gold, which is honestly close to a pink, is only in the smaller size is a disappointment for those of us who, when we think of wearing a watch, naturally gravitate to the bigger of the two sizes.
The watch bands are a standard 20mm for the 42mm and 22mm for the 46mm — which means in addition to the bands Samsung will be selling, you'll be able to pick up replacements fairly easily.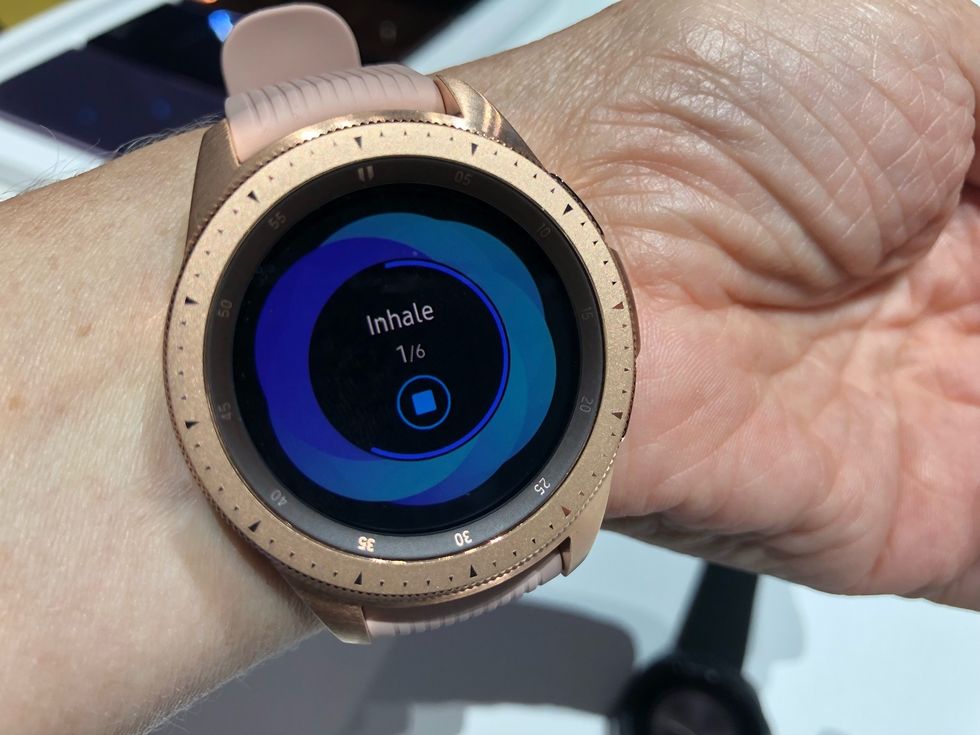 A new feature helps you manage stress through the Galaxy WatchGearBrain
What new features will the Galaxy Watch have?
In keeping with the whole digital detox, mindfulness movement in trend today, Samsung has given the Galaxy Watch three features, part of its new Connected Health system. One tracks your sleep patterns, including how long you've snoozed — and how well. Another helps you stay physically fit, detecting six different exercise routines on its own, with 39 built in exercises to use right on the watch, and a third feature is designed to manage your stress.
Few of us live without stress — even if we do get pings reminding to us to take a break once in a while. (Swipe left.) But a new feature actually times us as we breathe in and then exhale out over nearly a minute, an attempt to focus in a meditative way on our stress levels, and hopefully bring them down.
On the floor of the Barclays Center in Brooklyn, surrounded by hundreds of people grabbing at smartphones and smartwatches while trying not to trip on tripod wielding photographers, I failed my breathing test. The Galaxy Watch wanted me to try again. (I declined.)
Of course Samsung SmartThings is embedded inside too.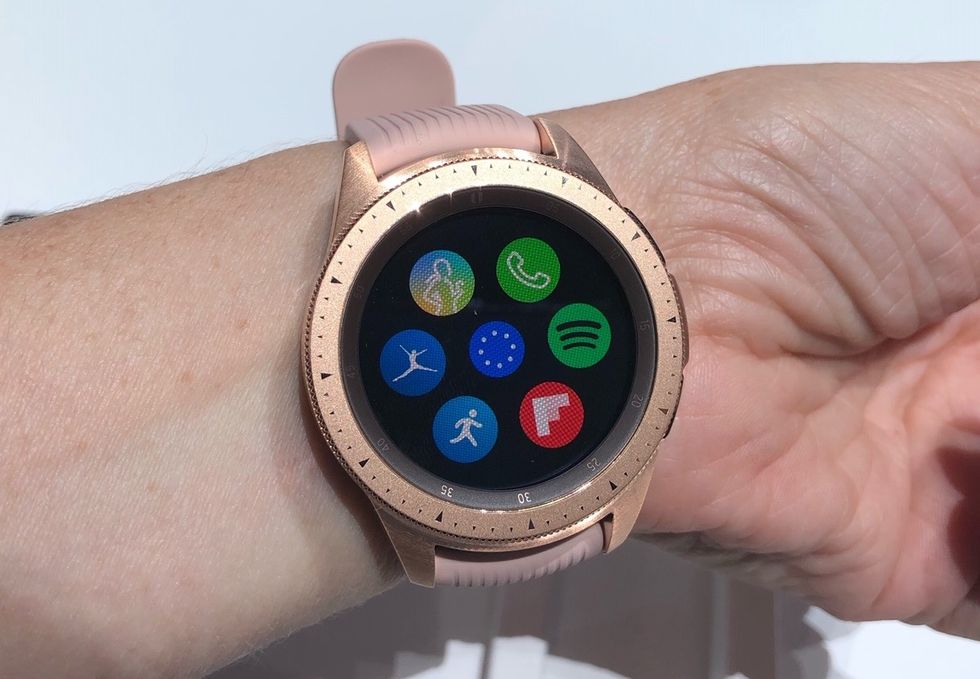 New features on the Galaxy Watch include 39 exercise routines on the deviceGearBrain
How often do I need to charge my Galaxy Watch?
If you're a light smartwatch user, if you spend most of your time on your phone instead, expect to go four days without needing to charge the device. Drain the watch to zero, and you'll be back up and running within three hours.
Can I change the face on the Galaxy Watch?
No self-respecting smartwatch is complete without multiple digital watch faces to choose from, and the Galaxy Watch is not any different. To change the design, you give the face a long press which brings up different options. Samsung says there are more than 60,000 options — yes, 60,000. We don't see you running out anytime soon.
To shift between features though, you actually turn the dial around the front of the watch, a bit of an analog move to a digital device which honestly has a nice touch.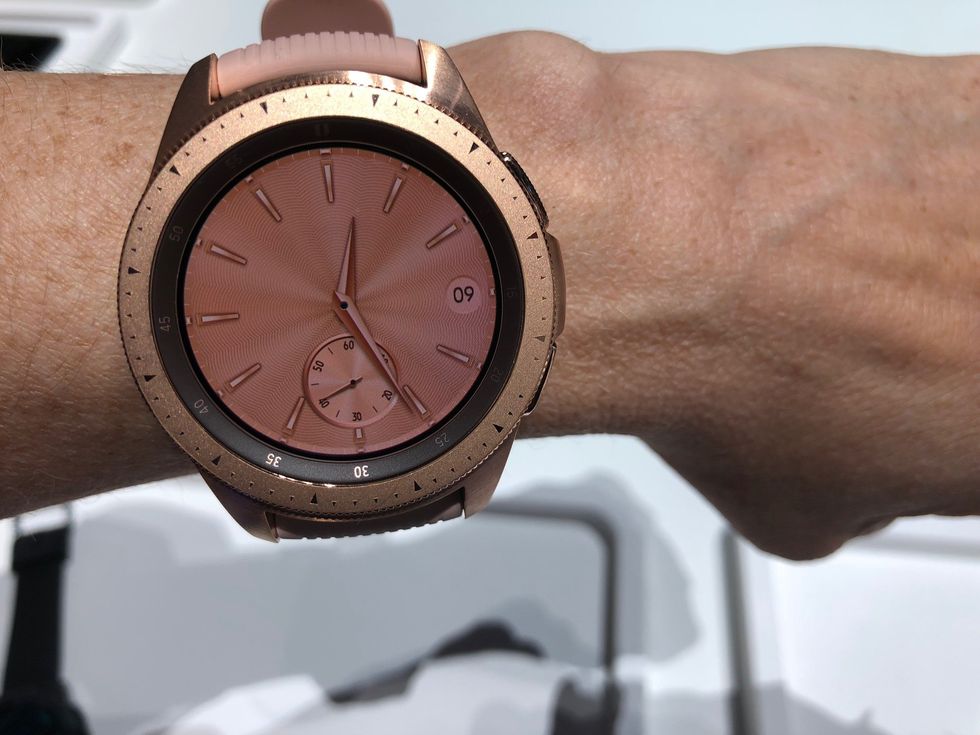 The front ring turns to bring up different watch features on the Galaxy Watch, while a long press on the top changes the actual faceGearBrain
Will I be able to make calls on the Galaxy Watch?
Samsung is producing two version of the watch: one with Bluetooth and one with a cellular connection, which will be able to catch calls and texts even if you're out running and your smartphone (the Galaxy Note 9 we presume) is at home.
Only the Bluetooth version is available for pre-order on August 10 (with sales starting August 24) — with the larger model priced at $350 and the smaller at $330. The LTE version won't be available until later this year, and that's when Samsung will reveal its pricing options. Carriers, however, are expected to be AT&T, Sprint, Verizon and T-Mobile. You'll be able to buy the Galaxy Watch through them, and on samsung.com.
From Your Site Articles
Related Articles Around the Web
Like GearBrain on Facebook