Like GearBrain on Facebook
Samsung unveiled its new Galaxy Note 9 with a display fit for a queen — if she's Queen Bey. Renting out Brooklyn's Barclays Center, Samsung put forth a spectacle complete with flashing wristbands, a center stage and tech stars including Epic Games CEO Tim Sweeney (known for his little game, Fortnite) for its newest smartphone as well as the updated Galaxy Watch (of which there are actually three.)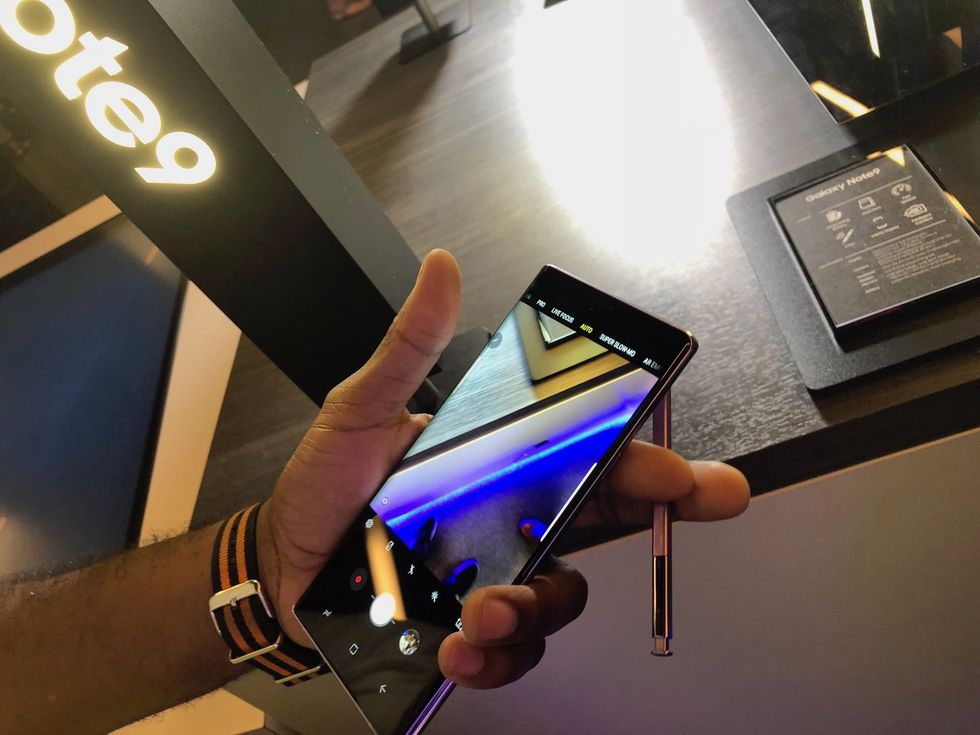 The Galaxy Note 9 is certainly big, but feels balanced and not unwieldy in the handGearBrain
How big is the new Galaxy Note 9?

The new $1,000 Galaxy Note 9, which goes on sale on August 24 (the presale start August 10), is a monster with a 6.4-inch screen— bigger than the iPhone X — yet it doesn't feel monstrous in the hand. The smartphone has a nice balance to it, easy to hold and work, even more so when you realize that you're going to be using the stylus (or what Samsung calls its S Pen) at times.
That Samsung still uses a stylus is a mystery today when many controls are going to voice (more on that in a bit). But the S Pen has a number of uses — currently seven — including controlling the dual 12 MP cameras on the back of the phone with one click, and the front selfie camera with two clicks through a Bluetooth Low Energy connection. How that's easier than pressing a button yourself isn't entirely clear, but for anyone who uses their phone on a tripod, this feature is a nice one to have.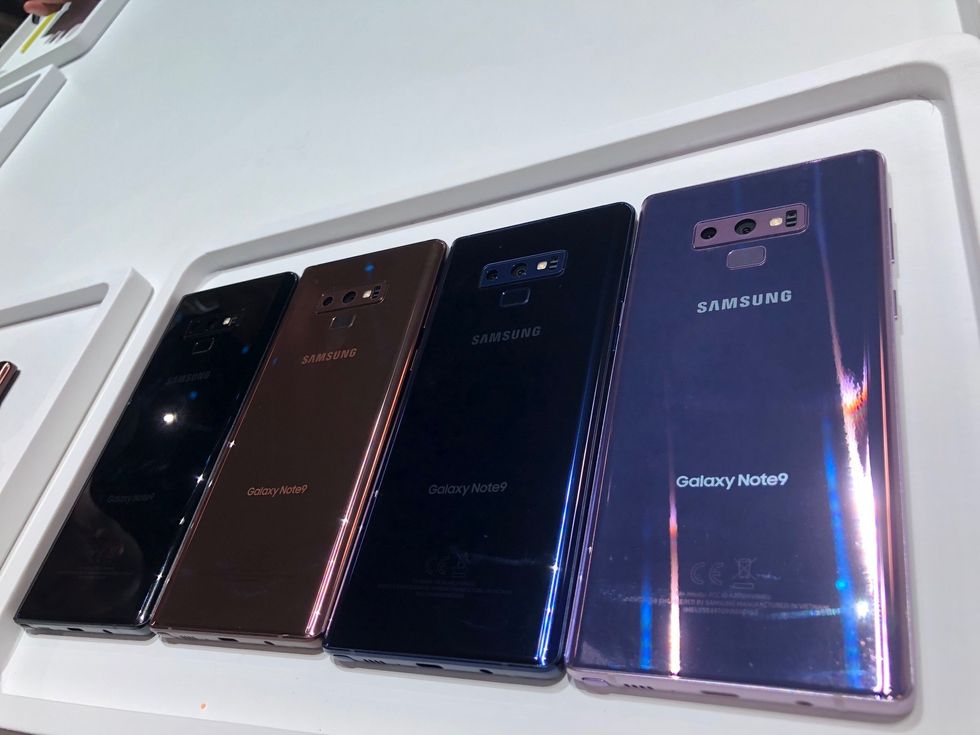 The Galaxy Note 9 comes in four colors, all with a metallic covering that turns them into similar huesGearBrain
You're going to get four different colors to select when the new smartphone launches — and the truth is they're very close in hue even if they have names as wildly different as Midnight Black and Lavender Purple (which honestly looked pink to me.)
The finishes are all metallic, and they pick up fingerprints more easily than any smartphone I can recall. Handlers stood by to quickly wipe the phone's exteriors as people played with them after the Samsung presentation. This is a move you're unlikely going to want to do (unless you have a handler on staff) and I expect people to quickly surround this new smartphone with a case.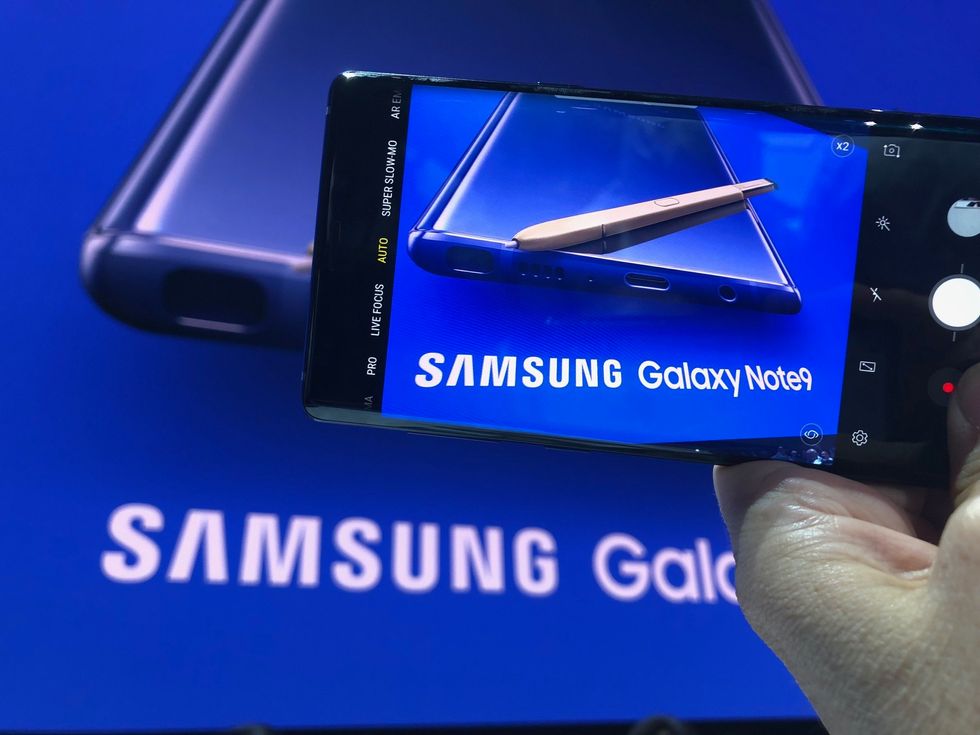 The Galaxy Note 9 comes with an S Pen, a stylus that remotely controls seven different features at launch, such as taking a selfieGearBrain
Can I use Bixby with the Galaxy Note 9?
Bixby is getting a significant boost with Samsung's newest phone. As the default voice assistant, Bixby is getting a platform to shine in the Galaxy Note 9. The A.I. understands context within a conversation.
For example, you can ask Bixby about concerts showing on an upcoming weekend — and if you want to know options four weeks later, you only have to ask what's open the next month without even mentioning concerts. Bixby understands you're still talking about the same subject.
Bixby also doesn't need a key word said, or even its name, to wake up the voice assistant. You just start talking — again, as you would in a real conversation. That's a nice add. If you do crave Google Assistant, it's there too, opening with a "Hey Google."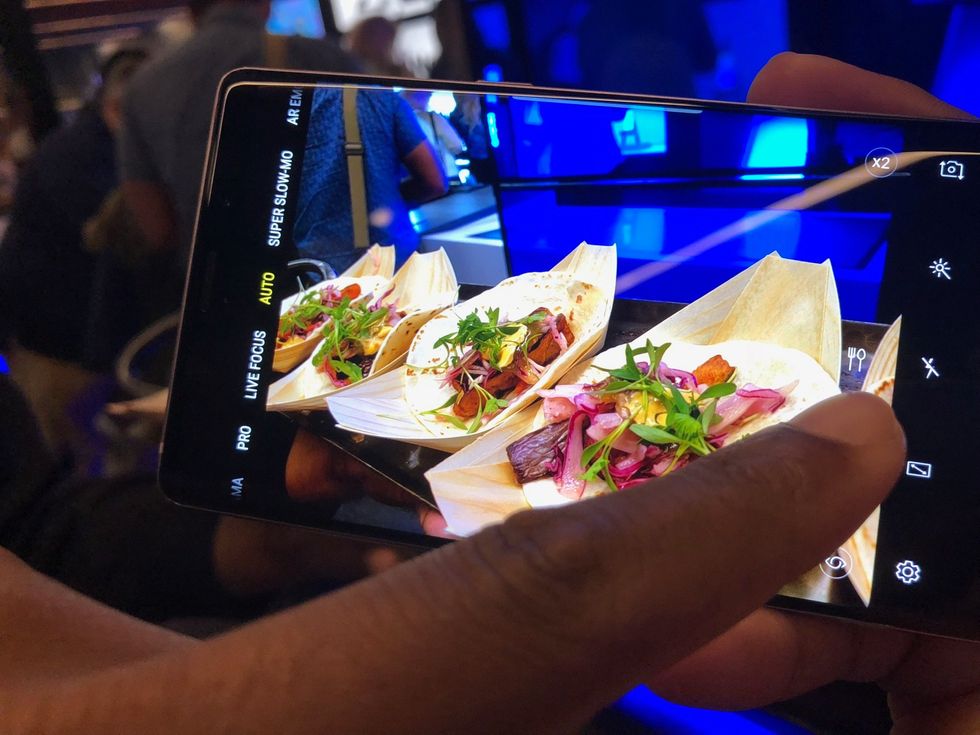 Aim the Galaxy Note 9 at a plate of tacos and the 12MP camera knows it's food, showing a small fork and spoon in the upper right cornerGearBrain
Can the camera help me take better pictures?
Galaxy Note 9 is designed to optimize your picture taking abilities, and will actually alert you should you take a photo where someone's eyes are closed or the lens is blurred. The image will also read what it's shooting, and create the best picture for that subject.
Food after the event was so plentiful, there seemed to be more tacos in the hallways than Samsung's new phone — and fittingly we decided to take a shot of one of the trays as it floated past us. The Galaxy Note 9 captured the tray — and identified that it was a plate of food through the rear cameras.
How long can I go between charging with the Galaxy Note9?
After the battery controversy of Samsung's Galaxy Note 7, this element of the new Galaxy Note 9 is worth noting. It's very big at 4,000 mAh. Yet this is not a device that can go more than a day without charging — at about 96 percent, the time left on one model showed just over 11 hours. Heavy use, such as nonstop texting, or hours of YouTube streaming is going to cut that time dramatically, perhaps to about seven hours. You can expect to recharge the smartphone in approximately 3.5 hours.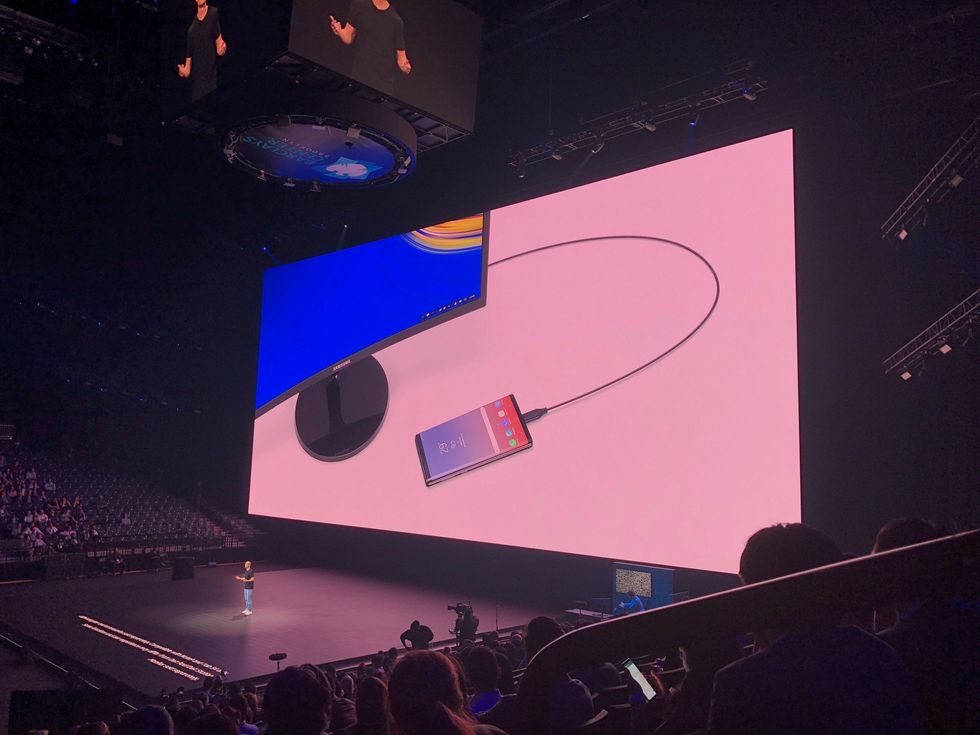 Plug an HDMI cable into the Galaxy Note 9 and your smartphone is your computerGearBrain
Am I really going to use my Galaxy Note9 as a computer?
Look, your smartphone is already a powerful computer — the only downside is the screen. Even with the monster of a screen that the Galaxy Note 9 has, Samsung is looking down the road imagining we may carry one device (and not a laptop) and plug that mobile hard drive into a screen be it a TV or a flat screen in an office.
Using a simple HDMI cable, the Galaxy Note 9 taps into DeX, which allows you to access anything on the smartphone from a second screen, creating what Samsung calls a PC-like experience. We couldn't test this at Barclays Center, but we see this as an interesting directional step in how Samsung imagines the future of computing.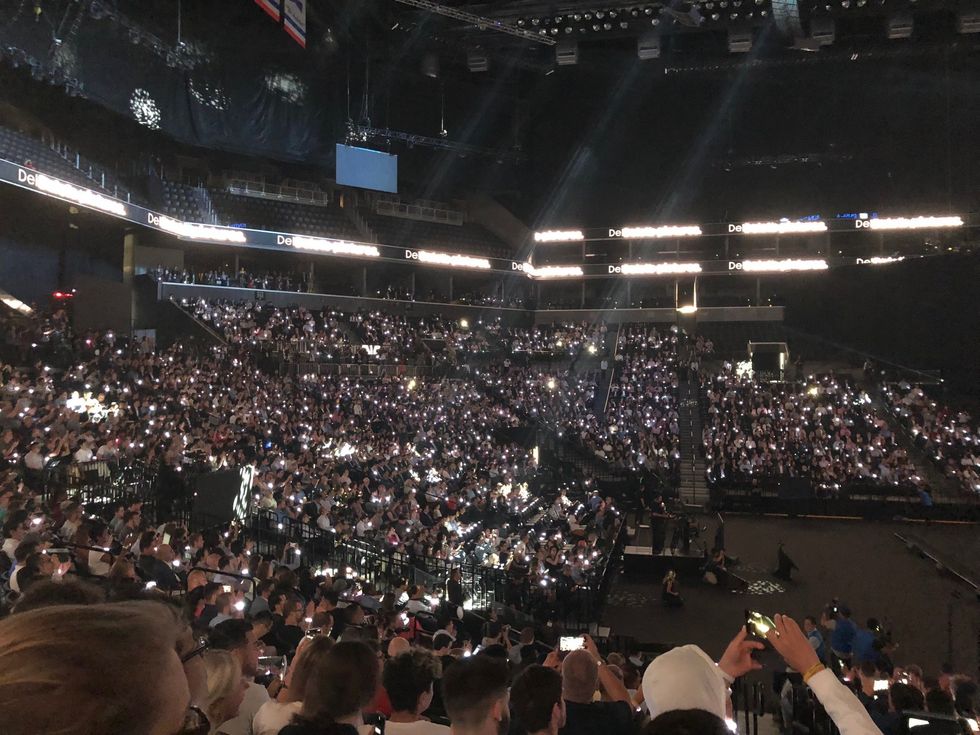 Samsung launched the Galaxy Note 9 during an event at the Barclays Center in Brooklyn that resembled a rock concertGearBrain
Samsung is arguably the powerhouse manufacturer of Android smartphones. What the South Korean company makes, people buy. While spending four figures is still a heavy number to consider, Apple really broke users in with the launch of the iPhone X. Still, the Galaxy Note 9 only starts at $1,000 for the 128 GB version. For the 256 GB version, you're paying $1,250. That's more than I paid for my current laptop, which, granted, lacks a stylus to take remote selfies of my friends. Perhaps, though, Samsung is correct, and these bulky book-sized portables are soon-to-be obsolete, with smartphones instead our primary device, plugging into any dumb screen that can catch our eye.
Like GearBrain on Facebook