Like GearBrain on Facebook
The news of Samsung announcing a computer monitor wouldn't normally be all that exciting. But we think the simply named Smart Monitor M5 is different.
This is a computer monitor available in sizes of 27 and 32 inches for $230 and $280, with a 4K version of the latter, called the M7, priced at $400. But it's also a smart television with Wi-Fi, Bluetooth and all of the streaming apps you would expect from a web-connected Samsung TV.
Read More:
That means you can switch off your computer for the day and open up Netflix, Apple TV+, Disney+, Hulu, or whatever your preferred streaming app is. There's also support for Alexa and Amazon Assistant, so you can ask your smart speaker to play content on the Samsung Smart Display too, and stream from your iPhone using Apple's AirPlay 2. It also has Samsung's Bixby voice assistant, if that's your thing
The screen runs Samsung's Tizen operating system, as seen on the company's smart televisions and, in a different form, on its smartwatches too. It also comes with the same remote as Samsung's conventional smart TVs.
For when it's time to get back to work you can switch to your connected computer, of course. But the M7 Smart Display has another trick up its sleeve, in the form of Bluetooth to directly connect a mouse and keyboard, and Office 365. This means you can run the Microsoft productivity suite on a virtual machine, using cloud computing power and the monitor's Wi-Fi connection to work on your Word or Excel documents with no computer attached.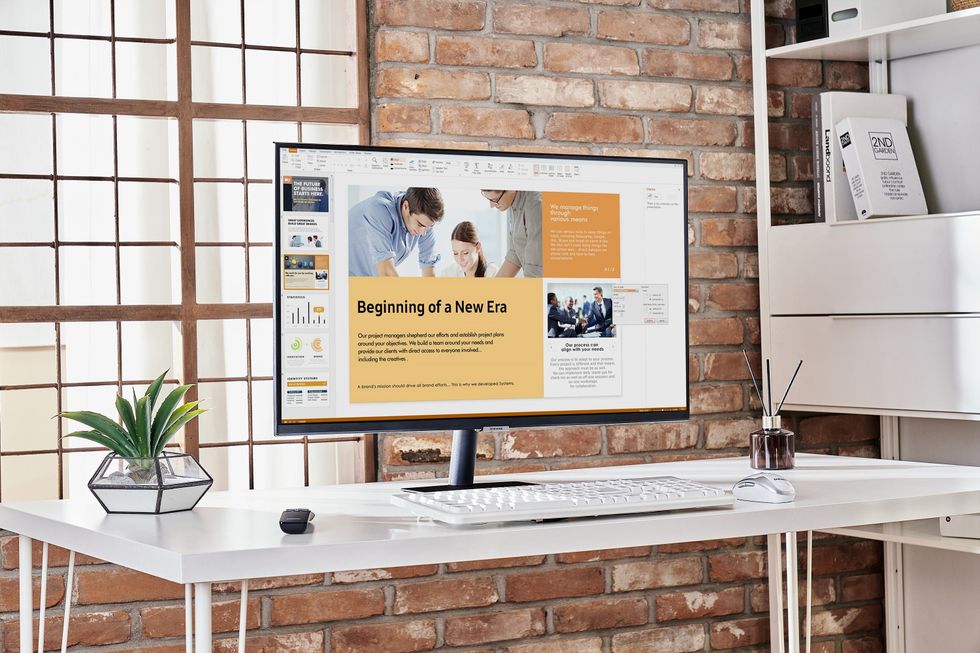 The monitor is offered in 27 and 32 inch optionsSamsung
There's also Samsung's wireless DeX system, which turns recent Galaxy S and Note smartphones into computers of sorts, running a PC-like interface on the Smart Monitor.

The non-4K models, available in sizes of 27 and 32 inches and called the M5, have a pair of HDMI 2.0 ports and two USB-A ports. The $400 M7, which is 32 inches and supports 4K resolution, gains a USB-C port that can carry up to 65W of power (meaning it can power your laptop as well as receive its picture and sound). The M7 also has a pair of HDMI 2.0 ports and three USB-A connections.
We really like what Samsung is doing here, bringing the complete smart TV experience to a computer monitor. We can see a scenario where you are finished with work for the day, or are taking a break, and want to watch a bit of TV without streaming through your computer's web browser, where the distraction of work email is just a click away.
This would also make a great bedroom display, where it can work as a computer monitor but also a fully-fledged smart TV, perhaps with a game console attached too, for when you want to kick back and relax.
Samsung says the monitors will be available in the coming weeks.
Check out The GearBrain, our smart home compatibility checker to see the other compatible products that work with Samsung SmartThings.
Samsung ET-WV525KWEGUS Mesh Router, White, 3 Count
From Your Site Articles
Related Articles Around the Web
Like GearBrain on Facebook