Like GearBrain on Facebook
With the Covid-19 pandemic likely causing long-lasting changes to how and where we work, it's time to think seriously about setting up a more permanent home office.
For some, this will mean finally converting the unused spare bedroom into a smart workspace, or even building that garden office you always dreamed of. But for others the prospect of shoe-horning a desk and bulky office chair into the corner of the lounge, or at the foot of your bed, isn't such an appealing proposition.
Read More:
But it doesn't have to be this way. It is perfectly possible to install a comfortable and practical office into a surprisingly small space.
I have been working in such a space for the past nine months, since before anyone knew what a novel coronavirus was, without any real downsides. Moving to my current apartment meant seriously downsizing my desk and relocating my workspace from the corner of the lounge to the foot of my bed.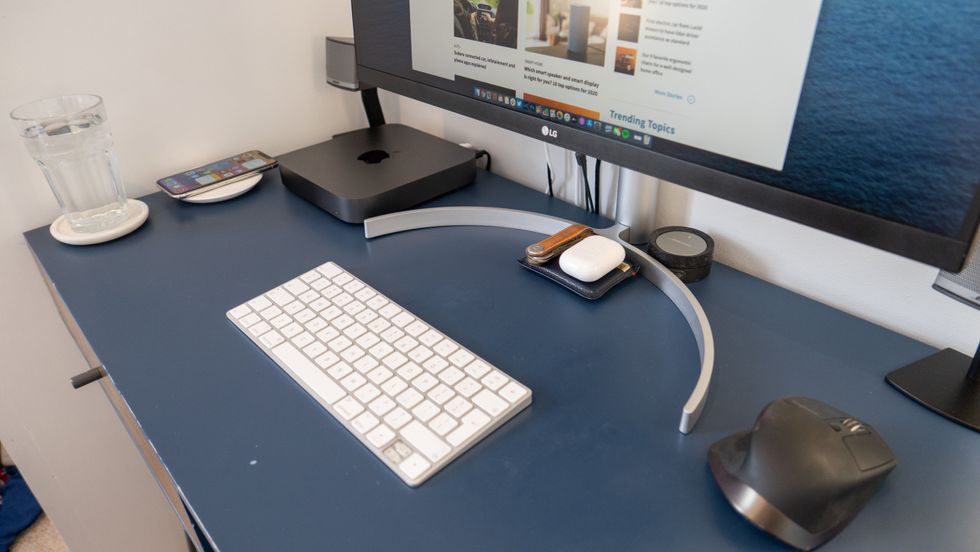 Be sure to pick a monitor with a foot that doesn't get in the way of your keyboardGearBrain
The space measures approximately 42 inches wide, and the distance from the wall to the back of my chair, when sat at the desk, is 38 inches. The former includes some space to the side for a subwoofer and PlayStation 4 on the floor, but if these were tucked under the desk then I'd be looking at just under 40 square inches of floor space for the entire setup, and less when the chair is tucked away.

An important factor for saving space is picking a chair that fits fully under the desk when not in use. This often means a chair with collapsible arms, or no arms at all. I opted for the latter, and while that might sound terrible from an ergonomic point of view, I've experienced less discomfort here than with any purpose-built office chair I've used in the past.
A footrest can also help, but bear in mind that floor space under a small desk pushed against a wall will be limited for taller people.
If space is at even more of a premium, you could try installing a wall-mounted desk. These don't take up any floor space, and are perfect if you only require a desk for occasional work using a laptop or tablet. Some are designed to fit into the corner of a room, taking up very little space, or even fold away when not needed . The example below costs just under $100.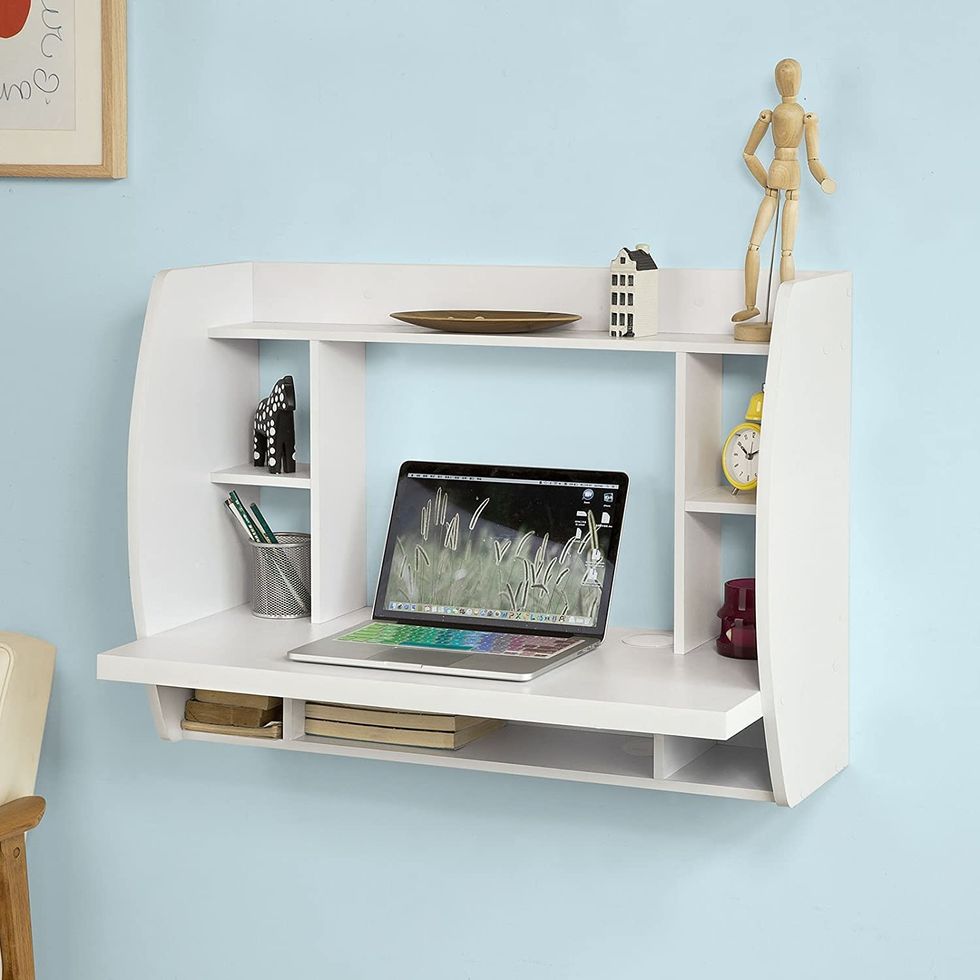 Wall-mounted desks take up even less spaceHoatian
Picking the right computer monitor for a small home office

The height-adjustable LG monitor I use has a 27-inch panel with 4K and HDR. Not everyone needs a 4K computer display, but the higher resolution means smaller pixels, which helps when sitting fairly close to the screen. It also means the screen doubles as a 4K TV when I want to watch movies or play video games.
When shopping for a monitor to sit on a small desk, pay close attention to the foot it sits on. This LG screen has a foot that arches outwards from the center, allowing space for my keyboard, and for my arms to rest comfortably on the desk. If the foot protruded outwards from the center (like on an iMac), the keyboard would be closer to the front edge of the desk, reducing comfort. Another option here would be to wall-mount the display, freeing up more desk space and creating a cleaner look.
I use Apple's 'Magic Keyboard', which is compact and fits comfortably within the arched monitor stand. A larger keyboard might not, so you'll want to think about how this interaction will work for you. It mostly boils down to whether you prefer a keyboard closer towards you, in which case a larger one will fit on a small desk, or a more compact keyboard pushed further away.
I use both a mouse and trackpad, as I find switching between the two reduces discomfort and wrist strain. It's a little tight for space, but there is just enough room for using both comfortably. I have increased the mouse sensitivity, so it requires less movement – therefore less desk space – to cover the entire screen.
Sitting closer to the screen than I would with a larger, deeper desk (it is approximately 22 inches from my face), I felt it was important to pick a display with a matte finish, helping to reduce uncomfortable glare and reflections.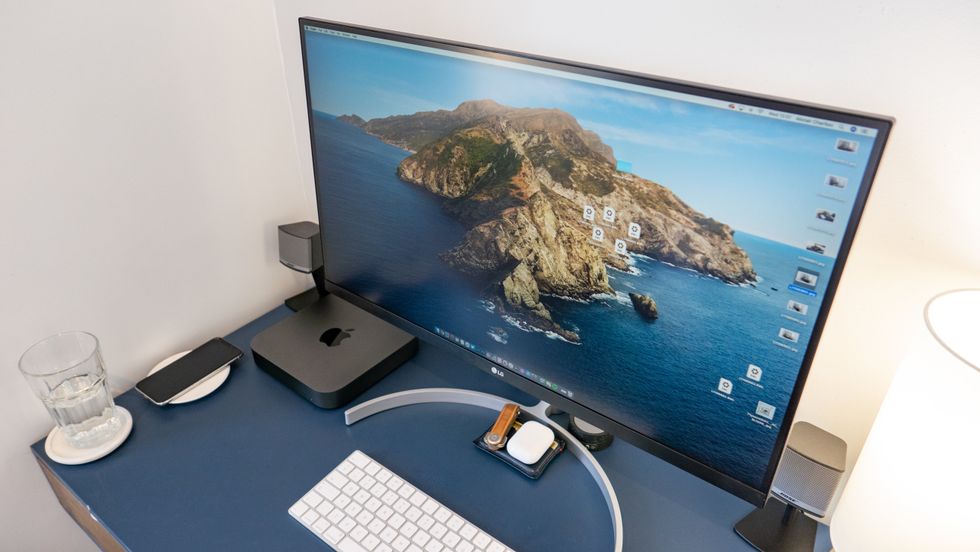 Buy as large a screen as you can – don't worry, you will get used to itGearBrain
A 27-inch display on a 39-inch desk might sound like overkill, and at first I was concerned that the screen was too big and too close, but I very quickly got used to it. As is so often the case when buying a new, bigger television, your eyes soon adjust. Now, despite my limited space and small desk, I have a screen plenty big enough for all of my work, and which doubles as a bedroom TV. For that I have attached a Google Chromecast Ultra to a spare HDMI port, giving me access to 4K Netflix, Amazon Prime Video, YouTube and more.

Another key consideration when working with a small office desk is which computer to use and where to put it. I originally used a MacBook Pro, which was closed and propped up on its side against the wall to the left. Using a laptop like this always feels like a temporary solution, as all of the ports are difficult to reach comfortably, and there is always the risk of knocking it over.
I soon purchased a Mac Mini, which measures just eight inches square and 1.25 inches tall, making it perfect for my limited desk space. It attaches to the monitor via USB-C.

Reaching its rear-mounted ports still isn't ideal, especially when using a USB-C dongle to plug in the SD card of my camera, so a hub with forward-facing ports, like this $80 option from Satechi, pictured below, would be a wise investment if regular port access is important to you. If not, then the Mac could happily live on the floor, freeing up more desk space.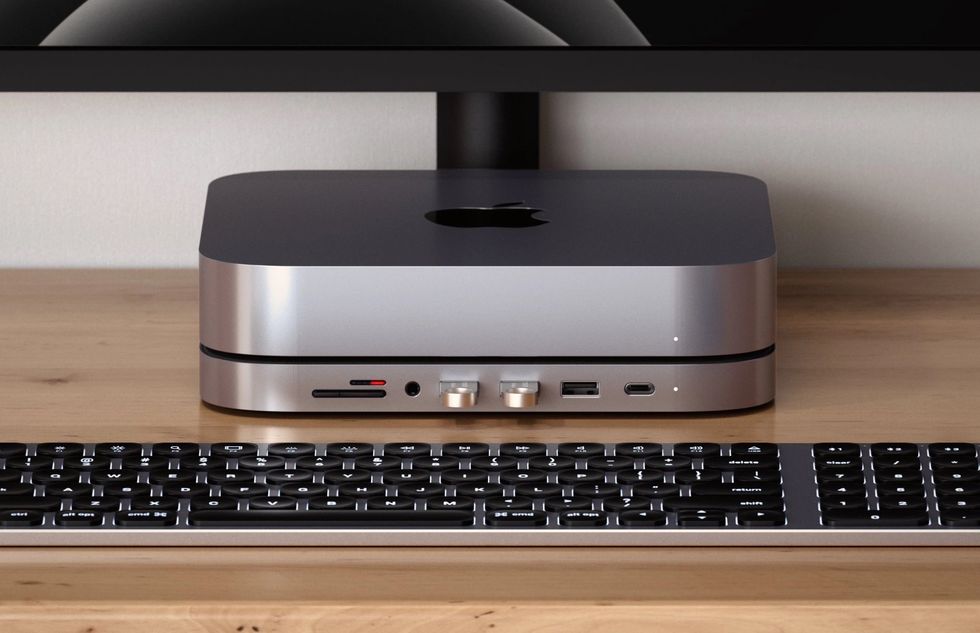 This hub gives easy-access to USB ports and SD card slotsSatechi
Storage

When building your compact home office, think carefully about storage options. It wasn't possible to fit a chest of drawers under a desk this size, but the integrated drawer and shelf offer plenty of room for headphones, paperwork, my laptop and iPad, plus cables, chargers and all of the usual desk clutter. Fitting shelves to the wall above the monitor would also be a good idea.
Lighting
Good lighting is crucial for your home office, and while smart lighting with the option for concentrating-boosting presets is great, a standard lamp and/or LED light strip will help too. I have a Philips Hue bulb set to the 'Concentrate' preset during the day, which is bright, crisp and slightly blue. The bulb then shifts to a warmer, softer light in the evening, to remind me it's time to finish up for the day.
I keep all of my lights on in this room, even on a bright sunny day, as it keeps the lighting consistent regardless of what the weather is doing. This is one of the few aspects of a large corporate office I try to replicate at home.
Fixing lighting to the back of your monitor is also a good idea if space is at a premium, as the LEDs will project an attractive pool of light against the wall behind, brightening your compact office and looking great at the same time.
So, while you probably have a far more spacious work environment at the office, creating a long-term (perhaps even permanent) work space at home needn't be an awful compromise. A high-resolution display with a matte finish will be comfortable to use, even at a short distance, and good lighting can help brighten up any small corner of your home.
It may be a lesson in minimalism for some, but fitting a perfectly acceptable home office into a 40x40 inch space is easier than you might think. And yes, you really will get used to it.
Like GearBrain on Facebook