Like GearBrain on Facebook
The weather is warming up, and we've been stuck inside for months. But that doesn't mean we can't enjoy some outdoor time even with social distancing rules still somewhat in effect. A new TV from Samsung, the The Terrace, is just one way that brands are finding ways to take technology that lives traditionally indoors, and make it safe to bring outside, even if a summer shower hits.
These products can be installed with little effort — maybe even over a holiday weekend — while the result can last easily throughout the summer months and even longer, if you can some outdoor heating too.
In addition to Samsung's The Terrace, here are some other things to help you build the ultimate outdoor living room at home, right in your own backyard.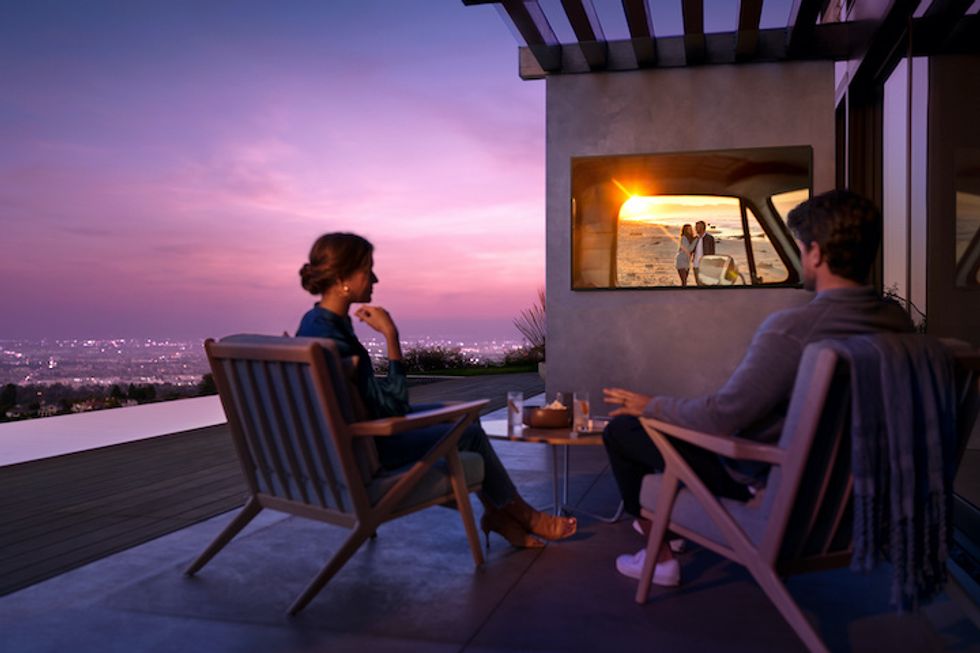 You can install this TV outside permanently Samsung
Outdoor TV

Samsung's The Terrace is a 4K QLED smart TV that comes in 55-inch, 65-inch and 75-inch sizes. Designed for outside spaces, the Terrace has an IP55 rating and can handle water and dust too, and has Wi-Fi and Bluetooth connectivity. Outside spaces bring different lighting concerns — sometimes there's too much from the sun, and sometimes too light at night. But the new set has 2,000 nits so picture quality is amped.
The TV starts at $4,999 and is available in the U.S. and Canada, and will work with voice assistants including Alexa and Bixby, with Google Assistant support coming soon.
Don't want to mount the TV directly on an exterior wall? You can certainly consider a TV cabinet, which will automatically lift and lower the TV with a push of the button. One from Cabinet Tronix — much like the cabinet in the HGTV Smart Home — starts at $5,950.
Or, you can also choose to go with an outdoor projector, with options that start even under $100. With these, you won't have a permanent solution, and the picture quality is going to a completely different experience. But the choices are certainly more budget friendly.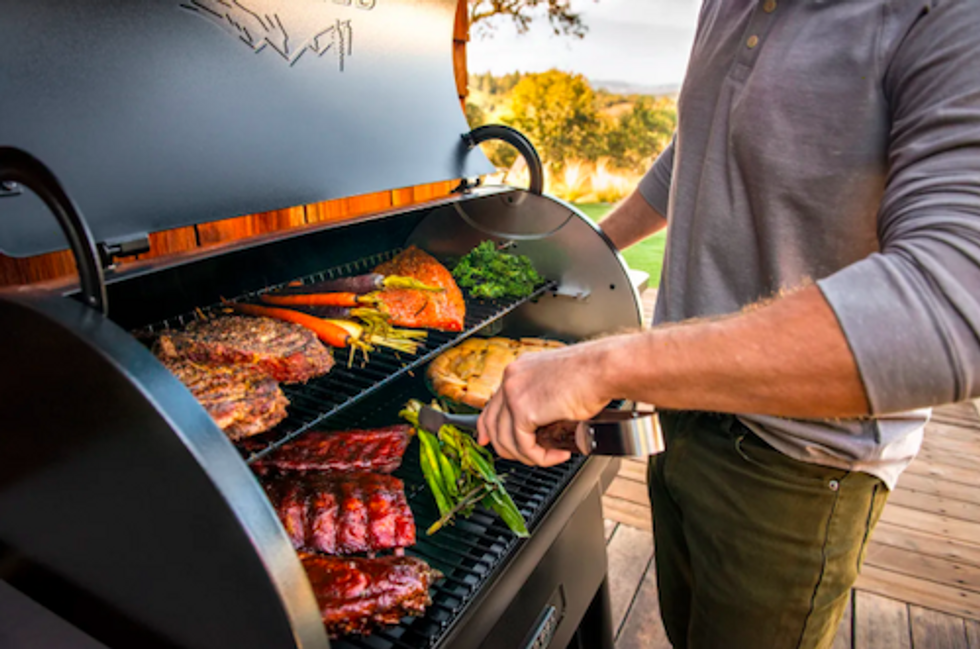 You can use Alexa to ask these grills to turn off, and even check on what you're grillingTraeger
Outdoor kitchen

While an outdoor living room doesn't require a kitchen — having a grill right there is a big bonus.
Traeger Grills basically combine a BBQ grill with a personal assistant, with its wood pellet WiFIRE outdoor grills. You can use Alexa to actually check on the status of your steak, or even ask how hot the grill is currently. You can turn off the grill, change the temperature too — and even set a timer. The grills, like the Pro 575, also works with Google Assistant. And you can pick one up starting at $799.99
You can also use the Grillbot to clean off anything left on the grill from the last cookout, which has a rechargeable battery and starts at just $89.95.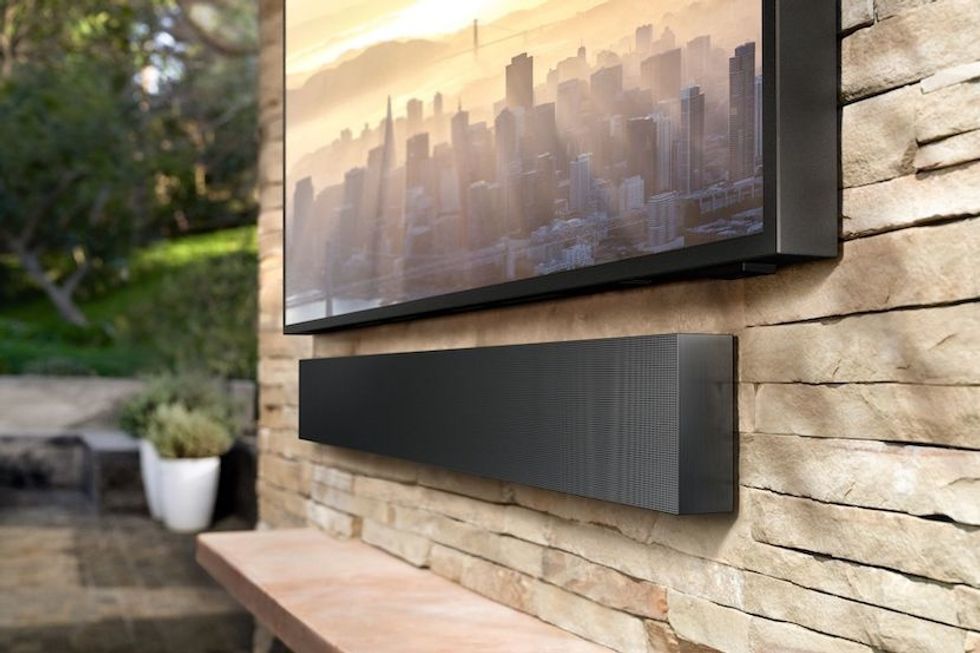 Outdoor speakers can handle the weather while playing your favorite tunesSamsung
Outdoor speakers

There are a lot of great options when it comes to outdoor speakers. One includes Sonos' Outdoor Speakers, a pair that can handle not just water but also UV rays, salt spray, and even freezing temperatures.
The speakers can work with most amps, but to make the most of the TruePlay sound quality, you'd want to connect them to a Sonos Amp. The speakers themselves retail for $799 for a pair.
Samsung also has a new outdoor speaker called The Terrace Soundbar, which works with its new TV, The Terrace, and connects via Wi-Fi and Bluetooth so you can connect to your TV to enhance the sound coming from your set. There is distortion cancelling technology, and built-in woofers.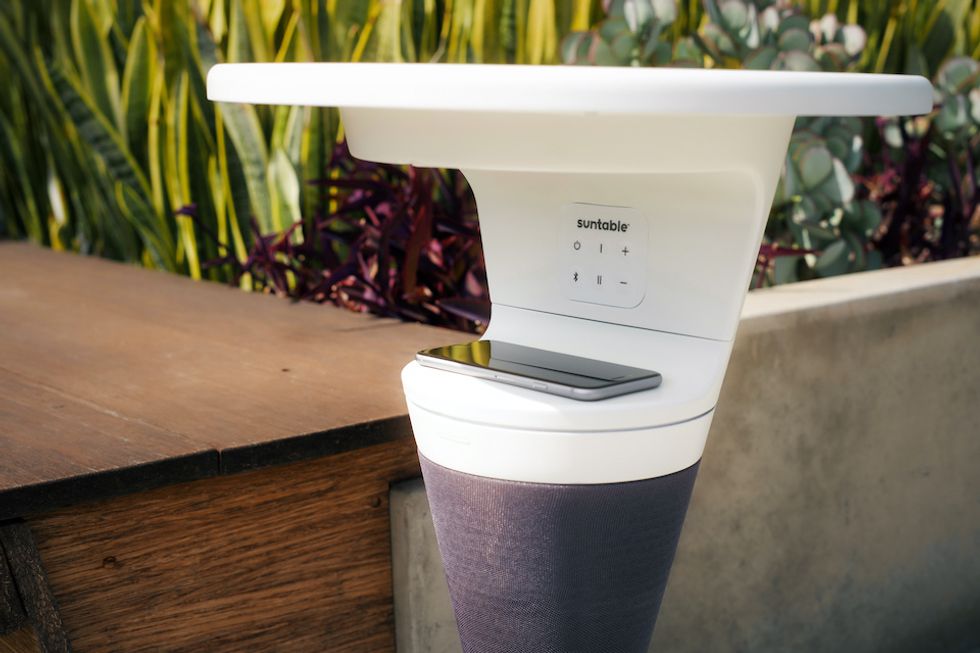 The Suntable can wirelessly charge devices and also have Bluetooth speakers from JBLSuntable
Outdoor Wi-Fi hub and chargers

You're outside now, and the thought of having to go back in to charge your phone may feel just too much of an effort. That's completely fine. Suntable is a solar-powered steel coated table that can wirelessly charge phones and tablets. Even one better? The table has Bluetooth speakers powered by JBL packed inside. The company is currently running a Kickstarter to get this product produced, and expects to ship them starting in August 2020.
Can't wait until August? You can pick up an outdoor plug from TP-Link, the Kasa Smart Wi-Fi Outdoor Plug for just $39.99. You do need an outlet where you can plug this in — so that may limit its use if you're trying to build an outdoor space that's fairly far from the rest of your home.
For a wireless option, you may just want to go with a big power bank that you can stow under an outdoor couch, like those made by ToughTested. A number of their banks are currently sold out, like the 24,000 mAh TouchTested battery pack GearBrain reviewed. But you can still pick up a 8,000 mAh USB battery pack for $59.99.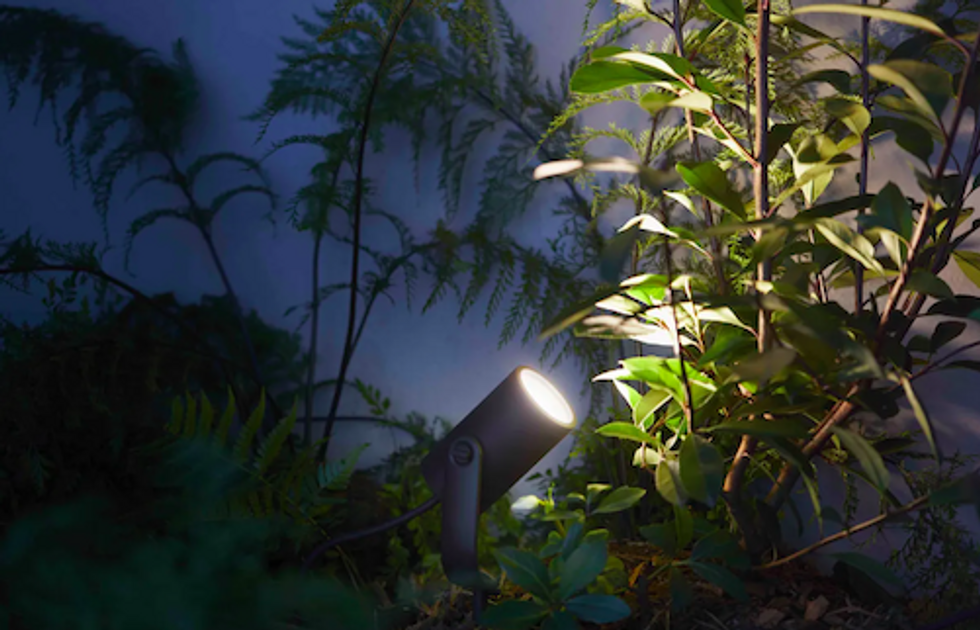 Outdoor lights can take your new outdoor living room from day to nightPhilips Hue
Outdoor lights

Certainly you have tons of options when it comes to outdoor lights. But Philips Hue has an entire line of lighting fixtures that can handle the elements in your backyard, rom pedestal fixtures to light strips to spots to sconces, which start as low as $59.99.
Lifx also makes a line of outdoor light bulbs, and Ring and Maximus also makes outdoor lights that work more in tandem with their security cameras.
Together, these can build an outdoor space that may make it difficult to imagine heading indoors again.

From Your Site Articles
Related Articles Around the Web
Like GearBrain on Facebook