Like GearBrain on Facebook
With summer weather on the way, it's time to expand your smart home out into the garden — and that can even mean relocating movie night to under the stars. You can do this easily with an outdoor projector, designed to handle changes in weather.
Setting up a projector and sound system for watching TV, sports and movies outside is far simpler and more affordable than you might think. As we at GearBrain demonstrated last summer, you can create a simple, portable outdoor movie system for around $100, thanks to a cheap projector, white wall, some old PC speakers and a Google Chromecast.
Read More:
Of course, everyone's outdoor space is different and setting up an al fresco projector will be simpler and cheaper for some than it is for others. But, no matter what your space and budget limitations, we hope this guide can help you inject new life into your yard.
Setting up the right space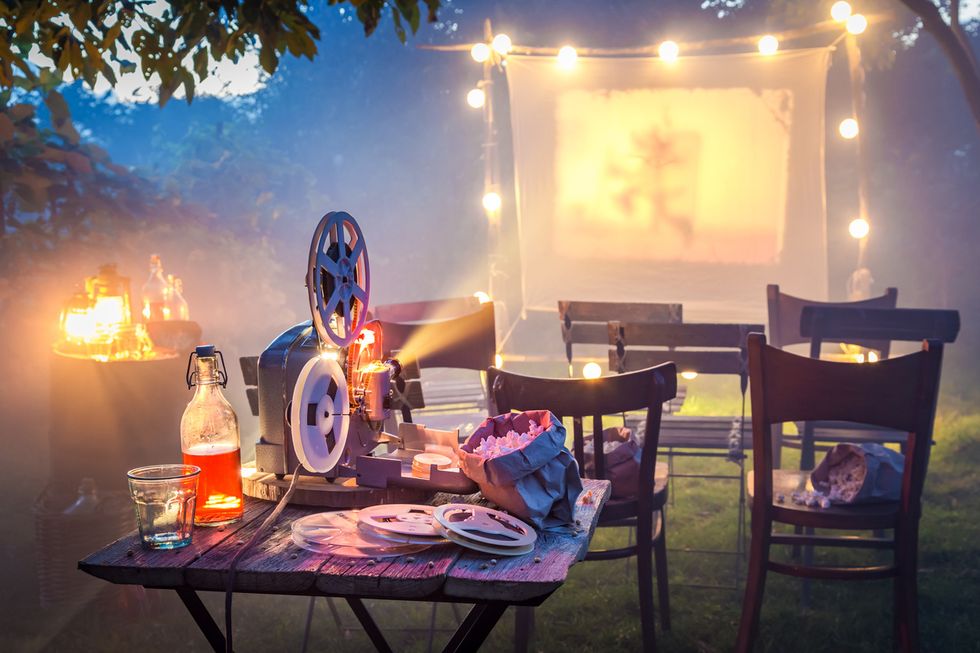 A slightly more modern projector might be required... Getty Images/iStockphoto
First, you'll want to create a space with enough room for seating, a projection area, and somewhere to sit the projector at a suitable height and angle.

Ideally, you are looking for a plain white wall with space for seating in front of it, and a wall or shelf at around waist height for the projector to sit on, in front of or behind your seating. You can always get creative and sit the projector on a chair, a large upturned planter, or whatever you have to hand.
As for the screen, a white wall works best. Failing that, there are a range of outdoor projection screens available. These are often inflatable, making them easy to store when not in use. You could also fit a regular projection screen to a wall or fence, it's up to whatever works best for you.
Try to avoid positioning the projector directly behind or next to your seating area. Their internal fans tend to get quite loud and kick out a lot of heat, which isn't ideal on a balmy summer's night. Put it a few feet in front or behind you, if possible. Remember, the latter will make for a larger image.
Think about lighting
No matter how expensive, no projector can overpower the sun, so watching TV outdoors — especially on a sunny summer's day — is out of the question, unless you can create a way of casting a significant shadow on your projection screen. Otherwise, wait until the evening and enjoy watching a movie as the sun sets.
If you can, set up your projector so the wall/fence/screen is in shadow as much as possible. And remember, while a sub-$100 projector can work pretty well at night, a larger budget will mean a higher-quality projector with a brighter picture and higher resolution.
Powering your projector
As the vast majority of projectors are not battery powered (and can't be powered by a USB battery pack), you'll need to have an outdoor power outlet nearby, or invest in an extension cable to use an indoor outlet.
There are some exceptions, however, as detailed below.
Hook up some speakers
Most projectors have a speaker or two inside, but they are often of poor quality. These might be okay for very occasional use, but ideally you should hook up something better.
This can mean a simple two-speaker system, like what might already be attached to your computer, or something more advanced and attached to the projector's HDMI, headphone, or optical audio port.
Providing you don't mind dragging all of this equipment outside each time you want to watch something, we think simplest is best. A couple of small speakers plugged into the projector's audio-out port (or headphone jack), and sat in front of the screen, will work just fine.
Sending content to the projector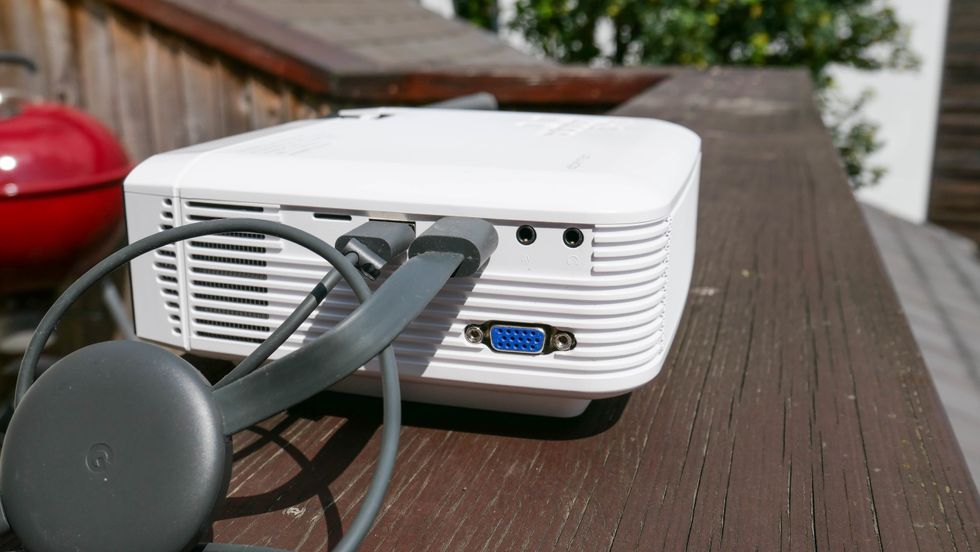 The USB port powers a Google Chromecast GearBrain
Most cheaper projectors don't have Wi-Fi, instead receiving video content through an HDMI or USB port, or sometimes an SD card slot. This means you can plug a laptop into the HDMI port, or play content from a USB stick or hard drive.

Your best bet, however, is to attach a media streamer to the HDMI port. This could be an Apple TV or Roku (although the former requires its own power outlet), or an Amazon Fire TV Stick or Google Chromecast, powered by the projector's own USB port.
This then needs to reach your Wi-Fi network, so you might need to invest in a network extender or mesh Wi-Fi network to make sure a good signal reaches your garden. Failing that (and if you have a huge or unlimited cellular data plan), you could tether the streaming device to your smartphone and use its data connection instead.
Now you have a suitable projection area, decent sound, and a projector connected to the internet, controlled either by a remote or your smartphone, with access to Netflix, YouTube, Apple TV, and all of the streaming services you normally use on the TV.
Which projector to buy
There are currently no weatherproof projectors available in the consumer market that are designed for life permanently outdoors. Therefore, this is a temporary solution and you'll need to bring the projector (and speakers, cables etc) back inside after the end credits roll.
The key stats to look out for are:
Price – This one's up to you
Maximum projection size – How big the picture will be. A larger image means sitting the projector further away
Resolution – Picture sharpness, ideally Full HD, also known as 1920x1080
Lumens (brightness) – Over 3,000 is preferable, otherwise you'll need a darker setup
Contrast ratio – Higher the better, 10,000:1 or more, preferably
Connections – HDMI is crucial, Wi-Fi is a useful bonus
Keystone correction – A function for keeping the picture square, even when projected at an angle
Projectors for under $100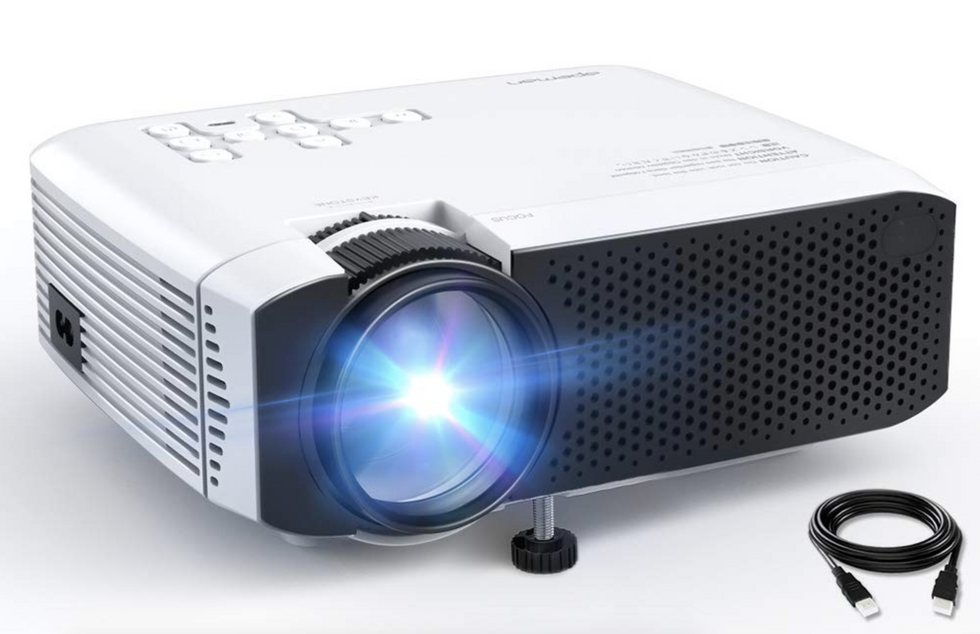 This project can be bought for under $100Apeman
As we proved last year, you can not only buy a compact video projector for under $100, but you can also use it as part of a budget outdoor movie system.

Sure, it can't produce an HD picture and the internal speaker is truly dreadful. But an HDMI port means connecting a Chromecast is easy, and a headphone jack makes it simple to connect to a far more capable sound system. What's more, we found the picture quality could be improved significantly after just a few minutes of fiddling with the projector's brightness and contrast settings.
The one we bought in the UK is also available in the US, and is sold on Amazon by manufacturer Apeman for $96, currently reduced from $106.
Projectors for under $300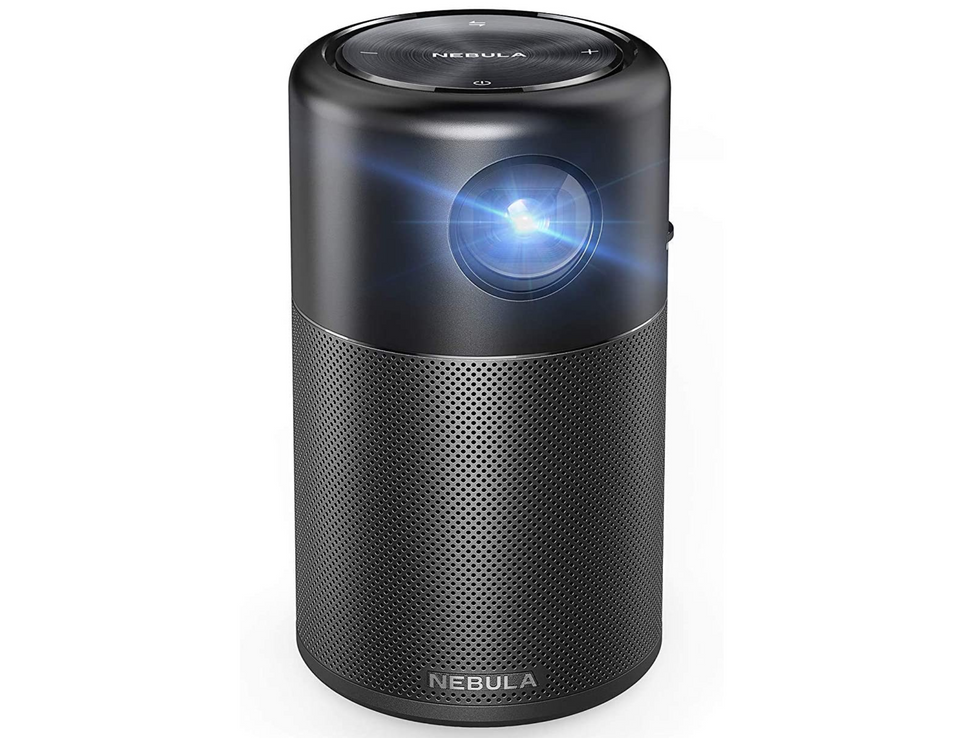 The battery lasts for up to four hoursAnker
We said above that most projectors need powering from a wall outlet. This is mostly true, but Anker bucks the trend with its Capsule and Mars projectors. These are truly wireless with a four-hour battery life and Wi-Fi connection.

The Nebular Capsule is often available for just under $300 (although the RRP is currently $313), and is a great option for creating a super-simple outdoor cinema. It's the size of a drinks can, yet offers decent sound and an image size of 20 to 100 inches. There's Wi-Fi, or you can connect a streaming device using HDMI, and you can connect a Bluetooth speaker for better sound.
If you don't mind plugging into a wall outlet, try this projector by Yaber. It offers a Full HD picture between 45 and 200 inches in size, has a contrast ratio of 8,000:1, and a very bright 6,800 lumens bulb. A pair of HDMI ports make it easy to connect to other devices, and there's an audio output for external speakers. Keystone correction means you can sit the projector up to 50 degrees off-center, and the image can be adjusted accordingly.
Projectors for under $500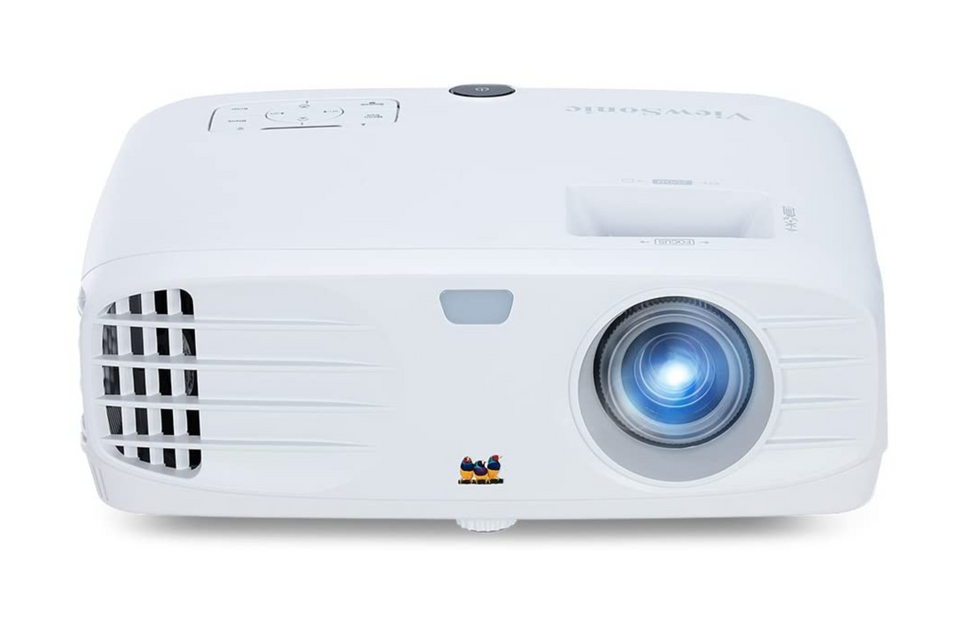 This ViewSonic projector is capable of images of up to 300 inchesViewSonic
Upping the budget to $500 will get you a larger, sharper and brighter picture, with more connection options, greater keystone correction, and better speakers (although you'll still want to connect your own).

A good option is this projector from ViewSonic, which costs $500 and can produce a Full HD picture of 30 to 300 inches, has a 3,500 lumens bulb, and 40 degrees of keystone adjustment. The projector promises reduced latency for gaming, and a dedicated sport mode for adjusting the picture when watching the big game. It can be sat between 4.2 and 46.9 feet from your screen, with a 100-inch projection at 10.9 feet.
An alternative is the $399 BenQ MW535A, which produces a 1080p Full HD image of between 30 and 300 inches, and with a brightness of 3500 lumens and contrast ratio of 15000:1. You'll need a fair bit of space for such large images though, as this BenQ projector needs to be 12 feet from the screen to create an image 100 inches diagonally.
Projectors for under $1,000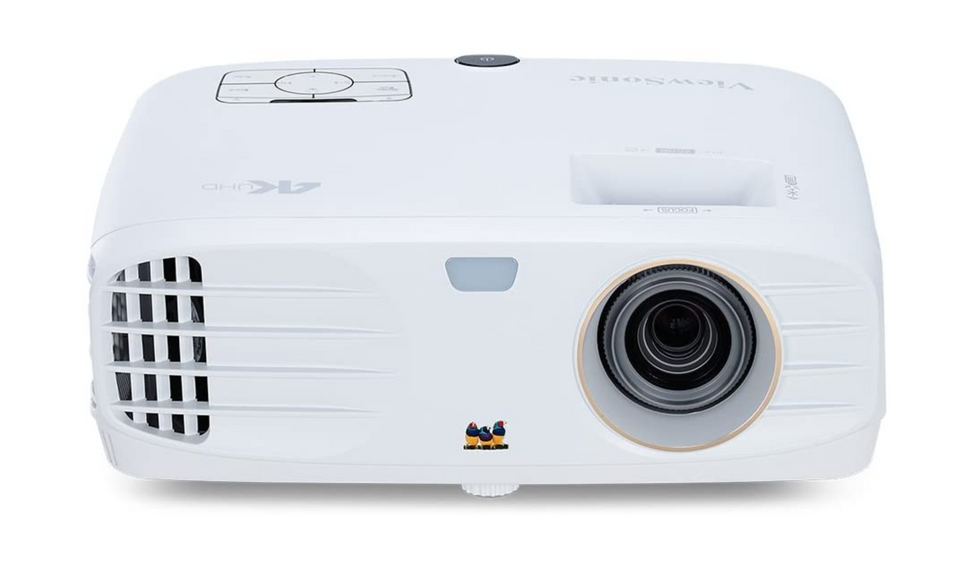 Make sure you have access to plenty of Ultra HD content before investing in a 4K projectorViewSonic
Although you can spend over $10,000 or even $20,000 on a movie theater-quality projector, we think $1,000 is the limit of what most consumers will want to spend, especially on a setup that is going to be ferried in and out of the garden whenever the weather is decent.

With a $1000 budget, you can expect to get a 4K, Ultra HD picture, which on a 300-inch projection will make a huge difference over regular Full HD. Of course, you'll need to feed UHD content into it, via Netflix, Amazon Prime, or another streaming service.
Being larger, these projectors also have space for better speakers. This $999 ViewSonic has 10-watt speakers, around five times more powerful than those inside lesser projectors. But even still, we strongly recommend you hooking up other speakers. Otherwise, that projector is a strong contender.
Another option is the circa-$960 Optoma UHD50, which has Ultra HD video quality, image size of up to 300 inches, and a huge 500,000:1 contrast ratio, plus HDR compatibility.
ViewSonic 4K Projector with 3500 Lumens HDR Support and Dual HDMI for Home Theater Day and Night (PX747-4K)
Like GearBrain on Facebook