Like GearBrain on Facebook
As the weather warms up — and with most of us unable to go on vacation at the moment — it's time to look at outdoor technology, and specifically garden entertainment. The ability to extend your living space, and create an outdoor living room, can be a mood booster, especially if you can add music to that space as well.
There are a lot of options when it comes to playing music in your back yard. You can simply take a Bluetooth speaker and play some tunes from your phone; but if you want higher quality and a more permanent solution that doesn't rely on a charged battery, weatherproof speakers designed to live outdoors are the way to go.
Read More:
All of these speakers are sold as a pair, meaning they offer stereo sound — dedicated left and right channels — right out of the box. They also tend to have a pair of speakers in each unit, usually a subwoofer or mid-range driver for the bass and mids, and a tweeter for the treble.
Another key feature is weatherproofing, With this these speakers can survive being permanently installed in your yard and left there all year around, without risk of being damaged by rain, frost or humidity. You will also want to look at how the speakers are wired, and what mounting options are included. All options here are passive speakers, meaning they are powered by regular speaker cable connected to an amplifier or high fidelity system.
Ideally, you'll want to install them high up and pointing towards at about 45 degrees to your decking area, or wherever you want to enjoy the music. There's no point angling them upwards, as passing birds (and your neighbors) aren't interested in your BBQ playlist.
Some outdoor speakers are also designed to be painted, helping them blend into their surroundings. You could paint them the same color as the fence or wall they are mounted to, for example.
Finally, you need to work out how to wire the speakers to a sound source. This will likely mean drilling holes to run audio and cables into your home — and for that you might want to hire a professional. Most outdoor speakers work just like wired indoor speakers, so can easily be hooked up to almost any sound system. Alternatively, you might want to install an amplifier in a sheltered (and weatherproof) spot on the terrace or patio.
However, there are some exceptions. Outdoor speakers from Sonos only work with the company's own (and rather price) amplifier, for example.
Outdoor speakers for under $100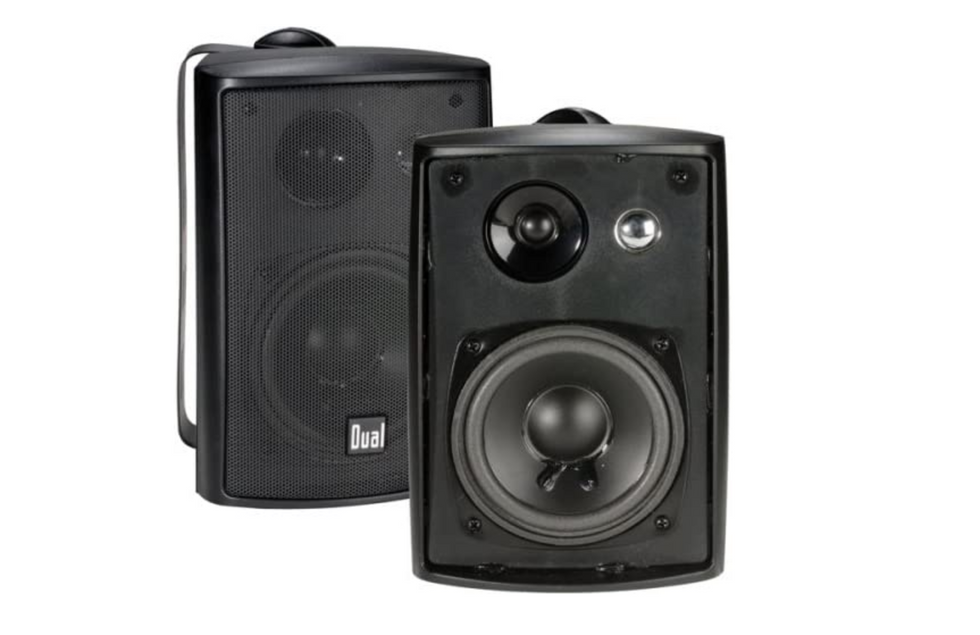 Dual Electronics outdoor speakersDual Electronics
Despite their inherent toughness, outdoor speakers can be surprisingly cheap, and start at well under $100, or even under $50. Here are some budget options to consider:

Although unlikely to annoy the neighbors with their modest power output, this pair of weatherproof outdoor speakers are currently just over $30. Owners rave about their durability, and they come with mounting brackets included in the box.
They are compact, at a little over eight inches tall and five inches wide, and each included a subwoofer and tweeter outputting 50 watts of audio power. You'll want to provide your own speaker cable, then hook them up to an amplifier like any other hi-fi speaker.
Increasing the budget but still sitting comfortably below $100, this pair of outdoor speakers by AVX Audio offer 90 watts of power and each include a 6.5-inch subwoofer and one-inch tweeter. A fair bit larger than the previous option, each of these speakers is 12 inches tall, 8.5 inches wide, and weigh around six pounds.
They include mounting brackets and are white in color, with full weatherproofing to protect them from rain. As with most outdoor speakers, they connect to your sound system using industry-standard speaker wire.
Outdoor speakers for under $200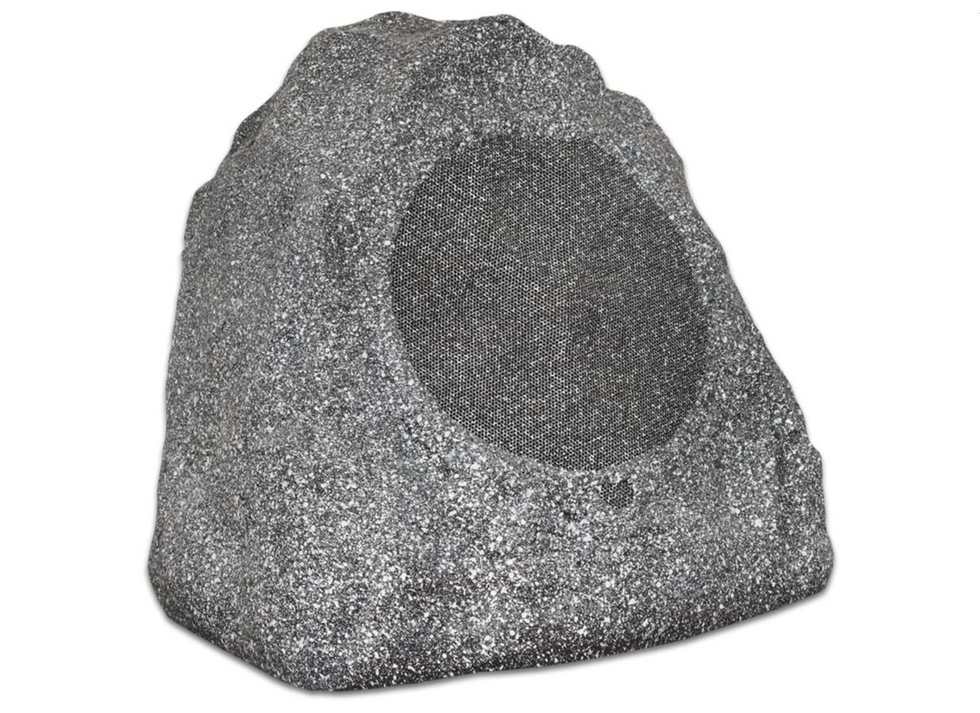 Theater Solutions granite outdoor speakersTheater Solutions
Doubling the budget introduces mainstream brands you will likely have heard of, as well as speakers designed to hide neatly in your garden. Spending a bit more also means more power (the wattage of the speakers) and a higher quality sound. Most of these speakers still connect using regular speaker cables, instead of offering a wireless connection like Bluetooth or Wi-Fi.

If you're after a stealthy pair of outdoor speakers, this could be a good option. Made to look like pieces of granite, the speakers can be hidden among rocks in your garden, or placed neatly in the corners of your backyard. Of course, they don't require mounting.
Available with speakers ranging from 4.5 to eight inches, the largest option promises an impressive 250 watts of power, making them plenty powerful enough for most outdoor spaces.
To install, dig a shallow hole to slightly bury the speakers into place, then dig a shallow channel to bury industry-standard speaker wire, which connects to the speaker at one end and your sound system at the other. Naturally, you'll need a lot of cable depending where in the garden these are placed.
For granite speakers on a large budget, try the $250 Klipsch AWR0650-SM.
Available in black or white, the Control X by JBL is a stereo pair of speakers that are suited to indoor or outdoor living. They are fully weatherproof, have a smart design with optional front grille, and connect to your system using regular speaker cable.
Rated at 200 watts, they will be plenty powerful enough for most gardens. They measure 9.25 inches tall and 6.5 inches wide; mounting brackets offering rotation and tilting of the speakers are included.
Outdoor speakers for under $500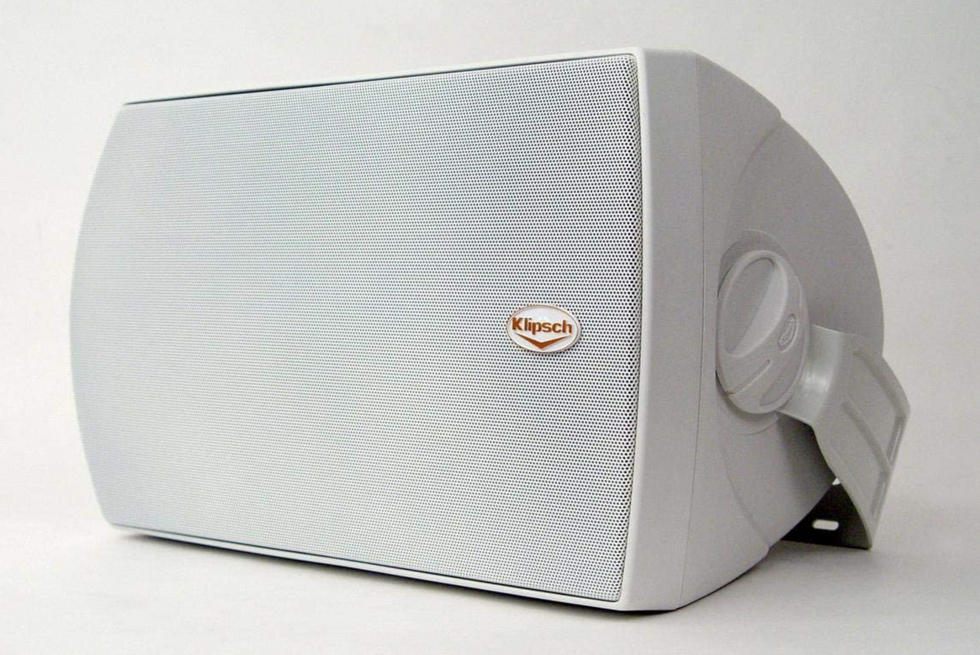 Kilpsch outdoor speakerKilpsch
Now we're getting into the high-end of the market, with brands like Bose and Klipsch. Generally speaking, these are quite large speakers so are better suited to more expansive gardens and outdoor pool areas.

A high quality option for those with a large budget, these outdoor and weatherproof speakers from Bose are available in black or white. They come with articulating wall mounts that let you adjust the angle of the speakers.
Inside each unit is a 5.25-inch subwoofer and a pair of 2.5-inch full-range drivers. The Bose 251 uses standard wire to connect to your amplifier or music system. Each speaker measures just over 12 inches tall, by five inches wide and 4.5 inches deep.
Recently reduced from their original price of $550, this pair of outdoor speakers by Klipsch is available in black or white, but can safely be painted at home if you prefer them a different color.
They are completely weatherproof and are protected by a rustproof aluminum grille. They also come with sturdy wall mounts and connect to your system using regular speaker cable (up to 12-gauge to preserve sound quality). With a peak power of 340 watts, they can get seriously loud, thanks to each unit containing a 6.5-inch subwoofer and one-inch titanium dome tweeter.
Each unit measures almost 12 wide and weighs nine pounds.
Outdoor speakers for over $500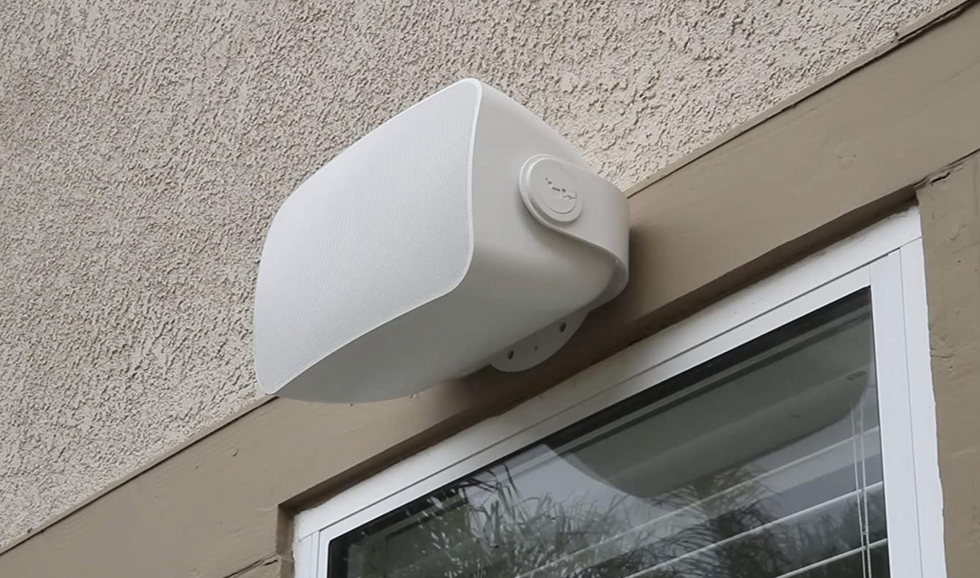 Sonos Outdoor SpeakersSonos
Finally, we reach the very top of the market. Here your money is spent on excellent sound quality, as well as the usual expectations when it comes to good design and complete protection against any type of weather.

Launched in 2019, these are the first weatherproof outdoor speakers from Sonos. They are sold in a pair and are available in black or white. But, unlike most other options, they can't be connected to any old sound system. Instead, you need to also purchase the Sonos Amp, which costs an additional $649.
The speakers include a mounting bracket and each houses a 6.5-inch subwoofer and one-inch tweeter, just like the Klipsch model mentioned above.
Sonos Outdoor Speakers- Pair of Architectural Speakers by Sonance for Outdoor Listening
Like GearBrain on Facebook