Like GearBrain on Facebook
Samsung is to begin selling its new ultraviolet light smartphone sterilizer box in more countries, having originally launched in only Thailand.
The device, which uses UV light to kill 99 percent of bacteria and germs on the surfaces of smartphones placed inside it, was first only announced on Samsung's Thai website at the end of June. But now the product is featured in English on the company's global newsroom.
Read More:
There is no mention of a price or release date in every market just yet, but the box is priced at TBH 1,560 in Thailand, which is approximately $50 – around the price of most other UV smartphone sterilizer boxes. So far the box has also cropped up in Samsung's online stores in Germany, Singapore and Hong Kong, so we expect to see broader availability, including in the U.S. and UK, soon. As well as a sterilizer, the box includes an integrated 10W wireless charger inside.
In the wake of the coronavirus pandemic these boxes have become increasingly popular. Although their makers don't say with certainty that they kill the SAR-CoV-2 virus, which causes the Covid-19 disease, research increasingly suggests UV light could be effective against the spread of the current coronavirus pandemic.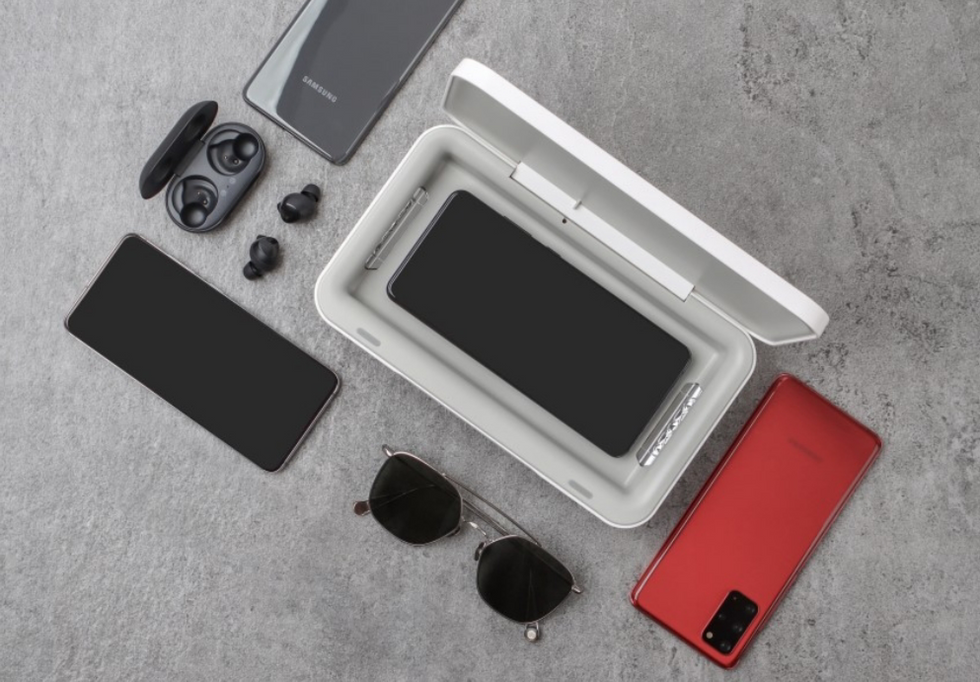 The box uses UV light to disinfect items like smartphonesSamsung
Regardless, the public's understanding of how Covid-19 can be spread on surfaces, and can live on materials like stainless steel for up to 72 hours, has put a renewed emphasis on personal hygiene – and that extends to the items we touch, like our smartphones.

Speaking of its new UV sterilizer box and wireless charger, Samsung says: "The UV Sterilizer effectively kills up to 99 percent of bacteria and germs including E. coli, Staphylococcus aureus and Candida albicans, according to tests done by two independent test and certification institutes, Intertek and SGS."
Although primarily intended as a smartphone charger and sterilizer, the box can fit other items too, such as earphones, glasses or a watch and other jewelry. A pair of UV lights sterilize the top and bottom of whatever is placed inside, and Samsung says the box's UV lights automatically switch off after 10 minutes. Other manufacturers say their boxes complete sterilization in five to 10 minutes.
Samsung hasn't announced prices or availability for the U.S. just yet, but with the box now appearing on its global website, we suspect it will go on sale sooner rather than later.
From Your Site Articles
Related Articles Around the Web
Like GearBrain on Facebook