Like GearBrain on Facebook
LG's latest wireless, in-ear headphones come with an unusual additional feature – a charging case with ultraviolet lighting on the inside.
As you may have already heard during the current pandemic, UV light can kill 99.9 percent of surface bacteria, and there is currently research being undertaken to determine its ability to kill viruses, and specifically the coronavirus that causes Covid-19.
Read More:
While that isn't yet known for certain, manufacturers have been quick to add UV lighting to their devices, and companies including Samsung now sell UV light boxes that charge and clean your smartphone at the same time. They'll also remove bacteria from anything you put inside the box, like earphones or your watch.
LG is taking things a step further with the Tone Free earphones and their UVnano charge case. Instead of you putting your earphones in a generic UV light box, these earphones are cleaned while they are charged, and the UV light bulbs are positioned to specifically focus on the inside of the ear tips, where the most bacteria is likely to accumulate.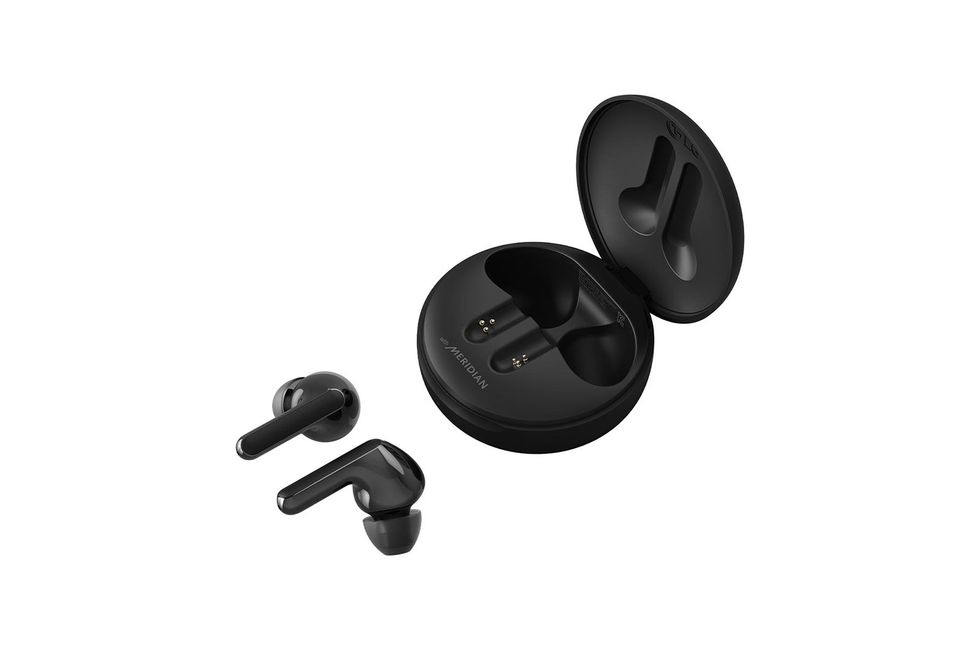 The earphones have a six-hour battery life, plus 18 further hours using the charge caseLG
The technology has been confirmed by UL Verify to remove 99.9 percent of bacteria, but its ability to kill viruses was not tested. The lights stay on for the first 10 minutes of charging, but only when the case is connected to a power cable, which is somewhat disappointing. Essentially, your earbuds will only be cleaned when in the case is plugged in, rather than while it's in your bag or pocket.

Priced at $150, the earphones don't have active noise cancelling, so they won't completely remove ambient noise like the Apple AirPods Pro. But a snug fit should help keep things nice and quiet in most situations. They have been made in partnership with audio firm Meridian, which has helped with a set of customized EQ sound settings, and they are IPX4 water resistant, so wearing them in the rain or while sweating on a run shouldn't cause any damage.
Integrated microphones mean you can take calls, but also interact with Siri or Google Assistant, depending on whether you have them connected via Bluetooth to an iPhone or Android handset.
Battery life is a claimed six hours, while the charge case will top up the batteries a further three times, adding 18 hours and bringing the total to an AirPods Pro-equalling 24 hours. The $150 earphones are available in black for now, with a white version coming soon.
LG Tone Style HBS-SL5 Bluetooth Wireless Stereo Neckband Earbuds Tuned by Meridian Audio
Like GearBrain on Facebook