Like GearBrain on Facebook
It has been well-known for years that our smartphones are among our dirtiest possessions. Often riddled with bacteria, these devices spend hours by our sides, in our hands and occasionally on our faces. They regularly head to the bathroom with us, and yet are rarely cleaned.
Add this to the discovery that coronaviruses can survive on surfaces like glass and stainless steel for up to 72 hours, and the concern should be obvious. Yet when was the last time you cleaned your phone? And what about your keys, wallet, watch, earphones and fitness tracker? The answer could well be never.
Read More:
One solution is to use ultraviolet light, which has been proven to kill almost all common surface bacteria in just a few minutes. UV light boxes are widely available, designed to house your phone and other essentials for around five minutes, zapping harmful bacteria from them.
A widely repeated claim is that UV light kills 99.99 percent of common surface bacteria, but few manufacturers of UV light boxes are yet confident enough to say coronaviruses like the one that causes Covid-19 are included in that stat.
What we do know, thanks to research published just this week by the Columbia University Irving Medical Center, is that so-called far-UVC light "kills more than 99.9 percent of airborne coronaviruses."
UV light is what damages your skin on a summer's day. Instead of being used in a sealed box, away from causing harm to humans, far-UVC light is delivered in smaller doses from devices fitted to the ceiling.
To be scientific for a moment, UVC light used in sterilization boxes (and in medical settings) is 254 nm wavelength, while the less potent far-UVC light is 222 nm wavelength. The former can only be used in sealed boxes or unoccupied rooms, while the latter cannot penetrate the outer layers of our eyes or skin, making it safe to use in occupied spaces.
Having previously been shown to kill airborne influenza viruses, researchers have now found that "seasonal coronaviruses, which are structurally similar to the SARS-CoV-2 virus that causes Covid-19" can also be killed by far-UVC light.
The researchers said: "The sensitivity of the coronaviruses to far-UVC light suggests that it may be feasible and safe to use overhead far-UVC lamps in occupied indoor public places to markedly reduce the risk of person-to-person transmission of coronaviruses, as well as other viruses such as influenza."
So with far-UVC light a potential weapon in the fight against Covid-19 in occupied spaces, it is increasingly likely that the more potent UVC light used by sterilization boxes will rid your phone of coronavirus too. As well as your phone, keys, earphones and other daily-use items, you could also use a box to quickly sterilize your cutlery in a restaurant, for example.
With the basics covered, let's now look at some options of sanitizer boxes to consider:
Mophie UV Sanitizer an wireless charger - $79.99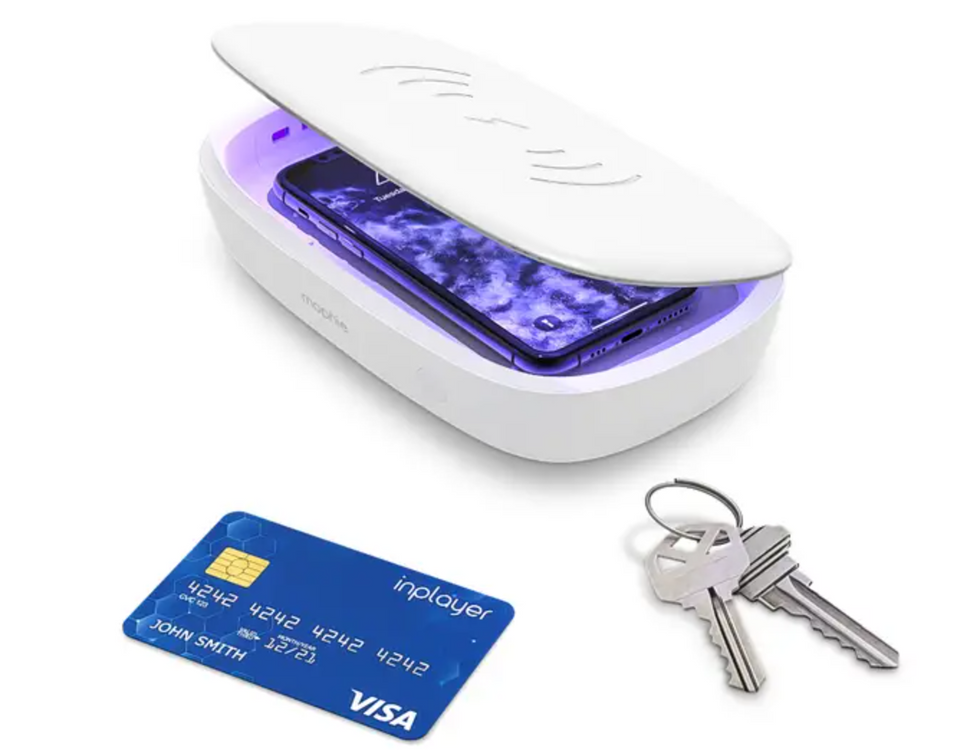 UV sanitizer boxes are claimed to kill 99.99% of surface bacteriaMophie
Best known for producing phone cases and power banks, Mophie has just launched a UV sanitizing box with integrated battery and QI wireless charging pad. There's space inside for smartphones with screens of up to 6.9 inches.

The charging pad is on top of the box, so while you can't charge and sanitize your phone at the same time, you can use the box as a charger most of the time, then put items inside when you think they need a clean with UVC light. Power comes from a USB-C port and the cleaning process is said to take just five minutes.
InvisibleShield UV Sanitizer - $59.99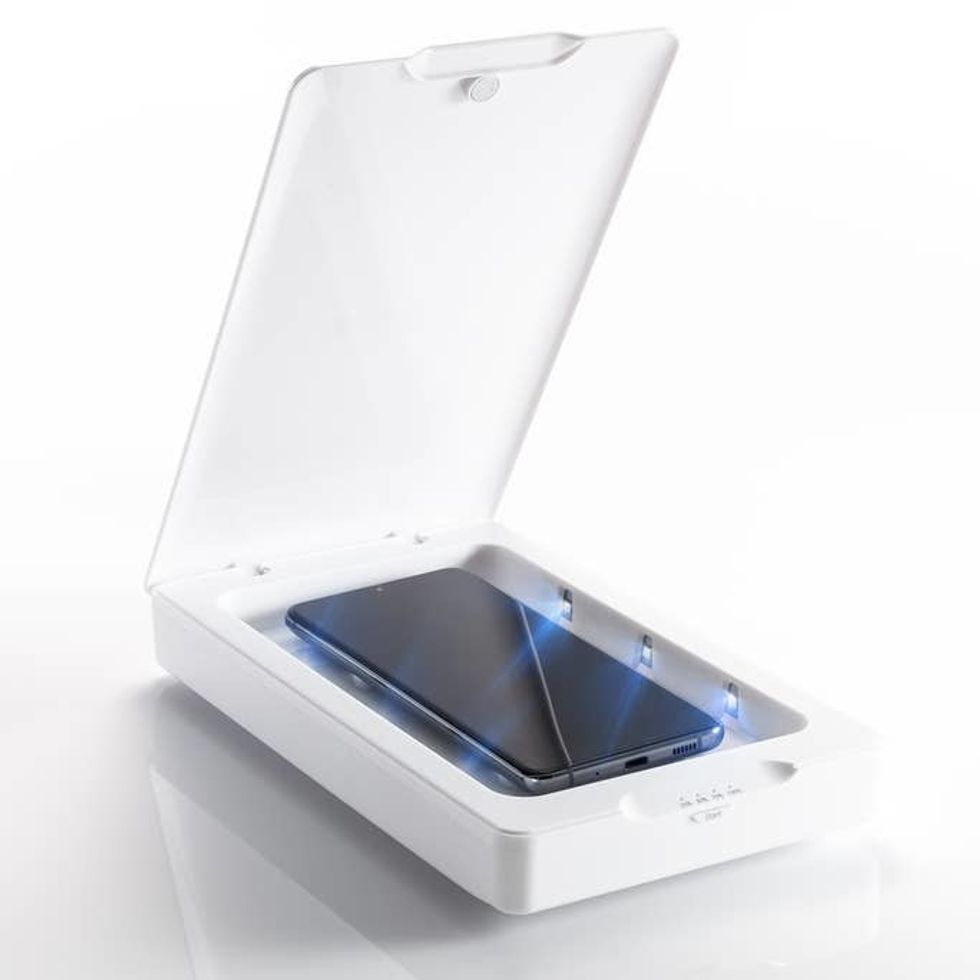 InvisibleShield
Also newly announced this week is the UV Sanitizer by InvisibleShield. This box is also designed to house phones of up to 6.9 inches and takes five minutes to kill up to 99.99 percent of most common surface bacteria. It has a USB-C port for power and comes with a USB-A to C cable. Unlike the Mophie, there is no wireless charger on the lid.

Lambor Studios Portable UV Phone Sanitizer - $59.99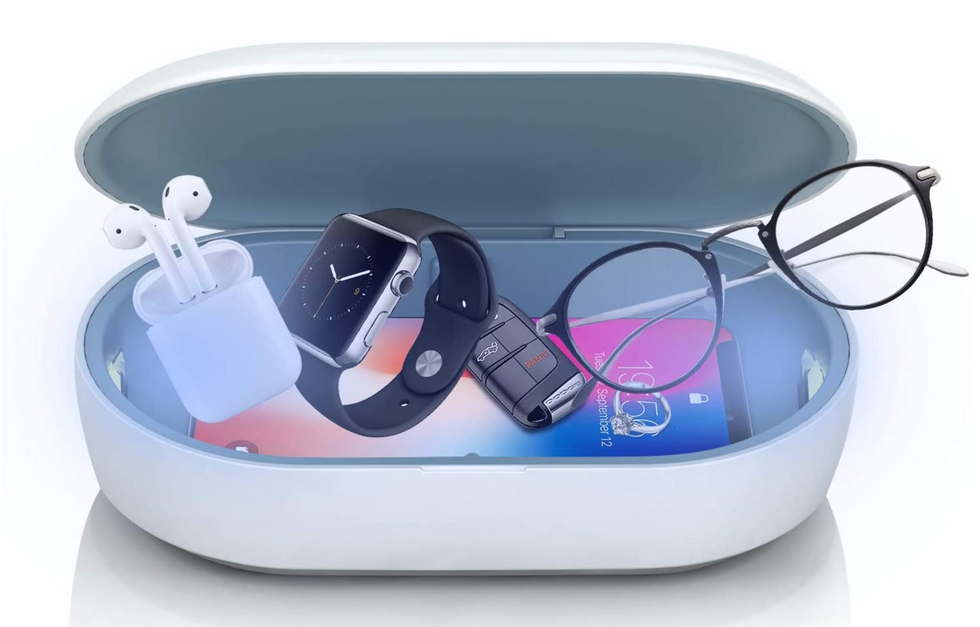 Lambor Studios
This model is slightly smaller than the previous two, with room for smartphones measuring up to 6.5 inches. As with other sanitizer boxes, it is also suitable for items like watch, earphones, keys and glasses.

As with the Mophie, this model includes a QI wireless charging pad on the lid, so you can charge your phone while something else is being sterilized inside.
Rdfmy 3-in-1 UV Sanitizer - $79.99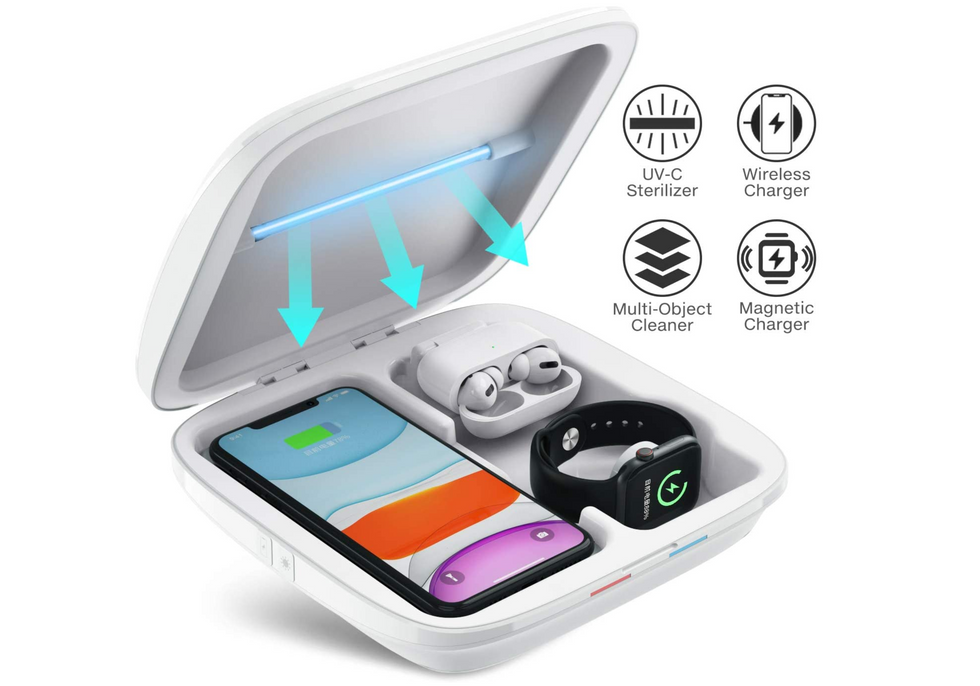 Rdfmy
This sanitizer is larger than others and has space to sanitize several items at once. More specifically, there are dedicated spaces for a smartphone, Apple Watch and AirPods charging case.

As well as sanitizing with UVC light, the box has a QI wireless charging pad for your phone, a magnetic charging dock for the Apple Watch, and a Lightning port to charge an AirPods case.
Like GearBrain on Facebook