Like GearBrain on Facebook
Smartwatches have grown from obscure gadgets and fashion accessories to comprehensive health and fitness trackers in just a few short years. As of early 2021, the market is full of devices that track daily activity, exercise, sleep and general health with a wide range of sensors. They can even alert wearers to the signs of potential heart problems, and call for help if you take a heavy fall and can't get up.
One of the biggest health features of today's smartwatches is their ECG capability. Standing for electrocardiogram and also sometimes shortened to EKG, an ECG is a medical-grade process for measuring heart activity and checking for any abnormalities. An ECG performed in the hospital takes a more detailed reading, but the beauty of fitting similar hardware to a smartwatch is that the owner can take an ECG whenever they want, then provide that data to their doctor, instead of only capturing data when at the hospital.
Read More:
Smartwatches take an ECG by completing an electrical circuit across the wearer's body. The watch has two contact points to do this, via the heart rate monitor of the back of the case pressed against the wrist, and when the wearer touches the front or side of the case with a finger from their opposite hand. The ECG usually takes around 30 seconds to complete and data collected to sent to a companion smartphone app, where it can be viewed, stored and forwarded to a doctor if required.
The Apple Watch Series 4 from 2018 was the first smartwatch to feature an ECG app. But because a medical function like this needs to be authorized by government health departments, Apple's ECG app wasn't available in every country at once. Instead, it arrive in the US once the FDA approved the app, but didn't work in the UK and Europe until the European Union's equivalent to the FDA approved its use months later.
Each manufacturer of devices with ECG functionality has to pass through these steps. As a result, the ECG app often arrives gradually. Withings is still waiting for FDA approval of its ECG app in the US (but it is available in Europe), and Samsung has also experienced delays of its own.
Apple Watch Series 7 [GPS 41mm] Smart Watch w/Blue Aluminum Case with Abyss Blue Sport Band. Fitness Tracker, Blood Oxygen & ECG Apps, Always-On Retina Display, Water Resistant
Atrial fibrillation
The main point of smartwatches with ECG functionality is to check for signs of atrial fibrillation, also known as Afib. This condition can cause an irregular or abnormally fast heartbeat. It is common, but potentially deadly and often goes undiagnosed due to a lack of ECG testing outside of a medical environment. Smartwatches with ECG hardware stress that they cannot detect other heart conditions, like a potential heart attack, but the data they collect and warnings they give can owners the information they need to seek for help.
Below are some of the most popular smartwatches and fitness trackers to feature an ECG app. Not all are available internationally just yet, but we will update this article as that situation changes, and when new products are announced.
Apple Watch Series 4, 5, 6 and 7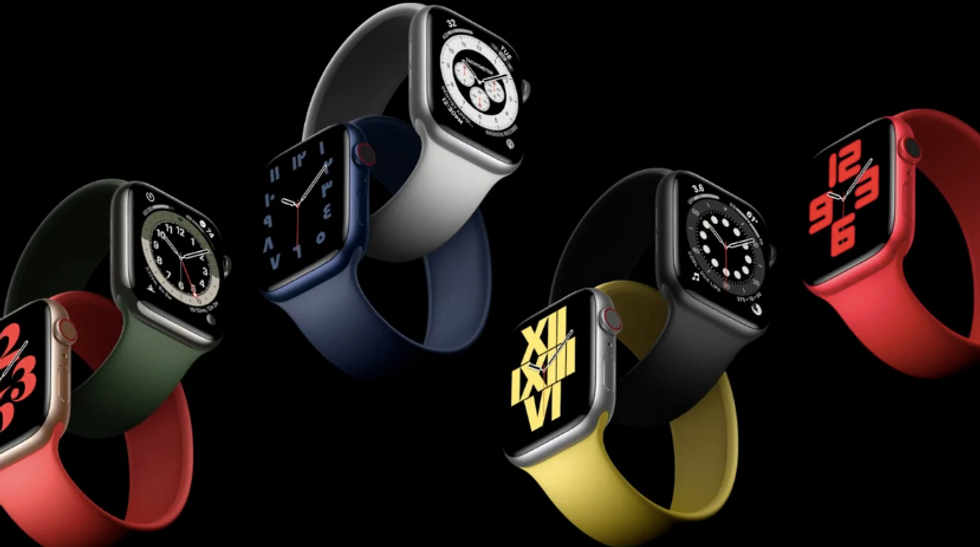 The Apple Watch has feature ECG functionality since 2018
Apple
The Apple Watch Series 4, 5, 6 and 7 all have an ECG app. The first model arrived in the fall of 2018 and the most recent Series 6 landed in 2021. The ECG app works in most countries, takes around 30 seconds to complete, and sends the data it collects to the Health app of the user's iPhone. From there it can be sent to a doctor if required.
An ECG is taken by completing an electrical circuit across the wearer's body. In the case of the Apple Watch, this means the heart rate monitor sitting on your wrist as normal, then you touch the Digital Crown with the index finger of your opposite hand to complete the circuit. The watch then tells you if your heart rate is normal or shows signs of Afib.
The lower-priced Apple Watch SE has a heart rate monitor but cannot take an ECG.
Samsung Galaxy Watch 3 and Watch Active 2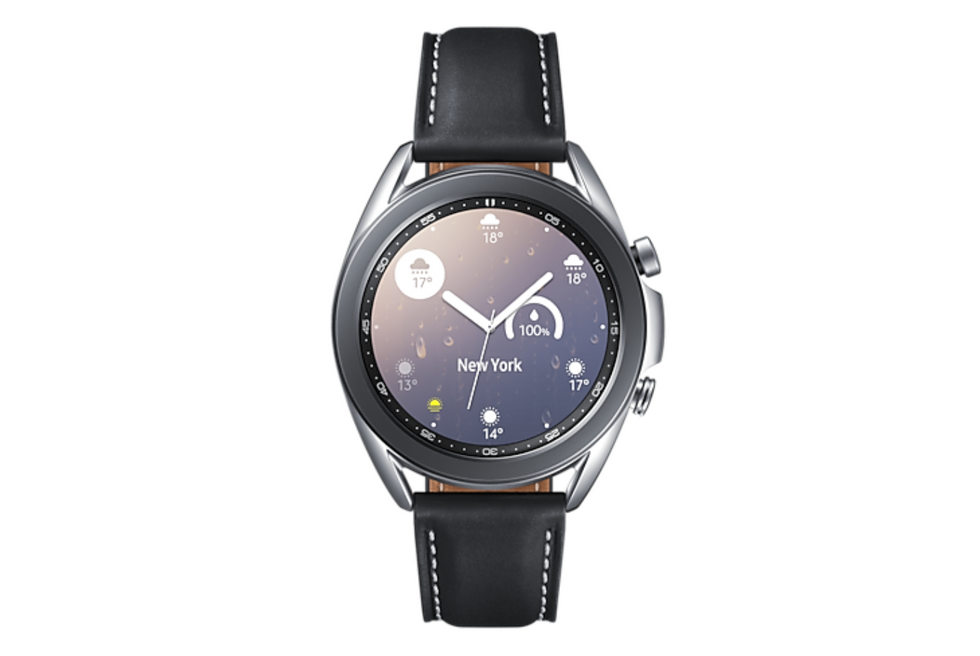 The Samsung Galaxy Watch 3 and Watch Active 2 can both take ECGs
Samsung
Two current Samsung smartwatches now offer ECG functionality, having been approved in the US, Europe and Samsung's native South Korea. These are the Galaxy Watch 3 and the slimmer Watch Active 2. Both of these watches perform an ECG using the heart rate monitor and when the wearer places a finger of their opposite hand on the case.
As with other ECG wearables, you need to place your forearm on a flat surface and relax as best you can, without moving, while the 30-second ECG takes place.
Withings ScanWatch and Move ECG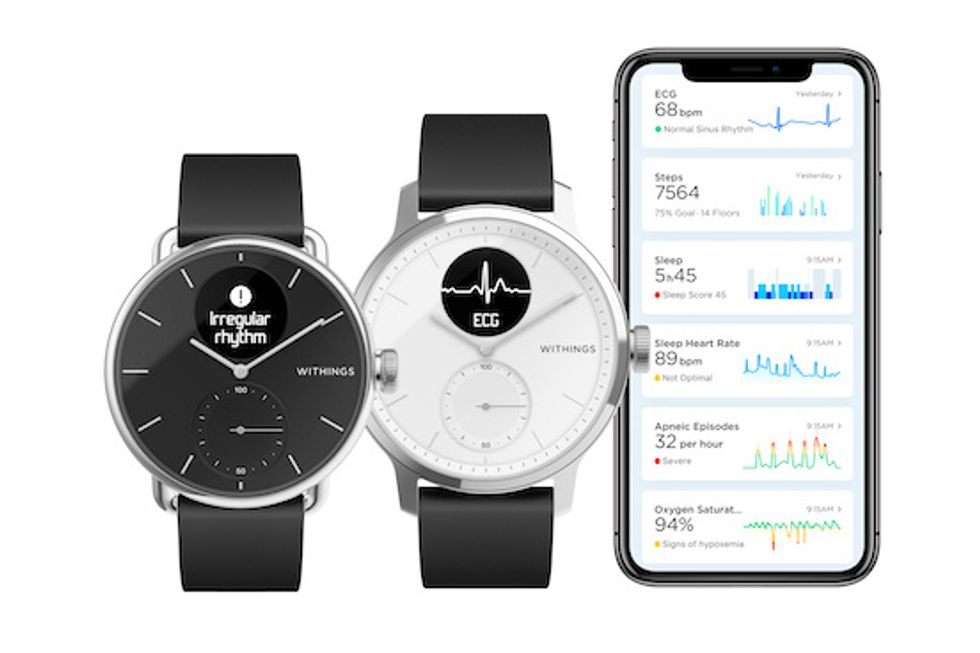 The Withings ScanWatch is available in two sizes
Withings
French technology firm Withings offers a pair of smartwatches with ECG functionalist, called the Move ECG and the ScanWatch. The former is cheaper and a little older, while the latter is the company's latest and greatest. They both track exercise, heart rate and sleep, while the ScanWatch also has a simple display for delivering notifications and extra information.
Unfortunately, while clinically validated and available to buy in Europe, Withings is till waiting for approval from the FDA. Until that happens, it cannot sell its ECG devices in the United States. The company had hoped to overcome this hurdle before the end of 2020, but as of February 2021 this still hasn't happened.
Fitbit Sense
The Fitbit Sense smartwatch can take an ECG reading
Fitbit
Google-owned Fitbit is best known for its fitness trackers, but also now sells a smartwatch in the form of the Sense. This is a fully-fledged wearable with all of the health and fitness features you would expect from an Apple Watch, plus notifications, water resistance, the ability to handle calls, stream music, make contactless payments and more.
It also has a heart rate monitor and can take an ECG. As with others, you just have to be wearing the Sense and place your finger on the aluminum case to complete the ECG reading. Like the Apple Watch, the Fitbit Sense also keeps an eye on abnormally high and low heart rates. As with other wearables, the ECG app of the Fitbit Sense isn't available everywhere, but as of February 2021 it works in The US, UK and Europe, with Canada, New Zealand and Singapore coming soon. Fitbit says the ECG app should not be used by anyone under the age of 22.
AliveCor KardiaMobile 6L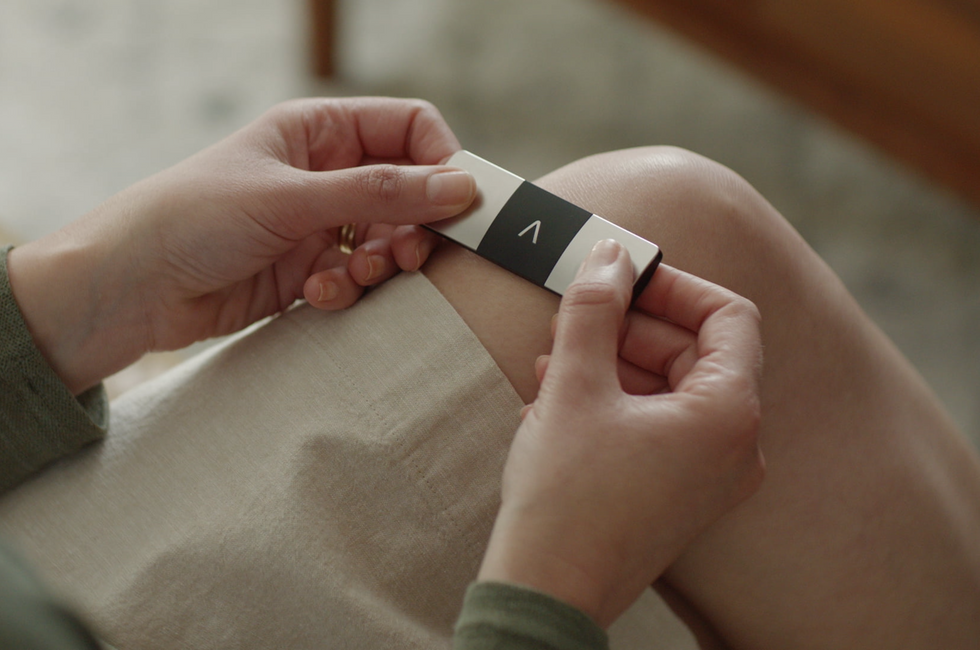 The KardiaMobile 6L ECG device by AliveCore
AliveCore
Now for something a little different. The AliveCore KardiaMobile 6L is not a smartwatch or a wearable off any kind, but instead it is a portable, pocket-sized ECG device. Where the smartwatches listed above perform the equivalent of a single-lead ECG, the KardiaMobile 6L, as its name suggests, takes a six-lead ECG.
The device has two electrodes on the top for your index fingers and a third underneath to rest on the skin of your left leg. That way, it can perform and more detailed, multi-lead ECG, while also requiring no use of gels and wires. The ECG reading is sent over Bluetooth to a smartphone app. AliveCore also sells a single-lead version, simply called the KardiaMobile.
Use The GearBrain to find the right smartwatch or wearable that is compatible with your smartphone's operating system.
Introduction of The GearBrain, The First Compatibility Find Engine for Smart Devices www.youtube.com
Like GearBrain on Facebook