If there's any device that most defines 2020, headphones have to be at the top of the list. Some of us are spending more time at home surrounded by family members and roommates, barking dogs and ringing doorbells. We need some quiet, we need some isolation, and we definitely need to hear what's coming from our phones and computers as clearly as possible. Sennheiser's HD 450BT $150 headphones deliver certainly on the latter, coupled with a wireless sound experience — at a reasonable price point — that feels like a more expensive option.
We spent some time testing the headphones, and here's our take on how they sound, work and feel.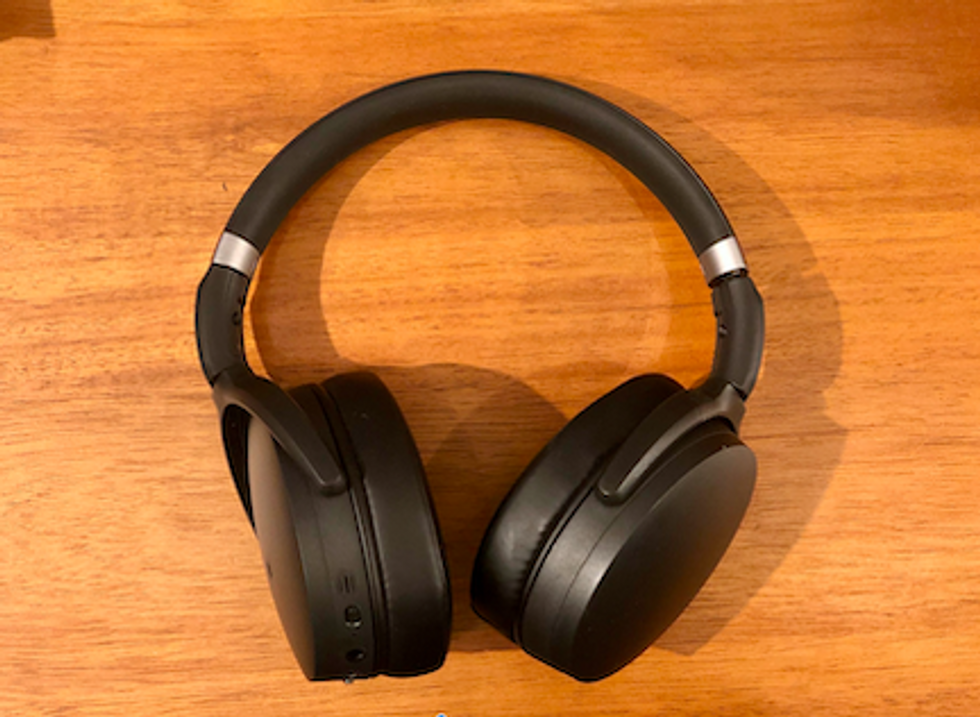 The Sennheiser HD 450B wireless headphones have extra thick padding around the ears for a more comfortable fitGearBrain
Sennheiser HD 450BT — Hardware

The Sennheiser HD 450BT are Bluetooth-enabled wireless headphones that come with a cable to wire in if need be, such as if you're on a plane, for example. They connected wirelessly over Bluetooth 5.0, and they include features such as active noise cancelling (ANC), the ability to answer calls and pull up a voice assistant, plus what the company claims is a 30-hour battery life, even with ANC in play, through the 600mAh battery. You also get a USB-C charging cable.
You can operate and optimize the headphones through the Sennheiser Smart Control app for iOS and Android, but it's not necessary — they'll work, and work well, without connecting through the app. But the app will let you shift certain tones including the bass, check battery status and optimize the sound depending on what you're listening to such as podcasts.
Sennheiser HD 450BT — Design
Wireless headphones can sometimes start to pinch on my ears, especially when worn for some time. I didn't find that irritation with the Seinnheiser HD 450BT. The padding over the ears is quite thick, which also helped to cut ambient sound out all on its own.
The headphones can also be adjusted along the sides depending on your head size, and they fold up to fit into a small carrying case that comes with the device.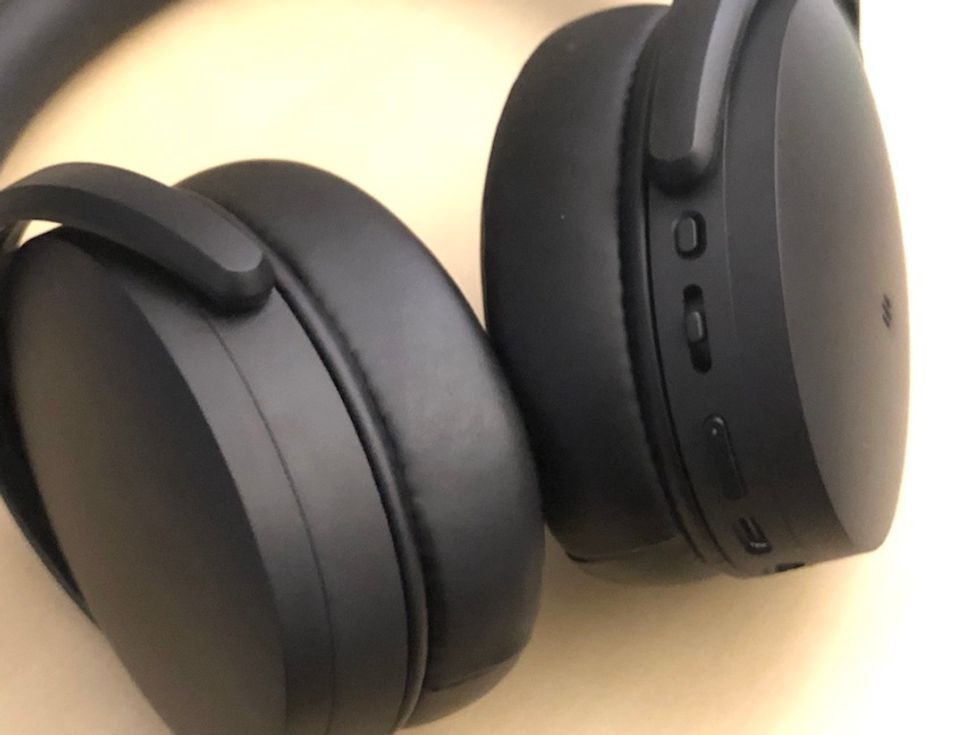 Controls are on the right ear for playback, ANC, pairing and moreGearBrain
Five buttons are on the ear, and include a power and pairing button on the right for Bluetooth, as well as a second button for bringing up a voice assistant, a third for playing, pausing and answering calls, and a fourth for changing the volume. A fifth and final button turns on and off active noice cancelling. I found the buttons a bit on the loose side, particularly the play button, which didn't always feel sturdy in its movements.

The Sennheiser HD 450 BT are also notably heavier than some other headphones I've been testing recently, including the Skullcandy Crusher Evo. That makes them feel a bit more substantial, but also a bit heavier on the head.
Sennheiser HD 450BT — Sound quality
On sound quality, the Sennheiser performed well. You have good left and right range, and what I can best describe as clean sound — not overtly bright, not a heavy bass note, maybe even a bit flat sometimes, but actually quite clear. I could pick up small details in sound, which added to the over all clarity and experience whether I was watching a movie, listening to music or taking a call.
Phone calls sounded a bit echo-y, and certainly not as clean as sound produced through a computer while watching content. But I did like that I could hear the sound of my voice as I spoke — which is not the effect I have when making calls with my AirPods Pro, for example.
I also occasionally encountered a bit of audio delay sometimes while watching video — not extensive, and not regularly, but on occasion.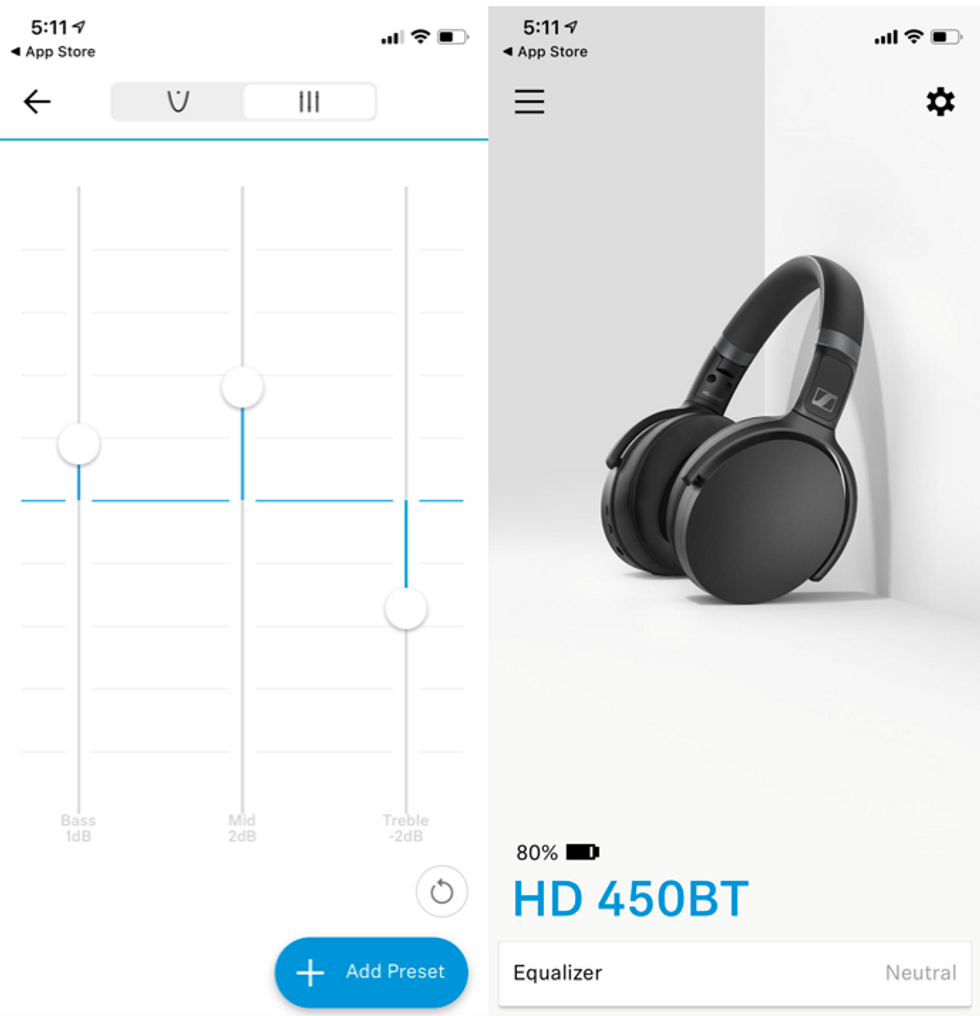 The Sennheiser Smart Control app allows you to customize settings including treble and bass for the headphones.GearBrain
Sennheiser HD 450BT — App

We did download and connect the headphones through the Sennheiser Smart Control app. Connecting is easy, once you've paired the headphones to your smartphone via Bluetooth. We did have a sizable update, which took a real 45 minutes, to download — which is not fantastic.
Once downloaded we played with the sound quality via the app to see how we could change the range we heard while listening to different kind of audio content. But to be honest, we didn't notice substantial shifts, and didn't feel, as we mentioned above, the need to play that much with the app.
Sennheiser HD 450BT — Price
Sennheiser HD 450BT were originally priced at $199.95, but have now dropped down to $149.95. Plus, on Sennheiser's site, you can get free shipping. The headphones come in both black and white.
The Sennheiser HD 450B wireless headphones come with charging cables, and a carrying caseGearBrain
Sennheiser HD 450BT — Worth buying

Solid features, top of the line noise cancellation and more push the Sennheiser HD 450BT headphones into a contender for anyone looking for a device with ANC and that's in a mid-point range.
I did find some of the buttons not as sturdy as I would have liked, making it sometimes feel uncertain whether they had been pushed or not. And the app felt extraneous and unnecessary to download and even use. But the headphones were extremely comfortable and had a sound quality that was clear and well-balanced. For the price alone as well, the Sennheiser HD 450BT are certainly wireless headphones that are a solid value.
Pros:
Solid sound quality during music, movies and other content
Price
Extremely comfortable to wear for long periods of time
Cons:
Sound was echo-y during calls
Buttons on the ears for volume and voice assistant felt a bit flimsy
App a bit unnecessary
Sennheiser HD 450BT Bluetooth 5.0 Wireless Headphone with Active Noise Cancellation - 30-Hour Battery Life, USB-C Fast Charging, Virtual Assistant Button, Foldable - Black
Introduction of The GearBrain, The First Compatibility Find Engine for Smart Devices www.youtube.com