Like GearBrain on Facebook
Skullcandy has, over the years, pushed out some excellent headphones and earbuds, including the Crusher ANC. Today the company releases a new set, called Crusher Evo, that updates the access to the Crusher driver, while dropping active noise cancelling,(and even the heavy carrying case,) to give a more budget friendly price tag to its new model at launch.
We spent some time testing these devices before the launch, and we're pretty impressed. While social distancing may have appeared to end the need for headphones — after all we're all supposed to be spending more time apart from each other — it's the opposite for many of us. Those who have roommates, or are living and working at home with family, find that this togetherness gives little space for alone time. At the least we hear each other's work calls and Zoom meetings. Headphones and earbuds? They're also essential gear today.
Does that make the Skullcandy Evo essential for you? Here's our thoughts.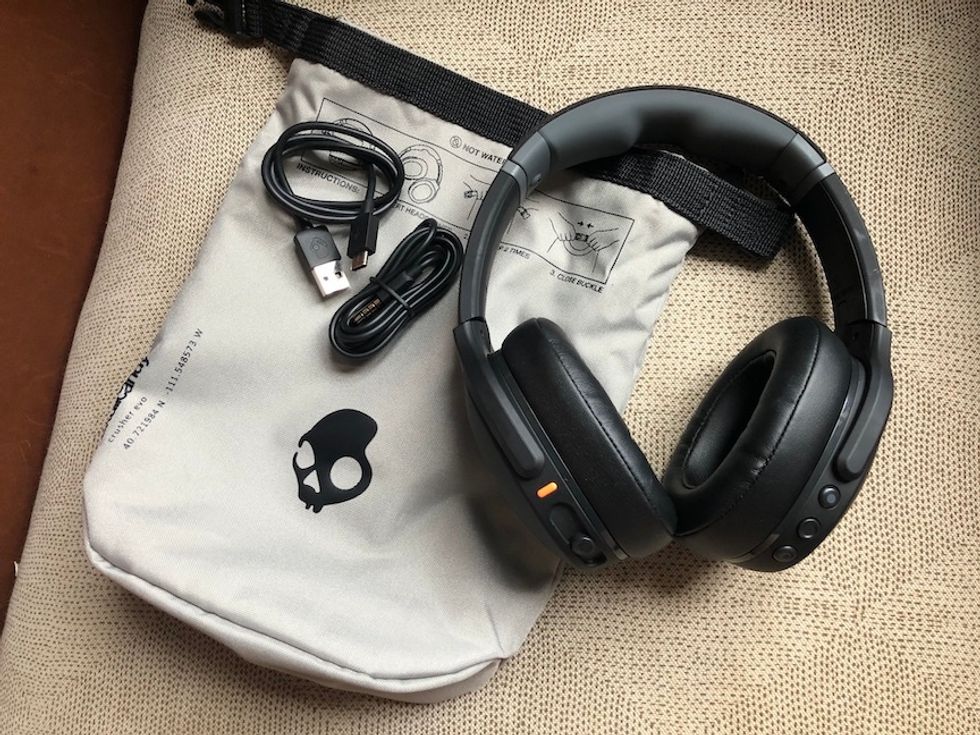 The Skullcandy Crusher Evo come with a soft carrying case, a charging cord, and wire for airplane useGearBrain
Design

The Skullcandy Evo mirror the company's other headsets in design — fairly large, with cushioned earphones. These did fit tightly to the ear, a bit too snug at times, but they also felt secure. The top is covered with a soft, almost fabric finish — which makes them easier to hold.
In the box you get the headphones, a soft carrying case, the charging cord and a cable that goes between the headphones and an audio jack should you want to go from wireless to wired, or need to when Bluetooth connections aren't possible, such as on an airplane. The headphones also fold flat which makes it easier to carry them in a bag.
Buttons to control the headphones are on the ears. On the left is the power button, nicely highlighted in a bright orange color. There's also a slider, and while your first thought may be that controls volume, it doesn't. The slide increases the haptic feedback on the headphones, giving more physical, bass vibration.
On the right headphones are three buttons. The top and bottom are the volume buttons, which can also skip and return to tracks, and in the center is a button that can play and pause, and also pull up a voice assistant.
Features
Like Skullcandy's Crusher ANC, the Crusher EVO has a Tile tracker packed inside. This allows you to find the headphones if they're lost through the Tile app. The headphones will ring if they're within range.
Battery life is pretty good on Skullcandy headsets, in our experience. The Crusher EVO though almost doubles what the Crusher ANC had at 24 hours to now giving 40 hours on one charge. And you can also fast charge for four hours of use in just 10 minutes. I did not find I needed to charge up the headphones once during our test over a few days. I also appreciated that the headphones turned themselves off when not in use — a solid battery saving help.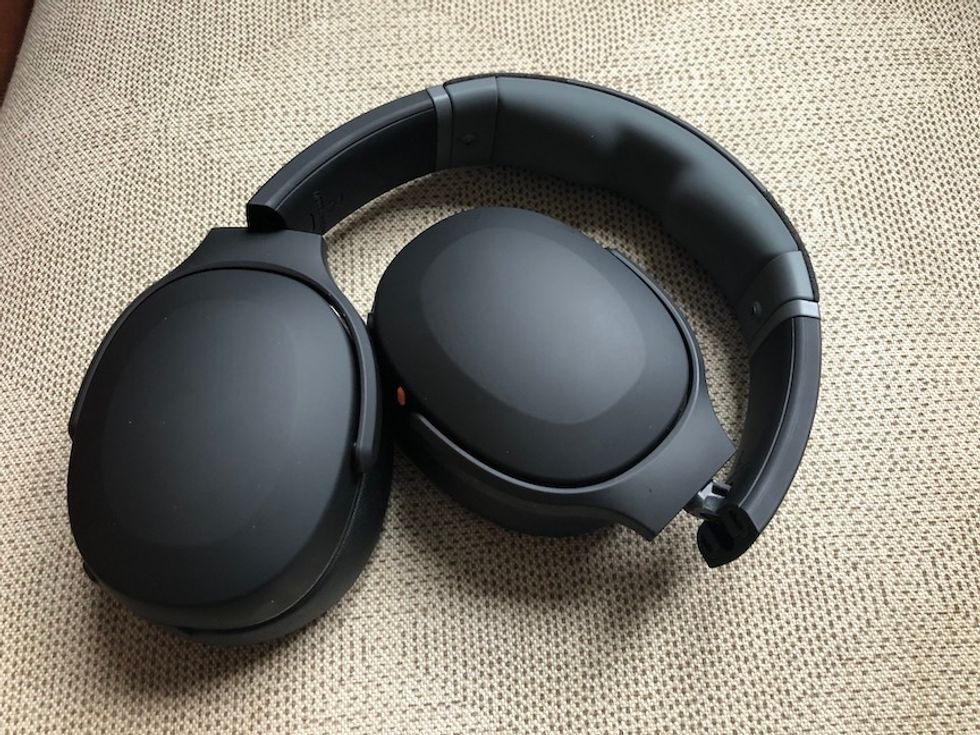 The Skullcandy Crusher Evo fold up flat for easier carryingGearBrain
Sound

The first thing I notice with sound? No lag. Even the Crusher ANC seem to have a lag, where TV and voice do not match up. With the new Crusher Evo the sync is perfect. And that is both a relief and excellent.
There is sound leach though, which is where you can hear the sound played if you're not the one wearing the headphones. I'm careful about that feature because pre-pandemic, I was often on the subways and trying to be conscious about forcing someone sitting near me to listen to my taste in music.
One of the newest updates for the Crusher Evo is building upon the ability to personalize sound for your headphones. This is a feature that has been around for a bit with Skullcandy, and is done through its app, walking you through different tones and sounds to make sure you get the right levels for your listening needs. The tool is now enhanced with Personal Sound from Audiodo.
But — You don't get active noise cancelling, or ANC, with Crusher EVO. Still, I did find they blocked noise fairly well. You can pull up voice assistants through the headphone buttons, from Google Assistant to Siri, right from the phone, and also take calls. On a test call, though, the person I spoke with said it sounded like I was in a cone, with a muffled sound. They could understand me, although it sounded like I was not close to microphone. That's not ideal.
App
You can personalize sound in the Skullcandy app for three different kinds of content: music, movies and podcasts. You'll also set up your personalized sound in the app which, when your headphones are paired here, and the entire experience is now managed through an updated Crusher driver.
But the app is a mixed bag. We tried to re-personalize the sound here, but bizarrely once we did that, the sound quality on the Crusher Evo dropped noticeably, becoming flatter in tone. That was disappointing. I needed to reset the headphones, then delete them from the Bluetooth device list, and then reconnect them to get back to the full, rounded sound I'd had before connecting to the app. And because of that I have to honestly recommend you not pair the headphones with the Skullcandy app.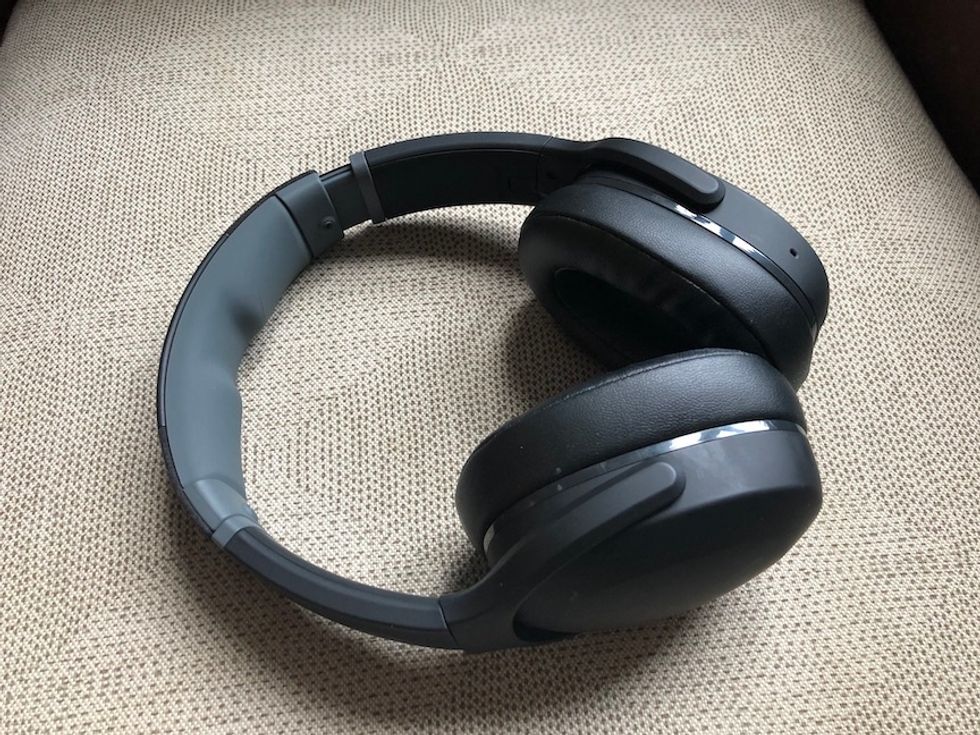 The Skullcandy Crusher Evo come in two colors: black and greyGearBrain
Haptic Feedback

The new Crusher Evo headphones have the sensory haptic bass that's familiar to other Crusher headphones. Haptic feedback is certainly a matter of taste, as not everyone prefers to have vibrations hitting their ears. For gaming, it really absolutely enhances the way you feel while playing. That's why haptic feedback is typically found in hand controllers. But with headphones, when watching a movie or listening to music, there's some argument for how the physical sensations enhance the experience. I'm not a regular fan of this feature. But it's certainly fun, and it does enhance the drama.
Price
The Skullcandy Crusher Evo is priced at $199.99, and comes in both True Black and Chill Gray on the company's web site.
Worth buying?
Would I upgrade to these headphones if I didn't need them? Probably not. While the lack of lag — the ability to sync sound to what your watching on screen if very impressive — I probably wouldn't run out and switch my current headphones for these. I do miss the nice carrying case that comes with the Crusher ANC, and the ANC feature. Yet even without ANC I found they were able to block other family members working around me. The problem though is you can pick up the Skullcandy Crusher ANC headphones today for $199.99 —a steep (very steep) drop in price from the $319.99 they were at launch.
Granted you are getting a pair of headphones that can now last 40 hours instead of 24 hours, which is nice. But we do recommend you skip the Skullcandy app. While the company promises the ability to change the sound, to make it more personal through the Audiodo tool, we found it muddied the sound throughout, and we were better off without using that feature.
But then if you're new to wireless headphones, have a pair in shredded tatters (don't laugh, we've been there) or are looking for a new variety, a second option from smaller, wireless earbuds, the Skullcandy Evo are certainly worth considering.
Pros:

Excellent sync between visual and sound
Sound quality is great
Haptic bass sensory experience
Cons:
App is not great
No active noise cancelling
Carrying case is soft-sided
Skullcandy Crusher ANC Personalized Noise Canceling Wireless Headphone - Black/Tan (Renewed)
From Your Site Articles
Related Articles Around the Web
Like GearBrain on Facebook