Sgnl had a storied background sure to catch lighting: coming from Samsung's C-Lab, the wristband blew up on crowdsourcing sites Indiegogo and Kickstarter in 2016 and 2017, raising nearly $3.7 million between both. It's too bad the device didn't work for us, and never connected to a call.
Sgnl initially promised that by wearing the device on your wrist, you could hold your finger to your ear and conduct a call. The gadget I received never answered my phone once, and instead just flashed its lights for three to five seconds before powering down during a dozen trials.
As Kickstarter investor 1,702, I paid $143 (with tax) in September 2016, and I received my Sgnl at the end of 2018 — far later than the February 2017 estimate Sgnl had initially promised. I'm am hardly the only one delayed in getting a device. Sgnl's Kickstarter page is filled with thousands of comments, the most current complaining how the wristband doesn't work for them either. Many backers still, as of the publication of this story, don't have their device, some asking for refunds.

Read More:
The one thing that did work? Sgnl's mobile app, which we were able to launch, yet felt like something that Vince Crisler, founder and CEO of cyber security Dark Cubed, considered "… just a thrown together app," he said, after running some logistics for GearBrain. "There doesn't appear to be a lot of complexity to it."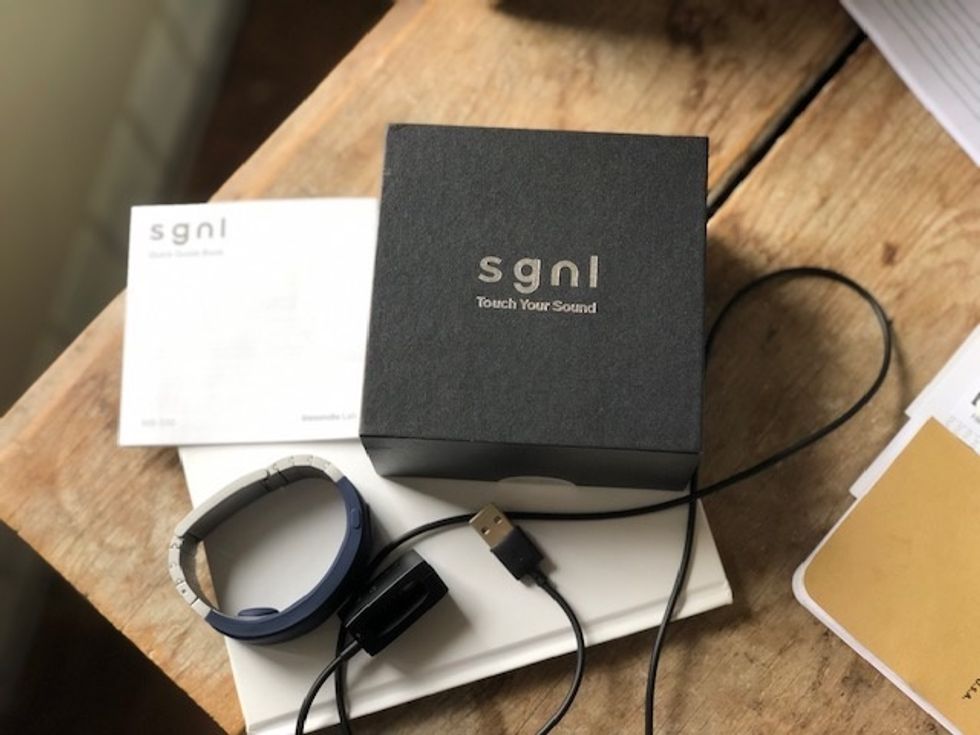 Sgnl arrived more than two years after we pledged on Kickstarter, with a USB charger and the wristbandGearBrain
After waiting two years for the wristband, we thought it would be worth walking through our experience as we tried to launch Sgnl, and show what Dark Cubed found when examining its app in detail. Hopefully those who have had similar issues, or are still waiting to get their wristband delivered, will find something that's helpful.
Launching Sgnl
Let's start with Sgnl's overall design. The wristband is a heavy device, meant to be worn like a bracelet on its own, or connect to a smartwatch. The links on the sides make it very simple to attach to an Apple Watch, for example. While weighty, though, Sgnl never felt uncomfortable — we actually liked the look.
Getting Sgnl up and running is simple. The device juices through a USB cable, and while waiting, we downloaded the Sgnl app: Sgnl InnomdleLab in Apple's App Store, and Sgnl in Google's Play Store.
To even launch the app, you need to grant it permission to access your photo library and contacts. Both of these made sense at first glance — this is a device, after all, that's meant to pick up your smartphone calls. However, Sgnl doesn't have a screen, which means even if it knows who's calling, it can't tell you. Plus, a call coming into your phone, and diverted to Sgnl, should still work even if Sgnl doesn't know the caller. The same theory holds true for photos: Without a screen to show you the caller, why should the app be able to see your photo library?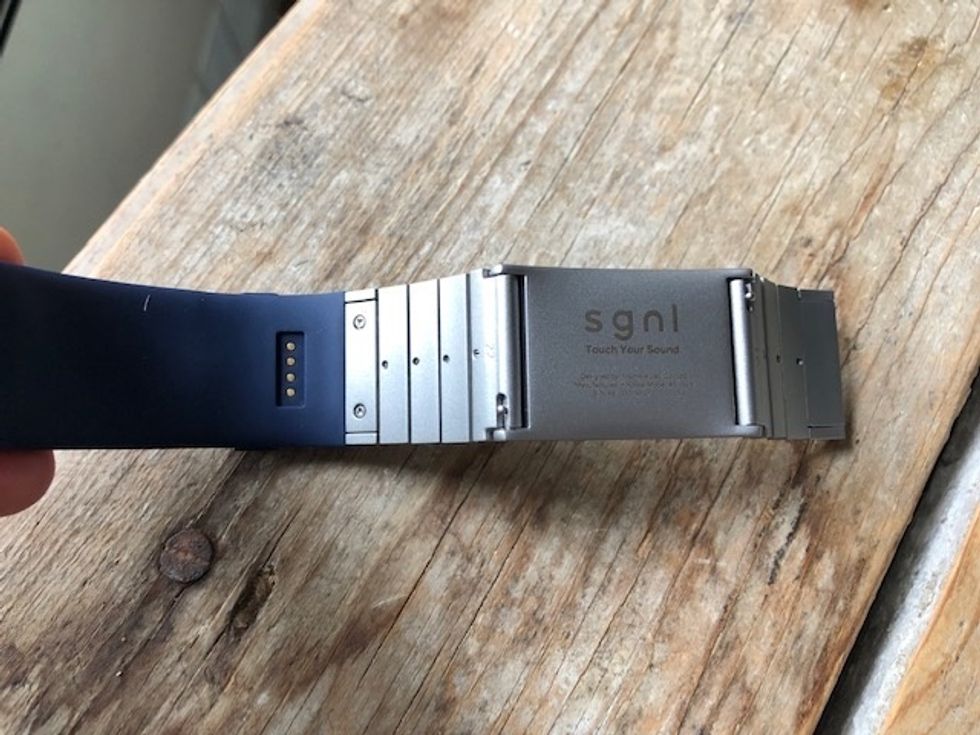 Sgnl is charged through the metal connectors on the inside of the bandGearBrain
Trying multiple times
Once Sgnl was powered, it was time to try answering calls. Unfortunately, I never got Sgnl to even stay on for more than a few seconds. In the manual that came in the box, Sgnl suggests if you're having trouble, that you should restart both the device and your smartphone. I did that to both devices On Sgnl, you hold the power and both volume buttons at the same time for seven seconds. I released them after seeing lights travel back and forth across the band. Still, calls would not come through.
Even though I was able to get Sgnl to eventually connect to Wi-Fi, I couldn't pick up, nor even get an alert, when a call was made to my iPhone. I tried calls placed just a few feet from me and Sgnl, and even those made from miles away. The call would connect to my smartphone, but Sgnl never gave any indication it could link to the call.
With a presumably dead, but fairly attractive, device, we decided, next, to make sure everything was working as it should on the app. We asked to Dark Cubed if they would do us a favor and take a look. They kindly agreed.
Dark Cubed recently examined multiple smart home devices and their corresponding apps, to see what the smartphone programs were not only collecting — but where that data was going. Would they think Sgnl's app was behaving properly? We wanted to know.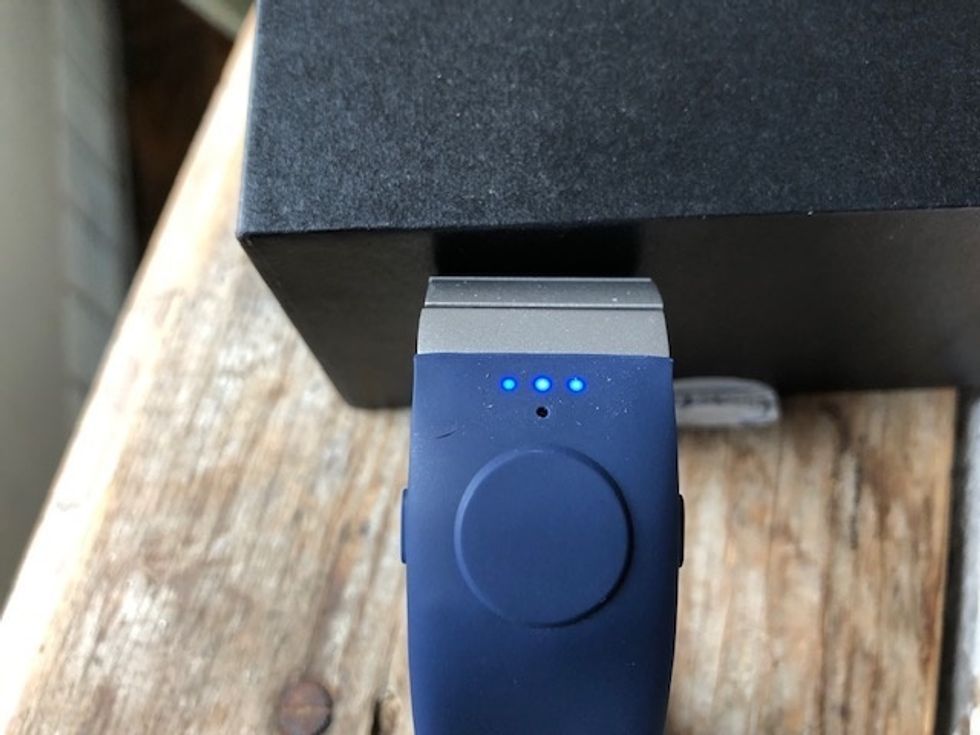 We could get Sgnl to turn on, and lights to appear, but could never get calls to come throughGearBrain
App teardown
To start, Dark Cubed's Crisler found the app to be overall, fairly small. On my iPhone X, Sgnl used 21.5 MB of storage, as compared to the Watch app, which takes up 60.8 MB, and ride-sharing app Lyft, which eats 106.4 MB on my smartphone.
Next, Crisler found the app passed his check in terms of which servers it communicated with, which included — appropriately — AWS, while not connecting to those it shouldn't. In other words, the app didn't seem to be haing what he called "strange communications coming from it," he told GearBrain.
Crisler did note that he found that the permissions — what the app has access to on your phone — were pretty broad. He also found unencrypted data being stored from the app on the phone — so any information collected wasn't secure. That was, to him, a vulnerability but not one he considered "critical," he said.
Ultimately, Crisler wasn't particularly worried by the app, but wasn't a fan either.
"I would never use it," he said. "There is no functionality and it's tracking a lot."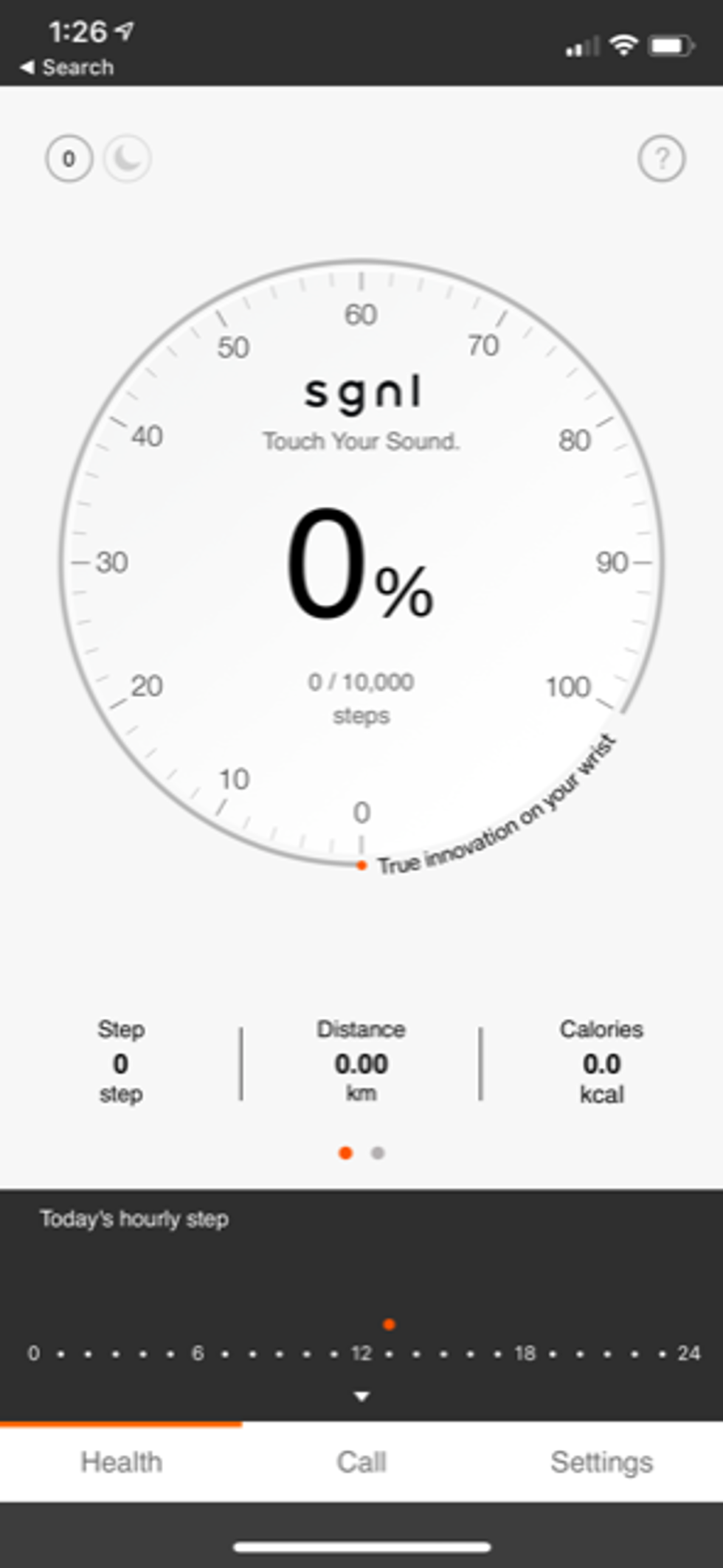 The Sgnl app also doubles as a fitness tracker, recording steps and calories if you have it open as you moveGearBrain
Bottom line
You can't buy Sgnl, and only those who backed a Kickstarter or Indiegogo campaign can get one, many apparently still waiting. You're not going to find Sgnl in a store, and even Sgnl's web site doesn't offer a purchasing option.
We think of Sgnl as a symbol of what investors on crowdsourcing sites should consider when they hand over their money and make a pledge. Sometimes you end up with an Oculus Rift, and sometimes you end up with Sgnl — a very rugged, metallic gadget that flashes you a few times, and then calls it quits. I, for one, have already deleted the app.
Pros:
Device has a nice weight to it
Charges relatively quickly
Easy to take links apart and add to a smartwatch
Cons:
Sgnl didn't pick up calls
The app requires access to photos and contacts but doesn't appear to need them
Data stored on the app is not secure
Mobvoi TicWatch S2 and E2 review www.youtube.com