Like GearBrain on Facebook
Skullcandy, which broke into the audio scene 15 years ago, is launching two new headphones today: the $180 Venue and the $300 Crusher 360.
Venue is a wireless headphone that includes active noise cancelling (ANC) technology, a way to create a more immersive environment while their worn. The headphones are not only designed for listening to music, but work with smartphones too through a Bluetooth connection. People can pick up calls, hold conversations and engage with voice assistants on your phone including Siri and Cortana.
For anyone concerned about losing these headphones, they're also embedded with Tile, the tech that tracks and locates items via a Bluetooth connection. We couldn't activate this during our tests, but Skullcandy says the feature goes live when the headphones are available for purchase.
You can also connect the headphones via an included audio cable. There's also a fast charger which loads up to five hours of battery life in just 10 minutes — although the headphones, fully charged, should work for 24 hours.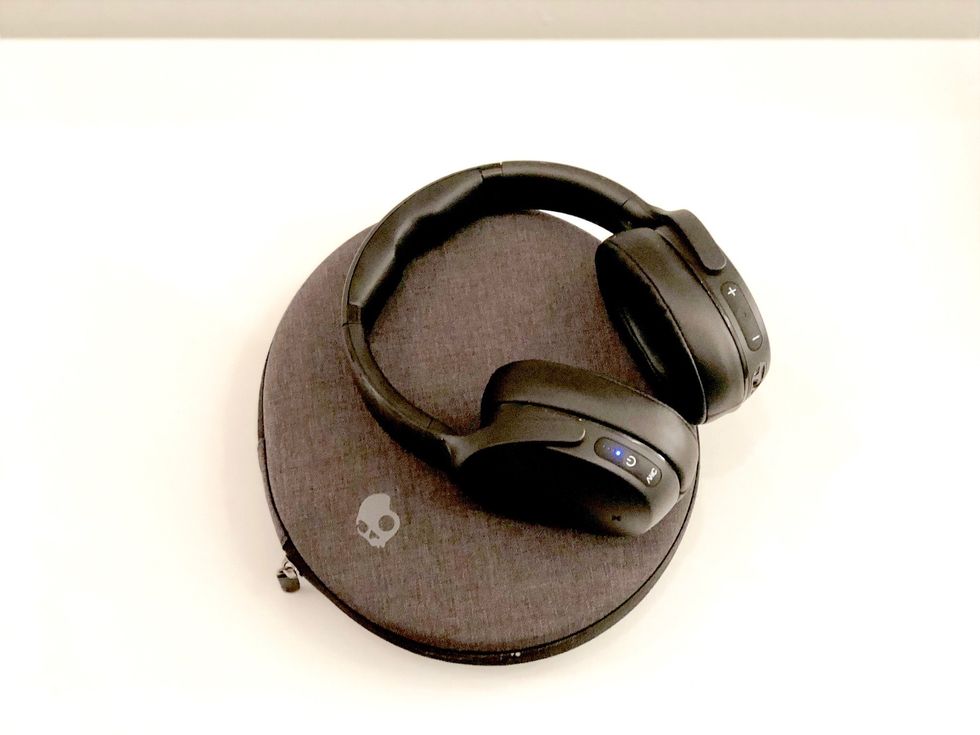 Skullcandy Venue are wireless headphones that can tap into smart assistants on your phoneGearBrain
Venue's sound
Venue's sound is very clear. There is some sound bleed when ANC is activated — you can hear what someone's listening to through Venue if you're sitting close to them. Still, we found the noise-cancelling far better with Venue than with Beats Solo.
There's a button, below the one to turn on Venue's power that activates ANC, on one side of the headphones. Sitting next to a TV with news on, loudly, we heard only our playlist through our ears. Volume buttons raise and lower the sound on the other side of the headphones, and these can also fast forward tracks and goes back depending on how long you hold them down.
We had a hard time telling from our fingers where these specific buttons were, and differentiating them from each other. That took a little time, and we often had to take the headphones off to double check we were clicking in the right place.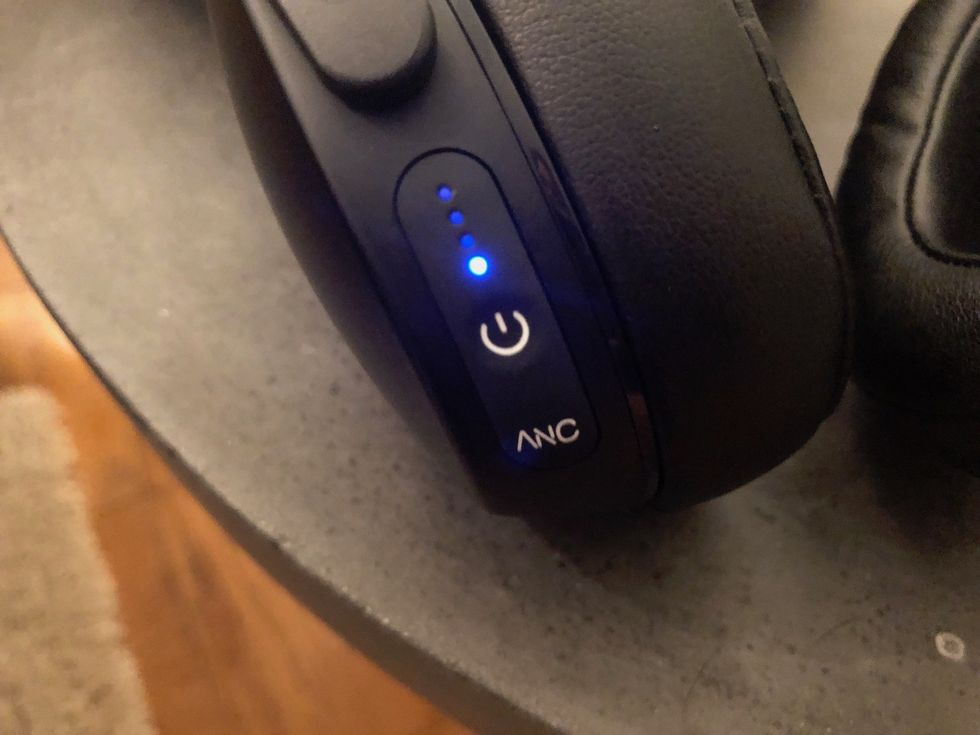 Venue you visual signs of how much battery is left in the headphonesGearBrain
Pairing
Pairing Venue to our iPhone X took a little experimenting. You hold down the power button, then click on a small depression between the volume buttons while you're in your smartphone settings. Select Venue, and you're good to go.
That notch between the Volume buttons also stops and plays music — and is the button you push if you want to answer a call. Want to get a hold of your voice assistant? You press this twice. With my iPhone X, this worked pretty well. The iPhone had to be unlocked, and I needed to have 'Hey Siri' activated, but I got the feature to work immediately. Then, when I wanted "Sisters Are Doin' It for Themselves" back on — I just clicked the small notch and I was back in business.
Crusher 360
We didn't get a chance to test the new Crusher 360 headphones, but these are meant to deliver a serious music experience, one Skullcandy said you're meant to actually feel. There's 30 hours of battery life, Bluetooth, and a "broadened haptic bass response," said the company.
Venue available for pre-order today on Skullcandy's web site in two colors, white and black. Crusher 360, which will come in a black/tan combo and another that's all black, won't be ready for pre-order until Sept. 5th, with sales opening at select retailers on Sept. 20th.
Pros:
Great noise-cancelling headphones
Can access voice assistants
Wireless
Cons:
Hard to discern buttons for power and volume
Few color options
Sound bleed: someone can hear what you're listening to when noise-cancelling is activated
From Your Site Articles
Related Articles Around the Web
Like GearBrain on Facebook