SmartLab Toys is a name known among the science toy world, with ready-made kits that are designed to seed a bit of science, technology, engineering and mathematics, the STEM subjects, into playtime. One of its newer kits, the Outdoor Science Lab, comes right in the middle of a global pandemic when children are attending school from home, on virtual screens, and hands-on learning opportunities are far and few.
The toy was a favorite of ours from Toy Fair 2020, and we recently got a chance to play a bit with the new kit (one of the favorite parts of our job, we must admit.) Here's our thoughts on whether this meets the goals of a toy that's fun — and educational.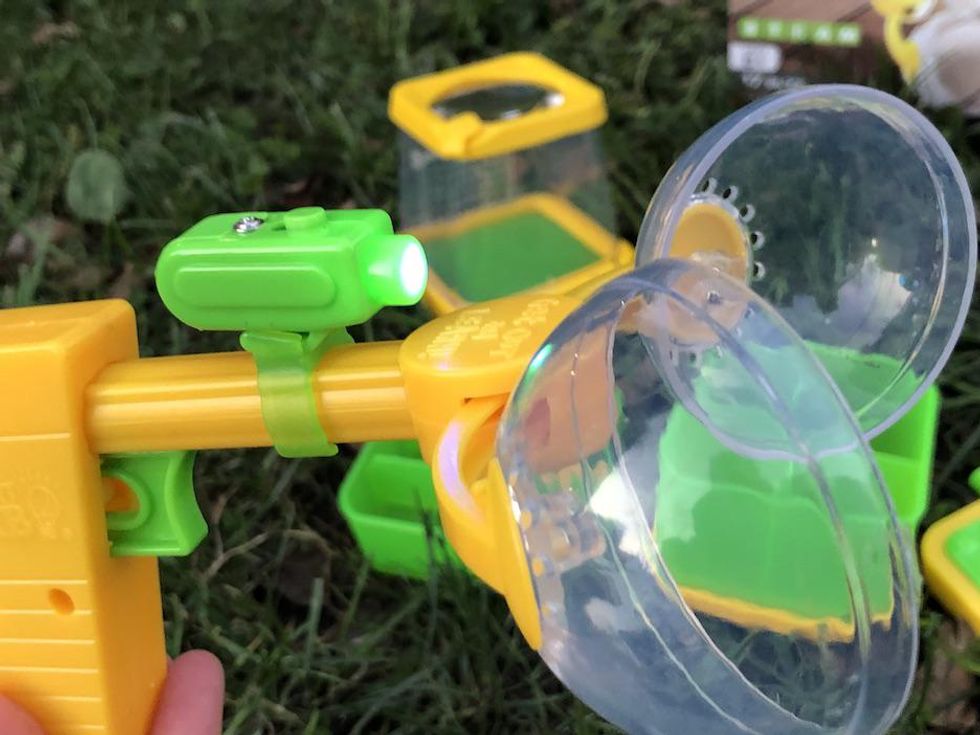 An insect grabber lets you pick up various bugs — without needing to touch themGearBrain
What's inside?

Inside the cardboard box are several devices including a bug catcher, (which looks like a two-sided ladle), a UV night scope, a couple of bins to hold what you've collected, a scope viewer with a lens, a magnifying lens to clip to a smartphone, and more. The pieces, and how they work, are kind of intuitive, and frankly children are much more confident at figuring out how to use something than adults — and much less fearful of breaking things.
You also get a plastic beaker and 10 pH test strips, along with a 31-page activity kit that offers up very detailed, and simple experiments children can do likely on their own, with some things from home like a used soda bottle, cardboard and masking tape. These experiments are not just fun, they link to science terms from stomata, the holes that allow a leg to breathe, to fluorescence, which some insects emit and can be seen under UV light.
Some of the best parts of the Outdoor Science Lab are actually the well-designed graphics and posters that are included, along with the activity book. These are rich resources that go through all aspects of trees from leaves to the fruit, as well as life cycles of insects and easy ways to type them, including anatomy details that highlight areas like the exoskeleton and even where to find the thorax on a potato beetle.
So often with outdoor kits, children are supplied with the fun elements to spy and even collect the plants and insects they may spy outside. But to have these foldable pieces in hand, to explain what you're seeing in the moment, and be heavy enough and coated to withstand a bit of dirt, really elevates this kit.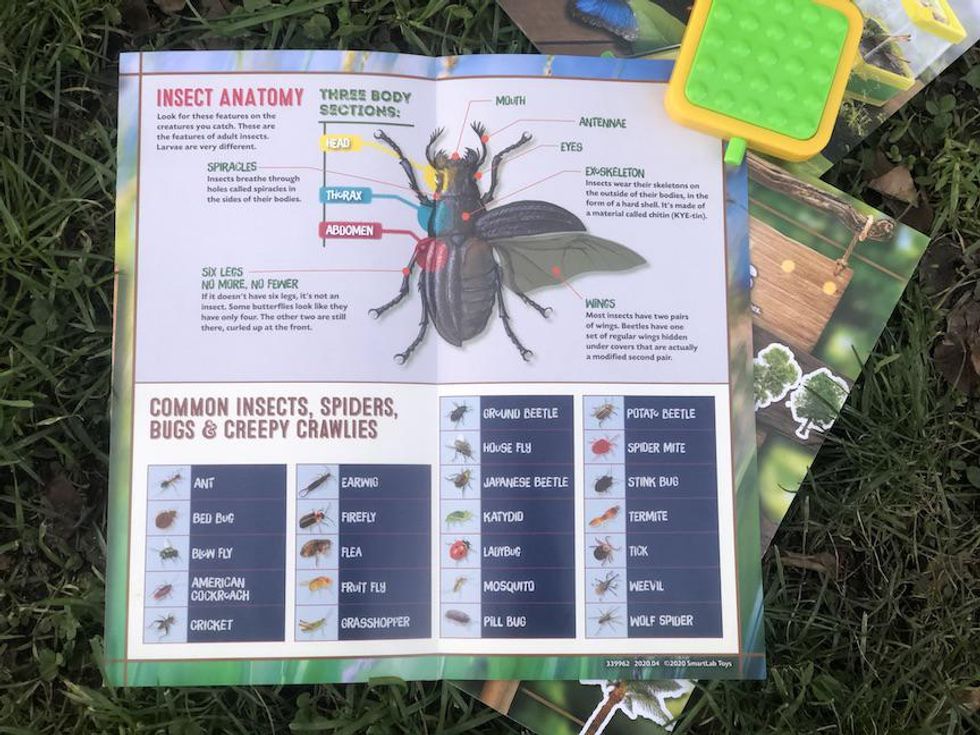 Excellent, well-designed posters are enclosed with the kit as wellGearBrain
There is a lot of plastic, it's hard not to use this material when making affordable toys for children. But props go to SmartLab Toys for packing them in recyclable cardboard and using cellophane tape — and not those horrible plastic tabs — to hold these in place. Less frustration for all to get the pieces out, and less waste.

How did they play?
I found the pieces very easy to use — including the smartphone magnifying lens which clipped more simply to my device than other lenses I've bought and played with over the years. Magnifying lenses are one of the more fun things to play with outside — who doesn't love to see things super close up — and that was an excellent add all on its own. You can shoot a photo with this lens attached, and then go back to re-examine what you captured in your image later.
I'm not great at picking up bugs, and I'm really not in love with getting them close to my face, and I greatly — greatly — appreciated that I could just pull the bottom out of the main holder and just pop that on top of an insect and view it from there. To be honest, it's cold here in New York already and I truthfully did not find many insects to spy outside during the day, nor the night when I went outside. Warmer months would have lent themselves to fireflies (one of my favorites) or even ants and earthworms.
I do think the insect catcher would also have been a bit clumsy at capturing a moth or butterfly, or at least I would have been nervous using them without harming their sensitive wings. But the scope viewer is perfect for dropping onto something slow moving like a pillbug or snail.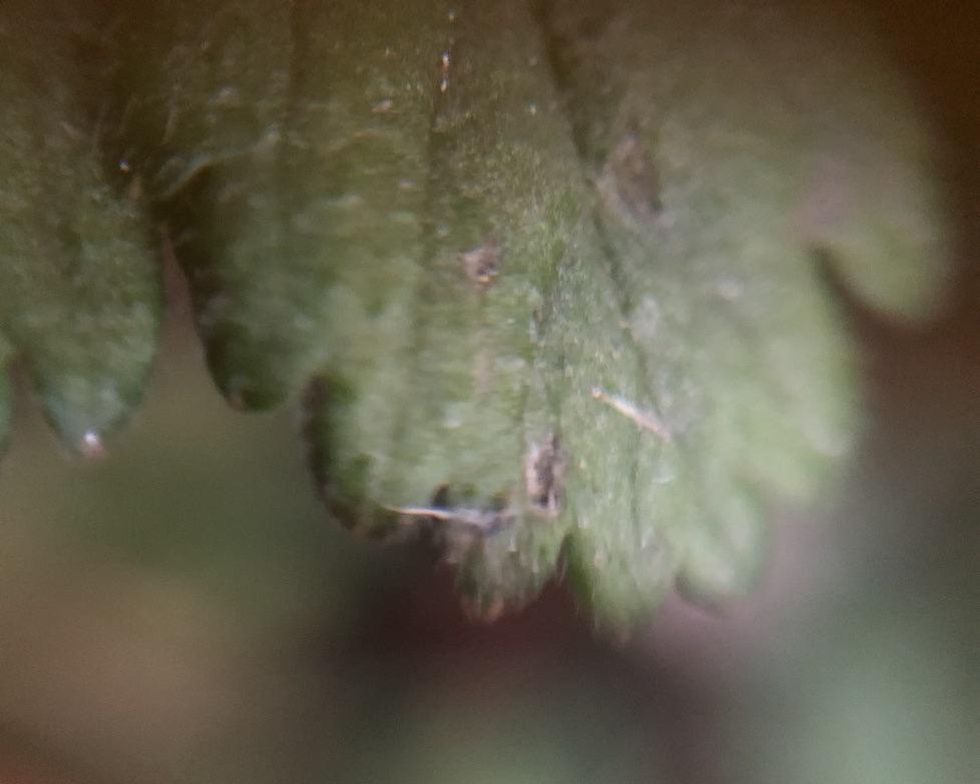 You can use a lens, attached to a smartphone, to get close-up images of your findings.GearBrain
The ultraviolet (UV) light was a nice touch, and while not supremely strong, was certainly effective. Perhaps I didn't find enough options outside to see what could be picked up under UV light, but the light worked well enough that others should find it works if creatures or rocks that give off fluorescent light are nearby.

Price
You can pick up the Outdoor Science Lab for $39.99 online.
Worth buying?
With a majority of students now learning, in some capacity, online getting them engaged in hands-on projects that take them outside and off a screen is a bonus. There are a lot of science kits that offer children a way to play outside and discover the world around them. Often missing, though, are activities that not only dovetail with these toys, but even give them a bit of academic nuggets to go along with their play.
The SmartLabs Toy Outdoor Science Lab is a fantastic mix of all of these elements, in a fairly priced toy. Not every child is going to want to dig outside, check out spiders and take the pH levels of soil in their backyard. But I'd bet that every child would love exploring their backyard or local park with something in this kit — whether that's learning that a walnut is actually the fruit of a tree, or discover the delightful colors of a seemingly plain rock under UV light.
Pros:
Clip on magnifying lens
Extremely well-designed project book and posters
Well-packaged with items easy to use
Cons:
UV light not very strong
Hard to imagine using insect catcher to collect moth or butterflies carefully
You get just 10 pH test slips, without a way to buy additional ones when they run out
SmartLab Toys Outdoor Science Lab Bugs, Dirt, & Plants