Like GearBrain on Facebook
Millennials are, in surprisingly large numbers, checking their smartphones while in the shower, using the toilet, and even during sex.
In fact, a new survey of just over 1,100 US adults found that 85 percent of people aged between 18 and 34 check their smartphone while using the toilet or a urinal, 43 percent look at their phone while in the shower, and 17 percent even reach for their smartphone during sex.
Such behavior is far more common among this younger category of smartphone user than those aged 35 to 51 and 52 to 70, according to the survey, conducted by SureCall, a company which produces devices to boost cell phone reception.
Although millennials were more likely to check their phone in the bathroom or while having sex, the behavior is not unique to younger people. The survey found that 78 percent of those aged 35 to 51 check their phone on the toilet, as do 53 percent of people aged 52 to 70.
Almost a quarter (24 percent) of adults aged 35 to 51 look at their smartphone in the shower, compared to just seven percent of those aged 52 to 70. Finally, nine percent of respondents aged between 35 and 51 admitted to checking their phone during sex.
Including all three age categories, the survey found that 69 percent of US adults check their phone while using a toilet or urinal, with 59 percent of these people doing so on a daily basis.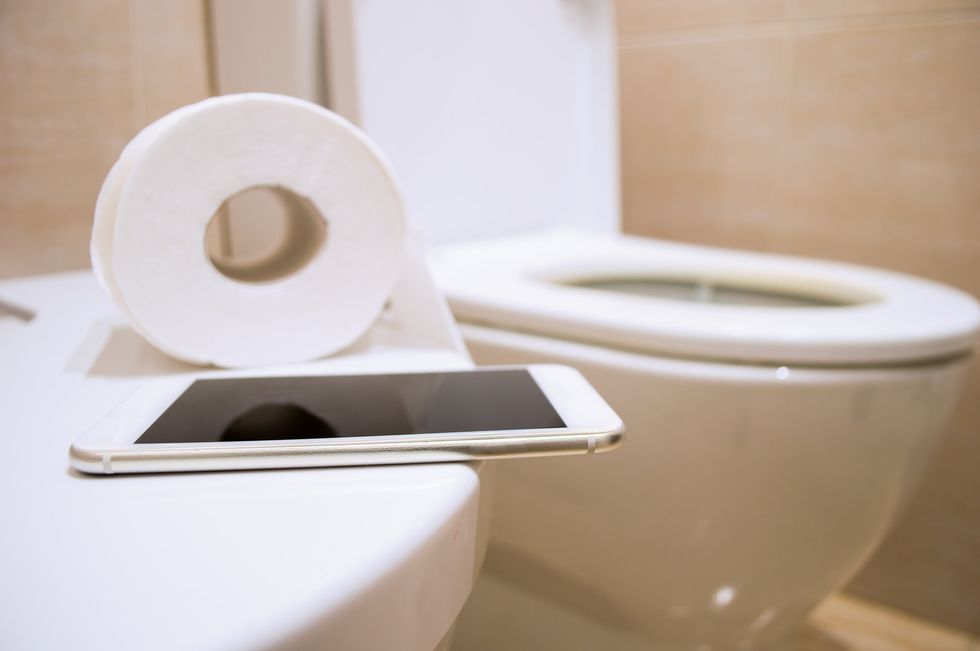 In total, 69% said they check their phone on the toiletiStock
Of the 1,137 people questioned, over a quarter (27 percent) admitted to feeling some level of fear or anxiety when left without their phone. However, this rises to 30 percent when they have their phone with them, but the device has no cell service.
Almost three-quarters said they sleep with their smartphone either on or next to their bed at night. Those who sleep with their phone nearby were twice as likely to admit they feel fear or anxiety when away from the device. Alarmingly, these people are also twice as likely to say they are "somewhat dissatisfied with their lives," the survey claimed.
A fifth of respondents (19 percent) said the habit of regularly checking their phone affected relationships with their family, while nine percent said doing so had an effect on relations with work colleagues.
Over a third (35 percent) said they believed that looking at their phone before bed affects their quality of sleep, with almost half claiming they wake up two to three times during the night.
Also interesting is the lack of awareness of 5G, the next generation of mobile internet which will be launched over the coming years, offering far greater browsing and download speeds than current 4G technology.
The survey found that 44 percent of American adults have not heard of 5G, while just over half (55 percent) of those who have said they most associate the technology with faster speeds.
Like GearBrain on Facebook