Like GearBrain on Facebook
Networked speaker company Sonos has announced that its devices now work with the smart home automation platform IFTTT (If This, Then That).
What this means, is that your Sonos speakers can be included in IFTTT recipes as the 'That' part, meaning their music playing can be controlled by a huge range of smart home devices from other manufacturers.
Read More:
This is a good move from Sonos, which is positioning itself as a platform-agnostic smart home company willing to work with every ecosystem in the home. Some of its newer speakers currently work with Amazon Alexa, with Google Assistant coming before the end of the year. All of its Wi-Fi connected speakers work with dozens of music streaming services. (You can check out The GearBrain, our smart home compatibility checker to see the other compatible products that work with Amazon Alexa and Google Assistant devices.)

With IFTTT, your Sonos speakers can automatically switch on and off when you return home or leave (based on the location of your phone). Even more usefully, your speakers can lower their volume when you answer a phone call, or when a visitor presses your Ring doorbell.
Here are some of the IFTTT applet recipes created by Sonos to get you started.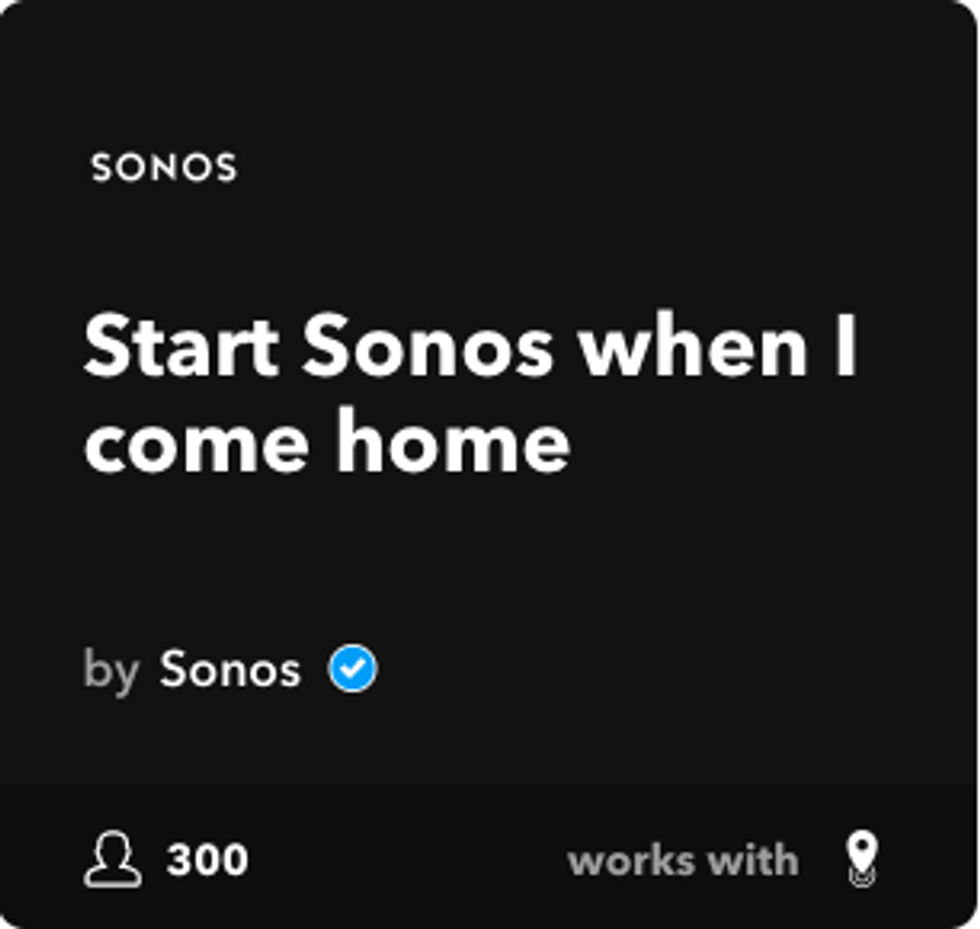 IFTTT
Plays a specific playlist with your Sonos speaker or speakers when you walk through your front door, based on your smartphone's location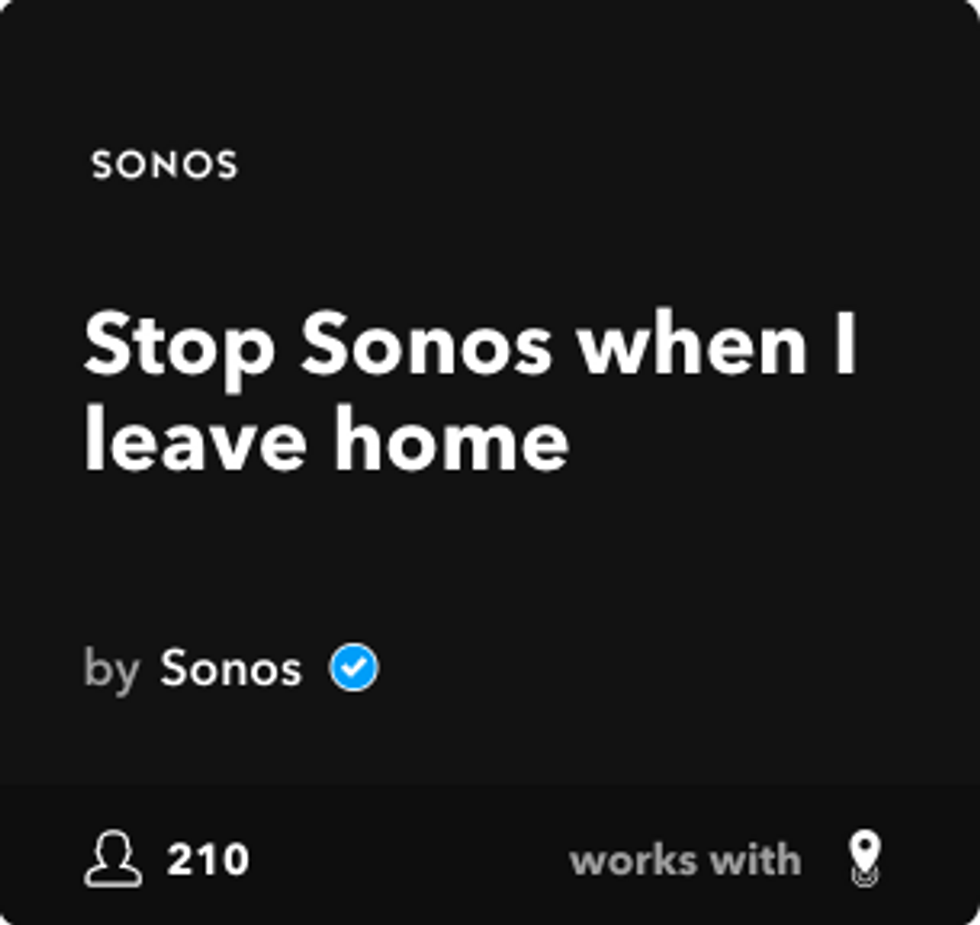 IFTTT
Stops music playing through your Sonos speakers when you leave home, based on your smartphone's location
Pause audio when I answer a phone call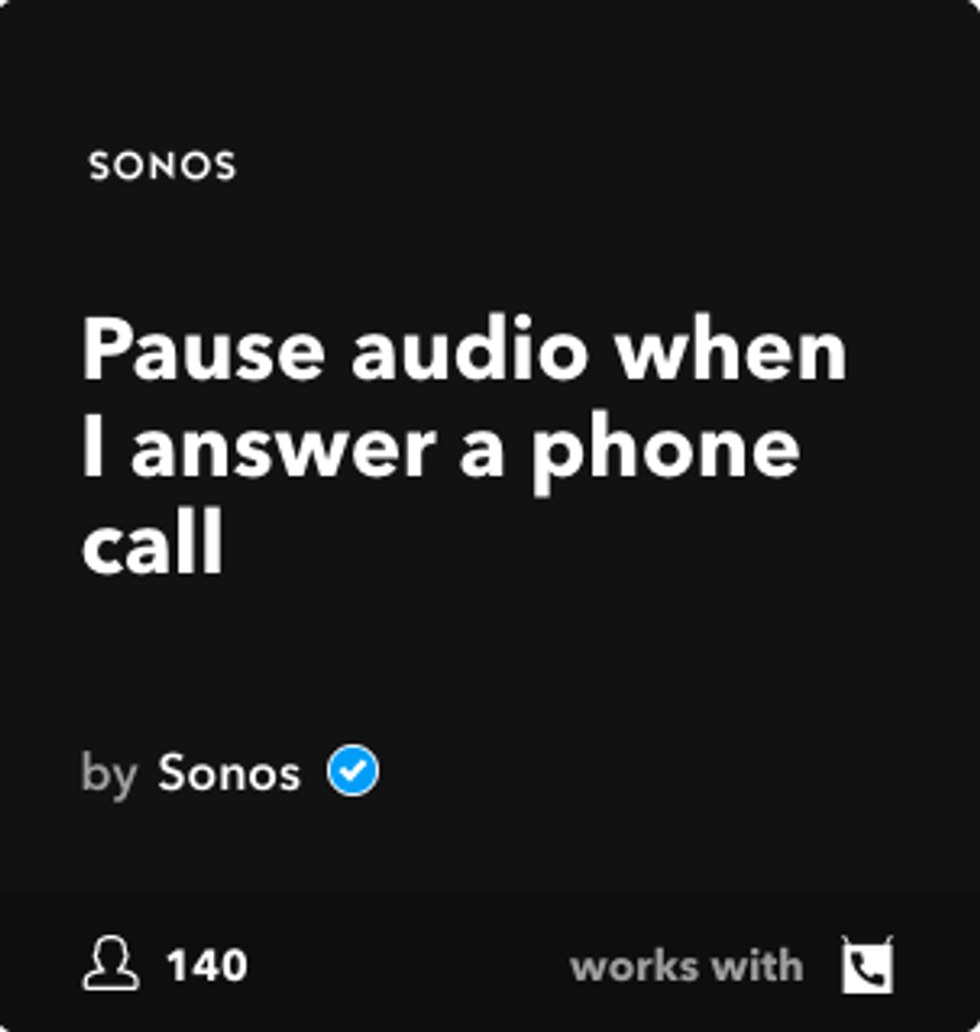 IFTTT
Exclusive to Android users, this pauses all your Sonos speakers when you answer a phone call - so you can hear the caller, and don't miss any of your podcast or audiobook
Stop all music in case of a Nest Protect smoke alarm emergency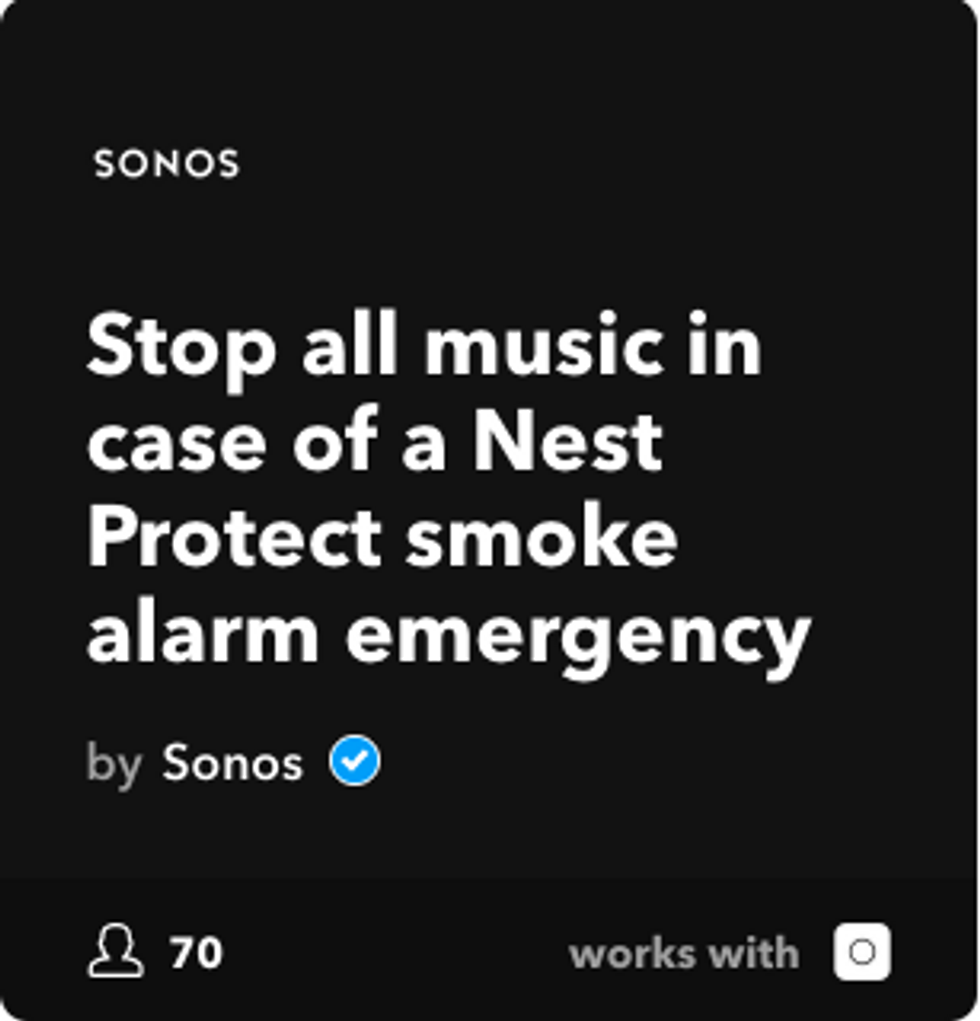 IFTTT
This applet pauses music when your Nest smoke alarm detects an emergency, so you can hear the alarm more clearly
Turn the music down when someone rings by Ring doorbell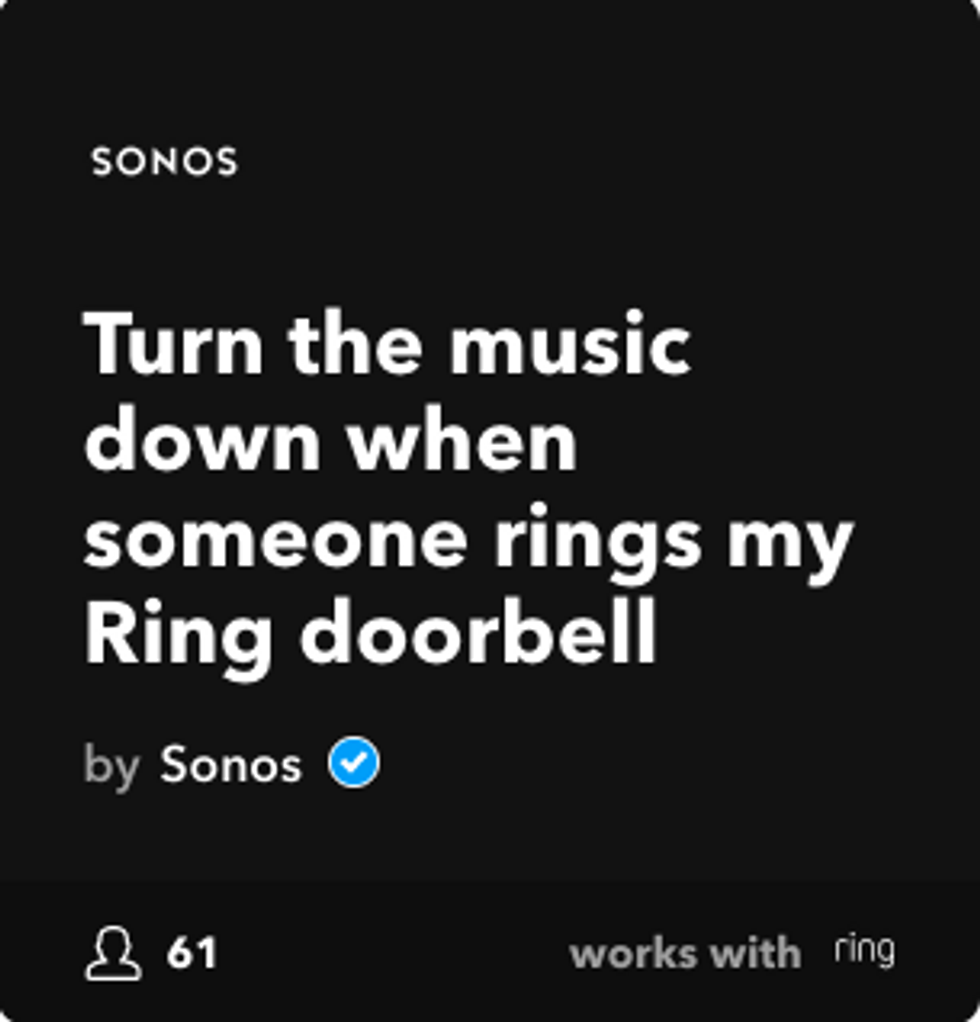 IFTTT
Self explanatory, this one. The applet turns your music down when someone rings the doorbell - useful if you're having a party and would otherwise have not heard the bell

Stop my music when Uber arrives at my house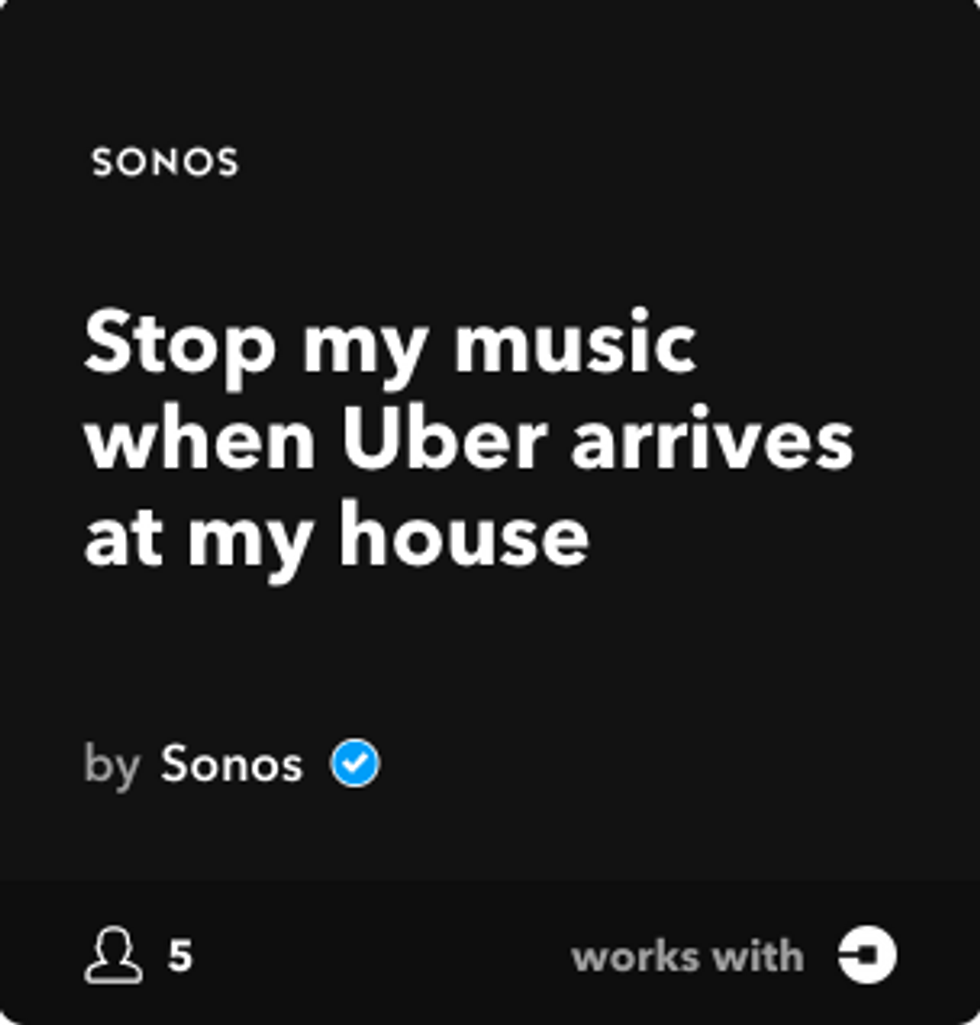 IFTTT
Saving you from switching the music off yourself before heading out, this applet keeps track of your Uber rides and stops Sonos music when the car arrives
Of course, the possibilities here extend much further than these few applets. Your Sonos speakers can be hooked up to smart lights like Philips Hue, for example. Or, as Sonos suggests, you can have speakers play a special sing when your Domino's order is on its way.
Like GearBrain on Facebook