Like GearBrain on Facebook
Who hasn't played a round of air guitar, or tapped a drum beat while walking down the street. While you can hear the music in your head, it's never going anywhere else. Sphero Specdrums promises to change that — a kit that turns that your smartphone into a full recording studio. You're likely not going to produce a chart hit on the walk home from the office — but you can record and share your musical tune. Anyone with a child in their lives — a parent, family member or teacher — may want to see how to put these rings in actions.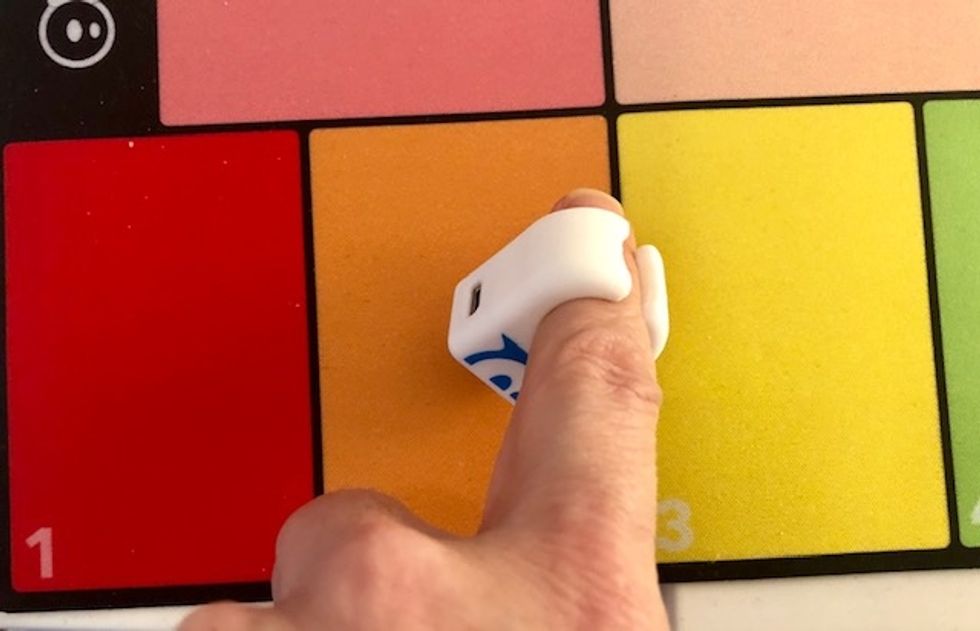 Tapping the Sphero Specdrums ring on a color plays a soundGearBrain
Specdrums: What is it?
Sphero launched Specdrums in 2019, a ring you wear on your finger. When linked through the Mix app, you can turn colors into musical notes. The rings read colors through a light on the top, and once you hit the ring against an object, it plays a note or a series of sounds.
Libraries inside the app let you select different kinds of sounds you want to make and there is a huge menu of instruments, and with a range far wider that just a piano or a guitar. There's bass, electro dance, a cappella, cinematic sounds and a host of others. You can also assign your own sounds to each color, creating a custom library.
The keyboard included in the kit is broken into four blocks at the top — these are loops that change depending on the library of sound you pick. Then there are eight keys at the bottom, the single notes you can add to your loop and build into a song. Tapping colors plays sounds through a device with the app open, or in your ear if you're wearing headphones.
Recordings are easy in the app — there's a big button that says "Record." You'll notice the app starts to flash red over the screen while it's in recording mode. You can play it back, delete or save the track. Saving it keeps the track in your "My Song" section of the app. Moving those tracks are fairly simple too, you can share them as an m4a track, and then bring those into Garage Band or a Bluetooth MIDI application.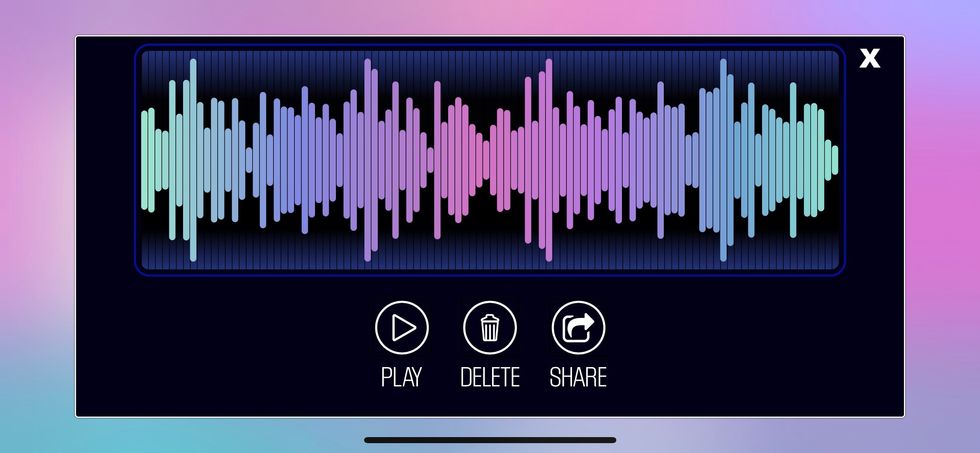 You can make music, and record what you play into the Sphero Mix appGearBrain
Specdrums: How it Connects
Specdrums connect through Bluetooth to the app on your smartphone. You do need to have the app open on your smartphone to work, but you don't have to be standing directly next to your phone. I found that even after walking 10 feet away, the rings worked well. On the street, things worked just as well. I played walking to subway, I played on the subway platform and even on the train itself.
Specdrums: Installing
You get started just by powering the batteries inside each of the rings through a USB cord, which is included in the box, along with a rollable mat with colors arranged like a keyboard. You also have a ring — or two if you buy the expanded kit — and a carrying case. A charger is not inside. It took a few hours to charge the rings. You'll also need to download the app to your smartphone.
In the app, you'll need to connect the rings so that they can start playing. Keep the rings close to your device, make sure they're charged, and then just click connect. If the app can't find the ring, it may need to be charged again. You should expect about two hours of continuous use on a full charge.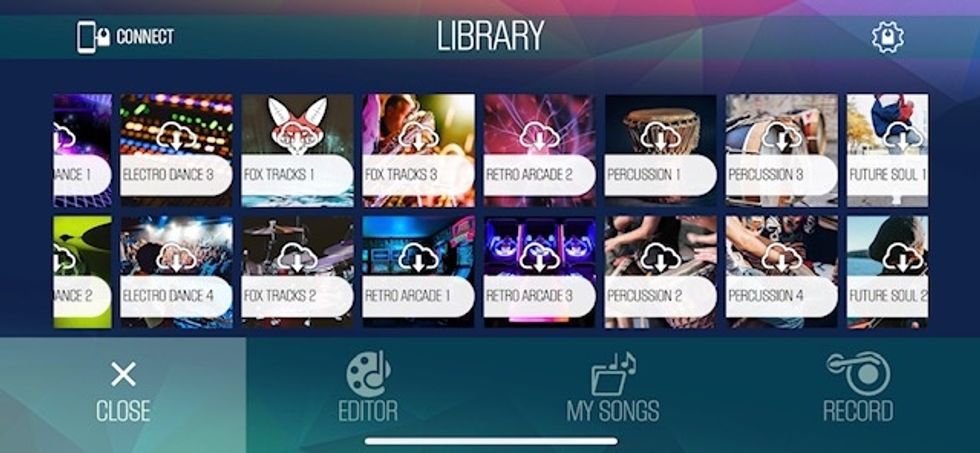 You can pick audio tracks from a library in the Sphero Mix app to change the sounds played when you tap a colorGearBrain
Specdrums: Making music
You do have to tap the rings fairly hard against a surface to get it to connect. Touching the ring to something just won't work. When you're at home, at the office or in a classroom that's not an issue — you likely have a desk, table or even the wall to knock against. (I found subway seats also very accommodating.) But tapping your sleeve, and certainly the air, is not going to produce any sound. Yes, that means air guitar isn't going to happen.
Still, there's no denying how much fun I had using the Specdrums rings. Sliding the rings on my finger, I launched the Mix app, selected hip hop, and immediately began building loops and tracks. I am not a musician, despite 10 years of piano lessons. Still, I loved the creative play of tapping my fingers and making songs I could even record. There's something also very forgiving about Specdrums in that the pre-selected notes, cords and loops almost guarantee you're going to get something musical for your effort. In that way, it's a great toy for children — the reward is there.

Sphero is known for its pull-back-the-covers kind of toys, such as Bolt, typically building robots that give children some control over making them work. While app-controlled devices and toys are easy to find, Sphero lets children — of all ages — create new actions by writing code typically JavaScript.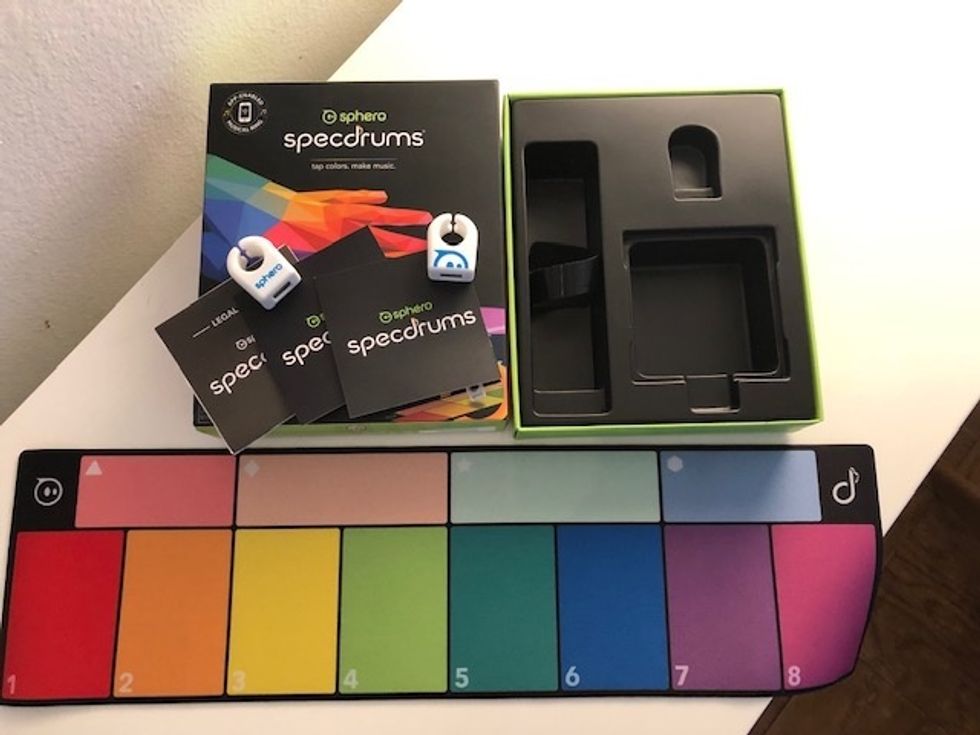 Inside the Sphero Specdrums kit you'll get a USB charge cord, a keyboard mat, and one or two ringsGearBrain
You're not writing JavaScript lines of code with Specdrums. Instead, this taps into a different kind of creative play. Music is not built through a series of codified instructions, but through building layers of sound together. Again, not a musician here, but I found a sense of freedom in playing with the Spectrum rings — where I didn't have make something work. I just had to make something that sounded pleasing to me. It was the process here that was key — not an end result. I loved that.
Specdrums: Cost
You'll pay $64.99 for a kit with one ring, $99.99 for a kit with two rings.
Specdrums: Summary
Specdrums rings are small — something to note. Because they're a soft plastic, and open at the back, they'll expand to your fingers. But I am a fairly small person, and the rings were pretty tight on my index, or second, fingers. They may stretch more over time, but it's not a super comfortable fit for adults.
Because a device is needed to actually hear and make music, it's also not a toy that very young children will be able to play with without some supervision. But the app works as well on iPads and Google Pixel devices, although Specdrums has stated on its site that there is some latency with Android devices, so read through that if you're using that platform before you buy a ring. We tested our rings with an iPhone X, and had no issues in terms of latency.
Should you buy a kit with one ring or two? That depends. We had two in our kit and likely would have had as much fun with one. With two, we could have rocked out with a friend, which is always better.
Pros:
Let you create and record musical tracks
Design your own sounds
Can share songs with others
Cons:
Rings are small
Needs a device, a smartphone or tablet, to work
Editing music requires an external program
From Your Site Articles
Related Articles Around the Web
Like GearBrain on Facebook