Like GearBrain on Facebook
Students at George Mason University in Virginia will soon be able to have food and drink delivered to them by a fleet of autonomous delivery robots.
Built by Estonian startup Starship Technologies, the vehicles drive on the sidewalks and can operate in rain, snow and at night. Cameras help them navigate around pedestrians, climb curbs, and cross streets safely.
Read More:
When their batteries run low, the robots take themselves to pods located around campus. Here, the batteries are automatically swapped out so they can get back to work, with no human involvement.

Deliveries can be made anywhere on campus, Starship says, and all students need to do is open the company's smartphone app (for iOS and Android), pick the food they want, then drop a pin on a map to tell the robot where to go.
The robots can carry up to 20 pounds of goods and have a locking system which can only be opened by the student who placed the order. To stop anyone from interfering with the robot — and to keep an eye out for potential accidents — the vehicles are monitored in real time by Starship employees viewing their camera feeds.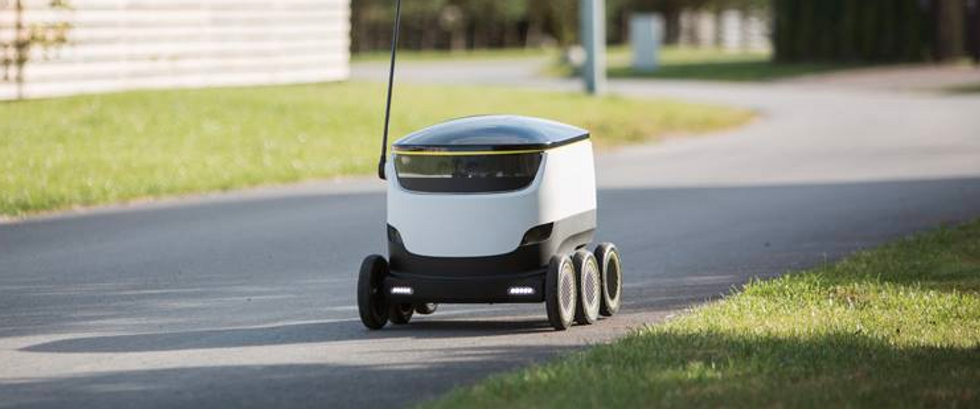 Starship Technologies
Partners at launch include Starbucks, Dunkin' and Blaze Pizza, with more to be added in the coming weeks. Delivery by autonomous robot adds an extra $1.99 to every order placed through the Starship Technologies app.

Starship says this 25-plus fleet is the largest deployment of delivery robots on any university campus, and is brought to the university's 40,000 students via a partnership with Sodexo, a provider of food and facilities management services.
Six of these robots were employed in April 2018 to offer autonomous food delivery inside the offices of Intuit, a Mountain View, CA based financial software company. Globally, Starship's robots have so far completed over 25,000 deliveries and travelled over 150,000 miles, the company said.

"We're excited that our students, faculty and staff get to be at the forefront of this pioneering campus food delivery service," said Mark Kraner, executive director for campus retail operations at George Mason University. "This will enhance life for everyone at the university."
Students said the robots will allow them to have food delivered to their table in the library, without having to leave for the canteen, and losing their seat while they line up for a meal.
From Your Site Articles
Related Articles Around the Web
Like GearBrain on Facebook