Like GearBrain on Facebook
Teens are all about what's trending and new. What you may think is the hottest thing in stores could be ice cold in their eyes depending if the mood strikes them. That's why we've taken advice from our "In The Sandbox" reviewers for the best in hi-tech gear for the holidays. If teens want it, you know what to stuff under their tree. Heck, you may even get a "thank you" outta them! 2016 is smarter than ever, so these gadgets and gizmos will be all the rage come holiday time. Teens may no longer believe Santa exists, but you may give them one last glimmer of hope once they unwrap one of these goodies!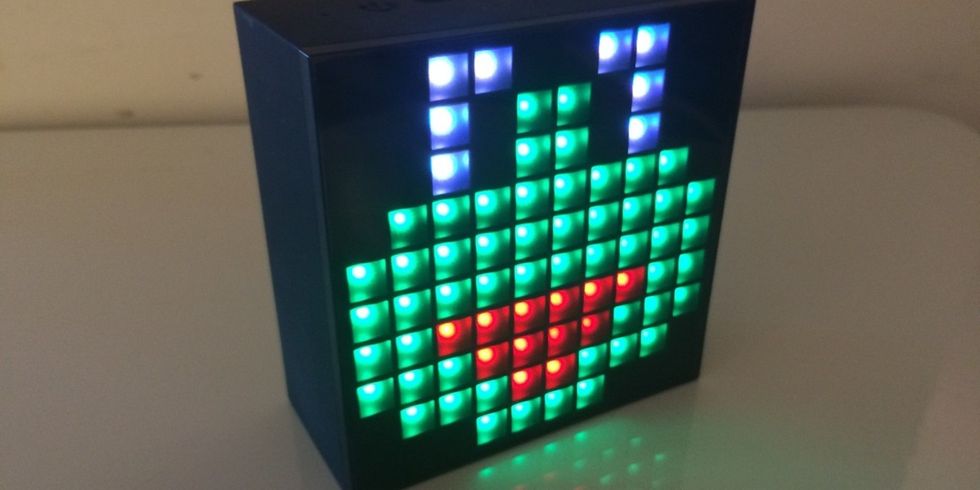 AuraBox
AuraBox
Any teen will be amazed by AuraBox. It's a smart music device that's also a Bluetooth speaker, a lamp, a digital palette, a thermometer, and an alarm clock. With so much hi-tech excitement packed into a small speaker, your teen will find endless enjoyment from one single gift. The lights will also groove with music being played like a modern-day disco ball. If the lights aren't cool enough for your teen, they can create their own animation on the pixelated panel. Along with those amazing functions, AuraBox also alerts teens of events and social media updates. And if they're up late night checking those, the smart alarm and temp sensor will help provide at least some decent rest. The control panel is easy to read and the light panel shines different colors with a "relaxing halo" effect that can be altered via smartphone or tablet. Compatible with iOS and Android devices, and at just under $40, this gift is a must-have for teens. See our "In the Sandbox" review, written by GearBrain's teen reviewers.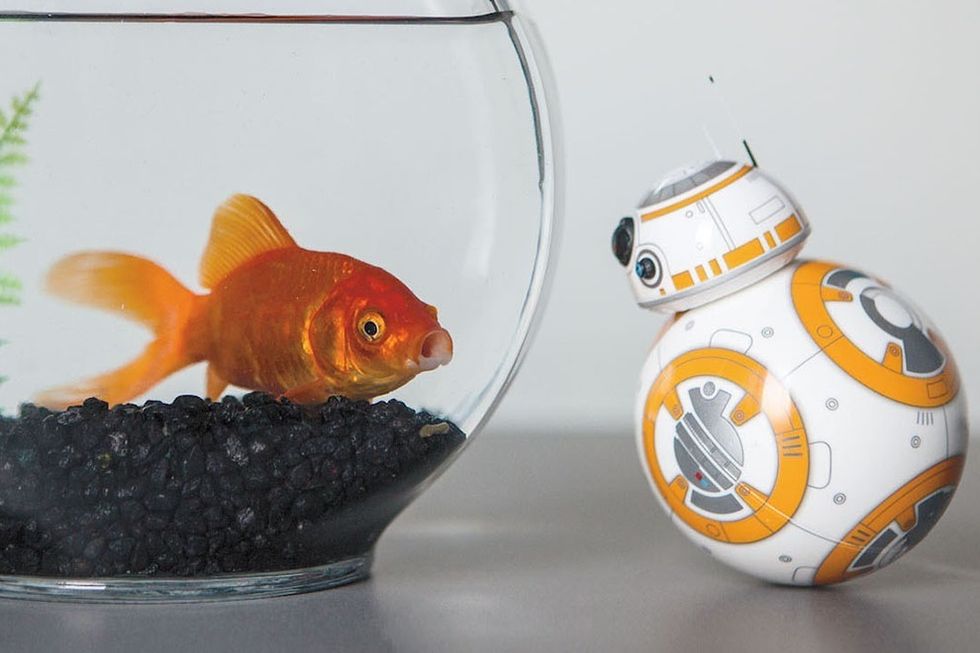 Sphero Star Wars BB-8 App-Enabled Droid
Sphero Star Wars BB-8 App-Enabled Droid
Teens love the slickest gadgets, and Sphero, the world's first app-enabled robotic ball, is not to be missed. The ball works with a smartphone or tablet (iOS, Android, Windows) and pairs via Bluetooth connection. It rolls swiftly at speeds up to 4.5mph and has a range of up to 100ft. The $129.99 toy is waterproof and durable in case Sphero rolls off into unchartered territory, and teens can learn programming basics, like coding, making the ball do tricks and follow courses. . Timed for the Star Wars movie, The Force Awakens, Sphero launched the Sphero Star Wars BB-8 App-Enabled Droid ($149.99), which GearBrain recently reviewed, as well as the Star Wars Force Band, ($79.99) previewed this year at the New York Toy Fair, and allows you to control your BB-8 with a move of your hand or, well, The Force.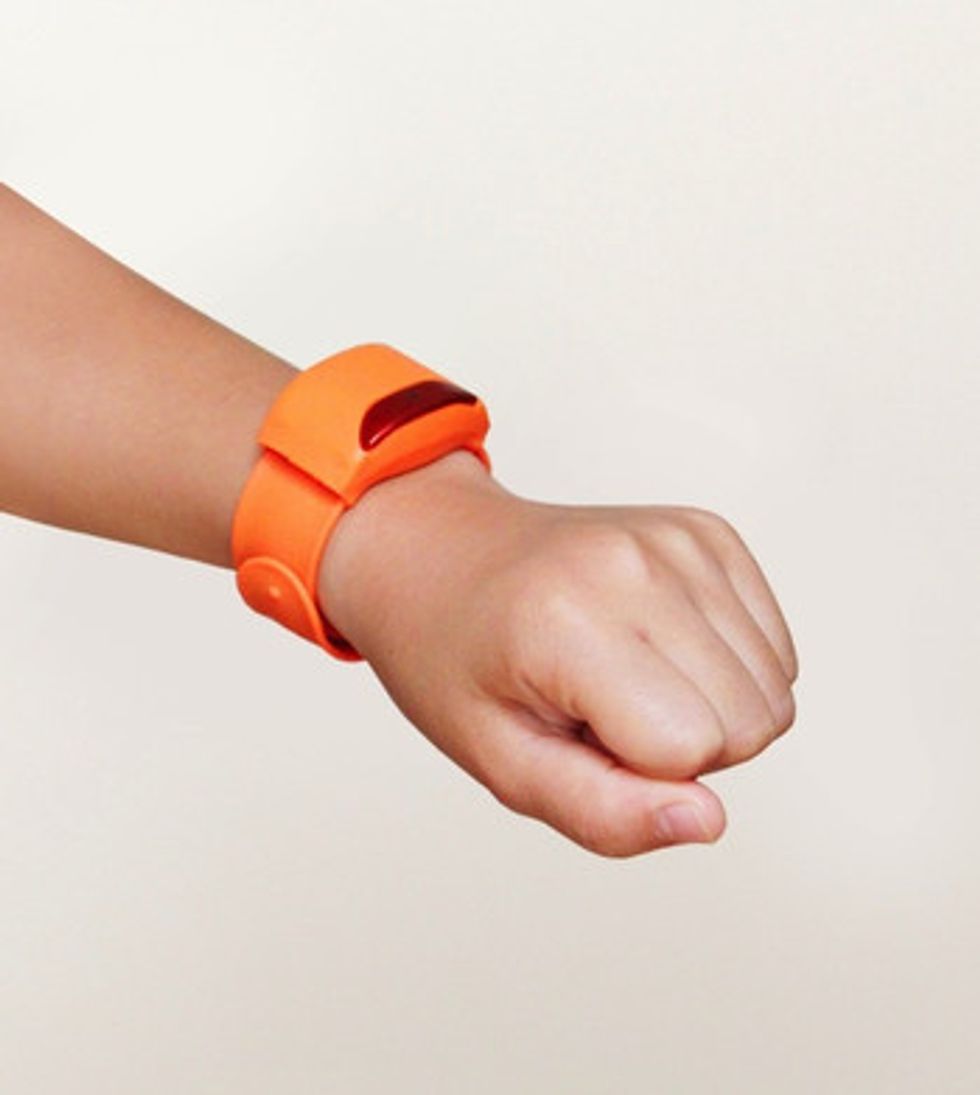 Moff Band
One of the "In The Sandbox" series reviewers tried Moff Band, and overall, gave it a "cool" review. Your teen is sure to dig it too. It looks like a simple wrist cuff, but the modern elements make it so much more than those "slap bracelets" of decades ago. Today's teen will love this smart, slap-on, colorful wristband which turns movement and touch into a connected game, getting the kids off the couch and more active. Yes, this can be done! Kids can play "air guitar" with arm movements, swing a "baseball bat," and use their imagination to play virtual games via the Moff Band in a modern and smart new way by connecting to the product's apps. Moff Band works with iOS and Android devices and connects via Bluetooth. The apps reward teens the more they play, so the games can become addictive. The product's less than $55, making it a reasonably priced holiday gift choice. Moff Band is even great for younger kids, as 5 and up is recommended by the manufacturer.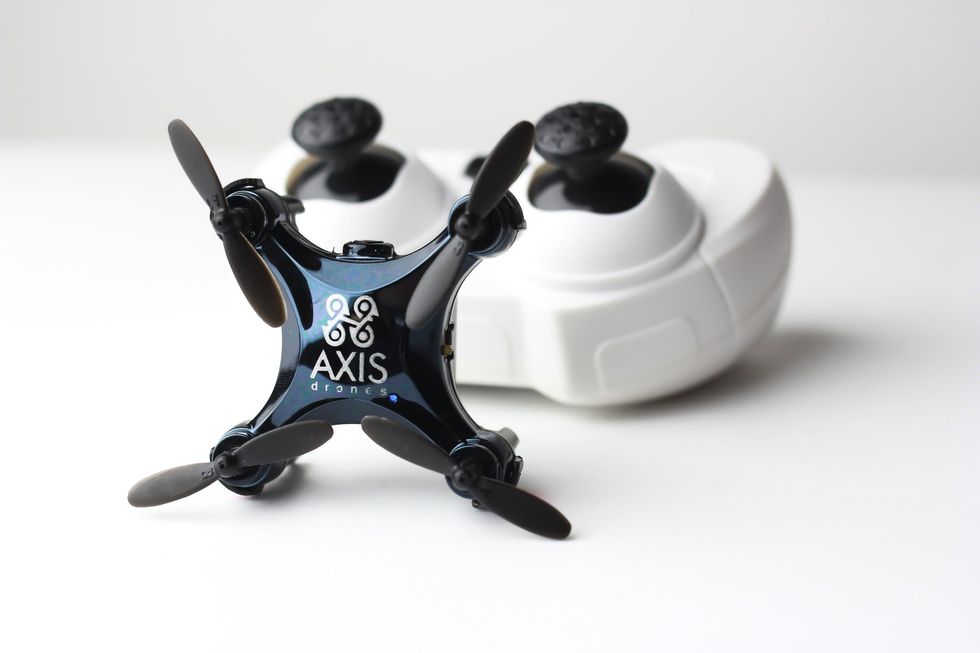 Aerix Vidius FPV Drone
Aerix Vidius FPV Drone
Drones are all the rage this year making them something teens are asking for this season. Go for the Aerix Vidius – the "world's smallest FPV (first person view) drone" at $65. This drone can fly up to 100 feet away, performs 360 degree flips, and records live video. Control the drone from an Android or Apple device or its 2.4 gHz controller. The drone is super small and lightweight, making it the perfect gift for a teen who's starting to dabble in drones. Our "In The Sandbox" reviewer loved how high this drone was able to get and was impressed with the camera which can take photos or videos. The Aerix Vidius is quite durable and easy to charge. Set up is simple and it can be used both indoors and outside thanks to its small size. Jump on the "drone-wagon" and get your teen this beginner's version this season.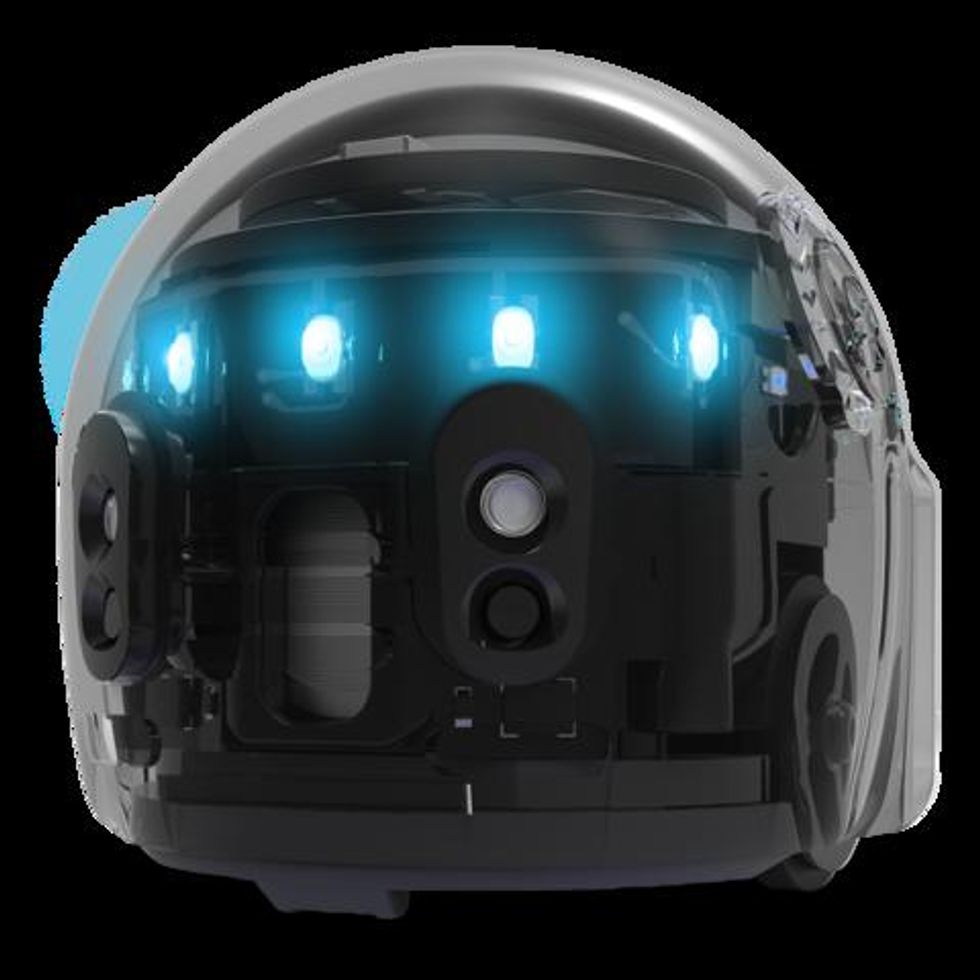 Ozobot Evo
Ozobot's Evo
Kids love robots and the Evo by Ozobot will delight the hi-tech teen in your household. This little bot has lots of personality and will keep your teen enthralled for hours. It features autonomous LED lights, sounds, and movements. Evo avoids obstacles thanks to Infrared Proximity Sensing, and the app-enabled RC controls allow teens to explore with Evo. It glides across surfaces, navigates mazes, and more. This little bot can even connect with friends who have the Evo and the related app too - send messages and get "Ozojis," special messages of joy! Evo can be used with a smartphone or tablet (iOS and Android) and is programmed by your teen. The bot comes with a carrying pouch so it won't get misplaced in a messy room. Evo comes in Crystal White and Titanium Black and sells for $99.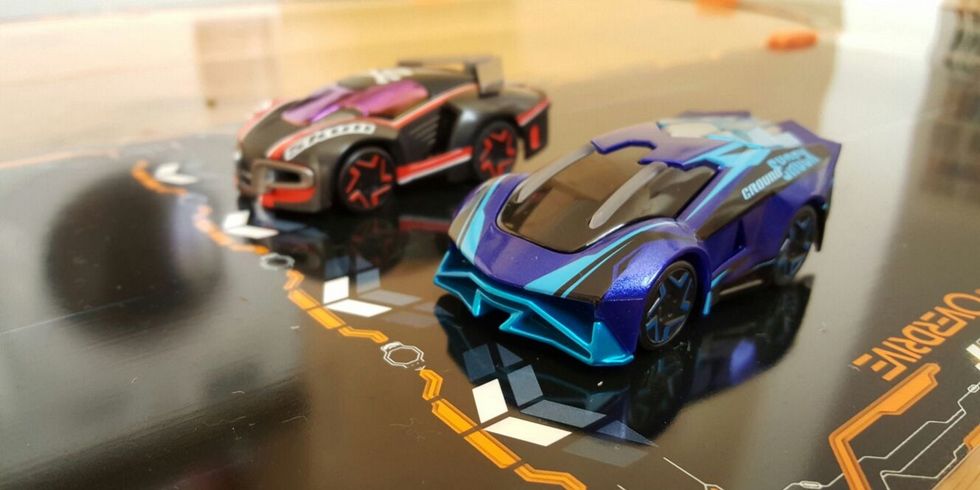 Anki Overdrive
If your teen loves car racing, the Anki Overdrive will rev him up for non-stop action. Simply download the app on an iOS or Android device to control the Supercars, powered by Artificial Intelligence, remotely. The race track comes to life for hours of fast-paced smart fun right at home. Teens can watch their cars zip around the track and can follow their moves and techniques simultaneously on the associated app. There are 8 battlefield track set-ups for endless fun and the 4-car charging platform keeps cars ready for speed racing any time. Teens can play with friends or A.I. opponents. At just under $150, the Anki Overdrive will have teens ready to race to the finish line this holiday season.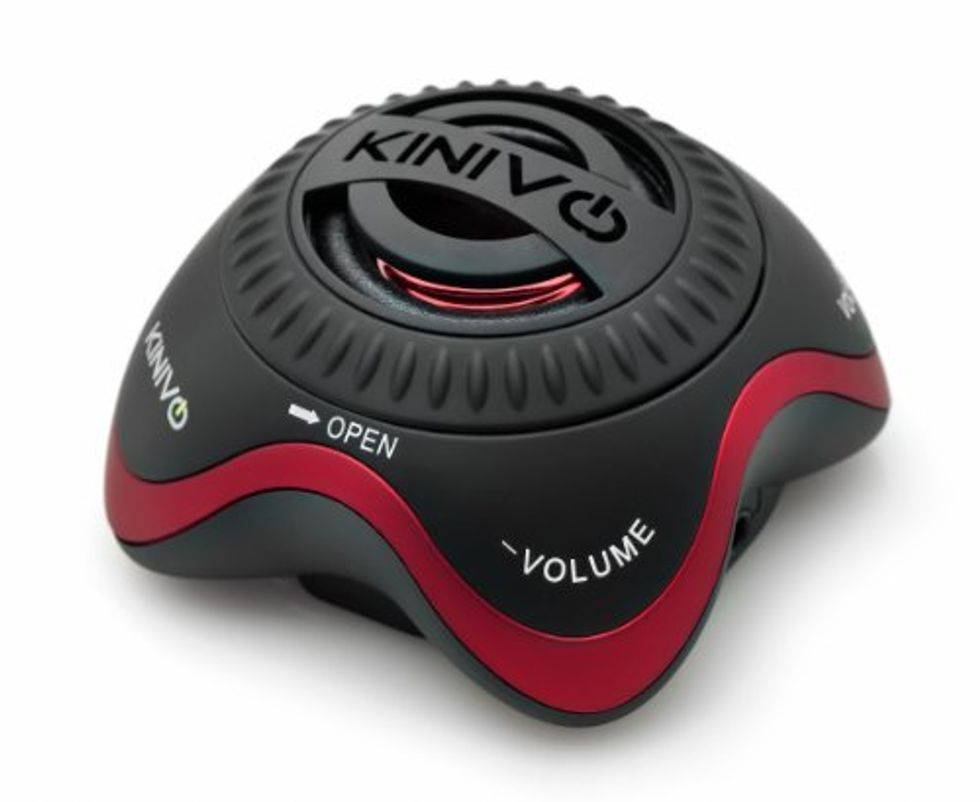 Kinivo
Kinivo ZX100 Mini Portable Speaker
For just under $12, this portable mini speaker is the perfect hi-tech stocking stuffer for the teen in your life. Although it's small in size (can fit in a pocket), the Kinivo delivers big sound. It works with iPhones, tablets, and other mobile accessories such as CD and MP3 players. The built-in audio cable makes for easy portability and storage. 360 degree sound makes for the perfect listening atmosphere. The Kinivo comes in 9 different colors and 6 hours of battery life. These are so cute, you may just want one for yourself! And at its low price, you'll likely snag a couple.
Happy holidays! Teens will be spreading holiday cheer with these smart gifts. Celebrate the hi-tech way this year!
From Your Site Articles
Related Articles Around the Web
Like GearBrain on Facebook