Like GearBrain on Facebook
The fatal crash which caused the death of a Tesla driver in Mountain View, California on March 23 has pushed the electric car company's Autopilot driver assistance system back into the spotlight.
The incident — which saw a Tesla Model X strike a concrete divider while its Autopilot was switched on, then suffer severe damage and erupt into flames — prompted Tesla to offer its condolences to the family of driver Wei Huang, an engineer who worked at Apple. The company then, with investigators still looking into the fatal collision, issued a statement to explain the driver's actions leading up to the crash.
Tesla said in a blog post published a week after the crash: "In the moments before the collision, which occurred at 9:27 a.m. on Friday, March 23rd, Autopilot was engaged with the adaptive cruise control follow-distance set to minimum."
Tesla added: "The driver had received several visual and one audible hands-on warning earlier in the drive and the driver's hands were not detected on the wheel for six seconds prior to the collision. The driver had about five seconds and 150 meters of unobstructed view of the concrete divider with the crushed crash attenuator, but the vehicle logs show that no action was taken."
This sharing of data did not go down well with the US National Transportation Safety Board, which after praising Tesla for being "extremely co-operative" said: "The NTSB is unhappy with the release of investigative information by Tesla."

Four days after the crash, before the data had been anaylzed, Tesla said a crash attenuator barrier designed to crumple on impact was missing from where the Model X crashed. This missing (or already crushed) attenuator led to the car suffering a level of damage "never seen" by Tesla in the past.
This is only the second known instance of a Tesla driver being killed in a collision while Autopilot was engaged.
How does Tesla describe Autopilot?
Tesla is careful not to describe Autopilot as "autonomous", "self-driving" or "driverless", although these phrases are all often used by others to describe the system. Although Tesla says all of its current vehicles are built with "self-driving hardware" fitted as standard, Autopilot is an optional extra which can be switched on with two levels of software.
The first level is called Enhanced Autopilot and costs $5,000 on top of the price of a new Tesla. This, depending on the laws of the country in which the car is driven, will allow the car to "match speed to traffic conditions, keep within a lane, automatically change lanes without requiring driver input, transition from one freeway to another, exit the freeway when your destination is near, self-park when near a parking spot and be summoned to and from your garage," according to Tesla.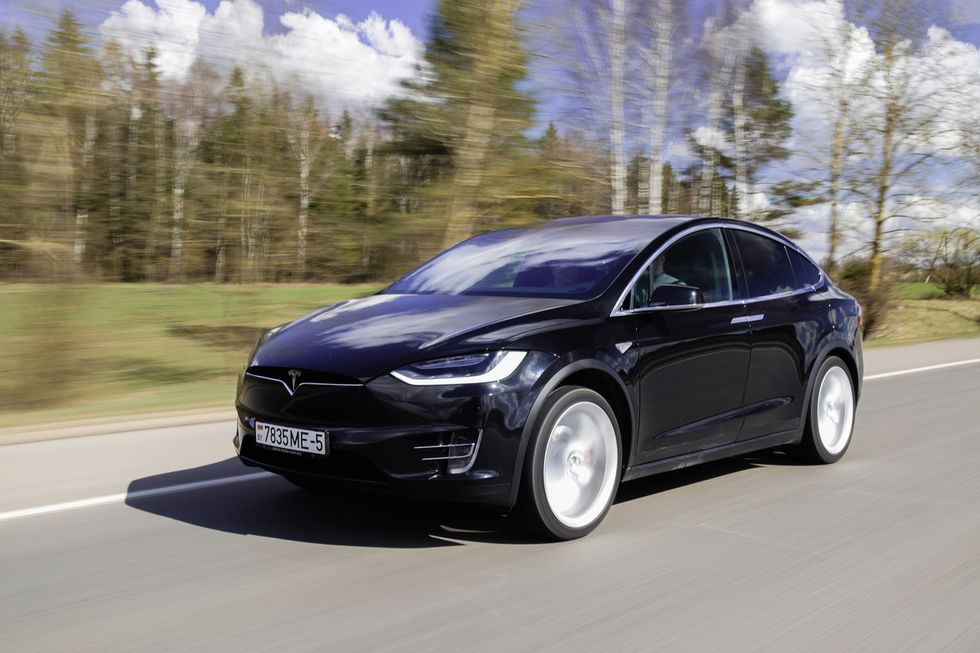 The Tesla which crashed in March was a Model X like this oneiStock
Tesla then explains that Enhanced Autopilot "should still be considered a driver's assistance feature with the driver responsible for remaining in control of the car at all times."
Buyers can then pay a further $3,000 for Full Self-Driving Capability, where Tesla says its cars will — with extra software which is not yet available — "conduct short and long distance trips with no action required by the person in the driver's seat."
This includes all types of road (including those without clear lane markings), and the ability to navigate complex intersections, stop signs, traffic lights, roundabouts and parking lots, where the car will find a space without anyone on board.

Tesla says: "It is not possible to know exactly when each element of the functionality described above will be available."
What can Autopilot do now?
At the time of writing, and until lawmakers state otherwise, Tesla Autopilot should be seen by drivers as an advanced form of cruise control, not a system for taking over the driver's responsibilities. But Autopilot is a Level Two on the autonomous scale — meaning driver's assistance is required.
Autopilot uses the brakes and accelerator to keep the car a safe distance from the vehicle ahead, and at the maximum speed specified by the driver where there is space to do so. Autopilot also keeps the car between the white lines of the road lane, and uses the vehicle in front to guide it when these lane markings are damaged or partially missing.
When the driver uses the indicator stalk, Autopilot will switch lanes if it is safe to do so. It can also be used to maneuver the car from your garage to the edge of your driveway (remaining on private land) without anyone in the vehicle, via the Tesla smartphone app.
Like many other cars on sale today, Tesla's have an automatic emergency braking system which works at low speeds to prevent collisions with vehicles and pedestrians.
These features mean Teslas with Autopilot software installed are classified as Level Two autonomous vehicles according to the six-stage standard, where Level Zero includes no automatic systems at all, and Level Five is fully autonomous with no steering wheel or driver controls. A Level One vehicle has simple features like regular cruise control (where the speed is controlled by the driver), while Level Three, or conditional autonomy, includes vehicles which can take over fully but only in certain situations. Because Teslas require the driver's attention at all times, they do not qualify for Level Three.
If the driver of a Tesla has Autopilot switched on, but does not keep hold of the steering wheel, a message asking them to do so is displayed in the instrument cluster. If they still do not touch the wheel (only a very light grip between two fingers is necessary), an audible alert will sound. If they still fail to react, the car will slow gently to a halt and switch on the hazard warning lights.
Although Tesla's demonstration of more advanced versions of Autopilot, above, make it seem like the technology can do more, the truth for now is that the driver must pay attention to the road ahead at all times. As in other vehicles with so-called 'lane-keep assist' technology, the system is there to help keep the driver in the middle of their lane, not to take over control of the vehicle.
How does Tesla Autopilot differ to what Waymo and Uber are doing?

Waymo, Uber and a number of other tech companies and automakers are developing fully driverless technology. Waymo is currently offering free rides to users of its beta ride-sharing service on public roads in San Francisco, Atlanta, Washington state and Michigan. A safety driver remains behind the wheel for now, but the company hopes to offer a truly automated and driverless system to the public later this year.
Uber was on a similar course with its own autonomous technology, but recently halted all public trials after a test vehicle struck and killed a pedestrian as they crossed the road in Tempe, Arizona.
With its as-yet unavailable Full Self-Driving Capability, Tesla wants to join Waymo's party and introduce a service where Tesla owners can let their cars act as driverless ride-share vehicles while they are at work, on holiday or asleep. Tesla sees a future where the driverless cars ferry paying passengers around, then take themselves to the Supercharger for more electricity, before returning to the airport or the driver's office to take them home.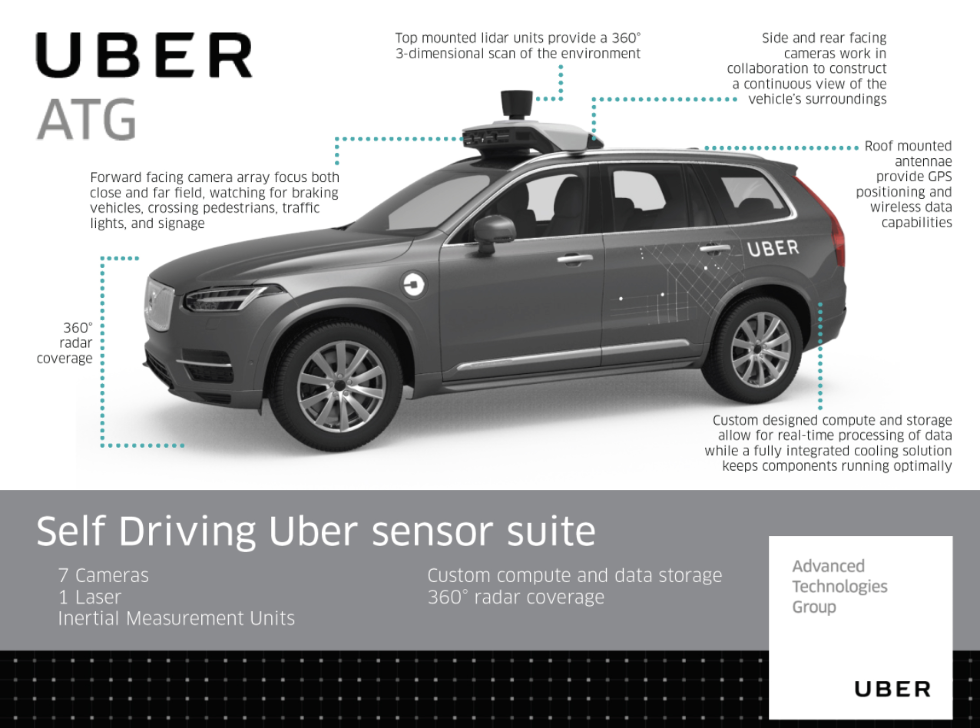 Image shows the technology used by autonomous Uber vehiclesUber ATG
In the wake of the fatal Tesla crash, Waymo boss John Krafcik was quick to point out that Autopilot is different to the technology his vehicles use - and is intended to be used for a different purpose.
Formerly run by Google, Waymo is now owned by Google parent Alphabet and has been developing truly self-driving cars for a decade. Although it uses vehicles with conventional controls, its goal is to offer an autonomous taxi service, not to produce its own cars with advanced driver aids like Autopilot.
Speaking even before Tesla revealed that Autopilot was engaged at the time of the collision, Krafcik told Bloomberg: "Tesla has driver-assist technology and that's very different from our approach. If there's an accident in a Tesla, the human in the driver's seat is ultimately responsible for paying attention. We don't know what happened here, but there was no self-driving."
Waymo recently published a video showing how passengers in its autonomous vehicles gazed out of the window or even fell asleep during rides. The company said in March it will add up to 20,000 Jaguar I-Pace electric vehicles to its fleet of driverless taxis by 2020.
How does Tesla Autopilot differ to what other car manufacturers are doing?

Almost every car manufacturer is working on semi-autonomous systems for their vehicles. In some cases, this simply means an automatic emergency braking system which triggers at low speeds to prevent hitting the vehicle in front during traffic.
But in others, this means systems more advanced than what regulators currently allow. Audi, for example, says its new A8 luxury sedan is the first production car to go on sale with Level Three autonomous technology built in and ready to go.
The technology, called Traffic Jam Pilot, works at up to 38mph on roads with a barrier between the carriageways. Audi says: "The driver no longer needs to monitor the car permanently. They can take their hands off the steering wheel permanently and, depending on the national laws, focus on a different activity that is supported by the car, such as watching the on-board TV. As soon as the system reaches its limits, it calls on the driver to take back control of the task of driving."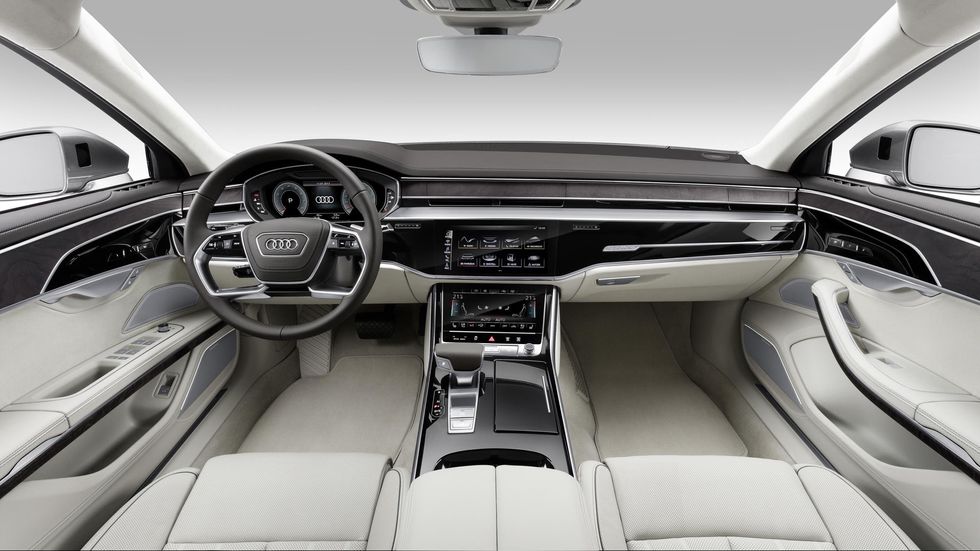 When legal, A8 drivers are invited to watch the car's television while on the moveAudi
These are three very carefully constructed sentences. First, the use of "monitor," and "permanently" defines this as something different to Tesla Autopilot, which requires the driver's concentration at all times. Next, "depending on the national laws" is there to stop drivers using the system in countries which do not allow it. For now, no country allows the owner of a production car to hand over their monitoring of the road and grip of the wheel to the computer. Vehicles being tested by Waymo and others are excluded from this.
Audi then says drivers can focus on an activity "supported by the car", so while they can look at the TV screen in the dashboard, they cannot watch Netflix on their iPad. This is because Audi has control over what is shown on the car's screen — like a message telling you to take over from the computer.
Finally, telling drivers to take over "when the system reaches its limits" is somewhat vague. We won't know exactly what this entails until Audi is legally able to switch Traffic Jam Pilot on. Level Three is the level most manufacturers are hoping to leap-frog, as it requires the driver to take over from the computer unexpectedly. Research conducted in 2017 found that distracted drivers behind the wheel of a simulator took between 1.9 seconds and 25.7 seconds to take back control.

The next stages, Levels Four and Five, concern fully driverless vehicles — including those with no steering wheel or pedals. On April 2, California's Department for Motor Vehicles granted manufacturers permission to test fully autonomous vehicles on public roads across the state. The new regulations do not require anyone to be inside the vehicle, but a supervisor must be able to remotely monitor and stop the car immediately if needs be.
What comes next?
Tesla is keen to remind the world that Autopilot is safe. The company claims there is one fatality — including pedestrian fatalities — for every 320 million miles driven by its Autopilot-equipped cars, compared to the US average of one in 86 million miles.
It added: "Tesla Autopilot does not prevent all accidents — such a standard would be impossible — but it makes them much less likely to occur. It unequivocally makes the world safer for the vehicle occupants, pedestrians and cyclists." The company's website says details about Tesla Network, where cars will drive themselves and act as robotic taxis, will be revealed "next year", although it isn't clear when this was written.
In the wake of its accident last month, Uber has suspended all public autonomous vehicle testing and has lost its license to test such vehicles in Arizona and California.
Days after the Uber fatality, Waymo announced it plans to have a fully operational robot taxi service online before the end of 2018.
From Your Site Articles
Related Articles Around the Web
Like GearBrain on Facebook