Tesla has announced it will no longer fit radar sensors to its Model 3 and Model Y vehicles, with its Autopilot system instead now relying entirely on cameras and a computer vision system called Tesla Vision.
The company has always said its computer vision system is superior to other technologies, despite almost all other automakers using radar along with cameras to implement driver assistance systems. Tesla also stands alone in its shunning of lidar, which is used by others in their bid to create all-seeing autonomous vehicles.
Read More:
Tesla published an update to its transition to Tesla Vision this week, stating that Model 3 and Model Y cars delivered to the North American market from this month onwards will no longer be equipped with radar. The company added: "Instead, these will be the first Tesla vehicles to rely on camera vision and neural net processing to deliver Autopilot, Full Self-Driving and certain active safety features."
However, the company also states that, while it transitions to the camera-only vision system, some features will temporarily be limited or inactive. These include Autosteer, which will be limited to work at a maximum speed of 75mph, and at a longer distance from the vehicle ahead than is normal.
Furthermore, Smart Summon (part of the $10,000 Full Self-Driving optional upgrade) and Emergency Lane Departure Avoidance "may be disabled" when the car is delivered to its owner.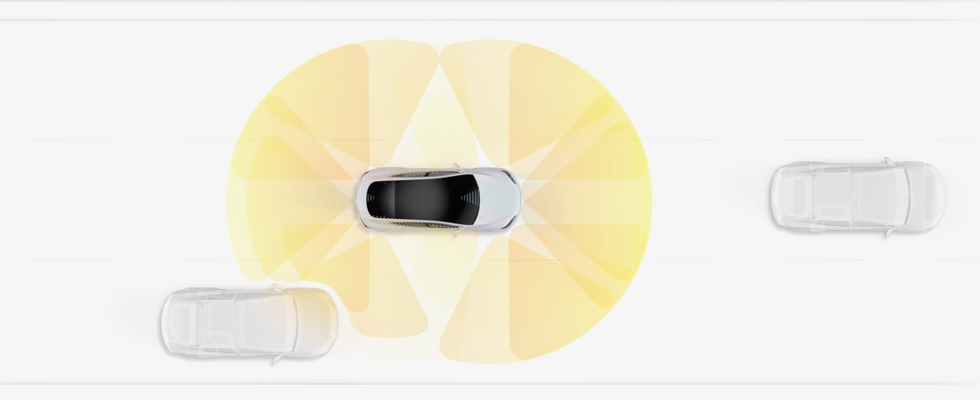 Tesla no longer uses radar for its Autopilot system Tesla
Tesla added: "In the weeks ahead, we'll start restoring these features via a series of over-the-air software updates. All other available Autopilot and Full Self-Driving features will be active at delivery, depending on order configuration."

For now, all versions of Model S and Model X, as well as 3 and Y cars built for markets outside of North America, will continue to be fitted with radar sensors as well as cameras. Tesla says this will continue until "we determine the appropriate time to transition those vehicles to Tesla Vision."
Buyers in North America who ordered a Tesla before May and are awaiting delivery will be informed if their car is not fitted with radar.
As for why the Model S and Model X aren't transitioning to the camera-only system yet, Tesla says: "Model 3 and Model Y are out higher volume vehicles. Transitioning them to Tesla Vision first allows us to analyze a large volume of real-world data in a short amount of time. Which ultimately speeds up the roll-out of features based on Tesla Vision."
Tesla Gen 3 Wall Connector 18'