Tesla must stop using the potential cost savings of using electricity instead of gasoline to artificially decrease the price of its cars, a German regulator has said.
Wettbewerbszentrale, an independent body set up to prevent unfair competition practices, has asked Tesla to change the way it advertises the price of its cars, claiming it confuses potential customers and violates competition law.
Read More:
Currently, Tesla advertises the prices of its cars after "savings" have been taken into consideration. Only by looking at the lower-left corner of the car maker's website when configuring a new Tesla, does the real price become apparent.
For example, an entry-level Model 3 Standard Range is listed as costing $26,950 in the US. But, without taking what Tesla calls "potential incentives and gas savings" into account, the car actually costs $35,000.
Only after clicking on the 'learn more' button does the Tesla website explain that the lower figure comes from reducing the list price by $3,750 for "incentives" and $4,300 for "gas savings."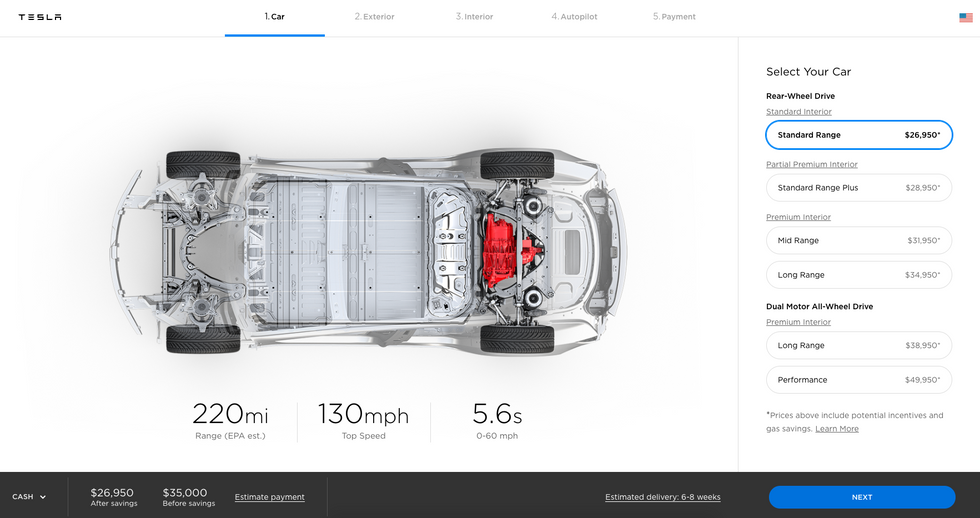 The Model 3 is shown as costing $8,000 less than the true priceGearBrain
However, this figure does not take into account how many miles the buyer covers each year, what internal combustion engined vehicle the Tesla is being compared to, the cost of electricity, or how many months or years the potential gas savings are spread across.

Wettbewerbszentrale argues this is a purely arbitrary figure which is guilty of "misleading potential interested parties" and is "intransparent, and this contradicts the principles of price trust and price clarity."
The industry body also argues that Tesla should not promote the lower figure, because no matter how much a driver could save in no longer paying for gas, they still have to pay the total cost of the car - in the above case, $35,000 - and any cost savings are made afterwards.

Price estimate does not explain what the 'gasoline saving' entailsGearBrain
"Even if 'savings' could be realized," the body says, "such an amount cannot be deducted from the purchase price or the monthly rate...because customers must pay the full price at the time of purchase or financing".

Tesla has been asked to stop pricing its cars in Germany in this way by March 20. It will be interesting to see if Tesla also stops this practice in other countries. The "after savings" prices have appeared sporadically on Tesla's website over recent months, first appearing when the Model 3 went on sale, then added to the Model S and Model X in late-2018.
The entry-level Model S has a sticker price of $79,000, but is listed on the Tesla website as $69,750 after incentives and fuel savings, while the Model X is priced from $88,000, but is claimed to cost $78,950 after savings.
GearBrain Road Trip Gadget Guide www.youtube.com