Although so-called 'range' anxiety is slowly being reduced by the development of longer-range electric cars and construction of charging stations, how far a plug-in car can travel before needing a top-up is still a crucial consumer consideration.
Because electric chargers are still far less common than gas stations, driving an electric car long distances requires more planning - and charging the battery still takes longer than filling even the largest fuel tank.
Read More:
But change is afoot, and some electric cars can travel comfortable over 300 miles on a charge, according to the claims made by their manufacturer. Your mileage will of course vary, depending on speed, driving style, ambient temperature, and myriad other variables - not least the test cycle used to work out the claimed range. But it is still useful to compare the claimed range of one EV to another.
Here are the longest-range electric cars currently on sale in the US today, in May 2019.
Tesla Model S Long Range - 370 miles, $88,000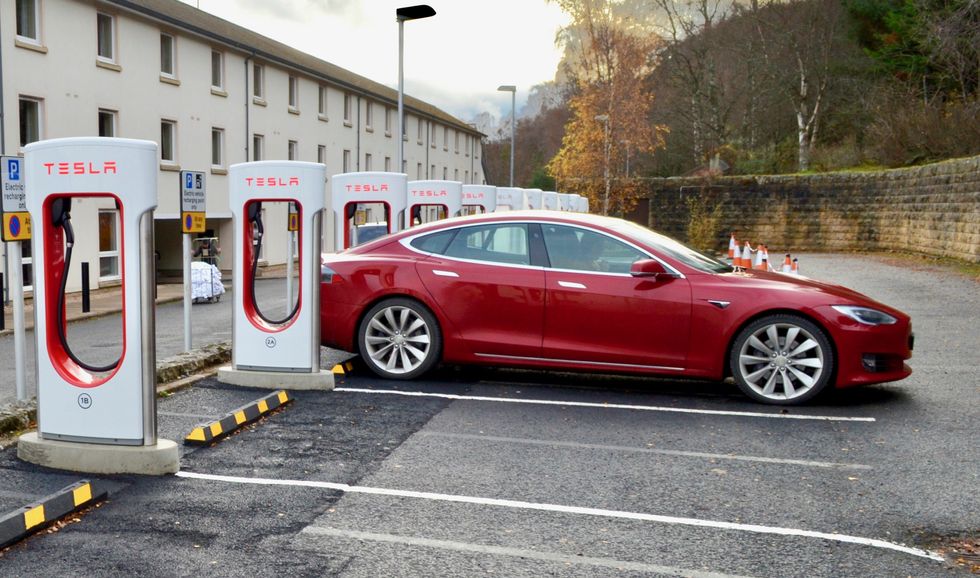 Model S using a Supercharger in ScotlandGearBrain
Tesla still leads the way when it comes it outright range (and acceleration performance), with the Model S, Model X and Model 3 taking the top three places in the current long-range standings.

The overall winner is the Model S Long Range, which has an EPA-rated range of 370 miles. This was recently increased by around 10 percent with the use of new drivetrains on all cars built after April 2019. The flagship Model S still has the same 100kWh battery capacity as before, but Tesla no longer uses this number in the car's name.
The lesser Model S Standard Range is capable of a respectable 285 miles, which still puts it ahead of all non-Tesla electric cars - an indication of the lead the US startup has over its century-old rivals, at least for now.
Tesla Model X Long Range - 325 miles, $93,000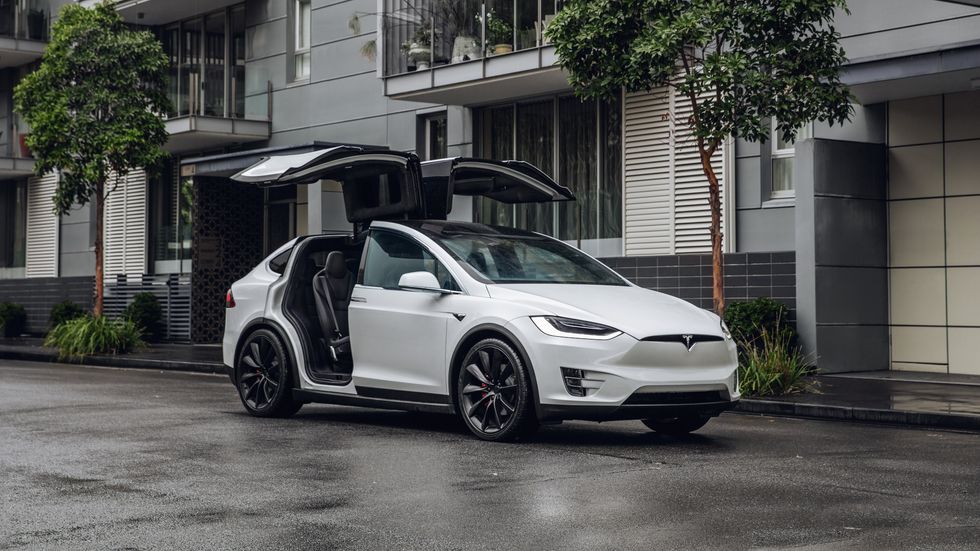 The Model X has a range of up to 325 milesTesla
Next comes the larger Model X Long Range. This uses exactly the same battery pack and motors as the Model S, but the car's larger size and greater weight mean it is less energy efficient, so outright range dips to a maximum of 325 miles.

The Standard Range Model X offers up to 250 miles of range, which is still more than any other electric SUV currently on sale. Tesla will likely remain on top of that particular podium for a while, as rivals from Jaguar, Audi and Mercedes-Benz cannot yet match the Model X for range.
Tesla Model 3 Long Range - 310 miles, $49,000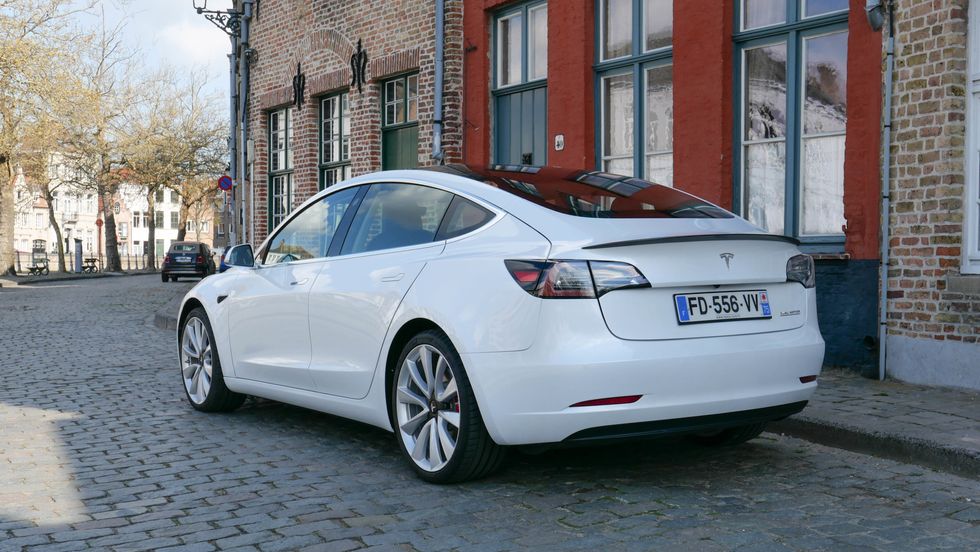 The Model 3 has a large range for its size and priceGearBrain
The bronze medal also goes to Elon Musk's company, and the Model 3 Long Range, which has an EPA-measured range of 310 miles. The car is smaller and lighter than its siblings, but its battery pack is also more compact, hence the lower range.

The cheaper Model 3 Standard Range Plus has a claimed range of up to 240 miles, which is more than premium options like the Jaguar I-Pace and Audi e-tron SUV.
The off-menu Model 3 Standard Range, which can only be ordered over the phone or by visiting a Tesla store - and costs exactly $35,000 - has a range of 220 miles.
Hyundai Kona Electric - 258 miles, $36,450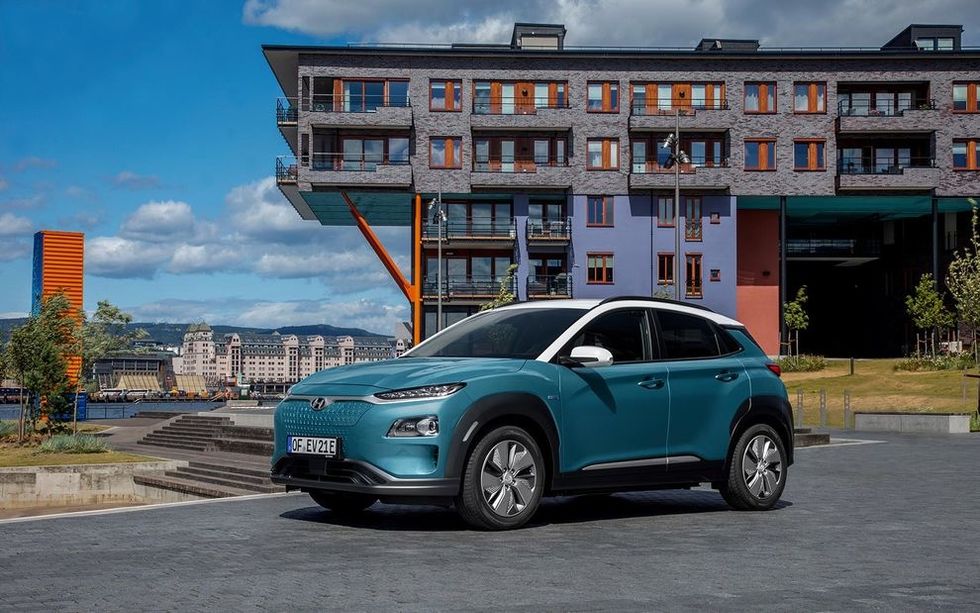 The Kona Electric represents excellent value for moneyHyundai
The first non-Tesla car to make it onto this list is the Hyundai Kona Electric, which has an EPA-rated range of 258 miles and costs a respectable $36,450.

Available in three trim levels - SE, Premium and Premium SE - the Kona Electric is offered with a 39 kWh or 64 kWh battery pack, along with Apple CarPlay and Android Auto.
The Hyundai's acceleration cannot match that of any Tesla (as little as 2.4 seconds in the Model S with the Ludicrous Mode upgrade) but posts a 0-62 mph (100 km/h) time of 7.6 seconds, which is perfectly adequate for a sensible family car.
Hyundai also lacks access to Tesla's Supercharger network (which is for the exclusive use of Tesla drivers) but can still fully recharge in 75 minute using a rapid public charger.
Chevrolet Bolt - 238 miles, $36,620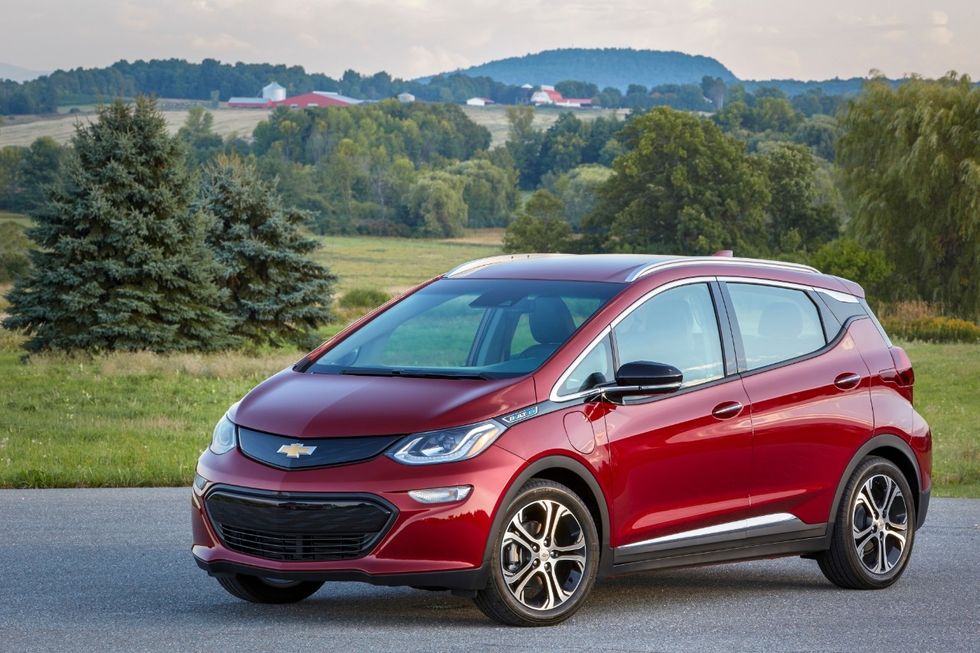 The 2019 Bolt's range is now up to 238 milesChevrolet
A familiar face to electric car drivers, although recently face-lifted for 2019, the Chevrolet Bolt is a small family car with a range of up to 238 miles and a starting price of $36,620 before federal tax credit and other incentives.

The Bolt offers Apple CarPlay and Android Auto connectivity for its 10.2-inch infotainment touch screen, plus the car can be bought with a 4G Wi-Fi hotspot, and there's the myChevrolet for checking the charge status of the battery from your smartphone - just like on a Tesla.
Safety features include automatic low-speed emergency braking with pedestrian detection, rear vision camera, and lane-keep assist, which provides alerts and gentle steering inputs to keep you from drifting out of your lane. This isn't quite the same as Tesla's Autopilot system, but provides a similar level of safety assistance.
Jaguar I-Pace - 234 miles, $69,500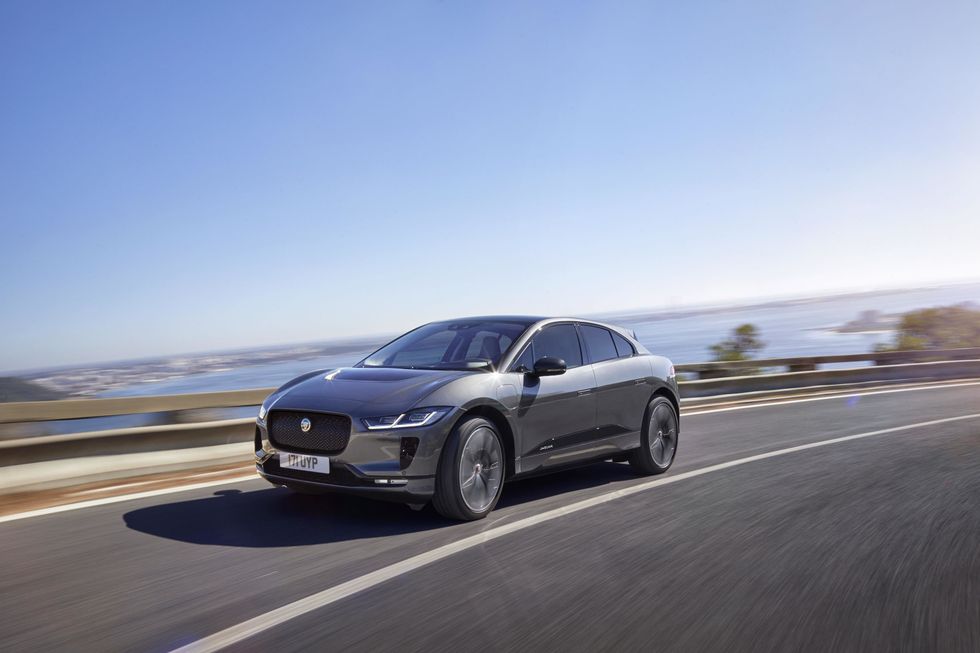 The I-Pace is a luxury EV costing from $69,500Jaguar
The first luxury electric car to come from an established brand - and thus take the fight more directly to Tesla than anyone else - is the Jaguar I-Pace.

The Jaguar is short on range compared to the Model S and Model X, at 234 miles, but at $69,500 its starting price is somewhat less than its US rivals.
The I-Pace reviewed very well when it was launched in 2018, and offers sports car performance (0-60 mph in 4.5 seconds) from a practical family car with plenty of stowage space, thanks to its lack of a bulky engine and associated drivetrain.
If you can find a rapid 100kW DC public charger (more of which will be available soon), the Jaguar can refill its battery pack from almost empty to 80 percent in 45 minutes.
Nissan Leaf e+ - 226 miles, $36,550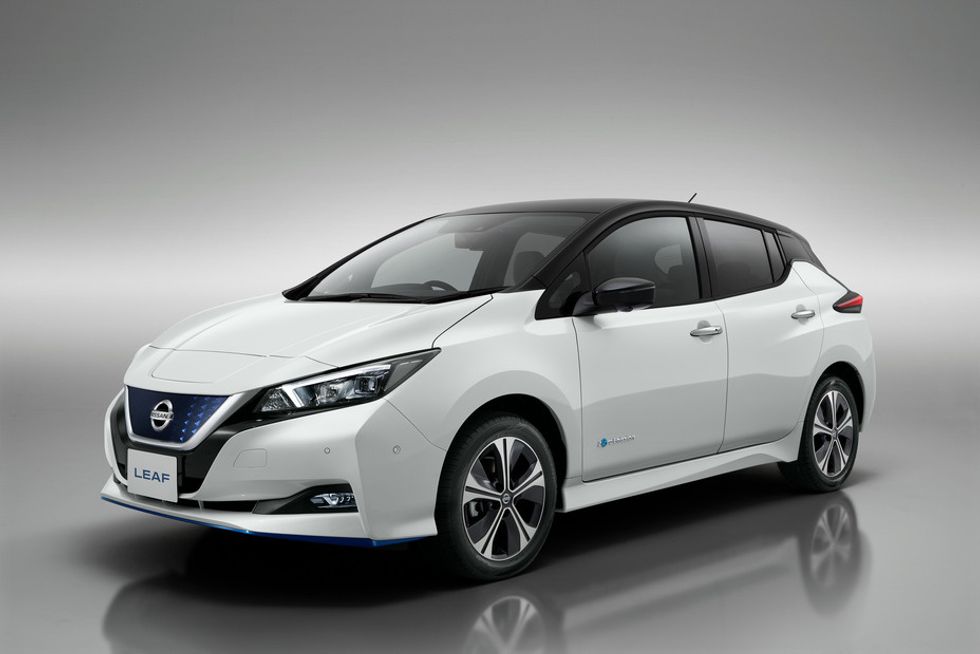 The new e+ model of Nissan Leaf has a much larger range, of 226 milesNissan
New for 2019, the e+ version of the Nissan Leaf has a range of up to 226 miles, yet costs just $36,550, making it good value for money as far as electric car - which generally command higher prices - are concerned.

The flagship e+ model offers a 0-62 mph time of 7.1 seconds and a top speed of 91 mph, while Nissan is keen to publicize the car's one-pedal driving mode. In truth, this is a common feature of all electric cars, where the vehicle slows more quicker the further you lift the accelerator pedal, instead of coasting with minimal slowing like a non-electric car.
This is called regenerative braking and turns the electric motor into a generator, harvesting energy lost during coasting and braking back into the battery.
When plugged into the fastest public charger, Nissan safe the Leaf e+ can refill its battery from 20 percent to 80 percent in around 60 minutes, somewhat slower than a Tesla using a Supercharger, or a car using the under-construction Electrify America network.
Audi e-Tron SUV - 204 miles, $74,800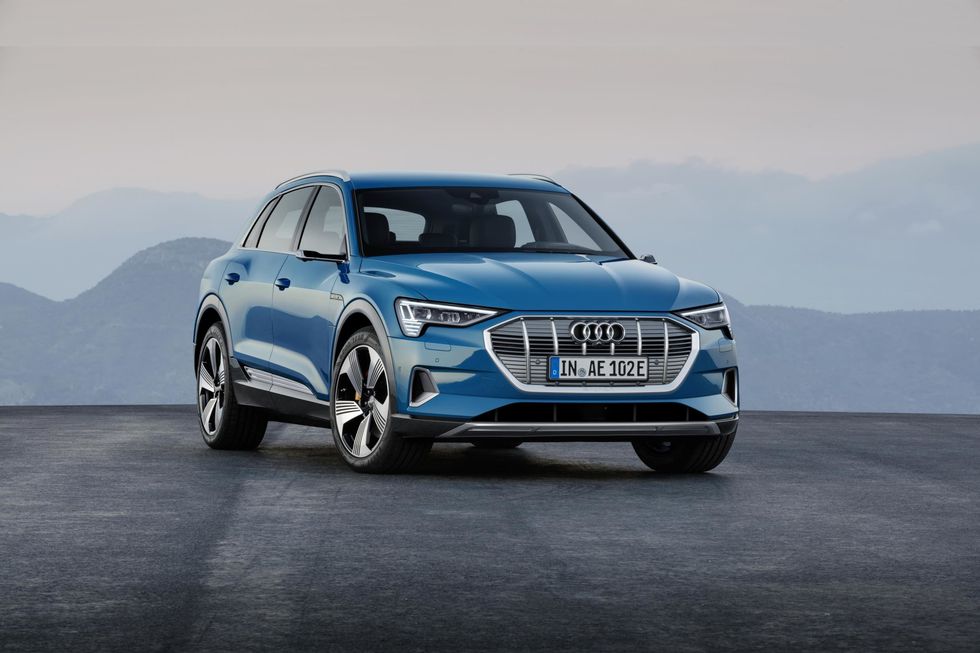 Audi is putting luxury ahead of range with the 204-mile e-tron SUVAudi
Finally, the last electric car to offer over 200 miles (just) is the e-tron SUV, the first electric car from Audi. To be joined by an entire e-tron family over the coming years the SUV is seen as a close rival to the Jaguar I-Pace, and the Mercedes EQC and BMW iX3, both due to arrive in the US in 2020.

A unique feature of the e-tron is how Audi offers a pair of cameras and displays instead of wing mirrors. This helps to reduce aerodynamic drag, thus increasing range, but despite being available in Europe, is still pending regulatory approval in the US.
Even without this option, the e-tron's interior includes three digital displays - one behind the steering wheel and two touch screens for interacting with the car's climate and infotainment systems.
Audi claims the SUV can hit 62 mph in under six seconds, and the battery can be topped up from almost empty to 80 percent within 30 minutes, using the fastest public chargers.
GearBrain Road Trip Gadget Guide www.youtube.com