Tesla has admitted that its first electric commercial truck, called the Semi, will miss its original production date by at least two years.
When the Semi was announced back in 2017, company boss Elon Musk said it would go into production in 2019. A string of high-profile companies placed orders for the truck, as they sought to dip their toes into the waters of electrified haulage. Pepsico was among those who placed early orders, asking for 100 trucks.
Read More:
The late-2019 release date came and went, and at the time Tesla said the Semi would now be available in "limited volumes" in 2020. But now, as part of the company's otherwise-positive 2020 first-quarter financial results, Tesla said deliveries of the Semi will start sometime in 2021.
Tesla said this week: "We expect that production of both Model Y in Fremont and Model 3 in Shanghai will continue to ramp gradually through Q2. We are continuing to build capacity for Model Y at Gigafactory Berlin and Gigafactory Shanghai and remain on track to start deliveries from both locations in 2021. Lastly, we are shifting our first Tesla Semi deliveries to 2021."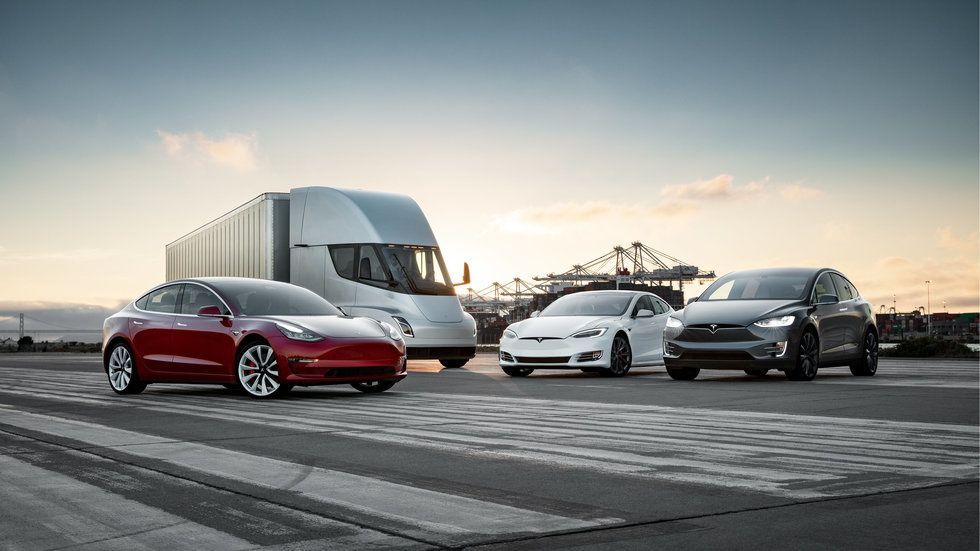 Semi truck with the Tesla Model 3, S and X Tesla
A further update on the Semi and next-generation Roadster (potentially still due this year) will be given later this year, Musk said ahead of the Q1 results.

Of course, there are many factors at play here. First, Tesla is not often known for hitting its own deadlines (although the recent Model Y was a notable exception). Additionally, this is the first time the company has extended its reach beyond cars and into the commercial truck sector, no doubt adding complication to the design process.
Additionally, Musk said in 2018 that the $180,000 truck's 500-mile range would instead be closer to 600 miles once it goes on sale - a claim which likely led to design changes.
Of course, the coronavirus pandemic also has a role to play here, with factory closures across the world affecting the automotive supply chain, as well as design, research and development, testing, manufacturing, sales and deliveries of vehicles being on hold across China, Europe and the US.