Like GearBrain on Facebook
Tesla was included in this year's JD Power study for the first time, and the results will make uncomfortable reading for Elon Musk.
An influential study that has been running for 34 years and is widely respected by the global auto industry, the US-based JD Power study questions owners about their new car purchases. It asks about quality, failures, faults, and other issues drivers may have experienced in the first 90 days of owning a new car.
Read More:
Automakers are then graded and ranked from best to worst. Each is assigned a score indicating the number of faults reported by owners, per 100 vehicles sold.
For the 2020 JD Power study, Dodge was ranked first with 136 problems per 100 vehicles sold. Kia ranked second but with the same score of 136, while Chevrolet and Ram followed, both with scores of 141.
Tesl, meanwhile, ranked 33rd and last with a score of 250 problems per 100 cars sold, or 2.5 problems per car.
Although included in JD Power's study for the first time and given a score, Tesla's ranking is partially an estimate. This is because the company did not grant JD Power permission to survey in 15 states where it is required. Doug Betts, president of the automotive division of JD Power explained, however: "We were able to collect a large enough sample of surveys from owners in the other 35 states and, from that basis, we calculated Tesla's score."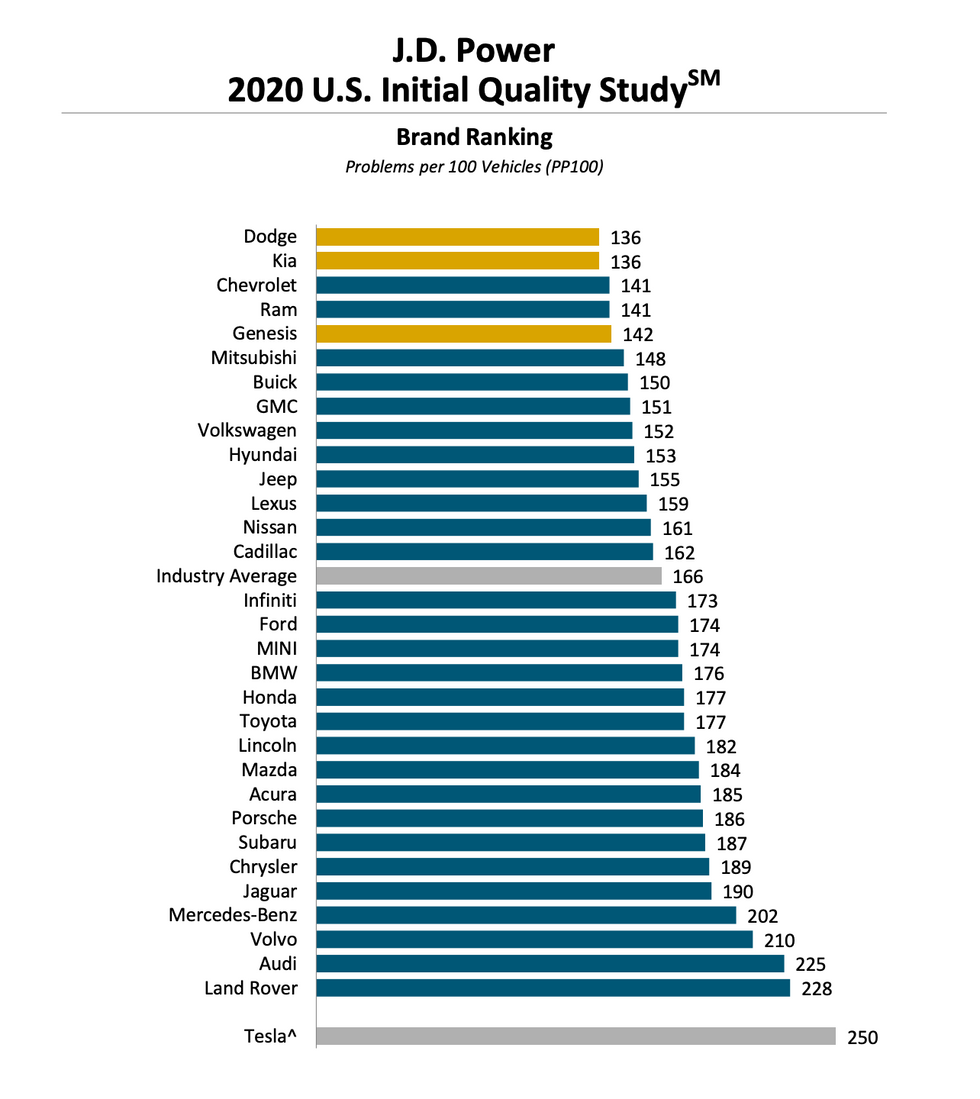 The survey gave Tesla the worst score of all carmakers operating in the USJD Power
The score was calculated after speaking to 1,250 owners, most of them being Model 3 drivers. Many of the complaints included paint imperfections, poorly fitted body panels, and trunks and hoods being difficult to open and close.

Tesla's poor score won't come as too much of a surprise to some owners. The company has suffered from production quality issues for several years, which are most apparent when a new model goes into production for the first time.
Stories from early buyers of the Model 3 include cars being delivered with damaged interiors, and in one case a car arrived with a different colored interior trim on each of the rear doors. Early Model 3s also suffered from a bizarre issue where the rear bumper could come off when driven through a deep puddle.
The new Model Y is also suffering from production quality issues, with numerous owners reporting of fit and finish problems. Issues with the Model Y, as reported by Electrek, include paint and trim issues, indentations in the seats, and even a loose seat belt. One even had a rear seat bench that wasn't attached to its base.
TAPTES Tesla Model 3 Wireless Phone Charger Pad Horizontally Or Vertically Dual Qi Wireless Smartphone Charging Mat M3 Accessory for Qi Enable Phone, Compatible Tesla Model 3 - Gen 2 No Software Issue
From Your Site Articles
Related Articles Around the Web
Like GearBrain on Facebook