Like GearBrain on Facebook
Given the popularity of pickup trucks — especially in the U.S., where they significantly out-sell regular cars — it may seem surprising that no mass-market electric pickup is yet on sale.
But this position is about to change with the launch of Tesla's first pickup truck. The vehicle will be revealed in Los Angeles on November 21, and is expected to go on sale soon after, before deliveries kick off in 2020 or 2021.
Read More:
Here is everything we know so far about the Tesla pickup, and what its launch means for the rest of the EV (electric vehicle) and truck industry.
Called the 'Cybertruck' by Tesla boss Elon Musk, the vehicle has been talked about and teased by the company for several years. Musk said in late-2017 that it would arrive "right after" the Model Y, which Tesla revealed in March 2019. The truck was initially due this summer, but was then delayed until November.
At the launch of the Model Y, Musk briefly showed a sketch of a huge pickup truck with a design similar to that of the Tesla Semi, carrying a regular pickup like a Ford F-Series in its cargo bed. In usual Musk style, it wasn't entirely clear if this was a joke or not.
Regarding its size, Musk tweeted in December 2017, more than a year before the Model Y event, to say the pickup will have a "similar total size" to the Ford F-150, adding: "Maybe slightly bigger to account for a really game changing (I think) feature I'd like to add."
Similar total size. Maybe slightly bigger to account for a really gamechanging (I think) feature I'd like to add.
— Elon Musk (@elonmusk) December 26, 2017
But, despite Musk saying the truck had been on his mind since 2012, the vehicle has not been seen in public.

This is often the case with new vehicles from Tesla. While other companies are regularly seen testing unannounced cars in public, often covered with elaborate disguises to hide their design, this seldom happens with Tesla. Part of this is a more secretive approach to its business, but also because Tesla prefers to announce new models a long time before they go on sale — and often before public testing begins.
JuiceBox Pro 40 Smart Electric Vehicle (EV) Charging Station with WiFi - 40 amp Level 2 EVSE, 24-foot cable, NEMA 14-50 plug, UL and Energy Star Certified, Indoor / Outdoor Use
Such a move means a very long wait from launch to delivery (and a wait often made longer by delays), but it also means Tesla gets to reveal vehicles in an almost-finished state before they are spotted in the wild.

As for the 'Cybertruck,' all we have seen of it so far is a single teaser image published by Tesla this summer. The image, at the top of this article, is so vague that we're not entirely sure what we're looking at on the invitation. This could be the rear of the load bay, with an LED light strip running along the width of the vehicle; or it could be an abstract view of the front. As teaser images go, it's a secretive one to say the least.
In response to a huge number of fan-made renders shared online since, Musk said in October the truck "doesn't look like anything I've seen bouncing around the internet." He added, vaguely: "It's closer to an armored personnel carrier from the future."
Over the years Musk has drip-fed other details about the truck — or, at least, what he wants from the vehicle once it goes into production.
These include seating for six, a range of between 400 and 500 miles, putting it far ahead of any electric car currently on sale, potentially a much larger battery than the 100kWh pack used by the Model S and Model X, and a 24-volt connection for powering tools directly from the battery, meaning no need for a generator.
Further details, tweeted in June 2018, include the ability to "parallel park automatically and have 36-degree cameras and sonar." Other Tesla cars can already park themselves using their Autopilot system, but the other items mentioned here are new (at least for a Tesla).
It will parallel park automatically & have 360 degree cameras & sonar
— Elon Musk (@elonmusk) June 26, 2018
'Like something from Blade Runner'

During a November 2018 interview with Recode, Musk spoke again about the truck, saying it is "gonna be like a really futuristic-like cyberpunk, 'Blade Runner' pickup truck. It's gonna be awesome, it's gonna be amazing. This will be heart-stopping. It stops my heart. It's like, oh, it's great."
Suggesting the truck will be unlike a regular pickup — and also conceding it might not be to everyone's taste - Musk added: "If there's only a small number of people that like that truck, I guess we'll make a more conventional truck in the future. But it's the thing that I am personally most fired up about."
Pioneer AVH-1500NEX Double Din Apple Carplay In-Dash DVD/CD/Am/FM Car Stereo Receiver W/ 6.2" Touchscreen + License Plate Backup Camera Included + Phone Magnet Holder
Musk again referenced Blade Runner when saying the truck would be revealed in Los Angeles in November 2019. He tweeted that the date and location are "strangely familiar" — indeed, the Blade Runner movie is set in LA in November 2019.

Regarding the pickup's performance, Musk has said it will be a better utility vehicle than the best-selling Ford F-150, yet also be a better sports car than an entry-level Porsche 911. He has also said it will start at less than $50,000, but we imagine a version with Porsche-beating performance (and the Tesla hallmark of a stomach-turning 0-60 time) will be reserved for a far more expensive model.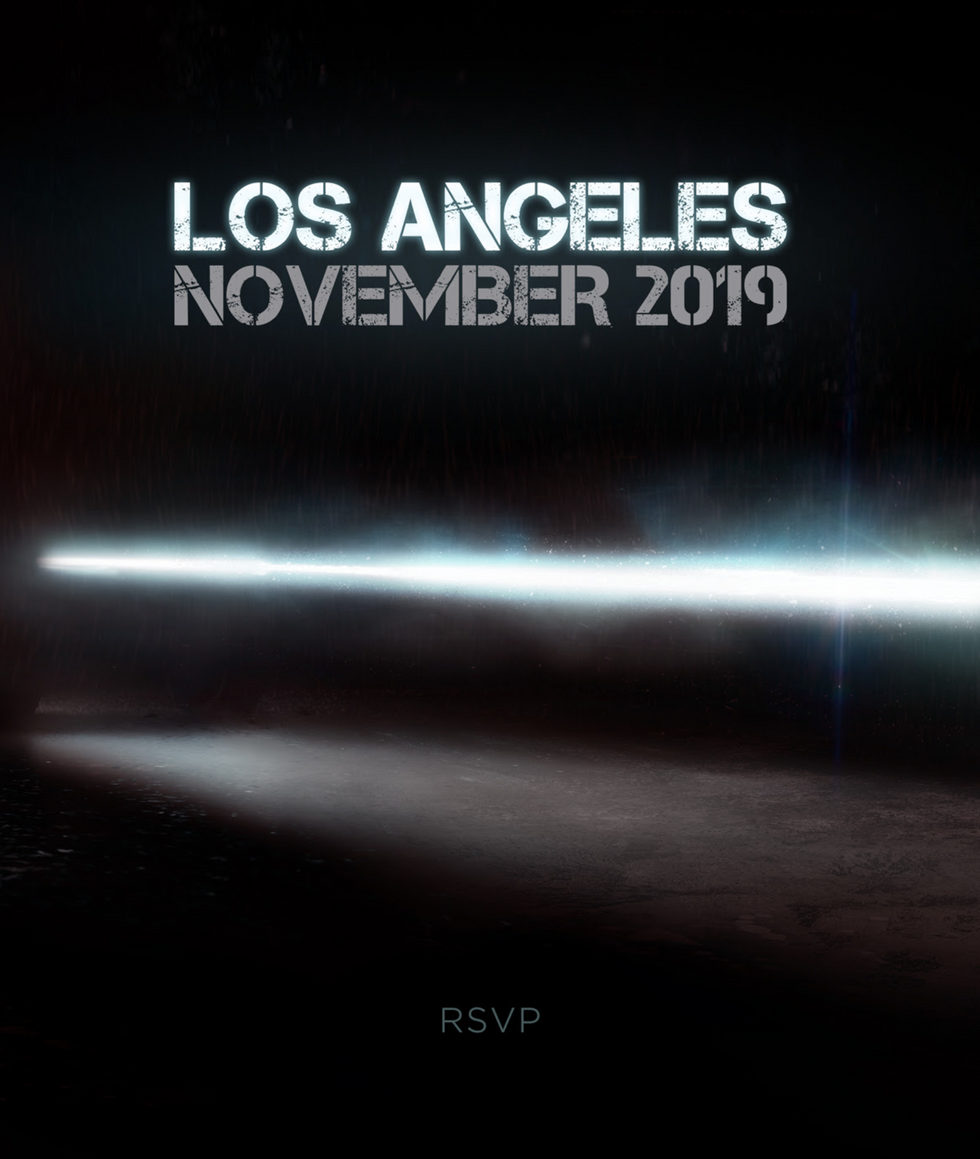 Invitation to the pickup truck's launch eventTesla
Whichever way you cut it, the Tesla pickup truck is a very big deal for the company, the pickup sector of the market, and the consumer vehicle industry as a whole. No one is yet selling a mass-market electric pickup truck, but startup Rivian is working on one and has received a $500M investment from Ford to help it develop one for the legacy automaker too.

Ford has also said separately that it has plans for first making a hybrid F-150, then making an all-electric model sometime in the future. Electrifying America's best-selling vehicle is certainly a tall order with huge expectation on its shoulders, but it looks highly likely that upstart Tesla will beat stalwart Ford to the punch.
What remains to be seen is whether Tesla can convince loyal F-150 buyers (and diesel truck drivers generally, of which there are millions) to trade in for an EV. If it can steal even a slice of Ford's sales, which topped 900,000 in the US in 2018, then Tesla will have added another string to its bow.
We will update this article if more details come to light between now and the launch on November 21.
From Your Site Articles
Related Articles Around the Web
Like GearBrain on Facebook