When my building turned off the gas in September 2017, I thought I'd lack a stove and an oven for a week, a month at most. Cooking Thanksgiving was not on the agenda — until it was. No gas presented a unique conundrum: how to cook using electrical gadgets alone. Slow cook a turkey? A drone? Try a sous vide? None would bring out that golden color I hoped for from a bird. Instead I settled on something I'd tossed a decade earlier — a toaster oven, (truthfully, two), cooking almost the entire Thanksgiving meal in both.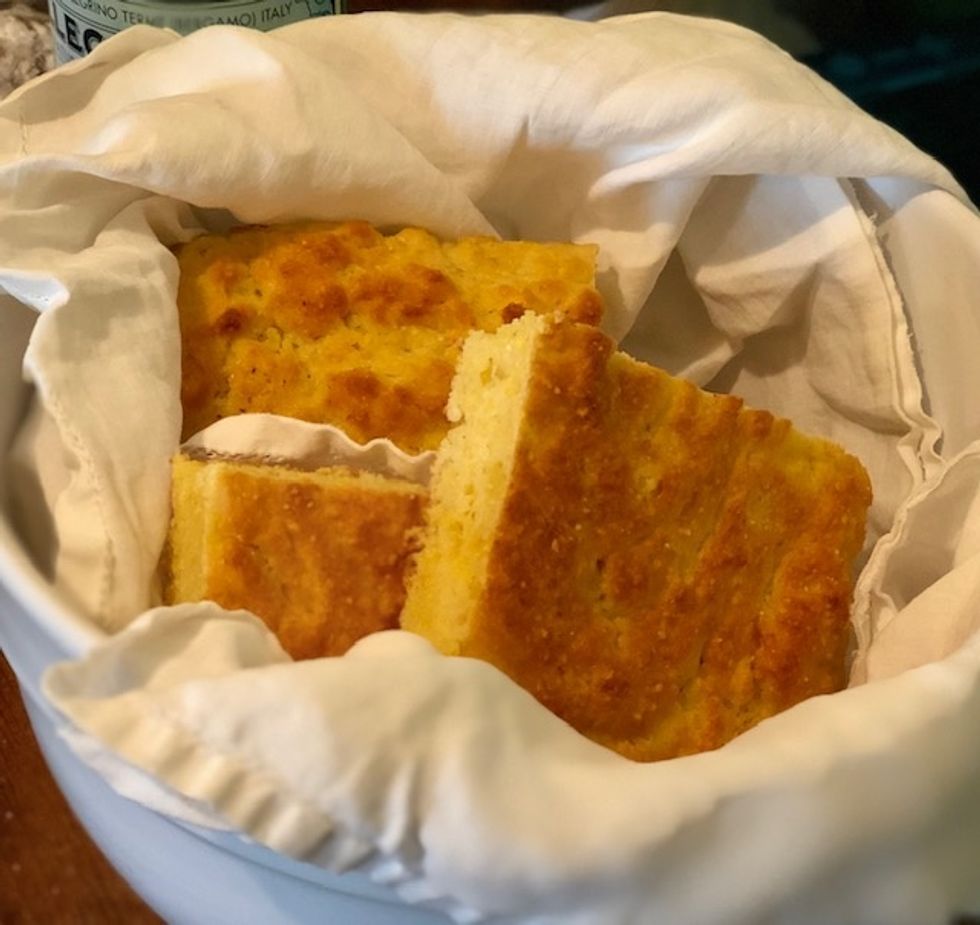 Lauren Barack
Stuffing and Cornbread

First in the toaster oven? The cornbread for my stuffing. I needed both toaster ovens for the four batches so I'd have extra in the morning. (I love corn bread.) I usually bake my cornbread in heavy iron frying pans. Those would not fit, even in my wide Hamilton Beach Easy Reach toaster oven. Instead I used regular baking tins. Each cornbread baked for about took about 30 to 40 minutes — again, I keep watch — at 375°F. Once they were done, I let them cool overnight.
Cranberry sauce
Okay, here is where a little cheating took place. No, I still didn't have gas. (And yes, I did consider using my camping stove.) I could have bought the canned cranberry sauce — and I know some people adore their cranberries this way. But I love cranberry sauce from scratch way too much.
I bought an induction burner, and used it to make my cranberry sauce. Could I have stewed cranberries in the oven? Yes, perhaps with some orange juice and a bit of water. But the cranberries would likely not have popped and then gelled. Like the pies, I made this the day before, where the cranberries stayed in the refrigerator (not a smart fridge, unfortunately) until just before dinner.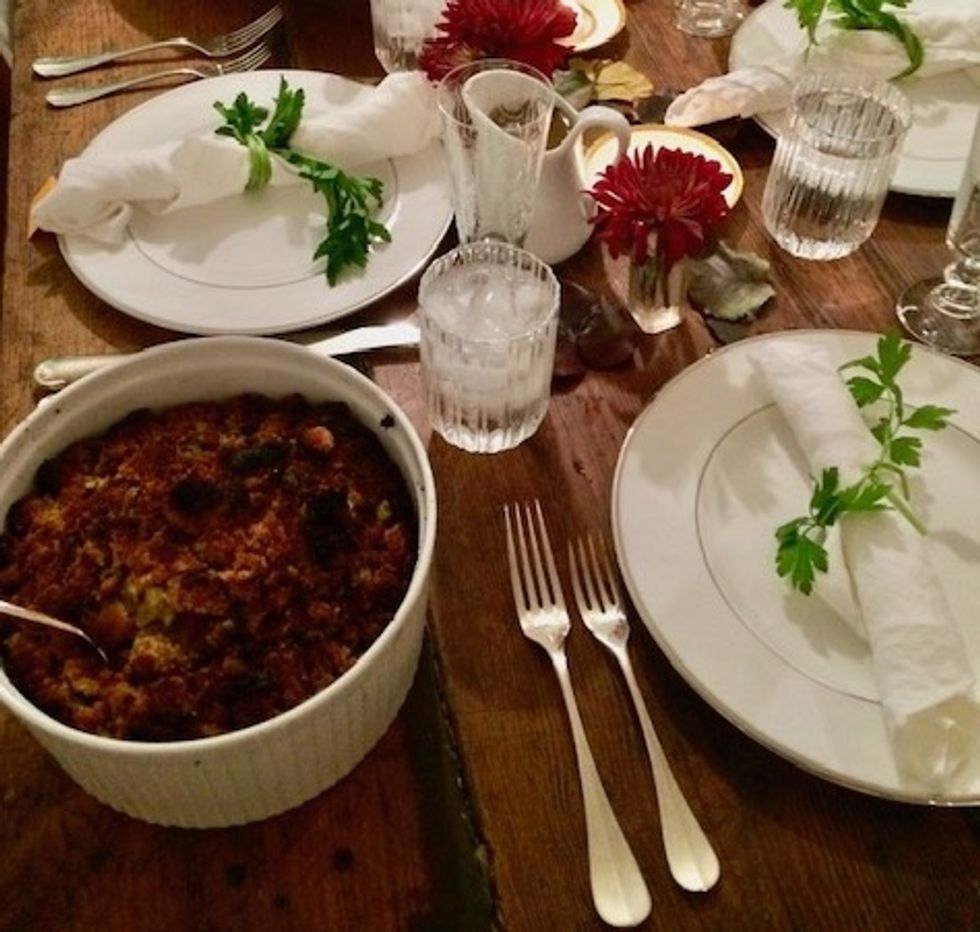 Lauren Barack
Stuffing
Next came a fork in the road — would the potatoes and carrots, stuffing, or turkey be served room temperature? All three could not be cooked simultaneously in my toaster oven. Stuffing took the hit.
My stuffing really is never cooked, at least the kind I make, which is borrowed heavily from Ina Garten's recipe. It's honestly a mixture of melted butter, onions, chicken broth, parsley and corn bread. That went in — for 60 minutes, uncovered to get a brown crust, at 425°F.
Potatoes and carrots
When the stuffing came out, the potatoes and carrots went in for about an hour until fork tender and caramelized, also at 425°F. The stuffing, sitting out, stayed under tinfoil on the corner.
Green beans
The induction burner came out for the green beans which were quickly steamed. With a third toaster oven I could have roasted Brussels sprouts (yum!), but space prevailed.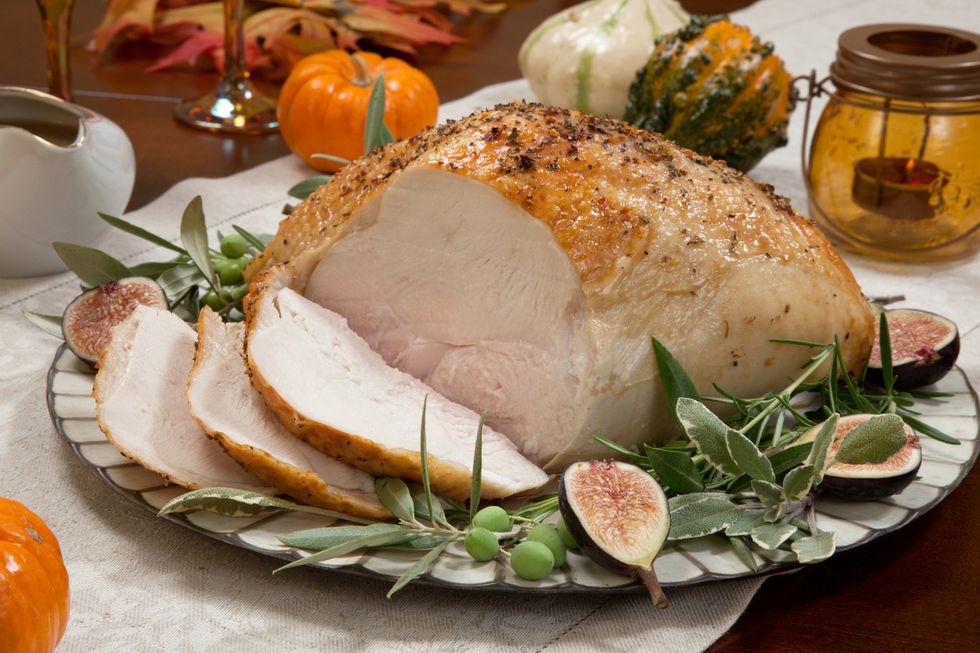 iStock
Turkey
Even with a toaster oven, a whole turkey was not going to work. Instead I bought a large bone-in turkey breast — fresh, about 6 pounds — and cooked it the way I always do: at 350°F and covering the breast with cheesecloth and melted butter that had been steeped in sage, rosemary and thyme. Again, keep an eye on everything in a toaster oven: with the heating implements so much closer to the food you're cooking, burning can happen very quickly. Cheesecloth is especially flammable. Don't settle in for a football game and forget what's cooking.
Gravy
There were no drippings from the breast, so I made a quick roux with some canned chicken broth on the induction burner, which took little time and got some help from fresh herbs left over from the turkey breast.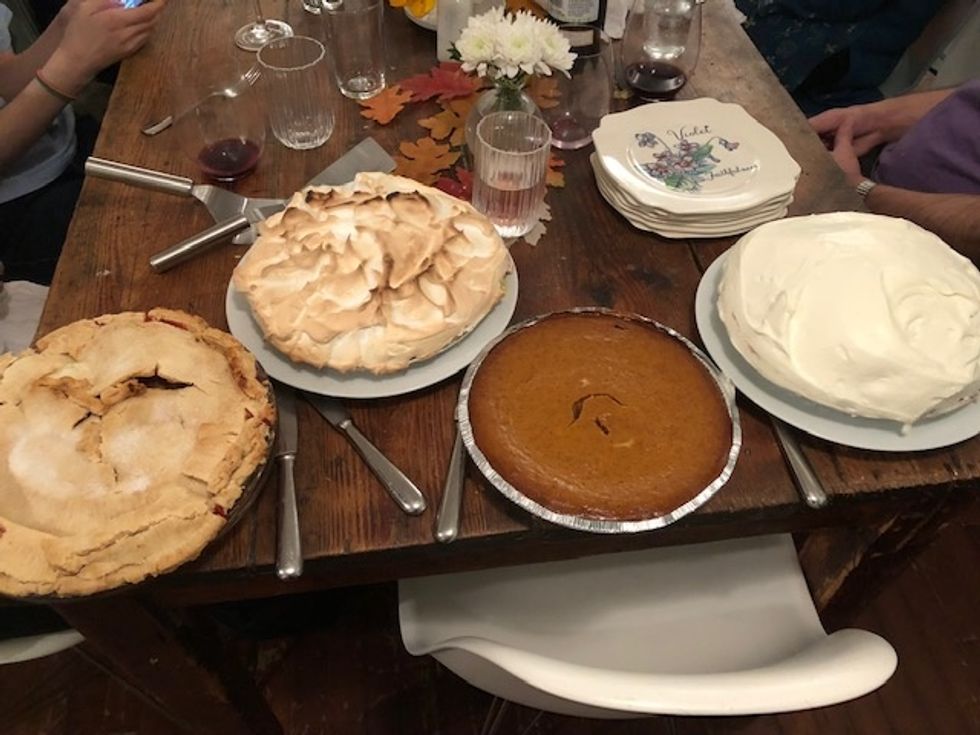 Lauren Barack
Pies
My favorite pie is lemon meringue, and I also added a pumpkin pie, chocolate cream and apple cranberry to the menu.
Starting the day before, I had blind baked three pie crusts, (baking them unfilled), then poured the pumpkin mixture into one, the chocolate into the second, and chilled them both. Done. I made the lemon filling on the induction burner, the meringue in an electric kitchen master and browned the lemon pie in the toaster oven at 350°F for about 10 minutes. The apple cranberry pie baked in the toaster oven for about 50 minutes at 375°F. Watch this as toaster oven can burn things very quickly.
The meal
What did I lose by lacking a stove and oven? I couldn't serve that show-stopping golden bird, and everything wasn't pipping hot. But I managed to make all my favorites. The induction burner wasn't a necessity — canned cranberry sauce is an easy substitute, and a few Brussels sprouts tossed in with the potatoes and carrots could have replaced the green beans. I also didn't need a lemon meringue pie, and could forgone the gravy, although I'm glad we didn't leave either of them out.
Frankly, it was one of the easiest Thanksgiving meals to cook, and clean up was fast and simple. Will I do it again this year? Not a chance.